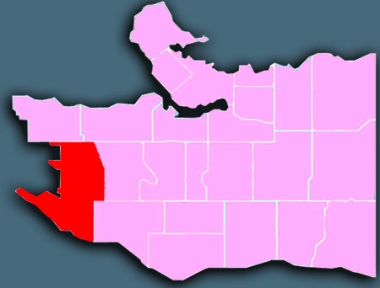 Dunbar-Southlands is in the southwestern section of the city, running south from 16th Avenue all the way down to the Fraser River. On the west it is bounded by the University (of BC) Endowment Lands and Pacific Spirit Regional Park. The eastern boundary is marked by Puget Drive and Quesnel Street (going south from 16th Avenue), Mackenzie Street (at King Edward) and Blenheim Street ( west at 41st Avenue).
Demographics
From Statistics Canada, 2011 Census, custom order for City of Vancouver Local Areas (comparative data for Census Metro Area in parentheses).
population: 21,745     aged 65+: 14% (13%)    under 18: 34% (30%)
married/common-law: 51% (48%)     living alone: 6% (11%)
have kids at home: 53% (40%)     lone parents: 735     widows: 590
ESL: 32% (44%)     mother tongues: unspecified Chinese 6%, Mandarin 6%, Cantonese 5%, German 2%, Korean 1%
Dunbar-Southlands is a low density, family oriented neighbourhood consisting almost exclusively of owner-occupied detached houses and duplexes. In fact, it has the city's highest concentration of married and common-law households, as well as families with children living at home. It ties with Sunset for having he city's second lowest concentration of people living alone.
Residents of the neighbourhood move significantly less often than is typical for Vancouver. The median household income here is twice the regional figure, although many of the longtime middle class residents remain as retirees. Like the other westernmost neighbourhoods, the area has a much lower percentage of ESL residents than average.
History
Archaeology confirms that the Musqueam people have been present with an astonishingly consistent culture in this area for thousands of years – at least 4,000 years at the Marpole Midden, and at least 3,500 years at the Musqueam Reserve.
Chuck Davis, in his History of Metropolitan Vancouver, notes that pioneer real estate developer Charles Trott Dunbar "arrived in Vancouver in 1888 and in 1908 was promoting development of Dunbar Heights, with lots 'selling like hotcakes.'"
The neighbourhood was built out in the 1920s after being clearcut and burnt, and as the interurban tram expanded from Kitsilano and Kerrisdale. It remained a quiet working and middle class suburb until the 1990s, when its unusually large lots made it attractive to wealthier buyers wanting to construct bigger homes.
Notable features

Musqueam land claims: This territory, like nearly all land in the province, has never been ceded to the Crown by treaty. The Musqueam people successfully prevented a condo development overtop a gravesite in the midden (east of the Dunbar area). A controversial land swap in 2007 involving two parcels of Pacific Spirit Park, the University Golf Course and the site of River Rock Casino in Richmond underscored both the difficulty and the necessity of justly settling urban land disputes.
Musqueam claims extend well beyond the boundaries of Dunbar/UBC; the Musqueam Declaration, released in 1976, began:
We, the Musqueam people openly and publicly declare and affirm that we hold aboriginal title to our land, and aboriginal rights to exercise use of our land, the sea and fresh waters, and all their resources within that territory occupied and used by our ancestors . . .

Green and quiet: Dunbar-Southlands is a community of quiet, residential streets, most of which are shaded by beautiful old trees. There are several sizeable parks (Chaldecott, Memorial West, Balaclava, Musqueam) and golf courses (Shaughnessy, Point Grey, McCleery) and even farmland, below Marine Drive. All along the western border there is easy access to trails in the University Endowment Lands.
Change is often not welcome. One example is the enormous controversy that erupted over the 51-unit supportive housing complex built on city property at 17th and Dunbar for single adults with a history of mental health issues and homeless.
Most of the tenants who moved into the building in 2011 came off the streets of west side neighbourhoods. And many of them were helped along the way by Anglican volunteers with the modestly-named West Point Grey Neighbourhood Ministry.
A touching article in The Vancouver Sun described them as the 'Westside Neighbourhood Ministry of form-fillers' because of the way Dunbar / Point Grey church members befriended homeless people and then helped them to navigate through various bureaucratic roadblocks on the way to permanent housing.
There was also major resistance to a proposal that would have seen
Stong's Market
at 30th and Dunbar redeveloped as a six-storey mixed-use building.
Dunbar Village runs through the middle of the area.The Dunbar Village Business Improvement Association (BIA), created in 2008, has done a good job of building on the already-strong sense of community in the area. A Vancouver Courier article in 2013 said there had been some resistance to the BIA initially, but that it is now well established:
It has had a huge impact on the sense of community in the neighbourhood," said John Stephens, the rector of St. Philip's Church . . . The BIA has added benches, bike racks, street banners and plantings. It has improved communication among business owners, with community organizations and residents and shared information with the city's 21 other BIAs. The association publishes a magazine called
Dunbar Life
to market area businesses to neighbours; [it] brings the public out to events and has attracted many volunteers and volunteer hours . . .
There are three distinct areas in Dunbar Village: between 16th and 19th, between King Edward and 30th, and between 38th and 41st, and east along 41st.
Southlands:
Between Southwest Marine Drive and the Fraser River is a unique area; the land is shared by Indigenous people, wealthy landowners and golf courses. The Musqueam people live on a small portion of their traditional territory, the
Musqueam Indian Reserve
. They are surrounded by green space, with Shaughnessy Golf and Country Club to the west, Point Grey Golf and Country Club to the east. To the north is Musqueam Park; south is the Fraser River.
Most of the rest of the land features expensive homes and is zoned for hobby farms – every lot must have a horse barn and field!
Southlands Heritage Farm
is a non-profit facility for community agriculture and a farmers market.
Churches
Dunbar Heights Baptist; Dunbar Heights United; Dunbar Lutheran; Faith Community Christian; Immaculate Conception Catholic; Knox United; Marineview Chapel; St. Michael's (Musqueam) Catholic; St. Philip's Anglican. See map.
Here are some ways in which Dunbar-Southlands churches are linked to their neighbourhood. The list is far from complete and we would love to hear about other examples:
* Dunbar Heights United Church, just east of Dunbar on 24th, says "its major ongoing Vancouver outreach activity is our support of Springhouse – a shelter for women and children facing a variety of difficulties in life."
* St. Philip's Anglican Church, on 27th, just west of Dunbar, is involved in a number of outreach programs, including the Anglicans of West Point Grey Neighbourhood Ministry (see above), the Food Bank and a wide range of local and international community programs.
(St. Philip's has been offering their building to community groups for a long time; I (Flyn) took part in Cubs there when I was a boy) – though I can't remember having been granted access to their rather unique two-lane bowling alley in the basement.)
Further information

* The Courier did several articles on Dunbar-Southlands as part of a year-long series of articles on Vancouver neighbourhoods in 2013/2014. It also featured Musqueam.
* The City has a Dunbar-Southlands page.
* Dunbar Residents Association
* Dunbar Village Business Association
* Dunbar Life is "a guide to local shopping and fun."