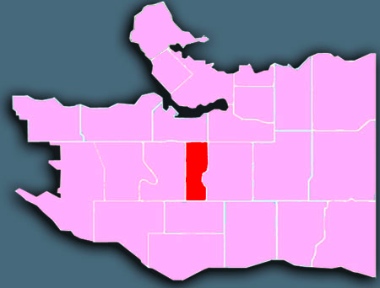 With upscale Shaughnessy to the west and Queen Elizabeth Park to the east, South Cambie is comfortably situated right in the centre of Vancouver – bounded by 16th Avenue and 41st Avenue, and by the busy north-south corridors of Oak Street and Cambie Street.
Demographics
From Statistics Canada, 2011 Census, custom order for City of Vancouver Local Areas (comparative data for Census Metro Area in parentheses).
population: 7,675     under 18: 17% (19%)     aged 65+: 11% (13%)                                  married/common-law: 45% (48%)     living alone: 11% (11%)      
have kids at home: 37% (40%)     lone parents: 320     widows: 320
ESL: 38% (44%)     mother tongues: Cantonese 7%, unspecified Chinese 5%, Mandarin 5%, Spanish 2%, French 2%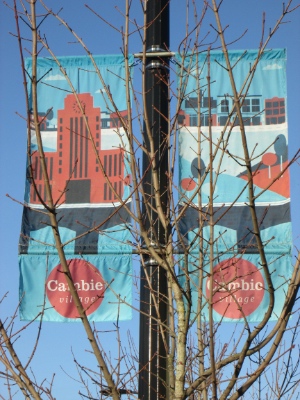 South Cambie is one of the smallest neighbourhoods in the city, both in size and population.
Over the past two decades, many single-family dwellings have been replaced with duplexes and low-rise condo buildings as the density of the city's core expanded and the Canada Line SkyTrain went in.
The median household income has steadily risen, significantly reducing the percentage of residents who are renters or non-English speakers.
History
South Cambie, and Cambie Street, are named for Henry John Cambie, chief surveyor of the Canadian Pacific Railway's western division (as is Cambie Road in Richmond).
Following is a brief history of the Douglas Park Community Centre, right in the centre of South Cambie:
Originally part of the Point Grey Municipality before the city was amalgamated in 1929, this park was first established in 1926 . . . The name was decided upon through a community competition and is in commemoration of Sir James Douglas, first Governor of the Colony of British Columbia.
Before being designated a park, this area was a logging camp in the 1870s and was later a grazing site for elk. In 1882 the acreage became the site for the first market garden south of False Creek.
Much of South Cambie was only developed after the 1940s.
Unique features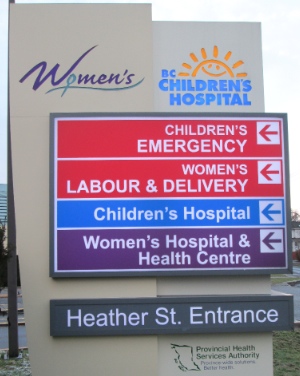 Health Care: Two major medical facilities are based in South Cambie: BC Children's Hospital and BC Women's Hospital (which the Salvation Army founded in 1924 as Grace Hospital and handed over to the provincial government in 1994). Both hospitals serve the entire province and are known as centres of innovation in their disciplines.
Grace Estate – a gated community – now takes up a full block on the site of the original Grace Hospital, between 26th and 27th, Heather and Ash.
Cambie Heritage Corridor: The Canada Line SkyTrain which was built for the Olympics along Cambie Street between the airport and downtown Vancouver has changed the neighbourhood considerably.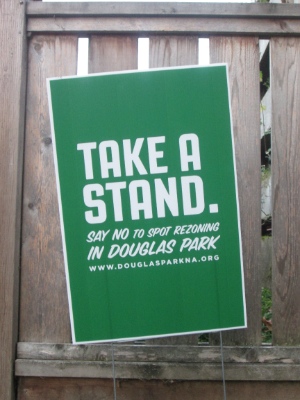 It caused much controversy while under construction, as many small businesses went bankrupt or had to permanently relocate. Property values have jumped and debate continues over how much development is good for the community.
Douglas Park: The key local gathering point is Douglas Park & Community Centre, which takes up a two-block by two-block space between 20th and 22nd.
The Douglas Park Neighbours Association keeps a close watch on local development, most recently asking local homeowners to 'Take a Stand' against 'spot-zoning' at 23rd and Willow (just south of the park), which would see a former church building converted to townhouses.
Churches
Chown Memorial and Chinese United; Holy Name Catholic; Oakridge Adventist; Oakridge Lutheran; St. John's Vancouver Anglican. See map.
The Roman Catholic Archdiocese of Vancouver moved into its new headquarters on 33rd Avenue at Heather Street earlier this year. With an impressive view of the city, and overlooking the medical complex below, the John Paul II Pastoral Centre is a visible sign of the church's significant role in the city.
Here are some ways in which South Cambie churches are linked to their neighbourhood. We would love to hear about other examples:
* Oakridge Adventist Church on 37th Avenue says: "We are constantly looking for the best opportunities to lend our support to those in need especially in partnership with local organizations. To date we have made Snack Packs for the hungry in the DTES, joined the Canadian Blood Services as a Partner for Life organization, participated in the Children's Hospital Child Run, sent 'Sherpa-hikers' to assist with BCMOS Trailriders and will be helping at the Vancouver Food Bank Warehouse."
* St. John's Vancouver, which shares Oakridge Adventist's building, is a large Anglican church. It hosts an Artizo Institute, which "trains able, faithful, innovative and confident gospel ministers to know and understand the Bible, lead effectively, proclaim the gospel, and be able to train others to do the same." It also offers several Care Ministries, including Stephen Ministry, Divorce Care and Grief Share.
* The Courier did several articles on South Cambie as part of a year-long series of articles on Vancouver neighbourhoods in 2013/2014.
* The city now includes South Cambie on its Shaughnessy page.