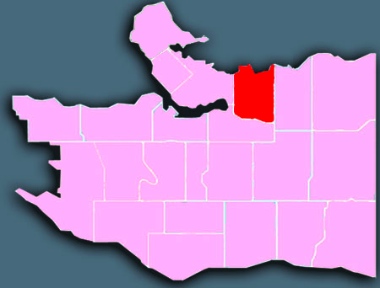 Encompassing the historic neighbourhoods of Gastown, Victory Square, Chinatown, Oppenheimer and Strathcona – as well as the Downtown Eastside (DTES) and the emerging pocket district of Railtown – the Hastings area is by far the most richly layered and contested area in the city. It stretches along Burrard Inlet and Hastings Street between the Downtown business district on the west and the Hastings-Sunrise area, which starts at Clark Drive on the east. It runs south to 2nd Avenue / Great Northern Way.
Demographics
From Statistics Canada, 2011 Census, custom order for City of Vancouver Local Areas (comparative data for Census Metro Area in parentheses). Gastown as well as parts of the DTES and Chinatown are not included in these figures because they lay west of Main Street and therefore are formally part of the Downtown local area for the city's statistics.
population: 12,165     under 18: 10% (19%)           aged 65+: 17% (13%)
married/common-law: 26% (48%)    living alone: 26% (11%)       
have kids at home: 19% (40%)     lone parents: 320     widows: 855
ESL: 50% (44%)    mother tongues: Cantonese 7%, unspecified Chinese 5%, Mandarin 5%, Spanish 2%, French 2%
The Hastings area is perhaps best known for its extremely high prevalence of low income households. Less well known is that it has the oldest median age in the city at 49 and the highest percentage of seniors living alone at 10 percent. The area also has the lowest rate of married/common-law couples.
Although there are families living in social housing (mostly in Strathcona, south of Hastings and east of Main), only the West End has a lower percentage of children living at home. Nearly half the households that have children at home in the Hastings area are led by single parents.
History
For thousands of years the Musqueam, Squamish and Tsleil-waututh nations exercised traditional rights over the land on which Hastings is now situated. The area today is home to the highest number of off-reserve Aboriginal residents west of the prairies.
Gastown – which runs across the northwest corner of the Downtown Eastside and the neighbouring Downtown area – was incorporated in 1870. Its official name was Granville, named for British Colonial Secretary Lord Granville. In 1886 it was renamed Vancouver; just two months later, most of the newly incorporated city was destroyed in the Great Vancouver Fire.
Chuck Davis has a colourful description of the early days in his wonderful History of Metropolitan Vancouver. Here's how it begins:
September 30, 1867: John 'Gassy Jack' Deighton arrived in a rowboat. The Yorkshire-born Deighton, with a complexion, said a chum of "muddy purple," rowed into Burrard Inlet from New Westminster with his native wife, her mother, her cousin, a yellow dog, two chairs and a barrel of whiskey. With the help of workers from Stamp's Mill he builds the Globe Saloon in, it is said, 24 hours. . . .
He also points out how land for the new city was acquired:
Joseph Trutch, BC's chief commissioner of lands and works, refused to recognize existing Aboriginal reserves and ordered them re-surveyed and reduced. He reversed Governor Douglas' policy of allowing Aboriginal people to pre-empt land, and three years later wrote a memorandum denying the existence of Aboriginal title. Native chiefs protested and petitioned the government and the monarch in England, to little avail.
Hastings Street was the centre of shopping and entertainment and the city hall, courthouse and Carnegie Library were all located there. The first school was opened in 1873, and in 1881 St. James Anglican Church was established on the waterfront.
Over time, however, the city centre shifted west. With the closure of the interurban railway and North Shore ferries in the late 1950s, the neighbourhood ceased being a regional transit hub and lost thousands of the shoppers and workers, leading to a cycle of closures completed when Woodwards Department Store closed in 1992.
The area was generally known as Skid Row, as hotels originally built for business travellers and tourists became permanent residences for single men who worked in forestry and mining. (Area residents chose the name Downtown Eastside for themselves in the 1970s, under the leadership of Bruce Eriksen and the Downtown Eastside Residents' Association.) Cheap beer parlours survived the shift and the area also became home to a serious street drug culture with the introduction of crack cocaine in the late 1980s.
Strathcona grew quickly during Vancouver's early years, largely because Vancouver was chosen over Port Moody as the national railway terminus. The now much-reduced railyards used to occupy most of the industrial land between Venables and Great Northern Way, on infill from the Grandview Cut (right-of-way for the railroad and now the Millennium SkyTrain line) piled over the tidal flats of False Creek which formerly ended at Clark Drive.
Unique features
The Downtown Eastside has often been described as the poorest postal code in Canada. Poverty, alcohol abuse, open drug use and street prostitution are commonplace.
But the Downtown Eastside is also a unique community, beloved by those who call it home and astonishing to outsiders who encounter among its inhabitants daily routines of selflessness and generosity.
In the words of DTES poet/prophet Bud Osborn, "Our purpose is to live in community, and community is care, care for one another, care for those least able to care for themselves, care for all, care in action."
The DTES is one of the smallest Vancouver neighbourhoods, extending from just south of Hastings Street north to the waterfront, and from just west of Main Street to Clark Drive. It contains portions of several historic neighbourhoods: Gastown, Chinatown and Oppenheimer Park (formerly Japantown).
There is some light industrial land along the waterfront, most of it related to the Port of Vancouver. CBC News asked last year: 'Could Railtown be Vancouver's next Yaletown?,' pointing out:
It's attracting entrepreneurs, artists, new businesses, and a lot of attention. Railtown, an industrial corner in downtown Vancouver east of Gastown, is transforming itself into a thriving scene for creative professionals.
Social housing: Many local residents say that, despite impressive numbers of social housing units being built or renovated in the Downtown Eastside, their community needs far more protection than is being offered against gentrification.
New condo developments are forcing long-term residents out of their homes and sometimes literally onto the street, and new businesses are catering to upscale clients rather than to the lower income long-time residents (many of whom are pensioners or physically disabled). They fear the likely loss of community that has been forged the hard way over decades.
DTES Local Area Plan: Even before the latest real estate boom, the City was attempting to convene the diverse local stakeholders to fashion a long-term vision and plan for the area's development that could protect the community's strengths while encouraging economic revitalization. That process has now morphed into the DTES Local Area Plan, with renewed focus on "ways to improve the lives of low-income DTES residents and community members." The plan was approved by city council March 15, 2014.
Strathcona: Always one of the city's most ethnically diverse neighbourhoods, Strathcona traditionally was working class. 
It was slated for 'urban renewal' during the 1950s, which would have meant identical apartment buildings lining a freeway corridor into the downtown core.
Community opposition prevented the plan from being carried out in full, but only after a number of blocks were bulldozed to make way for the Maclean and Stamps Place housing projects and the Dunsmuir / Georgia viaducts. (The entire Hastings area has a much higher proportion of renters and apartment buildings than the city as a whole.)
Because of strong community activism, Strathcona has retained its unique atmosphere, with many heritage houses remaining. Gentrification is now an issue, as these houses are being renovated, thus raising property values. The neighbourhood has hundreds of artist studios and the city's largest community vegetable gardens (over three acres).
Churches
614 Vancouver (Salvation Army); Anchor of Hope Community; Broadway (Chinese): Strathcona; Carrall Street; Christ Church of China; Coastal: Strathcona Campus; First United; Holy Trinity Russian Orthodox; Mosaic; Sacred Heart Catholic; St. James Anglican; St. Paul's Catholic; Strathcona Church; Strathcona Vineyard; Vancouver Chinese Mennonite; Vancouver Foursquare Street Church; Vancouver Project (The). See map.
The Salvation Army, Union Gospel Mission, First United, most of the churches and many small missions provide a host of social services and spiritual care.
Further reading
Some good sites to check out:
* The Courier did several articles on Downtown Eastside / Strathcona as part of a year-long series of articles on Vancouver neighbourhoods in 2013/2014.
* The city has a Hastings (Downtown Eastside / Strathcona) page.
* There are four 'Business Improvement Associations' in the Hastings area: Gastown; Hastings Crossing; Vancouver Chinatown; Strathcona.
* Strathcona Residents' Association has a lively website.
* The Volcano is "a news source for low-income communities struggles for social justice on unceded Coast Salish territory, Downtown Eastside Vancouver."