José Figueroa is a free man, just in time for Christmas. Matthew Claxton of Langley Advance was on the scene when it happened December 23. He wrote:
José Figueroa broke down in tears as he took his first steps outside of a North Langley church in two years on Wednesday afternoon.
Surrounded by about 100 supporters and flanked by his wife and children, Figueroa took a symbolic step across the doorway to the Walnut Grove Lutheran Church.
"I am free!" he shouted to the cheers of onlookers.
Figueroa had been officially informed earlier in the week that a deportation order had been lifted. He first took sanctuary at Walnut Grove in October, 2013, after the Canadian Border Services Agency issued an arrest warrant for him.
He was under threat of deportation to his native El Salvador because of his youthful participation in an allegedly terrorist political movement. Immigration Canadian denied him permanent residency status, claiming that the FMLN (Farabundo Marti National Liberation Front), a leftist political party for which he was a student recruiter, was a terrorist organization. The FMLN now governs the country.
Ironically, the country our government was so keen to send Figueroa back to has again turned violent, not because of political conflict but because of gang wars. A recent article in The Economist pointed out that:
The death toll is horrific. In the first nine months of this year, 4,930 people were murdered in a country with a population of 6.5m; that murder rate is 20 times that of the United States. El Salvador has overtaken Honduras as the most violent country on earth bar those that are at war.
At the time Figueroa took sanctuary, Walnut Grove pastor Karl Keller said:
I never dreamed it would come to this – if we had only used common sense José wouldn't have had to seek sanctuary. . . . Why would I not support José? I have known him since 1997, when he arrived in Canada . . . he has a very high 'credit rating' as a person.
It's great to see him back with his family; now he can choose to go to church.
New Hope's apartment block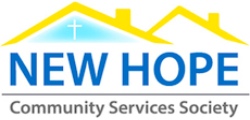 New Hope Community Services Society bought a 13-unit apartment December 15, in north Surrey near King George Boulevard and 108th Avenue. The nine one-bedroom and four two-bedroom apartments will be used to house refugees shortly after New Hope takes possession January 1.
Executive director Jamey McDonald described some of his plans for the building:
There will be a large common room on the first floor where the coffee pot is always on and conversation is always available. The mornings will be for ESL acquisition. The afternoons will have a daily "learning seminar" brought by a volunteer (three times a week) and we hope to have pastoral and clinical counselors available for two afternoons a week (private and confidential). . . Right now we are collecting volunteers, as the needs to own and operate New Hope will be challenging!
New Hope describes its work this way:
New Hope Community Services Society began in 2004 with the purpose of assisting refugee claimants and new Canadian immigrants. It has always been our mission to see these individuals become integrated, interdependent and productive members of Canadian society. We do this through housing in conjunction with social, personal, spiritual, educational and vocational support.
Two other groups doing similar work are Kinbrace (Vancouver) and Journey Home (Burnaby).
Dec 2015
Good Noise: Gospel for the City
– December 24, 2015 at 1:00 pm - 3:00 pm
Jesus' Birthday Party for Children
– December 24, 2015 at 4:00 pm - 5:00 pm
Journey of Christmas
– December 24, 2015 at 6:00 pm - 9:00 pm
Canada Chinese Christian Winter Conference 2015
– December 27, 2015 - December 31, 2015 at All Day
Worship Invades 2016
– December 31, 2015 - January 1, 2016 at 9:00 pm - 1:00 am
Jan 2016
Encountering the World of Islam (online)
– January 4, 2016 at All Day
Take Back the Land: Voices from the Frontlines!
– January 4, 2016 at 6:00 pm - 9:00 pm
Kairos Course (Tuesday evenings, one weekend)
– January 5, 2016 at 7:00 pm - 9:30 pm
YC Conference: Just Jesus
– January 8, 2016 - January 9, 2016 at All Day
Towers and Trees
– January 8, 2016 at 7:00 pm - 9:00 pm
This Thin Place
– January 8, 2016 at 8:00 pm - 9:30 pm
Willingdon School of the Bible: Winter 2016
– January 10, 2016 at All Day
John Arnott: Forgiveness and the Father's Love
– January 10, 2016 at 3:30 pm - 5:00 pm
Jazz Vespers: K Graves / M Black
– January 10, 2016 at 4:00 pm - 6:15 pm
Vancouver Pastors Prayer Fellowship
– January 13, 2016 at 10:30 am - 12:30 pm
God and Reason: A Christian Perspective (Wednesdays)
– January 13, 2016 at 3:30 pm - 5:00 pm
W.L. Hibberd: Winter Aesthetic - Opening Reception
– January 13, 2016 at 4:30 pm - 7:30 pm
Jazz Evensong: The Daniel Reynolds Trio
– January 13, 2016 at 8:00 pm - 9:30 pm
#SingItFwd Finale: Concert / Fundraiser for Saint James Music Academy
– January 14, 2016 - January 15, 2016 at 8:00 pm - 10:00 pm
City in Focus: So You Wear a Uniform on Our Behalf
– January 15, 2016 at 7:00 am - 9:30 am
The Daniel Plan
– January 16, 2016 at 9:00 am - 1:00 pm
Worth - Whats it to ya? Comedy Gospel Illusionist
– January 16, 2016 at 6:00 pm - 9:00 pm
Missional Cafe – Re:Placing the Church (Sean Hall)
– January 16, 2016 at 7:00 pm - 9:00 pm
The Sanctuary: A Christian View on Physician-Assisted Suicide (part one)
– January 17, 2016 at 6:45 pm - 8:30 pm
Week of Prayer for Christian Unity
– January 18, 2016 - January 25, 2016 at All Day
The Toque Sessions: Freedom Singer (Khari McClelland)
– January 19, 2016 at 7:30 pm - 9:00 pm
PreK - 12 Open House
– January 20, 2016 at 6:00 pm - 8:00 pm
Benjamin L. Corey: Undiluted Inclusivity: How Moving Beyond a Fundamentalist View of God and Gender Promotes Deeper Inclusivity
– January 20, 2016 at 7:00 pm - 8:30 pm
Week of Prayer for Christian Unity: Vancouver
– January 20, 2016 at 7:00 pm - 9:00 pm
Jazz Evensong: Colleen Savage
– January 20, 2016 at 8:00 pm - 9:30 pm
January Lecture Series 2016 (weekdays)
– January 21, 2016 - January 26, 2016 at 9:30 am - 10:30 am
Supervise: A Helping Professions Workshop
– January 21, 2016 at 9:30 am - 5:00 pm
Grand Opening and Dedication of the Mennonite Heritage Museum
– January 22, 2016 at 2:00 pm - 3:30 pm
Laudato Si After Paris, COP 21: Our Mission for a Healthy Planet
– January 22, 2016 at 7:00 pm - 9:00 pm
Week of Prayer for Christian Unity: New Westminster
– January 22, 2016 at 7:00 pm - 9:00 pm
Zaac Pick
– January 22, 2016 at 7:00 pm - 9:00 pm
Seventh Annual Improv Comedy Benefit
– January 22, 2016 at 8:00 pm - 10:00 pm
God: Closer Than We Can Imagine
– January 23, 2016 at 9:00 am - 2:00 pm
The Joy of Preaching with Will Willimon
– January 23, 2016 at 10:00 am - 12:30 pm
The Daniel Plan
– January 23, 2016 at 2:00 pm - 6:00 pm
Vancouver Chamber Choir: The Maestro's Art - The National Conductors' Symposium Concert
– January 23, 2016 at 8:00 pm - 10:00 pm
Jazz Vespers: Jennifer Hodge Group
– January 24, 2016 at 4:00 pm - 6:15 pm
The Sanctuary: A Christian View on Physician-Assisted Suicide (part two)
– January 24, 2016 at 6:45 pm - 8:30 pm
The Throwdown and Legacy One Present: Slam Poetry
– January 24, 2016 at 7:00 pm - 9:00 pm
The Grenz Lectures 2016, with Dr. William Willimon: The Trinity and Missional Leadership
– January 25, 2016 at 10:00 am - 11:30 am
Rethinking Our Relationship to Land (part one)
– January 25, 2016 at 7:00 pm - 9:00 pm
Sam Rocha: Atheism, Doubt and the Search for God (Monday evenings)
– January 25, 2016 at 7:00 pm - 9:00 pm
The Grenz Lectures 2016, with Dr. William Willimon: Ministry as Missional Leadership
– January 25, 2016 at 7:30 pm - 9:00 pm
Women's event with Connally Gilliam
– January 26, 2016 at 7:00 pm - 9:00 pm
Sarah Stewart-Kroeker: Delivering on the Promise of Happiness: Augustine, Beauty & Morality
– January 27, 2016 at 12:00 pm - 1:00 pm
Churches and the Housing Crisis
– January 27, 2016 at 7:00 pm - 9:00 pm
The Masked Saint (at several theatres)
– January 27, 2016 at 7:00 pm - 9:00 pm
Jazz Evensong: Glenn Chatten
– January 27, 2016 at 8:00 pm - 9:30 pm