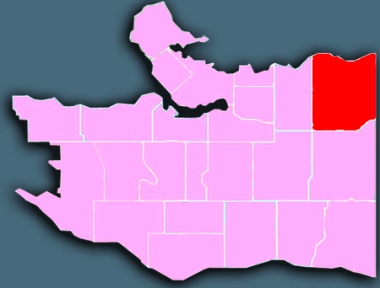 Hastings-Sunrise is mostly residential, with a lively commercial strip along Hastings Street, but is probably best known as the home of the Pacific National Exhibition (PNE).
Historically a working class neighbourhood with a higher-than-average percentage of low income households, the area is quickly gentrifying. The median income has risen above the city's average as it has become popular both with home buyers and business owners.
Hastings-Sunrise sits in the far northeast corner of Vancouver, running from Nanaimo Street in the west to Boundary Road (and Burnaby) on the east, and from Broadway north to Burrard Inlet.
Demographics
From Statistics Canada, 2011 Census, custom order for City of Vancouver Local Areas (comparative data for Census Metro Area in parentheses).
population: 33,990    under 18: 18% (19%)    aged 65+: 15% (13%)
married/common-law: 45% (48%)    living alone: 9% (11%)
have kids at home: 43% (40%)     lone parents: 1,800     widows: 1,695
ESL: 60% (44%)       mother tongues: Cantonese 21%, unspecified Chinese 11%, Italian 4%, Vietnamese 4%, Tagalog (Filipino) 3%
While the percentage of ESL residents remains high, it has been steadily declining. Chinese immigrants continue to predominate, but Hastings-Sunrise is also an Italian enclave, with twice as many residents whose primary language is Italian than anywhere else in the region.
History

Sunrise is one of Vancouver's oldest neighbourhoods. In 1863 land was set aside for what local politicians assumed would become a major port (many north-south roads in the neighbourhood are wider than usual because they were to be primary thoroughfares). Gastown became the port instead, and New Brighton – where a park bearing the same name is located today – became a resort getaway for residents of New Westminster.
The townsite soon became known as Hastings, following a visit in 1869 by Admiral George Fowler Hastings, and became the location of many firsts in the Vancouver area: road, wharf, ferry, hotel, post office, subdivision, etc.
Hastings remained a resort destination until the New Brighton Hotel was destroyed by fire in 1905. The resort also drew crowds to the Hastings Park Racetrack – much to the consternation of local residents. Their lobbying for more "wholesome activities" led, in 1910, to the first trade show for dairy farmers, loggers and horticulturalists – run by the Vancouver Exhibition Association (now the Pacific National Exhibition).
Significant development began after 1911, when the citizens of Hastings Townsite voted to join the City of Vancouver.
Most of the northern (Hastings) portion was developed for residential use in the 1920s, while the area south of First Avenue (Sunrise) was not developed until the 1940s.
Notable features
Hastings Park is the second largest park in Vancouver – though it doesn't seem like it, because it is so built up. For more than 100 years the PNE and Hastings Racecourse have been the major features of the park. Over the years, many buildings have been added to the site, including the Pacific Coliseum, the Agrodome and Playland-related structures.
In 1990 the city decided to restore Hastings Park to predominantly park use and in 1997 approved the Hastings Park Restoration Plan. In 2011 the Master Plan was amended through further public consultation.
The city has begun a 20 – 30 year redevelopment of Hastings Park by removing some buildings and developing natural areas, gardens and water features; between 1999 and 2001 more than 26 acres of the site were restored to park use, including the Sanctuary Pond, the Italian Garden and Empire Fields.
But not everyone is happy with the city's approach. Friends of Hastings Park, a coalition of community members which wants more park and less commercial activity, says the PNE has far too much say over land usage in the park and that the Parks Board should take direct control, as it does in all other city parks.
They lamented a June 10, 2015 city council decision to remove the Parks Board's residual influence on the PNE:
Despite unanimous opposition from elected Park Board Commissioners themselves, and a close vote among Councillors (5 to 4), the decision has now formally been made to restructure the PNE Board so as to remove the Park Board seat, and reduce the size of Board overall. . . . Certainly a very disappointing outcome for the Hastings-Sunrise community.
David Bornman, pastor of West Coast Christian Fellowship (just five short blocks south of the PNE) is a former chair of the Hastings Park Conservancy and also involved with Friends of Hastings Park. He says:
Hastings Park is a 160-acre 365-day citizen asset that the public is unaware of due to media attention focused on the 15-day PNE Summer Fair.
A prime piece of park land set aside for a spectacular "Stanley Park of the east" could become a signature park if the other 50 weeks were considered.
There has also been broad-based opposition, with Christian voices participating prominently, to expanded gambling at Hastings Racecourse.
East Village: In 2012 the Hastings North Business Improvement Association (BIA) rebranded the commercial area along Hastings Street between Commercial Drive and Renfrew Street, East Village.
The new name has received a mixed response. "'East Village' branding irks Hastings-Sunrise residents' was the title of one Georgia Straight article, which pointed out that some local residents didn't like the business community renaming the area without consultation.
"It's a marketing and branding strategy for the business improvement area, within the Hastings-Sunrise neighbourhood," said the group's executive director in a Globe and Mail  article. "Critics have their own opinions, but it is not a renaming of the whole neighbourhood."
However broadly the name applies, it appears to have taken root. The Hastings North BIA is now the East Village BIA.
Churches
Agape Life Center; All Christian Fellowship; Calvary Chapel Vancouver; Franklin Community Gospel; Immaculate Heart of Mary Catholic (Croatian); Longhouse Ministry; Nanaimo Road Gospel Hall; Our Lady of Sorrows Catholic; Pacific Grace MB Church; Renfrew Baptist; Vancouver Chinese Evangelical Free; Vancouver Eastside Vineyard; Ward Memorial Baptist; West Coast Christian Fellowship. See map.
Here are a few ways in which Hastings-Sunrise churches are linked to their neighbourhood. The list is far from complete and we would love to hear about other examples:
* Agape Life Centre Church "ministers practically to the poor, providing food and clothing . . . to the addicted and the prostitutes with their practical needs, as well as addiction recovery and organizing half-way housing."
* Franklin Chinese Gospel Chapel has just changed its name to Franklin Community Gospel Church.
* Longhouse Ministry was a founding member of Streams of Justice and Metro Vancouver Alliance and hosts A Community Aware, Kairos Metro Vancouver, a weekly food bank, sharing circles and more.
* Our Lady of Sorrows runs an elementary school and a pre-school for the community.
* Ward Memorial Baptist Church runs Shining Stars After School Tutoring and Bible Club and hosts ESL classes.
* West Coast Christian Fellowship oversees a K-12 school right across from the PNE.
Further information

* The Courier did several articles on Hastings-Sunrise as part of a year-long series of articles on Vancouver neighbourhoods in 2013/2014.
* The City has a Hastings-Sunrise page.
* The East Village Business Improvement Area covers a stretch surrounding Hastings Street running from Grandview to Hastings-Sunrise.