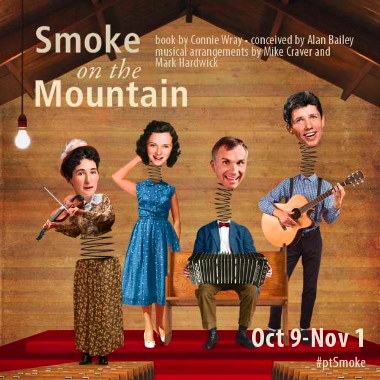 "A hilarious bluegrass musical full of songs and stories that will set your toes tapping and your heart soaring." That is what Pacific Theatre is promising in Smoke on the Mountain, and I don't doubt there will be a ready audience when it opens October 9.
Here is Pacific Theatre's description of the production:
Join the Singing Sanders Family as they end a five-year hiatus to bring their newfangled bluegrass sound to North Carolina's Mount Pleasant Baptist Church.
It's 1938, and while the Great Depression is on its way out, the residents of Mount Pleasant are still feeling its sting: the pickle plant that makes everything in town smell like vinegar has begun massive layoffs and the church is so poor that its own pastor, known only as Pastor Oglethorp, has a part-time job. Still, Pastor Oglethorp is determined to bring his congregation into the modern era, first by installing an electric light bulb, and second by introducing his flock to a new kind of worship: bluegrass gospel music.
Apparently there will be plenty of old favourites – Rock of Ages, I'll Fly Away – along with many less well known. The Guide to Musical Theatre said of an earlier version:
The story is an extremely well rendered one. Rather than just a concert of old-time Christian hymns, Smoke on the Mountain is truly a musical. The characters are well developed and realistic, there is sufficient back story and the dialogue is never trite.
Smoke on the Mountain is actually a guest production by the Midnight Theatre Collective, though some of the actors (Mack Gordon and Kaitlin Williams at least) are regulars with PT as well. Performances run until November 1.
Douglas Park's lost church
There aren't too many church buildings around that I don't know about (having kept an eye on them since the 1980s), but I found one this week. Admittedly, it's been pretty well disguised, but it's an interesting case.
Responding to an article on Church for Vancouver called Vancouver's lost churches, Paul Phillips of EDG Homes Inc. ("an innovative residential design practice based in the Cambie neighborhood of Vancouver") said:
Very interesting article and sad to see all these historical buildings lost. I am currently involved with trying to save the original Douglas Park United Church (1927). It later transferred to the local Baptist congregation in 1939 which stayed until 1952 when it transferred to Rosicrucians.
The building was offered for sale last year and unfortunately no faith group came forward so I have contracted to purchase it and restore the original exterior and convert to townhouses. Although it will not be available for community space, the building will be preserved and honoured for the community.
I wish Phillips well. Green-shirted neighbours were out in force to oppose the project at an open house September 29 at Chown Memorial and Chinese United Church. The church is at 19th Avenue and Cambie Street, just a few blocks northwest of the property under scrutiny, which is at 809 West 23rd Avenue (at Willow Street), south of Douglas Park.
Two supporters of the Douglas Park Neighbours Association, clad in green 'Take a Stand' t-shirts, handed me a two-pager which detailed reasons supporting their main purpose:
We are a community of residents working together to maintain the quality of life in the beautiful Douglas Park neighbourhood, by safeguarding against the erosion of its special character and RS-5 residential integrity through incongruous development and over-densification.
They are opposed to "spot rezoning" at 23rd and Willow, or anywhere else in the Douglas Park area.
A recent Georgia Straight article gave more detail about the project:
EDG Homes Inc. plans to reuse and extend the former house of worship at 809 West 23rd Avenue for six strata-titled homes, four of which will have basement units for rental.
Heritage consultant Donald Luxton is working with the developer to convert the structure, built in 1927 as the home of the Oak Street United Church. . . .
The planned redevelopment of the former West 23rd Avenue place of worship is a heritage project that will restore its original appearance.
"The building doesn't look like much right now, so I know people have questioned why you would do this as a heritage project," Luxton said. "But I think once you see the plan, you get a sense that we're returning it back to a much more appropriate appearance on the exterior that reflects its original design intention." . . .
"There's a trend that has been happening that church buildings are coming up for other uses, and this one hasn't really been used as a United Church in a very, very long time," Luxton told the Georgia Straight in a phone interview.
Phillips is keen to see his project succeed, noting that it would be a more creative use of the land than simply tearing the old church building down and plunking two new houses on two 33 foot lots. He says there is no reason, in theory, that the building could not again be used as a church – and he would even be willing to consider selling to a church under the right circumstances.
He believes the original church usage should allow any purchaser to avoid the kind of parking requirements that the city requires of churches when they seek to use a property for a new purpose. However, city officials at the open house were dubious about that. As well, one can only imagine how many green-shirted neighbours would turn out to oppose any such novelty, even if it were really a return to the property's original purpose.
Two new Merton books
Two local men are offering new books about Thomas Merton. Retired Anglican priest and SFU professor Donald Grayston will host a book launch event at Our Town Cafe on the corner of Kingsway and Broadway October 3.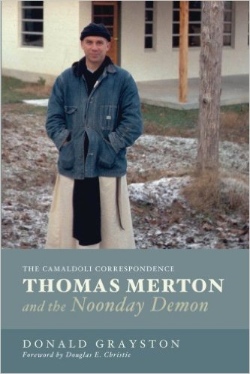 Grayston's book is Thomas Merton and the Noonday Demon: The Camaldoli Correspondence. Ron Dart (the other author, see below), had this to say about the book:
The honeymoon phase of the spiritual journey often begins with much hope and many possibilities, but the time comes, when the deeper journey of transformation must be faced. Often such a place of transformation begins and ends by being grounded and rooted in a specific place and community – for Merton, of course, it was the monastery of Gethsemani. . . .
Merton had reached a place at Gethsemani after being there for 10 years in which the glow and charm was gone – he was restless with the place. The 36 letters (most extant) that Grayston includes in the book deal with Merton's letters to and responses from different actors in this noonday demon drama. Don does a superb job of setting the dilemma and issue within a classical context and Merton's living through his own version of boredom, restlessness and an idealized other place. . . .
For the full review go here.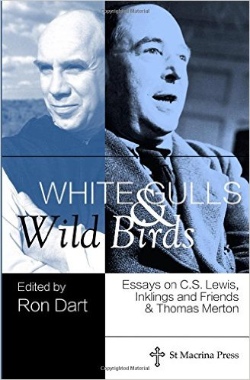 Dart himself has written about Merton, but also about C.S. Lewis. He makes this point about the two of them, and his book:
Many are the C.S. Lewis and Inklings keeners who have delved deeply into such lore and legends, but such a clan often know little of Thomas Merton. Many are those who have heeded and heard well the contemplative insights of Merton, but such a tribe is thin when it comes to their read of Lewis and the Inklings.
White Gulls and Wild Birds brings together 12 authors (some elders and seasoned and other gifted and emerging) who have pondered, in some depth and detail, in a personal and confessional manner, the way Lewis, the Inklings and Merton have impacted their lives and faith journey.  
Go here for a comment on the book by Brad Jersak.
Speaking of 'Inklings keeners,' the Inklings Institute of Canada, based at Trinity Western, will stray just a little bit from their core themes to host a Tea Party for Alice in Wonderland's 150th Anniversary October 15.
Hineni House
St. Margaret's Cedar Cottage Anglican Church has created an intentional community. Hineni House community director Anita Fonseca says it is "for Vancouver folk who seek the space, time and guidance for discernment in a space that aims to be both life-giving and affordable."
Applicants do not need to be Anglicans or Christians. All five members will have their own room, and they will be able to continue with their school or job on their own time. The $700 a month cost covers rent, internet, cable, all programming, spiritual direction, counselling and two retreats a year. The program starts November 1.
Hineni House is at 3888 Dumfries Street, northeast of Kingsway and Knight Street. For more information visit hinenihouse.org or email [email protected]
Sep 2015
Speaking My Mind Toastmasters Club
– September 28, 2015 - December 14, 2015 at 7:30 pm - 9:00 pm
Oct 2015
Life of Significance Golf Classic
– October 1, 2015 at All Day
Rend the Heavens World Summit
– October 1, 2015 - October 4, 2015 at All Day
The Beautiful Gospel Conference
– October 1, 2015 - October 3, 2015 at All Day
Verge Conference 2015: Arts + Environment
– October 1, 2015 - October 2, 2015 at All Day
National Day of Prayer for Canada
– October 2, 2015 at All Day
Perogy Night in Vancouver
– October 2, 2015 at 5:00 pm - 8:00 pm
Heroic Truth Conference with Josh McDowell & Sean McDowell
– October 2, 2015 - October 3, 2015 at 6:30 pm - 12:30 pm
Prayer For Canada
– October 2, 2015 at 6:30 pm - 8:00 pm
Bible Conference: It's All About Life for the Church & the World
– October 2, 2015 - October 3, 2015 at 7:00 pm - 2:30 pm
Women of Faith Says 'Farewell'
– October 2, 2015 - October 3, 2015 at 7:00 pm - 5:00 pm
International Men's Choir Concert for First United
– October 2, 2015 at 7:30 pm - 10:00 pm
musica intima: Bach and the Boys
– October 2, 2015 at 7:30 pm - 9:30 pm
Sea Change Colloquium
– October 3, 2015 at All Day
Redleaf Prayer: Ember
– October 3, 2015 at 7:00 am - 9:00 am
Ride for Refuge
– October 3, 2015 at 7:00 am - 1:00 pm
Transitions of Life: Healthy Aging, Retirement & the Spiritual Journey
– October 3, 2015 at 9:00 am - 3:00 pm
A Rocha Harvest Celebration
– October 3, 2015 at 1:00 pm - 4:00 pm
Gospel Night 2015
– October 3, 2015 at 7:00 pm - 9:30 pm
Violin Virtuoso Jaime Jorge
– October 3, 2015 at 7:00 pm
Book Launch: Donald Grayston: Thomas Merton and the Noonday Demon – The Camaldoli Correspondence
– October 3, 2015 at 7:30 pm - 9:30 pm
Music at Queen's: West Coast Symphony
– October 3, 2015 at 7:30 pm - 9:30 pm
LifeChain 2015
– October 4, 2015 at 2:00 pm - 3:00 pm
Public Lecture Series: Competing Paradigms: Christianity and Naturalism – Spirits
– October 6, 2015 at 7:00 pm - 8:30 pm
Common Cup Company in Concert
– October 6, 2015 at 7:30 pm - 9:30 pm
Vancouver Pastors Prayer Fellowship
– October 7, 2015 at 10:30 am - 12:30 pm
Business By the Book: Peter Irvine
– October 7, 2015 at 12:00 pm - 1:00 pm
Regent Redux: Me, My Stuff & God: Making Space in a Culture of Want
– October 7, 2015 at 12:00 pm - 1:00 pm
R. Scott Smith: Facts, Values and Modern Myths About Ethics (two lectures)
– October 7, 2015 - October 8, 2015 at 4:00 pm - 5:30 pm
Jazz Evensong: Darlene Ketchum
– October 7, 2015 at 8:00 pm - 10:00 pm
Christopher Kasongo / Sadao Watanabe: Through the Eyes of the Beholder
– October 8, 2015 - October 15, 2015 at All Day
Mental Health Week - The Thief: Anxiety
– October 9, 2015 at 7:00 am - 8:30 am
Jordan Klassen
– October 9, 2015 at 7:00 pm - 9:00 pm
White Rock Full Gospel Business Men's Fellowship ALL DAY EVENT – Business Men's Life Stories
– October 10, 2015 at 9:00 am - 10:00 pm
War Room: A Private Showing
– October 10, 2015 at 9:45 am - 12:00 pm
A Jubilant Thanksgiving: Celebrating 30 Years of Fujian Evangelical Church
– October 11, 2015 at 12:00 am
Homelessness Action Week
– October 11, 2015 - October 17, 2015 at All Day
Thanksgiving Jazz Vespers
– October 11, 2015 at 4:00 pm - 5:30 pm
Kairos Canada: Gendered Impacts Symposium
– October 13, 2015 at 9:00 am - 3:00 pm
Journey Discipleship Course (Tuesdays)
– October 13, 2015 at 7:00 pm - 9:45 pm
Public Lecture Series: Competing Paradigms: Christianity and Naturalism – Challenges to Religion
– October 13, 2015 at 7:00 pm - 8:30 pm
Jazz Evensong: LJ Mounteney
– October 14, 2015 at 8:00 pm - 10:00 pm
New Wine Renewal Conference (and Leaders' Day)
– October 15, 2015 - October 17, 2015 at All Day
Inklings Institute of Canada: Tea Party for Alice in Wonderland's 150th Anniversary
– October 15, 2015 at 7:00 pm - 9:00 pm
Hungry for Life Leaders Conference
– October 16, 2015 - October 17, 2015 at All Day
Two Generations Leadership Conference
– October 16, 2015 - October 17, 2015 at All Day
Women's Weekend
– October 16, 2015 - October 18, 2015 at All Day
Genesis Through Ancient Eyes: The Lost World of Adam and Eve
– October 16, 2015 at 7:00 pm - 9:00 pm
Strings of Hope
– October 16, 2015 at 7:30 pm - 9:30 pm
Dying in Canada: A Pastoral Approach
– October 17, 2015 at 9:00 am - 12:00 pm
Highlands Annual Gigantic Flea Market
– October 17, 2015 at 9:00 am - 2:00 pm
Hello Neighbour Project (Homelessness Action Week)
– October 17, 2015 at 10:00 am - 6:00 pm
James Coggins: Book Signing for 'Springtime in Winnipeg' and 'Je Me Souviens'
– October 17, 2015 at 11:00 am - 1:00 pm
lifeTOUR 2015
– October 17, 2015 at 12:00 pm - 2:30 pm
Norine Braun Band / Rae Dawn and Eco Systems
– October 17, 2015 at 6:00 pm - 9:30 pm
Theo's Feast
– October 17, 2015 at 6:00 pm - 9:30 pm
Dr. Jason Lisle: Apologetics and Astronomy
– October 17, 2015 at 6:30 pm - 9:00 pm
Stand on Guard: Election Prayer Night
– October 17, 2015 at 7:00 pm - 10:00 pm
Faculty and Friends Recital Series
– October 17, 2015 at 7:30 pm - 9:30 pm
John Walton: Genesis Through Ancient Eyes
– October 17, 2015 at 7:30 pm - 9:00 pm
Vancouver Cantata Singers: Angeli Archangeli
– October 17, 2015 at 7:30 pm
United in Prayer City-wide Rally: Canada at the Crossroads
– October 18, 2015 at 6:30 pm - 8:30 pm
Ancient texts; modern science: two leading scholars share their views on Adam, Eve and evolution
– October 18, 2015 at 7:00 pm - 9:00 pm
Diana Butler Bass: God in a Post-Religious Time
– October 19, 2015 at 9:00 am - 12:30 pm
Hope for Dalit Women: More Precious Than Pearls
– October 19, 2015 at 6:00 pm - 9:00 pm
Canada's Thanksgiving Concert Tour: Greater Vision & The Browns
– October 19, 2015 at 7:00 pm - 9:00 pm
Public Lecture Series: Competing Paradigms: Christianity and Naturalism – Structures of Theories and Evidence
– October 20, 2015 at 7:00 pm - 8:30 pm
Managing Me, Loving You
– October 21, 2015 at 2:00 pm - 4:00 pm
Dan Law: Visions from the Slash - Sculptural Meditations on Heaven & Hell (Opening Reception)
– October 21, 2015 at 4:30 pm - 7:30 pm
Laudato Si Symposium: Climate of Change
– October 21, 2015 at 6:30 pm - 9:00 pm
Gender Cafe: Silenced: The Untold Story of the Fight for Equality in the RCMP
– October 21, 2015 at 7:00 pm - 8:30 pm
Jazz Evensong: 6 Degrees
– October 21, 2015 at 8:00 pm - 10:00 pm
Bright New Day Reconciliation Circle
– October 22, 2015 - October 23, 2015 at All Day
The Global Leadership Summit
– October 22, 2015 - October 23, 2015 at All Day
Rezoning Application Open House
– October 22, 2015 at 5:00 pm - 8:00 pm
Chief Dr. Robert Joseph: The Institute of Indigenous Issues and Perspectives Launch
– October 22, 2015 at 7:30 pm - 9:30 pm
Joshua Hyslop
– October 23, 2015 at 7:00 pm - 9:00 pm
Hudson Taylor Legacy Series: Y2Y Night (Youth 2 Young Adults)
– October 23, 2015 at 7:15 pm - 9:30 pm
Early Music Vancouver: Monteverdi's Vespers of 1610
– October 23, 2015 at 7:30 pm - 9:30 pm
Iron Sharpens Iron Men's Conference
– October 24, 2015 at 8:30 am - 5:00 pm
Building Blocks of Faith-based ESL Ministry
– October 24, 2015 at 9:00 am - 3:30 pm
God: Closer Than We Can Imagine - A Saturday Retreat in the City
– October 24, 2015 at 9:30 am - 2:00 pm
Hudson Taylor Legacy Series: Heart for Asia Conference
– October 24, 2015 at 9:30 am - 3:00 pm
Installation of Regent College's Fifth President: Symposium
– October 24, 2015 at 2:00 pm - 4:00 pm
M2/W2 Annual Dinner & Silent Auction
– October 24, 2015 at 5:00 pm - 8:00 pm
Roy & Rosemary in Concert
– October 24, 2015 at 7:00 pm - 9:00 pm
J.D. Miner
– October 24, 2015 at 7:30 pm - 9:30 pm
Music at Queen's: Lyric Singers
– October 24, 2015 at 7:30 pm - 9:30 pm
Jazz Vespers: Jaclyn Guillou
– October 25, 2015 at 4:00 pm - 5:30 pm
The 5 Love Languages: Gary Chapman (Live)
– October 26, 2015 at 7:00 pm - 9:30 pm
Public Lecture Series: Competing Paradigms: Christianity and Naturalism – Evidence in Religion
– October 27, 2015 at 7:00 pm - 8:30 pm
The 5 Love Languages: Gary Chapman (Live)
– October 27, 2015 at 7:00 pm - 9:00 pm
Complex Communities: Concepts and Tools for Better Communication
– October 28, 2015 at 9:00 am - 3:00 pm
Dr. Sargon Donabed: The Middle East, Minorities and the Islamic State: past, present and future
– October 28, 2015 at 7:30 pm - 9:30 pm
Earth & Spirit: A Speaker Series Exploring the Relationship Between Justice & Faith (Wednesdays)
– October 28, 2015 at 7:30 pm - 9:30 pm
Jazz Evensong: Ray Levesque
– October 28, 2015 at 8:00 pm - 10:00 pm
The Illustrated Alice: Celebrating 150 Years of Alice's Adventures in Wonderland
– October 29, 2015 - October 31, 2015 at All Day
Joel Thiessen: The Meaning of Sunday: The Practice of Belief in a Secular Age
– October 29, 2015 at 9:00 am - 10:30 am
Janet Epp Buckingham: Magna Carta, Rule of Law and Religious Freedom
– October 29, 2015 at 1:10 pm - 2:30 pm
Creatures of God: Human Nature and Evolution for Evangelicals and Catholics (part one)
– October 29, 2015 at 7:00 pm - 9:00 pm