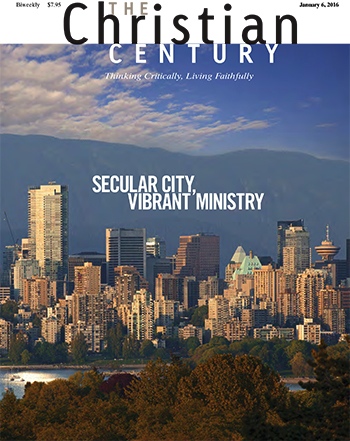 A recently retired theologian in Van­couver, British Columbia, tells a story about a conversation he once had while getting his hair cut. The stylist asked what he did, and he replied, "I teach theology."
"Really? You believe in God?"
"I do. And the strangest thing I believe about God is that he became flesh in Jesus of Nazareth."
"Who's that?"
Vancouver is known in religious circles for being a very secular city in a secular province in an unchurched part of the continent. According to researchers at the Angus Reid Institute, only 17 percent of British Columbians attend church as often as once a month – lower than Canada's overall rate of 23 percent. Unofficial observers estimate that the numbers are even lower in Vancouver.
Ed Searcy, the longtime pastor of University Hill Congre­gation of the United Church of Canada, thinks this trait has a long history: "Look at why people first moved here. It wasn't for God. It was for money." The economy of western Canada has always been one of boom and bust, where wealth is based on gold, timber, or oil – or, as is lately the case, property.
Vancouver was once an inexpensive beach village, but between hosting a World Expo in 1986 and a Winter Olympics in 2010, the city remade itself into a great metropolitan region. Surrounded by spectacular scenery, it is known worldwide for its urban livability.
It's now also ranked among the most expensive places in the world to live. Canada came out of the real estate crash of 2008 relatively unscathed. Its banks never overly invested in subprime mortgages. Real estate continues to look like a safe investment. With the U.S. border to the south, mountains to the north, and an ocean to the west, there's not a lot of land to go around. Tim Dickau, pastor of Grandview Calvary Baptist Church, showed me a condemned house on a piece of property the church bought for $80,000 decades ago. It recently sold for $1.3 million. (A local quip is that BC stands for "bring cash.")
On the culture front, British Columbia is the California of Canada: marijuana laws are looser, hippies and retirees flock here (sometimes they're one and the same), and the ocean and ski slopes offer enticing alternatives to being in church on Sunday morning. The way British Columbians approach whale sightings, exercise, sushi and indigenous art may suggest that religion hasn't disappeared here – it has only found a new form.
In What Happened to Christian Canada?, Mark Noll notes that in the period just after World War II Canadians were actually more religious than Americans. No one is quite sure why a steep drop occurred, but the decline of the United Church of Canada is part of the story.
Phyllis Airhart, in A Church with the Soul of a Nation, chronicles how the United Church was created in 1925 by a merger of Methodists, Congregationalists and (most strands of) Presbyterians in hopes of offering "friendly service" to the nation. Airhart says that for 40 years the United Church focused on shaping a Christian Canada, and in the early 1960s it could feel satisfied with its numerical strength. The next generation focused on diversity, expressing shame over Christians' treatment of indigenous peoples. Now the UCC worries about empty pews and unused buildings. In other words, as Christendom collapsed, a church that was built on Christendom collapsed too.
In Vancouver as in many other parts of the Pacific Northwest, there is no ecclesial "home team" in the way that Lutherans predominate in parts of the Midwest or Baptists pervade the South. The United Church, the Presbyterians and the Anglicans all have historically great congregations that offer vibrant ministries, but none can claim dominance.
All mainline denominations struggle to catch what might be the new wind of the Spirit in Cascadia: Asian immigration. British Columbia has taken in thousands of Chinese from Hong Kong and from the mainland of the People's Republic. About 30,000 Chinese immigrants have entered Canada every year since 2000, amounting to 15 percent of all immigrants to Canada. It's estimated that by 2031 there will be 800,000 Chinese in Vancouver – a quarter of the city's population.
Reginald Bibby, a sociologist at the University of Lethbridge, told Maclean's magazine that mainline churches for many years counted on immigrants from Europe to populate their pews. Now it's evangelical and Catholic congregations that benefit from the immigration from Asia. "If you have stock in the United Church or the Anglican Church, Presbyterians or Lutherans, you're going to lose a lot of money."
Though Vancouver offers some of the rockiest terrain for churches in North America, some vibrant things are happening on the ground. A lot of that vibrancy is connected to immigration.
David Ley, a geography professor at the University of British Columbia, points out that the newcomers from Asia are generally well off financially (Ley's book is titled Millionaire Migrants). Soohwan Park, a Korean-Canadian church leader, comments: "These are not boat people. They don't need help with food stamps."
Some of these immigrants have found their way to West Point Grey Baptist Church. West Point Grey is one of the neighborhoods that has changed the most in recent years. Its mid-20th century modest housing stock is worth 10 times what it was when built, and its streets are dotted with luxury cars. Some of the immigrants arrived as Baptists.
New members early on started a cooking class at church so that new arrivals from Asia could navigate Canadian grocery stores and learn how to cook macaroni and cheese. The leaders called the class Cross Cultural Cuisine and expected maybe 10 people to show up. Thirty did, and the numbers kept growing. Two hundred people signed up for the class on cooking a turkey dinner at Christmas. And the class developed an element of mutual exchange: the Asian-Canadians taught Anglos how to cook dumplings. Pastor Matt Kitchener says the group draws lots of mothers of small kids whose husbands are back in China on business.
Just because these households have money doesn't mean they have no needs – including the need for friendship. A report by the Vancouver Foundation in 2013 found that most people in the city can't name more than two neighbours. In serving this population, the church has found a renewed sense of mission.
Copyright © 2016 by the Christian Century. 'Vancouver's stony soil' by Jason Byassee is excerpted by permission from the January 6, 2016, issue of the Christian Century.

To read the full article, click here. It is well worth carrying on; the two-thirds of the article not posted here includes insightful portraits of Ken Shigematsu and Tenth Church, Tim Dickau and Grandview Calvary Baptist Church, and Ron Reed and Pacific Theatre.
This article will go a long way to shaping the view of mainline Christian readers around North America about the city of Vancouver and the role of faith in our community. The Christian Century describes itself as "a progressive, ecumenical magazine based in Chicago . . . The magazine remains a voice of generous orthodoxy, both loyal to the church and open to the world."
Jason Byassee is a man of several parts, and a quick study. He only came to Vancouver last summer, to scout out the area and set up a home for his family, in preparation for his new role teaching homiletics and biblical interpretation at the Vancouver School of Theology.
His previous day job was as senior pastor of the 1,500 member Boone United Methodist Church in North Carolina. But he also taught at Duke University, where he earned his PhD in 2005. He was assistant editor of the Christian Century from 2004 – 2008, and has written scores of articles for a range of publications, including Sojourners and Christianity Today. He has written and edited several books, with two more on the horizon.
Byassee will be an asset to the church in Vancouver, and as an interpreter to the wider world.