Dave Jeffery influenced many people, even as he suffered with a debilitating neuromuscular disease.
And his life will be remembered, and celebrated widely during a funeral which will be live-streamed from Sevenoaks Alliance Church this weekend.
Jeffery retired in May 2019 after teaching for 13 years at the Canada Institute of Linguistics, on the Trinity Western University campus. He and his wife Susan served for 19 years with Wycliffe Bible Translators in two countries in Asia.
Jeffery was diagnosed with ALS (Amyotrophic Lateral Sclerosis) six and a half years ago, and died March 28.
An article in The Abbotsford News April 7 reflected on his contribution:
A local man has been honoured for his work advocating for people living with ALS.
Dave Jeffery was given an ALS Society of BC Advocacy Award, which recognizes individuals for their efforts and initiatives to change public policy to benefit those diagnosed with the disease. . . . His son, Robby, accepted the award on his behalf in a virtual ceremony on April 6.
Lando Klassen, owner of House of James in Abbotsford, emailed to say Jeffery was a "remarkable man," adding:
In the Christian evangelical world the emphasis is often on 'pray and you will be healed.' But most people know that is often actually not the reality.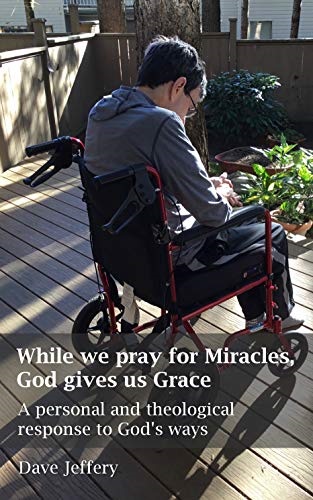 Dave Jeffery addresses this in his honest, easy to read little volume [While We Pray for Miracles, God Gives us Grace]. He includes his own story as well as parts of other people's journeys.
My favourite part is the conclusion, where he very practically sets forth some encouraging reminders, including, "Don't be ashamed if you don't get healed" and "Celebrate grace, it's not God's second best."
Jeffery also wrote for Faith Today magazine, published by the Evangelical Fellowship of Canada. Here is a portion of his reflection from the January/February 2020 issue:
I went forward to ask for prayer at the end of a Sunday morning service in November 2014. That week a strange weakening of my right hand had been diagnosed as an early stage of ALS, a terminal neurological disorder.
My doctor told me I had between two to five years to live. I asked the elders of my church in Abbotsford, BC to pray for me and they did so, anointing me with oil and praying for my healing. They prayed for a miracle.
At the end of the prayer time I had not been healed physically, although I was encouraged emotionally and spiritually.
Since then many different people have prayed for me. I still have not been physically healed. In fact, the disease has progressed to the point that my breathing and mobility are now both severely compromised. However, I am still here past that five-year prediction.
I'm able to spend rich and meaningful time with family and friends. I have remained mostly positive and calm throughout the steady weakening of my body, although I grieve the loss of the active life I once lived. I attribute this calmness to the Holy Spirit, indwelling me, and giving me grace and peace to sustain my faith.
Why was I not healed in that 2014 prayer meeting? Doesn't James 5:14–15 promise healing in these situations? When a person is not healed, the reasons generally given are that the person didn't have sufficient faith, they're harbouring unconfessed sin or they haven't prayed long enough.
The more I considered the lives of the chronically ill people I knew, the clearer it became that none of these reasons fit the reality I saw before my eyes. Our church is full of faith-filled people who do their best to live God-honouring lives. Yet despite fervent prayer the sick were not being healed. Why was God not answering our prayers? I could not come up with any biblical teaching to answer my question.
Eventually, I realized Scriptures and experience together provide a clear and simple answer – that God's normal response and His most common answer to prayer for sick believers is to give them grace to bear what they're suffering, rather than grant them immediate physical healing.
Go here for the rest of the comment. And here if you would like to join with the Jeffery family as they celebrate Dave's life, Saturday, April 17, 10 am.
The paperback version of While We Pray for Miracles, God Gives us Grace is available from House of James in Abbotsford, and the e-book is on Amazon Kindle.