Fraser Valley author Sarah Bessey has been through a troubling couple of weeks. Religion News Service posted a story about the situation April 9:
A bestselling book on prayer has some Christians upset and calling on Target stores to remove it from their shelves.
A Rhythm of Prayer: A Collection of Meditations for Renewal – edited by progressive Christian author Sarah Bessey – features a number of different types of prayers written by theologians, pastors and authors from various Christian traditions. It hit bestseller lists in both the United States and Canada when it was released in February.
The prayers in the book include a benediction by Bessey, a poem by Potawatomi Christian author and speaker Kaitlin Curtice, a prayer based on a chicken soup recipe by pastor and peacemaker Osheta Moore, "A Liturgy for Disability" by author and disability advocate Stephanie Tait and even blank pages for those times when it feels like there aren't words.
But it's the "Prayer of a Weary Black Woman" by clinical psychologist and womanist theologian Chanequa Walker-Barnes that has caught the attention of Fox News and conservative Christians on Twitter, some tweeting at Target to remove the book from its stores.
One line from the prayer in particular has caused the backlash, which reads: "Dear God, Please help me to hate White people."
Bessey and other contributors to A Rhythm of Prayer responded to what they said has been a "firestorm of harassment, criticism, coordinated attacks, threats, and furor against her and the book" with a statement published Thursday evening (April 8) on Bessey's website, saying critics are missing the point of the prayer.
Go here for the full Religion News Service story.
The statement by Bessey, and signed by all contributors to the book, includes this:
The anger people are expressing is in response to a line at the beginning of the prayer which reads, "Dear God, help me to hate white people."
While some may consider this to be a provocative start to a prayer, its intentional extraction from the rest of the prayer obscures its context and the biblical model it is based on.
Our sister is bringing her weariness and her anger over the real sin of racism to God. In what is a clear moment of deep grief, she is talking intimately with her God about her exhaustion, her longing to simply not care anymore.
We are given a vulnerable glimpse of her lament, her suffering, her weariness at the call to love her neighbours even when they oppress and marginalize her as a Black woman.
Yet even in the very midst of this, we witness her prayer turn towards what she knows to be true about God's call to justice and love. She turns towards trust. She turns towards hope and love even when she is wounded and heartbroken.
She praises God for protection, for the call to be "an agent in your ministry of justice and reconciliation." She names the beloved community who continue to call her to rise to the call of love, not hate.
Go here for the full statement.
Bessey has written four books, including Jesus Feminist, which I wrote about here.
'C.D.' seeking release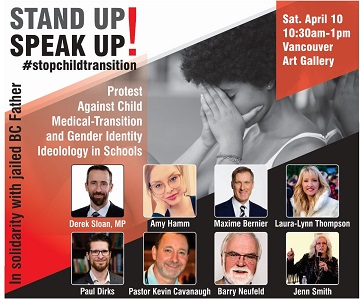 A father who was jailed for speaking publicly about his child's gender transition is seeking to be released this week.
Several Christian leaders, including Paul Dirks, Kevin Cavanaugh and Laura-Lynn Thompson, were among the speakers at an event in his support April 10.
Here is part of an April 12 report from True North:
People's Party of Canada (PPC) leader Maxime Bernier and independent MP Derek Sloan were two of the featured speakers at the "Stand Up Speak Up" rally in Vancouver on Saturday.
The event was organized to protest child gender transitioning in solidarity with the BC father known as "C.D." C.D. was arrested on March 16, 2021 and is currently in jail because he spoke out publicly against the medical transition of his 14-year old daughter and violated a court publication ban in doing so. . . .
Over 300 people turned up for the event, as well as approximately 35 protesters, a couple of whom attempted to disrupt the rally by blaring siren machines and yelling sexually explicit comments into megaphones.
Go here for the full story.
A March 17 article in The Vancouver Sun ('B.C. father arrested, held in jail for repeatedly violating court orders over child's gender transition therapy') noted:
The case stems from C.D.'s battle to prevent his child – A.B., as the child is known – from receiving gender transition hormone therapy. But what began as a family court dispute has now wound up in criminal charges due to allegations that C.D. is persistent in violating court orders.
The orders instruct him to not make public any information that would identify A.B., or the medical professionals involved, to call A.B. by the child's preferred name and gender pronoun, and to not share his opinions of the case publicly.
The British Columbia Court of Appeal laid out the court orders C.D. was to abide by in January 2020. Since then, the B.C. Prosecution Service alleges he has failed to do so on multiple occasions.
Go here for the full story.
One man who supports CD has been attending the court proceedings. Chris Elston tweeted April 13, "This trial was scheduled for 4 days and they're taking their time," and on the 14th that "Sentencing is scheduled for this Friday, April 16th, at 11am."
The B.C. Catholic, awarded
Congratulations to the team at The B.C. Catholic, who received strong affirmation from their peers last week. Here is their report:
The B.C. Catholic has won nine awards for Christian journalism in Canada, including first place in general excellence in newspapers.
B.C. Catholic editor Paul Schratz said the newspaper team was grateful and honoured with the recognition as staff watched the online awards ceremony by the Canadian Christian Communicators Association [April 7].
"I'm so pleased to know we're appreciated for the outstanding job we're doing, especially at this time the pandemic is making independent journalism so critical," said Schratz.
In addition to being awarded first place in the General Excellence – Newspaper category, the publication placed first in four other categories, recognizing Schratz for a powerful critique of Bill C-7 in the Editorial category; Agnieszka Ruck for a detail-oriented and descriptive Biographical Profile; graphic designer Inca Siojo for "top-notch" Layout and Design; and a team of contributors and editors for the 2020 B.C. Election Guide.
Judges praised the election guide as "the definition of service journalism," and "a gift to readers."
Go here for the full article.
The Canadian Christian Communicators Association, formerly the Canadian Church Press, "has since 1957 offered networking, professional development and mutual encouragement to communications professionals who serve Christian and/or mainstream audiences."
I concur with the judge, and often link to and reproduce portions of The B.C. Catholic's fine articles.
Fraser Lands development
A large church in southeast Vancouver is making the most of the enforced shutdown of churches.
In an update late last month, Fraser Lands Church senior pastor Abe Chan reported:
In the past few months, a lot of time and energy has been put into planning and preparing for the construction and the completion of the Building Project – the Building Completion Faith Journey – that the Lord has led us on. A lot of effort has been devoted by many people to making sure that 'the building will be ready' for completion.
However, it's much more important to focus on making sure that 'we (the people of our church) will be ready' for the completion of the building, especially when the completion date will be drawing near! As you watch this construction [video] update, my prayer for us is this: "Lord, in what way can we prepare ourselves and be ready for the completion of our church building?"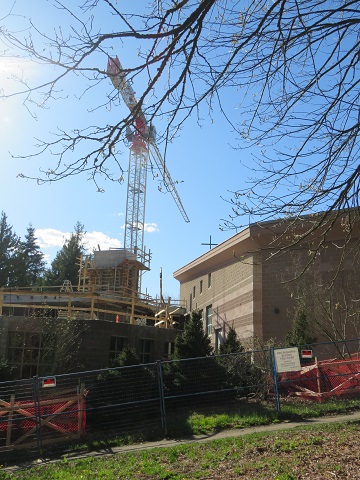 Here is story of Fraser Lands' story, from its website:
"Anyone can preach the gospel and any people can be reached," said Augustus Chao, the founding pastor of Vancouver Chinese Alliance Church (VCAC). This was the driving philosophy behind the starting of Fraser Lands Church (FLC) in 1991 as an outreach ministry of VCAC.
God gave Pastor Chao a vision in 1990 for a multicultural ministry when the church acquired 2.5 acres of land in the southeast corner of the city at the intersection of Marine Way and SE Marine Dr. through a 99-year lease with the City.
Initially, a bilingual Sunday service was held at Champlain Heights Recreation Centre while the church building was being constructed. The first Sunday service took place in the new church building on September 4, 1994 with two separate language congregations (English and Cantonese) totaling about 140 worshippers.
Through the years, God has blessed FLC with the addition of a Mandarin congregation in September 1997. By the mid-2000s, the church had a vibrant mix of ministries for children, youth, English, Cantonese and Mandarin congregations and attendance grew to over 700 people.
On October 19, 2014, FLC became 'independent' from VCAC yet still remains under the umbrella of the Christian and Missionary Alliance family of churches.
A recent addition to the Fraser Lands staff is Xavier Law, who until recently was senior pastor at Pacific Grace MB Church at 1st and Renfrew, where he ministered for 18 years. He has been serving as Cantonese Ministry Pastor since February 1.
Apr 2021
Addressing Grief + Loss in Community Programs
– April 15, 2021 at 2:00 pm - 3:30 pm
Communication(s) and Mission: Virtual Conference
– April 16, 2021 at 8:00 am - 2:00 pm
Brent Waters: Remaining Focused: Human Flourishing in the Emergent Techno-Culture
– April 16, 2021 at 12:30 pm - 1:30 pm
Bill C-7 (MAiD): What Will Happen Now?
– April 16, 2021 at 7:00 pm - 8:00 pm
Mission Central: Church Leaders Roundtable – Refuge Reimagined with Mark and Luke Glanville
– April 21, 2021 at 4:00 pm - 5:00 pm
Understanding Our Muslim Neighbors
– April 22, 2021 at 5:00 pm - 6:00 pm
George Grant and the Nature (and Loss) of a Moral Tradition
– April 23, 2021 at 7:00 pm - 8:30 pm
Imprisoned for Christ
– April 24, 2021 at 3:00 pm - 4:00 pm
Good Seed Sunday, Delivered by A Rocha
– April 25, 2021 at All Day
John Stott, Pastor, Leader and Friend: Global Overview of Stott's Influence
– April 27, 2021 at 8:00 am - 9:00 am
Reading the Gospels While Black: A Conversation with Esau McCaulley & N.T. Wright
– April 28, 2021 at 9:30 am - 12:00 pm
Who Will Determine the Course of Human Genome Editing?
– April 28, 2021 at 1:00 pm - 2:15 pm
Under the Sun: Types and Shadows in a Biblical and Brazilian Perspective
– April 29, 2021 - May 3, 2021 at All Day
The Church in a Post-COVID World
– April 30, 2021 at 6:00 am - 8:00 am
Himalaya: A Drive-in Film Festival (two shows)
– April 30, 2021 at 8:30 pm - 11:50 pm
May 2021
When the Best is Corrupt: Strategies for Living in Integrity
– May 1, 2021 at 7:00 am - 9:00 am
Perseverance Conference
– May 1, 2021 at 9:00 am - 2:00 pm
Himalaya: A Drive-in Film Festival
– May 1, 2021 at 8:30 pm - 10:00 pm
God is for the Birds: Celebrating a Creation Care Champion
– May 3, 2021 at 5:30 pm - 7:00 pm
Our Whole Society: Free to Believe, Responsible to Act
– May 4, 2021 at 10:00 am - 1:30 pm
Every Moment Holy, Vol. 2: Death, Grief & Hope
– May 4, 2021 at 12:00 pm - 1:00 pm
The Truth and Reconciliation Commission and Bill C-15 Online Learning Event
– May 4, 2021 at 4:00 pm - 5:30 pm
Pray for India
– May 5, 2021 at 8:30 pm - 9:30 pm
Canadian Sexual Exploitation Summit 2021
– May 6, 2021 - May 7, 2021 at All Day
Addressing Our Cultural Moment with Humility and Hope (including book launch)
– May 6, 2021 at 12:00 pm - 1:00 pm
Flourishing Conference: Uprooting Poverty, Planting Hope
– May 7, 2021 - May 8, 2021 at 8:30 am - 12:30 pm
SIM Banquet: Changing Times Unchanging God
– May 8, 2021 at 4:00 pm - 5:30 pm
New Roots Live
– May 8, 2021 at 8:00 pm - 9:30 pm
Memorial Service: Remembering Teacher Hui
– May 10, 2021 at 6:30 pm - 8:00 pm
Sarah Williams: The Integration of Heart & Mind – St. Bernard of Clairvaux for the Postmodern Academy
– May 10, 2021 at 7:30 pm - 9:00 pm
Faith in Action: Refugee Advocacy Webinar
– May 11, 2021 at 4:00 pm - 6:00 pm
Keeping an Open Heart in Troubled Times
– May 12, 2021 at 10:00 am - 11:00 am
John Swinton: Moving Beyond the Empire of Illusion – What Do We Do About the Problem of Evil?
– May 12, 2021 at 7:30 pm - 9:00 pm
March for Life in Your Neighbourhood
– May 13, 2021 at All Day
Identity: Film Screening & Conversation Around Faith, Race, Art & Mental Health
– May 13, 2021 at 7:00 pm - 9:00 pm
Beyond the Conversation: A Gift of Presence
– May 15, 2021 at 12:00 am - 11:55 pm
AC Literary Expedition: Discussing Critical Race Theory
– May 16, 2021 at 4:00 pm - 6:00 pm
Elizabeth Sung: Rethinking the Kingdom of God, Christ's Ministry & Christians' Transformation
– May 17, 2021 at 7:30 pm - 9:00 pm
What Would Jesus Tweet?
– May 18, 2021 at 1:00 pm - 2:00 pm
Virtual Book Club: Not Done Yet by Beth Seversen
– May 18, 2021 at 4:00 pm - 5:30 pm
Carmen Joy Imes: The Mission of the Church to Bear God's Name
– May 19, 2021 at 7:30 pm - 9:00 pm
Cardus Coffeehouse: Welcoming Refugees
– May 20, 2021 at 10:00 am - 11:30 am
BAM Vancouver Transforming Business Series
– May 20, 2021 at 12:00 pm - 1:00 pm
Woven Together: Partnerships in Community Programs
– May 20, 2021 at 2:30 pm - 4:00 pm
Historymaker
– May 21, 2021 at All Day
Mark Glanville: 'Where are Your Roots?!': Biblical Ethics & Jazz (a Jazz-Talk from the Piano and a Bar Stool)
– May 24, 2021 at 7:30 pm - 9:00 pm
Religion & Thoughtful Activism Conference
– May 25, 2021 at 12:00 am
The Common Good Collective: Words for Good
– May 26, 2021 at 1:00 pm - 1:45 pm
Susan Phillips: Tethered by Prayer – the Spiritual Exercises of Saint Ignatius of Loyola
– May 26, 2021 at 7:30 pm - 9:00 pm
Alpha Webinar: Reviving Evangelism in Gen Z
– May 27, 2021 at 9:00 am - 10:00 am
Earthkeepers: Prayer Night for Bold Climate Action
– May 27, 2021 at 5:00 pm - 6:00 pm
What's the Best Luxury Album? A panel discussion
– May 27, 2021 at 6:00 pm - 7:30 pm
Day of Prayer for Camp
– May 30, 2021 at All Day
John Behr: What is Life?
– May 31, 2021 at 7:30 pm - 9:00 pm