Metro Vancouver is very well represented in The Blessing – Canada, our nation's contribution to an international worship phenomenon.
Since 'The Blessing' was written in early March, worship leaders in many nations, states and cities have banded together to lift the spirits of their communities during the COVID-19 pandemic.
More than 125 singers from across Canada join forces in the worship video. Forty-five BC churches are involved, generally represented by one singer, with several having two or three. Most are singing from their own homes, but their voices are blended to make a beautiful sound.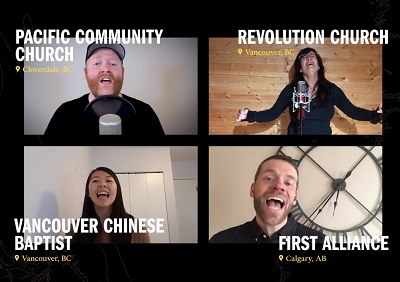 The bulk of the BC churches are from Metro Vancouver and the Fraser Valley, though some are from the Island and the Interior.
Alberta and Ontario are also very well represented, and there are singers from every province. Most are from a variety of Protestant and nondenominational churches, but Coptic Orthodox and Roman Catholics are also involved.
(Go to the end of the story for the lists of BC churches and singers. A handful are well known – Brian Doerksen and Carolyn Arends for example – but most are worship leaders in their churches.)
'The Blessing – Canada' begins with these words:
As the world has come together in a time of crisis, the church has united in prayer and worship to bless our communities around the world in the name of Jesus. With one voice, this is our prayer over Canada.
The song is drawn mainly from the Priestly Blessing (Numbers 6:22-26)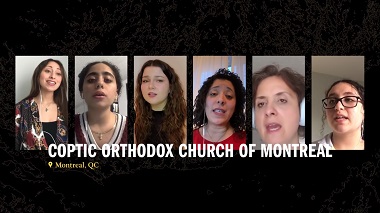 Here are some of the lyrics from the song:
The Lord bless you
And keep you
Make His face shine upon you
And be gracious to you
The Lord turn His Face toward you
And give you peace
Amen
May His favor be upon you
And a thousand generations
And your family
And your children
And their children
And their children
Cody Carnes, who wrote the song with his wife Kari Jobe and two others (Steven Furtick and Chris Brown from Elevation Music) said this in a Live from Home version:
In a season of such fear, unknowns, loss, disappointments, I'm so thankful we can sing scripture and feel a shift in the atmosphere of our hearts and over our lives. This is THE BLESSING from God over us. I pray for massive breakthrough and peace over you and your family and your children and their children. He is for you.
Listen to it yourself. It is joyful, reassuring, anthemic – and it will surely lift your spirits
Worldwide phenomenon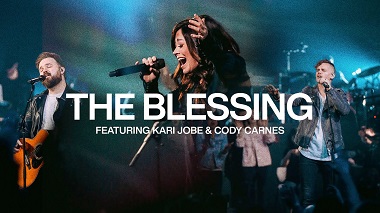 The original version of the song –  played at Elevation Ballantyne in Charlotte, North Carolina, and released as a video worldwide March 6.– has been viewed more than 13 million times.
Both Kari Jobe and Cody Carnes were to have participated in the Worship Central Conference here in Vancouver March 6 – 7. She was unable to attend, in the end, but he led worship on the 6th, so he introduced the participants to 'The Blessing' on the day of its release.
Before long there was 'The UK Blessing' (now more than 2.75 million views), featuring some 65 churches and dozens of singers.
Pete Greig, founder of 24-7 Prayer In England, tweeted:
This. Is.INCREDIBLE. A powerful 3,000 year-old blessing upon the nation – a love-song from the church for the #NHS, frontline workers, those who are grieving, the sick, the lonely, the scared. https://youtu.be/PUtll3mNj5U
There are similar videos now, from Pittsburgh, South Africa, Zimbabwe, Hawaii, Latin America and others. Even Selena Gomez has posted a video of herself singing 'The Blessing.'
'The Blessing – Canada' went online May 16 and is already above 170,000 views.
BC influence
A number of the singers on 'The Blessing – Canada' have connections with Worship Central Canada, which is based in Metro Vancouver.
It hosts a large conference at Westside Church each year (March 12 – 13 next year) and recently began the Worship Central Academy "to raise up proficient and God-centred worship leaders."
Worship Central Canada described 'The Blessing – Canada' May 16:
This is what it looks like for the entire world to lift their voices to God as one. As renditions of this song by Kari Jobe, Cody Carnes and Elevation Worship are being sung around the globe, all uniquely special, we are so encouraged by the church in Canada in our own expression, uniting together to sing this anthem alongside everyone else. To each and every person who has been a part of this movement around the world: the Father is so pleased
Vancouver-based attorney/philanthropist Lawrence Ho was involved with 'The Blessing – Canada' project. He described some of the key players:
My friend Gordie Cochran (former drummer of Starfield) and two other friends helped to organize. We had input from more than 125 churches across Canada and less than 10 days to put it together. Lots of help from Alpha Canada (Shaila Visser) and Worship Central (Peter Cheng).
The video was produced by Colours & Shapes, audio arrangement, composition, performance and editing by Momentum Ent and audio mix by Tyson Kuteyi.
Royal City Worship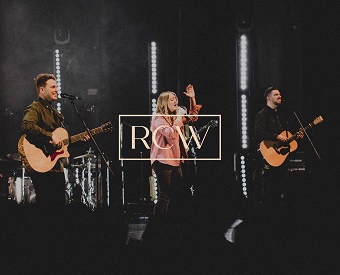 Worship Central Canada is part of Worship Central, which developed in England, under the leadership of Tim Hughes (Anglican priest and author of many worship songs, including 'Here I Am to Worship'). Hughes is the lead-off singer on 'The UK Blessing.'
The first singer on 'The Blessing – Canada' is Luke Stones, a lead singer for Worship Central's new initiative, Royal City Worship, which released 'Come on Heart' May 15 on YouTube. The song was recorded March 7 at the Worship Central Conference.
Royal City Worship is new, but here is how they are describing themselves as they set out:
Royal City Worship [RCW] is a diverse collective of songwriters and the artist branch of Worship Central in Canada.
Our heart is to not only allow music to bring the revelation of Jesus to all of God's people, but to ignite new songs from churches, homes and personal places of worship; songs that will together usher in a revival amongst the nations.
We believe God is stirring something new in Canada. We believe He is beckoning us to risk, to write, to step out.
So, here we are. We are Royal City Worship.
************************************
Below are the names of the churches and singers from BC who took part in 'The Blessing – Canada,' copied from the video.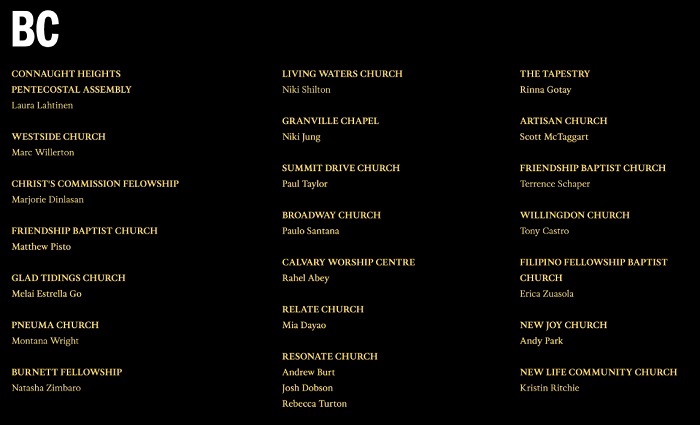 Note (May 22): 100 Huntley Street did a Facebook Live story on the Blessing song phenomena and highlighted 'The Blessing – Canada.' Gordie Cochran (producer) shared alongside 12 Canadian worship leaders, and a short interview by the songwriters.