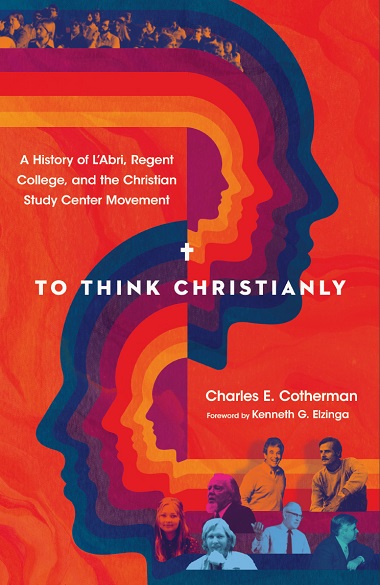 Two virtual book launches sponsored by Regent College and Regent Bookstore next week will focus on ways to live effectively as 'exiles' in the modern world, and how to 'think Christianly' while doing so.
Next Monday (May 25), they will launch Exiles on Mission: How Christians Can Thrive in a Post-Christian World by Paul Williams, Regent College Research Professor for Marketplace Theology and Leadership.
Here is how they describe the book and its approach to living in our culture:
Many Christians in the West sense that traditional Christian teaching is losing traction in the public square. What does faithful Christian witness look like in a post-Christian culture?
This book invites readers to embrace the language of exile and imagine a hopeful mission of the scattered and gathered church in the post-Christian West. It shows a clear pathway for fruitful missional engagement for the whole people of God, helping Christians make sense of the world in which they live, more authentically integrate faith with everyday life, and orient all of their efforts within God's missional purpose for the world.
The launch will be hosted by Dr. Iwan Russell-Jones, Eugene and Jan Peterson Associate Professor of Theology and the Arts, who will facilitate a conversation between Williams and panelist Katherine Alsdorf, Senior Fellow at Redeemer City to City.
I recently posted an article about Exiles on Mission and several other books by Regent College faculty and alumni.
Next Thursday (May 28) will be the second launch, To Think Christianly: A History of L'Abri, Regent College and the Christian Study Center Movement by Charles E. Cotherman – which overlaps with and offers context for the themes developed through Exiles on Mission:
This new release tells the story of a 50 year old movement that has influenced generations of scholars and students in the United States and across the globe. In the late 1960s, when a new generation of evangelicals came of age in the midst of unprecedented cultural upheaval and educational opportunity, visionary leaders helped create a new type of institution: the Christian study center.
With roots in Francis Schaeffer's L'Abri community and Regent College in Vancouver, Christian study centers are now ensconced at dozens of major research universities across the United States. There are nearly 30 affiliated study centers, each reflecting their unique milieus and endeavoring to inspire Christians to study, engage and pray for culture more faithfully – in the words of Regent College's founder James M. Houston, "to think Christianly."
This event looks particularly interesting to me, as my wife Margaret and I met at L'Abri in Switzerland in 1977, when I was a brand new Christian, and Regent College has been a bright light on the Vancouver scene ever since. But these two events don't require any particular connection to the institutions, just a desire to think clearly in our complex culture.
Remembering Ravi Zacharias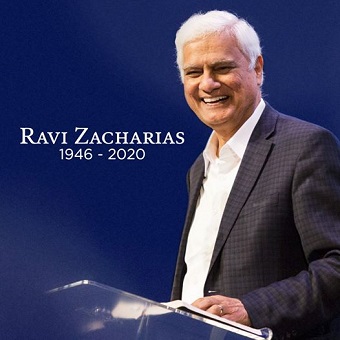 Another Christian thinker has just passed away. Evangelist/apologist Ravi Zacharias died May 19, just a couple of months after announcing he had been diagnosed with cancer. He was 74.
He has influenced a number of local leaders and led several large conferences here over the years.
Apologetics Canada, based in Abbotsford, expressed their gratitude for his life:
Ravi Zacharias has passed on to be with Jesus in glory. He has had a tremendous impact on the lives of many people, including the AC team. While we grieve his death, we rejoice in his continued eternal life in the Lord whom he served with vigour and passion.
Mark Clark, senior pastor of Village Church, tweeted #thankyouravi just before Zacharias's death was announced, saying he had inspired him as a young Christian, and to this day: "Ten years ago I planted a church in Vancouver, BC to reach skeptics – preaching in the way I learned from you: bible focused but apologetics every time, doing my best to be both winsome and persuasive." (See accompanying comment.)
Zacharias spent two days speaking at Westside Church in 2016; go here to watch five videos from his time there. He also led a large event at Trinity Western University in 2014.
Christianity Today said:
The popular author and Christian teacher was known for his work through Ravi Zacharias International Ministries (RZIM), which focused on apologetic arguments for the existence of God and the reasonableness of Christianity.
He preached in more than 70 countries and authored more than 30 books in his 48-year career, teaching Christians to engage with skeptics and arguing that the Christian worldview has robust answers to humanity's existential questions.
The magazine also said that in recent years Zacharias "faced claims that he overstated his academic background."
Faith, Grief & COVID-19
Sanctuary Mental Health Ministries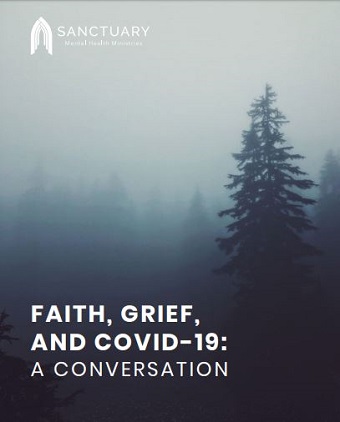 has developed Faith, Grief & COVID-19: A Conversation, as a four-part resource for the community.
Here is how they introduce it:
The COVID-19 pandemic has generated grief in all of our lives. We have lost jobs, financial security, health, community connections and the opportunity to gather and celebrate significant milestones such as graduations, weddings, births and anniversaries. In addition, we are reminded daily of the lives lost to the virus.
These losses raise larger questions for us as Christians. How do we understand and process grief as people of faith? How can we support vulnerable and grieving members of our community while practicing physical distancing? Where can we find hope and joy in this season? This short series of films tackles these questions, inviting viewers to engage in a conversation about faith, grief, and COVID-19.
Over the course of four meetings, participants will gather virtually, watch a film featuring insights from a panel of experts, and engage in discussion questions, reflection, and prayer. You can download the complete Discussion Guide to follow along with the materials and discussion questions, or download each session's guide individually using the buttons next to each film.
Go here for introductions to the four Discussions, a film featuring Sanctuary CEO Daniel Whitehead and other resources.
May 2020
Alpha Canada Webinar: Prayer, Leadership and Evangelism in a Season of Separation
– May 21, 2020 at 10:00 am - 11:00 am
Webinar: Hope in the Midst of Crises – COVID-19, Climate Action and Faith
– May 21, 2020 at 7:00 pm - 8:00 pm
Cancelled: HistoryMaker Weekend 2020
– May 22, 2020 - May 24, 2020 at 6:00 pm - 12:30 pm
Cancelled: Do Justice, Love Mercy
– May 22, 2020 - May 23, 2020 at 7:00 pm - 3:00 pm
Ecumenical Faith Break: Together in the Risen Lord
– May 23, 2020 at 10:00 am - 11:15 am
Virtual Book Launch: 'Exiles on Mission: How Christians Can Thrive in a Post-Christian World'
– May 25, 2020 at 12:00 pm - 1:30 pm
Livestream: Gordon T. Smith: The Trinity & the Shape of Christian Worship
– May 25, 2020 at 7:30 pm - 9:00 pm
Livestream: Joshua Coutts: Living According to the Lord's Day: The Formative Role of Worship in Early Christianity
– May 27, 2020 at 7:30 pm - 9:00 pm
Leading into our New Future: Canada's Recovery Plan and Christian Charities
– May 28, 2020 at 9:30 am - 10:30 am
Virtual Book Launch: 'To Think Christianly: A History of L'Abri, Regent College and the Christian Study Center Movment'
– May 28, 2020 at 11:00 am - 12:00 pm
Virtual Event: Business as Calling: Speaker Josh Davis
– May 28, 2020 at 12:00 pm - 1:00 pm
Walk in the Spirit of Reconciliation
– May 29, 2020 - May 31, 2020 at All Day
Postponed: Centreing Prayer Mini Retreat
– May 29, 2020 at 10:00 am - 4:00 pm
Together in One Place: An Online Ecumenical Prayer Service for Pentecost
– May 30, 2020 at 12:00 pm - 1:00 pm
Postponed: Crystal Hicks: Stand Up for Something
– May 30, 2020 at 3:00 pm - 5:00 pm
Postponed: Crystal Hicks: Stand Up for Something
– May 30, 2020 at 8:00 pm - 10:00 pm
Awaken BC: Arise and Seek the Lord!
– May 31, 2020 at All Day
Day of Prayer for Camp
– May 31, 2020 at All Day
International Day for the Unreached
– May 31, 2020 at All Day
Jun 2020
Livestream: Iain Provan: The 'Environment,' Climate Change & COVID-19 – an Opportunity for Serious Reflection
– June 1, 2020 at 7:30 pm - 9:00 pm
The Next Normal Conference
– June 2, 2020 - June 4, 2020 at All Day
EFC Webinar: Reopening Churches
– June 3, 2020 at 9:00 am - 10:00 am
Livestream: Stanley John: How Diaspora Churches are Shaping North American Christianity
– June 3, 2020 at 7:30 pm - 9:00 pm
Webinar: Breaking Ground for a World Renewed: A Beginning
– June 4, 2020 at 4:00 pm - 5:00 pm
Flavours of Hope: Food & Race – Cultural Identity
– June 6, 2020 at 3:45 pm - 5:30 pm
Cancelled: Mayor Linda Buchanan: What Makes a Community?
– June 6, 2020 at 4:00 pm - 5:00 pm
Webinar: Marriage in a Dangerous Time
– June 11, 2020 at 1:00 pm - 1:45 pm
World Refugee Sunday
– June 14, 2020 at All Day
Dr. Margaret Cottle: Normalizing Euthanasia in Canada – More Danger Ahead
– June 16, 2020 at 4:00 pm - 5:00 pm
Seek and Save: Equipping & Inspiring You to Show & Share the Love of Jesus
– June 17, 2020 at 9:00 am - 12:00 pm
Postponed: Jaron Lanier: Human Flourishing in a Technological World
– June 17, 2020 at 7:30 pm - 9:00 pm
Alpha Webinar: Renewal and Unity in a Season of Separation: Shaila Visser & Stephen Foster
– June 18, 2020 at 9:00 am - 10:00 am
Cancelled: Sacred Texts: Where Judaism, Christianity and Islam Meet
– June 18, 2020 - June 20, 2020 at 7:00 pm - 3:00 pm
Postponed: Space for God Retreat
– June 18, 2020 - June 20, 2020 at 7:00 pm - 5:00 pm
Journey Home Refugee Support: Volunteer Training
– June 20, 2020 at 8:45 am - 3:00 pm
World Refugee Day 2020: Distant but Together
– June 20, 2020 at 2:00 pm - 4:00 pm
World Refugee Sunday
– June 21, 2020 at All Day
Livestream: Susan Phillips: Talking Our Walk – Cultivating Sacred Consciousness
– June 22, 2020 at 7:30 pm - 9:00 pm
Forge Canada: Seek the Peace
– June 23, 2020 at 9:00 am - 10:00 am
Book Launch: Barry Morris – A Faithful Public-Prophetic Witness
– June 23, 2020 at 12:00 pm - 1:00 pm
Kairos Online Western Canada (Tuesday evenings)
– June 23, 2020 at 5:30 pm - 8:00 pm
WEA Webinar: What Authentic Discipleship is About
– June 23, 2020 at 6:00 pm - 7:00 pm
Radius Missiology Conference (Free)
– June 24, 2020 - June 25, 2020 at All Day
ELO Webinar: N.T. Wright on Racism, Christians & Leadership
– June 24, 2020 at 9:00 am - 10:00 am
DTES Lament Gathering
– June 24, 2020 at 7:00 pm - 8:00 pm
Livestream: Jeff Greenman – Living Faithfully in a Fearful World: Ethics, Leadership & Society
– June 24, 2020 at 7:30 pm - 9:00 pm
Virtual Event: Business as Calling: Speaker Bernie Willock
– June 25, 2020 at 11:00 am - 12:00 pm
The Art of Paying Attention: Learning to Love Creation (Online)
– June 27, 2020 at 9:00 am - 3:00 pm
Webinar: Reopening Churches 2
– June 29, 2020 at 9:00 am - 10:00 am
Livestream: Mary McCampbell: Guns, Grit and Grace – Flannery O'Connor & the Sin of Sentimentality
– June 29, 2020 at 7:30 pm - 9:00 pm
A Rocha Talks: The Story of Plastic
– June 30, 2020 at 7:00 pm - 8:00 pm