Lobbying by Semiahmoo First Nation, conservation groups and the general public has put the brakes on Surrey's plan to turn rural lands in the south part of the city into an industrial zone.
Metro Vancouver directors narrowly voted January 28 in favour of a motion by Surrey Councillor Linda Annis to seek more consultation, in particular with the Semiahmoo First Nation.
A CBC News report stated:
In July 2021, the City of Surrey brought forward a plan to change the zoning designation for around 600 acres of land, which would allow for industrial development in the area.
The city has argued that expanded industrial lands in Surrey are needed for employment and business opportunities.
The Surrey Board of Trade said the rezoning of the lands, which are directly south of the Campbell Heights industrial business park, would create more than 20,000 jobs in the region and attract up to 135 businesses.
However, to proceed with the plan, Surrey needs the approval of Metro Vancouver, because the land falls outside Surrey's urban containment boundary, which is intended to preserve agricultural and undeveloped areas.
For the past six months, conservation groups and the Semiahmoo First Nation have lobbied hard to draw attention to how rezoning the area would negatively affect the greenspace, which includes the salmon-bearing Little Campbell River.
A January 26 release from Friends of Hazelmere – Campbell Valley (FHCV) quoted Semiahmoo Chief Harley Chappell, and pointed out that the nation had not been properly involved in the plan. It read, in part:
The current proposal aims to redesignate a majority of "rural" land to "mixed employment," which the Semiahmoo identifies as a broad definition that "could easily allow for a level of expanded commercial sprawl inconsistent with Semiahmoo First Nations conservation concerns and long-term values."
The first referral of these issues to the Semiahmoo First Nation only arrived in a letter from the MVRD [Metro Vancouver Regional District] in November 2021, while the City of Surrey had begun the planning process as early as spring of 2020.
Go here for the full statement.
One of the conservation groups referred to in the CBC report (and by name in the FHCV release) is A Rocha Canada.
A Rocha is a "Christian organization which, inspired by God's love, engages in scientific research, environmental education, community-based conservation projects and sustainable agriculture."
David Anderson, Co-Director of A Rocha's Brooksdale Centre, told me, "Our 28 acre centre is quite literally in the heart of the 660 acres being considered for a 'mixed employment' (industrial) land designation, rather than the rural land designation that currently exists."
He wrote to friends of A Rocha about the situation February 3:
We'd like to thank you all for your ongoing concern, letter writing and prayers toward the land use decisions surrounding A Rocha's Centre in Surrey and affecting the Tatalu / Little Campbell River watershed.
On Friday January 28th, the Metro Vancouver Regional District (MVRD) Board voted 64 to 61 in favor of referring Surrey's South Campbell Heights amendment application back to Metro Vancouver planning staff for discussion with the City of Surrey, to work with expressed board concerns, especially pursuing further consultation with First Nations.
There was much debate amongst Board members about this decision. Councilor Linda Annis, of Surrey, who proposed the referral, stated that she could not ignore the hundreds of emails (900+) and letters she had received asking for more public and stakeholder consultation. Our collective voices were heard, for which we are grateful!
From a conservation perspective that considers aquifer protection, species at risk in the area and safeguarding the incredible salmon run in the Little Campbell River, it would have been optimal for the entire South Campbell Heights land use proposal to be denied by the MVRD Board, but it was all but impossible for that to occur.
The decision to refer the application came as a surprise, but it is about as good as we could have hoped for; so it's a win for the time being!
What does this mean going forward? More time means that any of the following may take place:
1. Meaningful engagement with First Nations: The fact that Semiahmoo First Nation had only recently been engaged in the planning process was one of the Board's main concerns. This puts Semiahmoo First Nation in a better position to influence the proposal, and therefore what occurs within their traditional territory and the effects on their reserve land which is the estuary of the river's outflow into Semiahmoo Bay.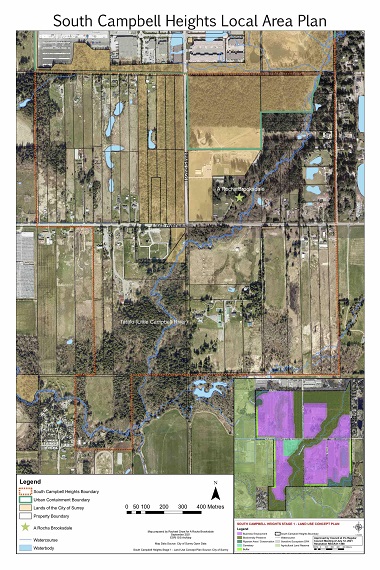 2. Consideration of climate change impacts: This brings attention to how the plan is compatible with Metro Vancouver's goals and strategies for climate mitigation. For example, TransLink concluded that the plan does not align with regional transportation goals, as it would be costly and inefficient to service with public transit. The climate extremes we have experienced in BC this past year (fires, heat dome, atmospheric river and flooding) are causing leaders to prioritize climate action for practical reasons, it's simply too expensive not to when large scale infrastructure is literally breaking down.
3. Alignment with Metro 2050: Metro Vancouver is in the midst of adopting its updated Regional Growth Strategy, Metro 2050 (updating the 2040 version). Concern was expressed that this plan does not align with the robust environmental and climate change goals of Metro 2050. There is potential that the 2050 goals will have more bearing on this proposal, which would be good.
4. More public and stakeholder engagement: None of the long-time stewards of the river (Little Campbell Watershed Society, Friends of Semiahmoo Bay, A Rocha, etc) were consulted in the development of this version of the plan, despite a long history of working collaboratively with the city and developers. None of those groups are in support of the plan, due to the scale and scope of proposed development on both sides of the river. Further, Metro Van board members received a lot of communication from you, the public. We hope for meaningful dialogue going forward.
5. New decision makers: Last time the amendment application for South Campbell Heights was sent back to the City of Surrey, it took three years for a new proposal to be made. Although we anticipate a faster timeline this time around, we're hopeful that leadership will emerge that will prioritize some of the concerns highlighted in the process thus far; and build meaningful collaboration rather than stoking divisive issues further (some will recall the arson at A Rocha's property last July during the provincial emergency for fires).
We'd like to acknowledge that particular courage was demonstrated by Semiahmoo First Nations in asserting their concerns and authority. Councilor Annis, who made the motion to refer the proposal back to Surrey, also demonstrated courage and will likely face backlash from many fellow councilors. Please pray for them, as they continue to walk a difficult path.
Although the decision to refer is complex and there is uncertainty about what exactly it means going forward, we're hopeful for better outcomes in the long term because of Friday's vote. Whatever the result may be, we will continue to give voice to the created world, advocate for the highest standards of land use and development and promote the voice of our Indigenous neighbours.
With gratitude,
David Anderson, Co-Director of A Rocha's Brooksdale Environmental Centre
Christy Juteau, National Conservation Science Director
Anderson told me that some of the 20 other A Rocha International centres around the world are are also working with Indigenous groups. For example:
Our teams in Kenya and Ghana have worked extensively with rural communities with long history on the land, seeking ways of safeguarding biodiversity of forests, marine systems and rivers. The Atewa Forest Initiative led by our colleagues in Ghana to try and safeguard that forest is of particular note. Also our team in New Zealand has worked closely with Maori community members on the Karioi Project. 
I posted a couple of earlier stories about A Rocha and South Campbell Heights last fall, here and here.