Grace Baptist Church has been on the front lines in Hope, opening its doors to travellers marooned in in the city because of flooding and landslides.
Pastor Jeff Kuhn has been widely quoted, even on BBC News, which included this portion in their November 17 article which announced the declaration of a state of emergency in British Columbia:
Approximately 1,500 travellers became stranded in the town of Hope after roads closed, Grace Baptist Church Pastor Jeff Kuhn told BBC News in an email on Wednesday.
The local school is currently housing about 700 people, and the church is hosting about 250 people and also feeding about 400 people per day.
Around town, "many [are] sleeping in their cars at night", he added.
He said that power was restored on Tuesday, which lifted spirits, but food supplies are running low despite an emergency air drop.
In a CBC News interview Kuhn said:
I'm getting ready for bed Saturday night and I'm just thinking we should probably open the church. Then I got a text from Lisa [also shown in the video] and she said, "Can we open the church; Mark and I will stay over."
We said sure, and we came over. We had no power at that time, so we just had candles placed all around. We just put it out on Facebook, over data that the church was open if people needed a dry place to sleep. . . .
The community has pulled together. The grocery stores are sending food. Even Sunday night when we started opening the doors, people from the community just dropped off snacks, they dropped off bottled water.
Hope's like that. People just pitch in and help. Once the news got out of Facebook we were open, we've not lacked for anything.
Camp Hope also has taken in some 250 people. An article in The Globe and Mail noted:
Motorists stuck bumper to bumper on B.C.'s Lougheed Highway Monday afternoon got a pleasant surprise when workers at Camp Hope on the eastern fringe of the Fraser Valley welcomed them into the religious retreat's main lodge for a warm meal and a roof over their heads that night.
The lodge, just west of Hope, was quickly filled with about 250 people eager to avoid spending another night inside their cars after getting caught between two mudslides on the arterial highway across the Fraser River from the Trans-Canada Highway, large portions of which were also closed after extensive flooding.
"They didn't even know we were there and when we came along and said, 'Hey, come on in, come on in,' they were just over-the-top grateful to leave their cars and have a place to eat and sleep – and bathrooms," Bill Gerber, director of the centre run by the Seventh-day Adventist Church, told The Globe and Mail on Tuesday.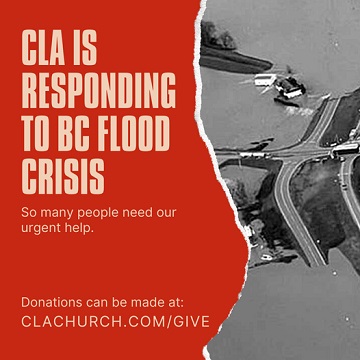 Aid is coming from further down the Valley as well. For example, Derrick Hamre, lead pastor of Christian Life Assembly in Langley posted this on the church's Facebook page November 17:
CLA Family, Hope needs our help.
A reported 1,100 hundred people are stranded in Hope and we are responding. CLA is working with Sky Helicopters to do an air drop with supplies into Hope TODAY of water, blankets and dehydrated or freeze dried meals.
Because all access in and out of Hope has been cut off, the helicopter will drop the items down to our church in Hope, where it can be distributed to those in need.
Please drop off these items to our Langley church office so that we can get it on the helicopter. There will be daily emergency flights going into Hope.
As this is an ongoing crisis, we will continue to communicate with and work with the PAOC [Pentecostal Assemblies of Canada] churches in affected areas. Let's get the word out fast and share this post! Thank you for all your help, CLA.
Christian Life Assembly is at 21277 – 56th Avenue, Langley. Online donations can be made at clachurch.com/give.
Of course, it is not just Christian communities who are helping out. The Sikh community is always quick to help in times of emergency, as Tarnjit Parmar of CityNews Vancouver pointed out: "Dozens of volunteers at Surrey's Dukh Nivaran Sahib Gurdwara cooked [and delivered by helicopter] more than 3,000 meals for those stranded in Hope." There are so many examples of regular folks digging out buried cars, building dikes, offering shelter and more.
Other Christian groups helping out, including:
* Mennonite Disaster Service: Pastor Brad Sumner of Jericho Ridge Community Church tweeted, "One thing I appreciate about Mennonite Disaster Service is that they are there long after the news crews leave but work remains." They focus particularly on "clean up, repair and rebuilding homes," usually about six months after the disasters occur.
* Salvation Army BC is offering various kinds of aid in several affected cities.
* Fr Allen Doerksen of St Matthew's Anglican Church and Deacon Paul Richards have been helping at the Abbotsford Evacuation Centre. And the (Anglican) Provincial House of Bishops released a Pastoral Letter regarding the 'Regarding the flooding, evacuations and road closures in southern British Columbia.'
Jenny Banai / Cheryl Bear
Pacific Theatre will focus on music instead of drama for a couple of nights this week. Two solo performers will each have a night to themselves, tomorrow and Friday (November 18 and 19). Here are the write-ups:
Jenny Banai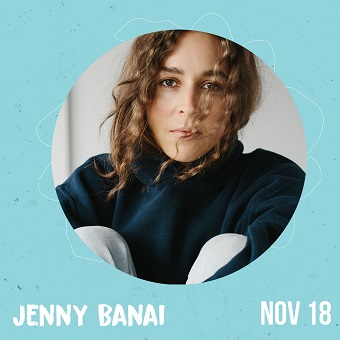 Armed with a little guitar and a gorgeous, powerful voice, Jenny Banai "wields a magnetic power of like-ability both on and off the stage. With a guitar in her hands, there's a clear and present energy that overtakes her" (Beatroute).
Raised among the green pastures of BC's Fraser Valley, she is an artist who lives and works in East Vancouver. The contrast is aptly reflected in her work.
Banai sets precise, homespun lyrics against vibrant, textured backdrops, pouring her observations and emotions into songs that give voice to the things many of us lack words to say. She's remained wide-eyed since the release of her sprawling debut, flowering head (2015), capturing moments and fashioning her recollections into the remarkable new LP, couchwalker.
Though it's tempting to draw comparisons to the heights of Joni Mitchell's '70s output, Banai's work is unique. Like Joni, her songs aren't quite easy-listening – they demand your attention.
Cheryl Bear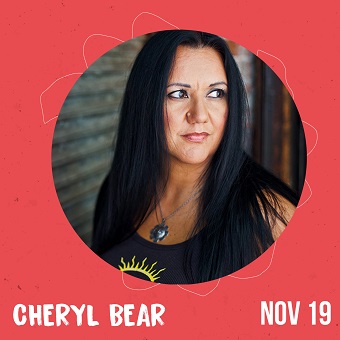 Nadleh Whut'en musician and storyteller Cheryl Bear is a multi-award winning singer/songwriter who shares stories of Indigenous life through story and song.
She has released three albums: Cheryl Bear (self-titled), The Good Road, and A'BA. Cheryl's albums have received three Indigenous People's Choice music awards, two Covenant Awards and a Native American Music Award.
[Cheryl is a respected voice and teacher on behalf of Canada's Indigenous peoples and has traveled to over 600 Indigenous communities raising awareness and understanding of Indigenous issues.
She is Director of Community Ministry at First United Church and an Associate Professor at Regent College.]
Bad news in south Surrey
Three weeks ago I posted an article which began:
A Rocha Canada is working with like-minded groups to oppose Surrey's plan for an industrial park in the protected rural area which surrounds their Brookdale Environmental Centre property.
Unfortunately, A Rocha and its partners were not successful in their fight. Brooksdale Centre co-director David Anderson wrote to A Rocha friends:
I wanted to update you on the big decision Metro Vancouver made last week [October 29] concerning the 600 acres surrounding Brooksdale.
As anticipated (but not our hope), the board voted 82 to 52 in favour of moving Surrey's plan forward to amend the regional growth strategy, allowing servicing to come down into South Campbell Heights, to accommodate "employment use" of these lands. All five of Surrey's councillors voted in favour, and each of their votes counts for multiple because of our large population.
Now, he said, the A Rocha team will take some time to rest, to feel some grief and righteous anger – and then:
We will pay attention to plans as they develop, advocate for the most sustainable building practices, save stretches of forest, conserve wetlands, fight for species at risk, make a whole bunch of new friends, make a whole lot of noise (in our own unique and caring way) and build community along the way. And the land, water, creatures and people around us will be better for our presence.
Go here for his full post.
Nov 2021
Four Visions: Outside Looking In
– November 17, 2021 - December 12, 2021 at All Day
ADVOKATE: Celebrate Life Gala
– November 18, 2021 at 7:00 am - 8:30 am
Brian Bird: The Struggle for Tolerance
– November 18, 2021 at 4:00 pm - 5:30 pm
Congregational Flourishing: EFC Book Club with Joel Thiessen
– November 18, 2021 at 4:00 pm - 5:30 pm
Music at PT: Jenny Banai
– November 18, 2021 at 8:00 pm - 9:30 pm
Restore 2021
– November 19, 2021 at 9:00 am - 11:30 am
Come Explore the Indigenous Atlas of Canada
– November 19, 2021 at 7:00 pm - 9:00 pm
Friday Night Talks @ L'Abri: Clarke Scheibe, The Failure of Liberalism to Fight Totalitarianism
– November 19, 2021 at 7:00 pm - 8:30 pm
Music at PT: Cheryl Bear
– November 19, 2021 at 8:00 pm - 9:30 pm
Wild Blue Herons
– November 19, 2021 at 8:00 pm - 10:00 pm
CSB Iron Sharpens Iron National Men's Conference: Workout with Ryan Walter
– November 20, 2021 at 8:30 am - 10:30 am
Christmas Bazaar
– November 20, 2021 at 9:00 am - 1:00 pm
Share the Light Online Conference
– November 20, 2021 at 10:00 am - 1:00 pm
Indian Residential Schools: A New Awakening in Canadian Consciousness, with Sister Marie Zarowny
– November 20, 2021 at 11:00 am - 12:00 pm
Explore the Indigenous Atlas of Canada
– November 22, 2021 - November 26, 2021 at 10:00 am - 3:00 pm
Canadian Nationwide Prayer Event
– November 23, 2021 at 8:00 am - 9:30 am
Church Planting with Alpha
– November 23, 2021 at 9:00 am - 10:00 am
Spiritual Care Series: Pathways to Meaningful Ageing
– November 24, 2021 at 9:30 am - 11:30 am
Jazz Evensong @ Brentwood: The Possibilities Band
– November 24, 2021 at 8:00 pm - 8:45 pm
Run Alpha Q & A
– November 25, 2021 at 10:00 am - 11:00 am
Jordan Peterson: Sic et Non, with Ron Dart
– November 25, 2021 at 7:00 pm - 8:30 pm
Palimpsest
– November 26, 2021 - November 27, 2021 at All Day
Annual Christmas Crafts and Lunch
– November 26, 2021 at 10:00 am - 2:00 pm
NightShift Gala 2021
– November 26, 2021 at 6:00 pm - 9:00 pm
Friday Night Talks @ L'Abri: Daniel McDougall, on Food
– November 26, 2021 at 7:00 pm - 8:30 pm
Neil Osborne
– November 26, 2021 at 8:00 pm - 10:00 pm
Emotion-Focused Family Therapy Caregiver Workshop
– November 27, 2021 - November 28, 2021 at 8:30 am - 1:30 pm
Christmas Bazaar
– November 27, 2021 at 10:00 am - 2:00 pm
Holiday Craft Fair
– November 27, 2021 at 10:00 am - 3:00 pm
St. John's Christmas Fair
– November 27, 2021 at 11:00 am - 2:00 pm
Holly Berry Fair
– November 27, 2021 at 1:00 pm - 4:00 pm
10th Annual Christmas Jazz Concert
– November 27, 2021 at 7:00 pm - 10:00 pm
Discovery Project
– November 29, 2021 at 5:30 pm - 6:30 pm
Dennis Venema Book Launch: Evangelicals & Science Skepticism: Can Philosophy Help?
– November 29, 2021 at 7:30 pm - 9:00 pm
ELO National Forum 2021
– November 30, 2021 at 9:00 am - 2:35 pm
Dec 2021
Advent Prayer Week
– December 1, 2021 - December 8, 2021 at All Day
Jazz Evensong @ Brentwood: Conrad Good & Friends
– December 1, 2021 at 8:00 pm - 8:45 pm
First Christmas Interactive Experience
– December 2, 2021 - December 12, 2021 at 6:00 pm - 9:00 pm
BC One Heart Call to Prayer
– December 2, 2021 at 7:00 pm - 8:30 pm
Chasing the Light: A Himalayan Life Fundraising Event
– December 2, 2021 at 7:00 pm - 9:00 pm
Hans Boersma: Five Theses on Bible Reading
– December 2, 2021 at 7:00 pm - 9:00 pm
Opening Reception: 'Held in the Now' by Fiona Moes Pel
– December 2, 2021 at 7:00 pm - 8:30 pm
Sanctuary's Virtual Christmas Gala: In My Shoes
– December 2, 2021 at 7:00 pm - 8:00 pm
Friday Night Talks @ L'Abri: Liz Snell, On the Novels of Marilynne Robinson
– December 3, 2021 at 7:00 pm - 8:30 pm
Really Good Christians – They Go at Easter and Christmas: Understanding Occasional Religious Practice
– December 3, 2021 at 7:00 pm - 8:30 pm
A Rocha Market Christmas Open House (including carolling)
– December 4, 2021 at 10:00 am - 4:00 pm
Christmas Bazaar
– December 4, 2021 at 10:00 am - 3:00 pm
Christmas Market
– December 4, 2021 at 10:00 am - 3:00 pm
St George's 113th Annual ACW Bazaar
– December 4, 2021 at 10:00 am - 2:00 pm
St. Stephen's Christmas Market
– December 4, 2021 at 10:00 am - 3:00 pm
Book Signing: God's Firestarters
– December 4, 2021 at 11:00 am - 1:00 pm
Mission Central Fundraiser
– December 4, 2021 at 7:00 pm - 9:00 pm
St. Anne's Holiday Bazaar
– December 5, 2021 at 11:30 am - 2:00 pm
Vancouver Welsh Men's Choir: Sing We Now of Christmas
– December 7, 2021 at 7:30 pm - 9:00 pm
City Dream Centre: Christmas Project 2021
– December 8, 2021 - December 20, 2021 at All Day
Christmas Artisan Fair
– December 8, 2021 at 10:00 am - 3:00 pm
Chasing the Light: A Himalayan Life Fundraising Event
– December 8, 2021 at 7:00 pm - 9:00 pm
Christmas Presence
– December 8, 2021 - December 22, 2021 at 8:00 pm - 10:00 pm
Jazz Evensong @ Brentwood: Triology, with Marcus Mosely
– December 8, 2021 at 8:00 pm - 8:45 pm
Integrity: Fighting the Evil of Corruption
– December 9, 2021 at 6:00 am - 8:00 am
Conversations with . . . Wanda Fost: Connecting Rest and Generosity
– December 9, 2021 at 6:30 pm - 8:00 pm
Good Tidings! A Good Noise Gospel Christmas (3 shows)
– December 10, 2021 - December 11, 2021 at All Day
Changing the Way We Welcome Refugee Claimants: Research & Recommendations
– December 10, 2021 at 1:00 pm - 2:30 pm
Christmas at Tenth, with Ron Reed & Michael Hart (4 events)
– December 11, 2021 - December 12, 2021 at All Day
Vancouver Thunderbird Chorus: 'Tis the Season
– December 11, 2021 at 2:00 pm - 3:30 pm
Marcus Mosely Chorale: Peace on Earth
– December 11, 2021 at 2:30 pm - 4:00 pm
Christmas Drive Thru
– December 11, 2021 at 4:30 pm - 6:30 pm
Join Theo Bessem, Andrew Marcus, Joe Mettle and Naomi Owobowale for a Night of Worship
– December 11, 2021 at 6:00 pm - 8:00 pm
VSO Pops: A Dee Daniels Christmas
– December 11, 2021 at 8:00 pm - 9:30 pm
The Gallery Singers: We Wish You a Merry Christmas
– December 12, 2021 at 3:00 pm - 5:00 pm
Vancouver Welsh Men's Choir: Sing We Now of Christmas
– December 13, 2021 at 7:30 pm - 9:00 pm
A Post-Pandemic Missiology: A Candid Conversation with Denominational, Regional and Network Leaders
– December 14, 2021 at 7:00 am - 8:00 am
Alpha Webinar: Stories of Celebration
– December 14, 2021 at 9:00 am - 10:00 am
José Euzebio Costa Silveira: Common
– December 15, 2021 - January 12, 2022 at All Day
José Euzebio Costa Silveira: Common (opening reception)
– December 15, 2021 at 4:00 pm - 7:00 pm
Jazz Evensong @ Brentwood: We Three Queens
– December 15, 2021 at 8:00 pm - 8:45 pm
Festive Cantatas: Bach's Christmas Oratorio featuring Pacific Baroque Orchestra
– December 16, 2021 at 7:00 pm - 8:30 pm
Vancouver Welsh Men's Choir: Sing We Now of Christmas
– December 16, 2021 at 7:30 pm - 9:00 pm
Christmas with Chor Leoni (six shows)
– December 17, 2021 - December 20, 2021 at All Day
Carols in the City
– December 17, 2021 at 4:00 pm - 7:00 pm
Sleighbell Songs: A Musical Benefit for the Surrey Foodbank
– December 17, 2021 at 7:00 pm - 8:30 pm
Marcus Mosely Chorale: Peace on Earth
– December 17, 2021 at 7:30 pm - 9:00 pm
Christmas Tales (two shows)
– December 18, 2021 at All Day
North Shore Community Christmas Dinner (volunteer opportunities)
– December 18, 2021 at All Day
Vancouver Symphony Orchestra: Traditional Christmas (3 shows)
– December 18, 2021 - December 19, 2021 at All Day
Vancouver Welsh Men's Choir: Sing We Now of Christmas
– December 18, 2021 at 10:00 am - 11:30 am
The Five Love Languages Workshop
– December 18, 2021 at 11:00 am - 2:00 pm
Vancouver Cantata Singers: Christmas Reprise XVIII
– December 18, 2021 at 2:00 pm - 3:30 pm
Winter Harp
– December 18, 2021 at 3:00 pm - 4:30 pm
Re:Birth – A Christmas Celebration
– December 18, 2021 at 4:00 pm - 5:30 pm
Brian Doerksen: Christmas at Our House
– December 18, 2021 at 6:00 pm - 7:00 pm
Winter Harp
– December 18, 2021 at 7:00 pm - 8:30 pm
Vancouver Cantata Singers: Christmas Reprise XVIII
– December 18, 2021 at 7:30 pm - 9:00 pm
Tidings of Comfort & Joy
– December 19, 2021 at 2:00 pm - 3:30 pm
Joy to the World: Jazz Christmas Concert & Sing-along
– December 19, 2021 at 3:00 pm - 4:30 pm
Winter Harp (two shows)
– December 19, 2021 at 3:00 pm - 8:30 pm
Christmas Caroling Event
– December 19, 2021 at 6:00 pm - 7:00 pm
Dickens' 'A Christmas Carol' Reading
– December 19, 2021 at 7:00 pm - 8:30 pm
Blue Christmas Service
– December 21, 2021 at 3:00 pm - 4:00 pm
Winter Harp
– December 21, 2021 at 7:30 pm - 9:00 pm