She Loves is a magazine, a conference, a group of friends who love to express themselves online – and much more. And later this week (May 1 – 3) you'll have the perfect opportunity to find out something about that 'much more,' during the She Loves Women's Conference at Relate Church in Surrey.
Here are a few key features of the She Loves event/phenomenon:
1. It's based out of one local church – Relate Church – whose senior pastors are John and Helen Burns and which used to be called Victory Christian Centre. RelateWomen is a group which gathers every Wednesday at the church. Their mandate: "We're here to believe in and develop the God-given potential in every woman."
2. They are a magazine, and more. To quote them: "Yes, we call ourselves a magazine, but now that we're almost two years old, we've discovered we are more than that: We're a global community of women – a Sisterhood – who want to know and experience freedom, justice and transformation, for ourselves and others.
3. They're based here, but they're very internationally-minded. No doubt there are many reasons for that, but probably the key one is the vision of founder/editor-in-chief Idelette McVicker.(born in South Africa, now living in Metro Vancouver). Skim the contributors page and you'll see they're from all over North America, and beyond.
4. Members of the She Loves network (team? club? collective?) are on a journey, and it's not one I saw coming in earlier incarnations of Relate Church. There is a lot visible on the surface with She Loves, but there is clearly also a lot going on behind the scenes.
One speaker who can shed some light on the past of that journey as well the present and future, is Sarah Bessey, whose newly-released Jesus Feminist has done very well critically and in terms of sales. While she now lives and worships in Abbotsford, Sarah has had close ties to Relate for years. And she knows the milieu well; she links her feminist beliefs with growing up in the charismatic community.
I think many will enjoy going out to Relate for the She Loves Conference – though it's a bit unfortunate they're up against the Dietrich Bonhoeffer Lecture Series out at Regent College. The event promises to be as much a love-in as a conference – suitable, I suppose, because the key phrase in She Love's manifesto is "Let us be women who love."
Marilynne Robinson: a unique opportunity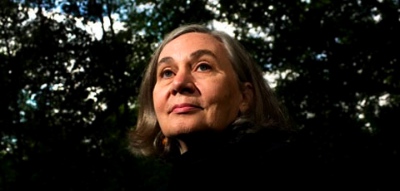 I've collected literature since I was a teenager, and when I became a Christian in my twenties I wanted to know who the great Christian writers were, and why I hadn't heard more about them. Many told about Lewis, Tolkien and Williams ('the holy trio' to some), with many throwing in George MacDonald as well. Then Dostoevsky, Mauriac, Endo, Solzhenytsin and many others.
But there still didn't seem to be many North Americans – some good Catholics (O'Connor, Percy, Powers), but fewer Protestants (Buechner, Updike). Then there was the Left Behind series . . . All impressionistic, of course, but things were not entirely rosy.
Arts are flourishing in the church these days, thank God. But while many are still learning the ropes, we still have relatively few tried and trusted guides.
Marilynne Robinson is one of those guides, comfortable in the world of ideas, a joy to read in fictional form (with a Pulitzer Prize for Gilead) and spiritually astute.
An evening with Marilynne Robinson at Regent College this Saturday provides the perfect opportunity to hear from her at length. Following her talk, Regent prof Iwan Russell-Jones will interview her, followed by discussion and questions.
This talk is part of the 17th Dietrich Bonhoeffer Lectures from May 1 – 3, on Christian Humanism in a World Come of Age. Robinson will participate in a couple of panels which will no doubt also be very worthwhile.

Church librarians 'passing it on'
Not all churches even have libraries any more, but it is good to see that the Church Library Association of BC will be putting on a series of 'Passing it on' workshops this Saturday (May 3) at Richmond Faith Fellowship.
In one workshop, Ed Knorr "will discuss how to choose books and DVDs for various age groups amidst shrinking budgets and increasing competition from the internet." A computer science instructor by profession, Ed has been managing the Johnston Heights Church library in Surrey for 24 years.The library has 7,000 items and there is a team of seven volunteers.
Eastside Story Guild
The Eastside Story Guild knows how to tell a Bible story so it will stick with the listener. At one time, no doubt, parents and others who felt obliged to watched their (or their neighbours') little Johnny and Suzy perform, came with low expectations.
Year after year, word of mouth has spread the good news of Eastside Story Guild, so there won't be any empty seats during performances of So High You Can't Get Over It this weekend. 
Writing in The Light last year, Tim Hall said:
"The idea began in 1998, when Tama Ward Balisky went to a performing arts production that had been working with at-risk children in the neighbourhood. Balisky, then a pastor at Grandview Calvary, remembers the stage, lighting, effects and acting all being fantastic.
"'The kids were having a ball with it,' she remembers, 'but the storyline was empty.' It preached: 'believe in yourself and you can overcome anything.'
"'Coming from a Christian perspective you could set kids up for failure with that kind of storyline,' she said.
"But Balisky saw an opportunity. She knew a book that was full of rich narratives, or as she calls them, Sacred Stories. That book was the Bible."
This year the Eastside Story Guild is telling 'Stories from the Gospel of Luke.' I've yet to see them perform, but I've heard nothing but good things.
Regent Pastors Conference
And it's not too late to attend the Regent Pastors Conference next week (May 6 – 9). True, pre-registration is closed, but you can just walk in any day. Hosted by Ross Hastings, featured speakers are Mark Buchanan, Mariam Kamell and Rikk Watts, with other special guests.
Theme: 'Transformation the Gospel Way: Cultivating Christ-like Persons of Holy Character and Faithful Ethical Action.'
Purpose: 'We want to help pastors reframe the call to discipleship so that formation and transformation become an outflow of our participation in the triune God, producing an attractive, vivid and effective pattern of faithfulness that reflects his desire for us to be truly human persons, 'fully alive,' bearers of the beauty of his holiness.
Apr 2014
Prostitution: Legalize Or Not? A Theist and Atheist Perspective
– April 29, 2014 at 7:00 pm - 9:00 pm
A Spring Concert Featuring Joyful Voice Community Choir
– April 29, 2014 at 7:30 pm - 9:30 pm
Compounding Tragedy in Biblical Tales
– April 29, 2014 at 7:30 pm - 9:30 pm
May 2014
17th Dietrich Bonhoeffer Society Lectures on Public Ethics: Christian Humanism in a World Come of Age
– May 1, 2014 - May 3, 2014 at All Day
She Loves Conference
– May 1, 2014 - May 3, 2014 at All Day
Forge: Ethos Module I
– May 1, 2014 - May 2, 2014 at 12:00 pm - 2:00 pm
Perogy Night in Vancouver
– May 2, 2014 at 5:00 pm - 8:00 pm
Aglow Bold & Beautiful Conference
– May 2, 2014 - May 3, 2014 at 6:00 pm - 5:00 pm
Metro Vancouver Alliance: Community Leadership Institute (Part I)
– May 2, 2014 - May 3, 2014 at 7:00 pm - 3:30 pm
Praise, Protest and Poetry: How the Psalms Can Give Substance to Christian Worship
– May 2, 2014 at 7:30 pm - 9:00 pm
Regent College Convocation 2014
– May 2, 2014 at 7:30 pm - 9:30 pm
The Selfish Giant
– May 2, 2014 - May 3, 2014 at 7:30 pm - 9:30 pm
Wayside: Disability and the Fullness of Life
– May 2, 2014 at 7:30 pm - 9:30 pm
Eastside Story Guild Spring Presentation: So High You Can't Get Over It - Stories from the Book of Luke
– May 3, 2014 - May 4, 2014 at All Day
Passing It On: Church Library Association of BC Day of Workshops 2014
– May 3, 2014 at 8:30 am - 3:15 pm
Creation Care Seminar
– May 3, 2014 at 9:00 am - 3:30 pm
I Am Filmmaker: A Rocha 2014
– May 3, 2014 - May 4, 2014 at 9:00 am - 5:00 pm
Know the Message, Preach the Word
– May 3, 2014 at 9:30 am - 2:30 pm
Memorial Service for Carlin Weinhauer
– May 3, 2014 at 10:00 am - 12:00 pm
Fund Raiser for Youth Unlimited
– May 3, 2014 at 1:00 pm - 5:00 pm
Glimpse of Japan
– May 3, 2014 at 2:00 pm - 5:00 pm
An Evening With Marilynne Robinson
– May 3, 2014 at 7:00 pm - 9:00 pm
Salvation Army Band
– May 3, 2014 at 7:00 pm - 9:00 pm
Vinesong Tour
– May 4, 2014 at 8:00 am - 10:00 am
VST: Coming Home to Say Goodbye
– May 4, 2014 at 2:00 pm - 4:30 pm
Madrigal Mystery Tour
– May 4, 2014 at 3:00 pm - 5:00 pm
Sundays at 3: A Series of Three Organ Concerts
– May 4, 2014 at 3:00 pm - 5:00 pm
Sundays at 3: A Series of Three Organ Concerts
– May 4, 2014 at 3:00 pm - 5:00 pm