WayBase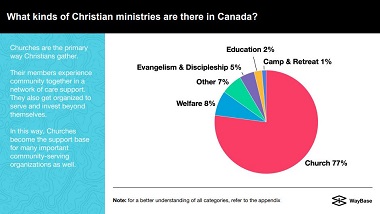 released a report about The Impact of COVID-19 on Canadian Christian Charities June 5.
WayBase is a platform that helps people and Christian ministries in Canada find each other, partner together and show collective impact.
Director Tim Day and his team visited 30 cities across Canada last year, stopping down in Vancouver and Langley on April 3 and 4. (I wrote about their visit here.)
His key message to the church in Canada on that tour:
We're bigger than we realize
And we have a lot to offer
We can have a bigger impact
They had intended to undertake a similar tour this spring, but because of the pandemic decided to launch two initiatives:
* A national survey on the impact of COVID-19 on Christian ministries;
* A national call with Dr. Strang, Chief Medical Officer of Health from Nova Scotia who provided direction on how Christian ministries can reopen safely [Leading into Our New Future, May 28]
WayBase pointed out that "the results are fairly representative of the Christian movement in Canada" (based on their database of 32,000-plus Christian organizations in Canada): 75.8 percent of respondents were churches, with others representing, in descending order, welfare, education, other, evangelism & discipleship, and camp & retreat.
The report considered a wide range of issues under several categories:Operations; Financials; Staff; Engagement; Adaptation; Community Service; Future Outlook; Greatest Needs of Ministries.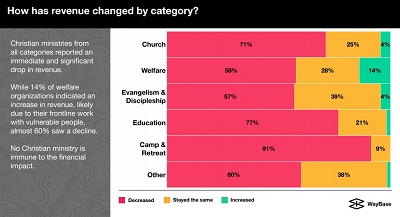 Here is the report's Introduction:
For Christian ministries across Canada and around the world, the COVID-19 pandemic struck like lightning in March 2020 and the impact was immediate.
Buildings closed. Services and meetings switched online. Travel plans were cancelled. Revenue plummeted. Some staff were laid off. Everyone retreated at home. With little forewarning, everything changed.
On April 22, Christian researchers and research organizations met together to look at the question of how COVID-19 was impacting Christian churches and charities in Canada. WayBase took the lead to facilitate a national survey where 2,630 ministries responded from every province and territory, including 132 different Christian traditions.
This final report provides an overview of what the survey uncovered. You will see:
1) Ministries are having a shared experience across all faith traditions, provinces and ministry size and types;
2) The lockdown and unemployment from COVID-19 has created a significant decrease in revenue;
3) One third of ministries are experiencing an increase in people engaging in their services;
4) Ministries are rapidly adapting, particularly in offering more services online;
5) Ministries want to reopen safely, navigate challenges and know how to serve the needs of their community.
Change happened quickly and Christian ministries are quickly responding to serve their communities.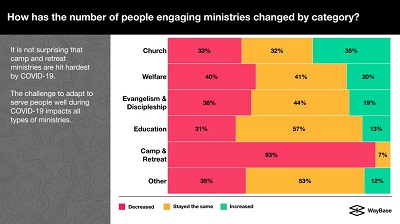 The report concluded with these words:
Change can happen in an instant. Building a better future will take time and working together.
In a recent national call with Dr. Strang, Chief Medical Officer of Health of Nova Scotia, he indicated that this new normal could last between 12 and 24 months.
He cautioned that some changes in health approaches may need to be permanent as we learn to live with the COVID-19 virus as a part of society. He then challenged the Christian leaders to see the opportunities in this moment to improve how we work together, care for people in vulnerable situations, and serve locally and globally.
As the survey uncovered, Christian ministries are all significantly affected by COVID-19 and its impact on the economy. Some ministries are hit harder than others. However, it is clear that most ministries are adapting, improving how they serve people online and adjusting their programs to serve people in this new reality.
The next steps are to reopen safely, build strong networks to serve each city, and continue to adapt and take action to serve the significant needs created by the pandemic locally and around the world.
As Christian ministries move past Pentecost 2020, may Jesus' timeless promise inspire and reassure us to share and live his gospel: "You will receive power when the Holy Spirit comes on you; and you will be my witnesses in Jerusalem (your city), and in all Judea and Samaria (your country) and to the ends of the earth (our world)" Acts 1:8.
Organizational research partners with WayBase were: Canadian Council of Christian Charities, Flourishing Congregations Institute at Ambrose University and Cardus. Individual researchers were: Rick Hiemstra, The Evangelical Fellowship of Canada; James Watson (PhD), The Salvation Army; Sam Reimer (PhD), Crandall University; and Kevin Phang, WayBase.com.
Go here to see the full report. Go here to watch a June 3 webinar on reopening churches by hosted by the Evangelical Fellowship of Canada.
Tax help at First United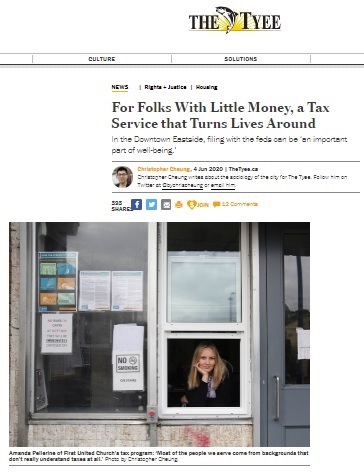 Christopher Cheung posted a good story on The Tyee site June 4 about a vital service in the Downtown Eastside: 'For Folks With Little Money, a Tax Service that Turns Lives Around.'
Here is the beginning:
Two take-out windows have opened in the Downtown Eastside.
No fast food here, though – it's where people come to get their taxes done during the pandemic.
This is First United Church's solution to the tax program they've run for 15 years for low-income people.
They didn't want COVID-19 to halt the essential service, especially since clients are often unaware of the benefits they're eligible for. (In 2018 the program handled about 2,000 returns, resulting in $202,000 in tax refunds.)
At the two take-out windows by the main entrance – which also offer food and hygiene supplies – staff walk clients through the paperwork needed for their tax filing and collect documents. . . .
Go here for the full story.
First United is not the only church offering help with taxes. Tenth Church and St. Paul's Anglican Church in Vancouver, and Surrey Alliance Church have been providing aid for several years, in cooperation with the federal government's Community Volunteer Income Tax Program. They are offering virtual appointments during this time of COVID-19.
Peace Portal grad
CBC News featured Peace Portal Church in south Surrey in an article about ways in which high school grads are celebrating the end of their final year.
Tina Lovgreen wrote:
As students face a disappointing end to their high-school experience, schools, families and communities are trying to commemorate the grads of 2020 in the best way they can.
With religious gatherings also discouraged during the pandemic, a church in Surrey offered up its space for free to host and organize commencement ceremonies for more than 1,300 students from nine different schools.
"The building is not being used, so why not serve our city with it?" said Geoff Stewart, youth pastor at Peace Portal Alliance Church, who came up with the idea.
The first such event on May 27, for students of Surrey's Earl Marriott Secondary, had all the ingredients of a typical graduation ceremony, while keeping everyone two metres apart to follow physical distancing rules. . . .
Go here for the full story.
Marriage in a Dangerous Time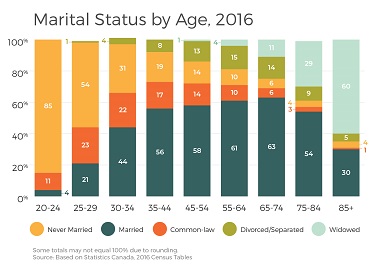 A Cardus webinar today (June 11, 1 pm) will explore their recently published Canadian Marriage Map, which illustrates clearly the current state of marriage at the national and provincial level.
Marriage in a Dangerous Time will "examine the changing Canadian family and explore what the pandemic may mean for the future of marriage."
Cardus points out:
Healthy marriages contribute to stable families and vibrant communities. Economic and cultural shifts have made it more difficult to enter and sustain healthy marriages. Reliable data can help us better understand changes in Canadian family life and inform the questions we need to pursue in supporting families in the years ahead.
The Marriage Map explores the following themes:
Marriage and Family Structure
Marriage and Divorce
Marital Status and Children's Living Arrangements
Household Size
Marriage and Income
Attitudes on Marriage
Each theme features several graphs, with brief explanations. For example:
Marriage and Family Structure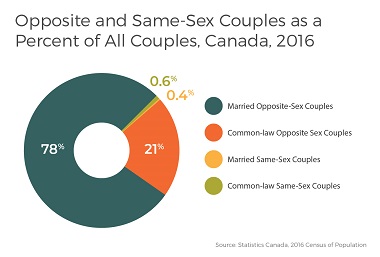 Family structure in Canada has been shifting for decades. While married families remain the majority of all census families, the portion of married families has decreased, while common-law and lone-parent families have increased.
Statistics Canada no longer publishes data on age at first marriage. The most recent data (2008) shows that the average age of first marriage for men and women is increasing. Examining marital status of young adults (ages 20–34) provides another view of the shift toward later age of marriage.
The chart also shows a growth in the portion of common-law couples, and in young adults living without partners.
Same-sex marriage was legalized federally in 2005, and the 2006 census was the first to capture data on married same-sex couples. With the latest census in 2016, we now have 10 years of census data on same-sex marriages in Canada.
Go here to see the Canadian Marriage Map.
June 11, 2020
Webinar: Marriage in a Dangerous Time
– June 11, 2020 at 1:00 pm - 1:45 pm
June 14, 2020
World Refugee Sunday
– June 14, 2020 at All Day
June 16, 2020
Dr. Margaret Cottle: Normalizing Euthanasia in Canada – More Danger Ahead
– June 16, 2020 at 4:00 pm - 5:00 pm
June 17, 2020
Seek and Save: Equipping & Inspiring You to Show & Share the Love of Jesus
– June 17, 2020 at 9:00 am - 12:00 pm
Postponed: Jaron Lanier: Human Flourishing in a Technological World
– June 17, 2020 at 7:30 pm - 9:00 pm
June 18, 2020
Alpha Webinar: Renewal and Unity in a Season of Separation: Shaila Visser & Stephen Foster
– June 18, 2020 at 9:00 am - 10:00 am
Cancelled: Sacred Texts: Where Judaism, Christianity and Islam Meet
– June 18, 2020 - June 20, 2020 at 7:00 pm - 3:00 pm
Postponed: Space for God Retreat
– June 18, 2020 - June 20, 2020 at 7:00 pm - 5:00 pm
June 20, 2020
Journey Home Refugee Support: Volunteer Training
– June 20, 2020 at 8:45 am - 3:00 pm
World Refugee Day 2020: Distant but Together
– June 20, 2020 at 2:00 pm - 4:00 pm
June 21, 2020
World Refugee Sunday
– June 21, 2020 at All Day
June 22, 2020
Livestream: Susan Phillips: Talking Our Walk – Cultivating Sacred Consciousness
– June 22, 2020 at 7:30 pm - 9:00 pm
June 23, 2020
Forge Canada: Seek the Peace
– June 23, 2020 at 9:00 am - 10:00 am
Book Launch: Barry Morris – A Faithful Public-Prophetic Witness
– June 23, 2020 at 12:00 pm - 1:00 pm
Kairos Online Western Canada (Tuesday evenings)
– June 23, 2020 at 5:30 pm - 8:00 pm
WEA Webinar: What Authentic Discipleship is About
– June 23, 2020 at 6:00 pm - 7:00 pm
June 24, 2020
Radius Missiology Conference (Free)
– June 24, 2020 - June 25, 2020 at All Day
ELO Webinar: N.T. Wright on Racism, Christians & Leadership
– June 24, 2020 at 9:00 am - 10:00 am
DTES Lament Gathering
– June 24, 2020 at 7:00 pm - 8:00 pm
Livestream: Jeff Greenman – Living Faithfully in a Fearful World: Ethics, Leadership & Society
– June 24, 2020 at 7:30 pm - 9:00 pm
June 25, 2020
Virtual Event: Business as Calling: Speaker Bernie Willock
– June 25, 2020 at 11:00 am - 12:00 pm
June 27, 2020
The Art of Paying Attention: Learning to Love Creation (Online)
– June 27, 2020 at 9:00 am - 3:00 pm
June 29, 2020
Webinar: Reopening Churches 2
– June 29, 2020 at 9:00 am - 10:00 am
Livestream: Mary McCampbell: Guns, Grit and Grace – Flannery O'Connor & the Sin of Sentimentality
– June 29, 2020 at 7:30 pm - 9:00 pm
June 30, 2020
A Rocha Talks: The Story of Plastic
– June 30, 2020 at 7:00 pm - 8:00 pm
July 1, 2020
Livestream: Ross Hastings – A Theology of Depression: A Personal Narrative on the Economy of Divine Strength Through Weakness
– July 1, 2020 at 7:30 pm - 9:00 pm
July 5, 2020
Christ & COVID: A Series on Health, Home, Race & History (Sundays, morning & evening)
– July 5, 2020 - July 26, 2020 at 10:00 am - 11:30 am
July 6, 2020
Animals' Homes & Habitats – Summer Day Camp
– July 6, 2020 - July 10, 2020 at 9:00 am - 3:00 pm
Kickers Preschool Soccer and Arts Camp (Ages 3-5)
– July 6, 2020 - July 10, 2020 at 9:00 am - 3:00 pm
Kickers Soccer Camp (Ages 6-14) 
– July 6, 2020 - July 10, 2020 at 9:00 am - 3:00 pm
FLO Summer Soccer Camp
– July 6, 2020 - July 10, 2020 at 1:30 pm - 4:30 pm
Livestream: Cindy Aalders – The Shape of Family: Love, Belonging & COVID-19
– July 6, 2020 at 7:30 pm - 9:00 pm
July 7, 2020
Missional Commons Webinar: Exploring Practices
– July 7, 2020 at 10:00 am - 11:00 am
Flavours of Hope's Conversation Series: Food & Race Part 2
– July 7, 2020 at 1:30 pm - 2:30 pm
A Just Renewal and Green New Deal for Canada: Earthkeepers Panel & Discussion
– July 7, 2020 at 6:00 pm - 7:00 pm
July 8, 2020
Livestream: Grace Hui Liang – Reading the Bible in Late Qing China, 1807 - 1911
– July 8, 2020 at 7:30 pm - 9:00 pm
July 11, 2020
The Fundamentals of Moral Decision-Making: Teaching Controversial Topics in the Classroom
– July 11, 2020 at 9:00 am - 12:00 pm
Cancelled: The Choir of Jesus College, Cambridge, UK
– July 11, 2020 at 7:30 pm - 9:00 pm
July 14, 2020
Missional Commons Webinar: Exploring Postures
– July 14, 2020 at 10:00 am - 11:00 am
Shared Life Exchange: Community Cafe 2
– July 14, 2020 at 7:30 pm
July 15, 2020
Livestream: Rikk Watts – Reframing the Trinity
– July 15, 2020 at 7:30 pm - 9:00 pm
July 20, 2020
Livestream: Malcolm Guite – Poetry & Prayer: A Mutual Inspiration
– July 20, 2020 at 7:30 pm - 9:00 pm
July 21, 2020
Missional Commons Webinar: Exploring Leadership
– July 21, 2020 at 10:00 am - 11:00 am
July 22, 2020
Livestream: David Smith – Digital Life Together: How Technology is Changing Christian Education
– July 22, 2020 at 7:30 pm - 9:00 pm
July 27, 2020
Livestream: Krish Kandiah – A Relentless Revolution of Love: Hospitality as Hopeful Resistance
– July 27, 2020 at 7:30 pm - 9:00 pm
July 28, 2020
Webinar: Creating a Culture of Invitation
– July 28, 2020 at 9:00 am - 10:00 am
July 29, 2020
Livestream: Wesley Hill: When Christians Disagree
– July 29, 2020 at 7:30 pm - 9:00 pm