Bill Hybels has been a major influence in the North American church for decades, but Kevin Cavanaugh thinks Hybels and his Global Leadership Summits are having more influence than ever these days. That is why he offers his church – Cedar Grove in Surrey – for the summer Summit (August 11 – 12).
The Global Leadership telecasts – which are aimed at "people committed to getting better as leaders" – are expected to reach 450,000 people this year, in August and again in the fall.
Speakers at the upcoming event include
Bill Hybels
, senior pastor of Willow Creek Community Church;
Melinda Gates
, co-chair of the Bill and Melinda Gates Foundation;
Alan Mulally
, president and chief executive officer of the Ford Motor Company (2006-2014);
Horst Schulze
, CEO of Capella Hotel Group and founding president of the Ritz-Carlton Group; and
Danielle Strickland
, Salvation Army officer and social justice advocate and author.
Cavanaugh says the Summits have had a major influence on him personally. Last year, for example, one theme was how to receive feedback. "It is so hard to receive good feedback," he said, "but there is so much to be learned if you can not become defensive." The training included "how to prepare yourself to ask for it, how to receive it. The best advice you're going to get is from those close to you."
Large ministries such as Union Gospel Mission, Power to Change and the Mennonite Central Committee regularly take advantage of the training, Cavanaugh says, but he also expects to see many pastors and church members among the 275 – 300 he expects to attend.
"Send your business people," he says to fellow pastors, "and have them bring their non-Christian friends," noting that while a Christian perspective undergirds the whole event, not all Summit speakers are coming from that point of view.
"Develop a leadership culture, Cavanaugh urges pastors – "churches rise and fall with the level of the leadership."
Go
here
for information about the Global Leadership Summit.
Hogan's Alley church
I'm sorry I missed the African Descent Festival last weekend (July 22 – 23), but I did catch up on some fascinating Vancouver history when I checked out its website. I have heard about Hogan's Alley over the years, and the fact that Jimi Hendrix's family lived there at one time – but I had never heard about the black community's church.
Here is what the promoters said about Hogan's Alley:
From the early 1900s to the late 1960s, the East Side neighbourhood of Strathcona was home to Vancouver's first and only black community. Hogan's Alley was the local, unofficial name for Park Lane, an alley that ran through the southwestern corner of Strathcona during the first six decades of the 20th century. It ran between Union and Prior Streets from approximately Main Street to Jackson Avenue.
An important part of the community was Fountain Chapel.
Fountain Chapel [was] located at 823 Jackson Avenue from 1918 to 1985. Co-founded by Nora Hendrix, a former vaudeville dancer and grandmother to legendary guitarist Jimi Hendrix, Fountain Chapel was a local chapter of the politically active African Methodist Episcopal Church.
Considered the spiritual home of Vancouver's black community, it was also where the community gathered to organize around issues such as the trial of Fred Deal, a railroad porter charged with murdering a Vancouver police constable, and the police beating and subsequent death of Clarence Clemons, a black longshoreman. 
The black community that had geographically coalesced around the Fountain Chapel in the city's East End was displaced during the city's slum clearance programs of the 1950s and 1960s. In 1985, not long after Nora Hendrix's death, the AME sold the building, which housed the Basel Hakka Lutheran Church from then until 2008, when the building was officially decommissioned as a church and became a private residence.
On January 30, 2014, Canada Post issued a stamp commemorating Hogan's Alley and the Official First Day Cover depicts an illustration of the Fountain Chapel.
For a fuller description of Hogan's Alley and its community go
here
. Also, I wrote about this church as one of
Vancouver's lost churches
last year, without knowing its full history. 
Keith Jacobson, Killarney activist
I had also never heard of Keith Jacobson, nor of his impressive community service in Killarney (the southeast area of Vancouver), until Joseph Jones – who belongs to a community group which keeps an eye on developments in the neighbouring Norquay community – told me about him.
Jones, who attends St. John's Vancouver Anglican Church, told me Jacobson was a person we all should know as a tireless community activist and a solid Christian. Unfortunately, Jacobson died June 24, so I'll never meet him, but here is a portion of an article about him (
Advocate heart and soul of Killarney
) by Sandra Thomas in the
Vancouver Courier
:
Lorna Gibbs, long time seniors advocate and close friend of Keith Jacobson, says the community activist was the heart and soul of the Killarney Community Centre and the driving force behind a movement to have a seniors centre built in Southeast Vancouver.
Jacobson died Friday, June 24, after a lengthy battle with cancer. Jacobson was no stranger to battles – in the years this reporter knew him, he fought tirelessly for his community of Killarney as well as for the rights of community centres across the city – and of course the seniors centre. . . .
Jacobson was an outspoken critic of the plan to rewrite the joint operating agreement between the city and park board and the city's community centre associations, an issue still unresolved after more than a decade. Jacobson also fought through multiple mayors and councils in his quest to have the long-awaited seniors centre built adjacent to the Killarney Community Centre, a plan recently approved and supported by three levels of government.
The memorial service for Jacobson filled a large gym at Killarney Community Centre July 3. In a message based on Galatians 2:20, Rev. Mark Chiang of
Killarney Community Lutheran Church
described Keith Jacobson as an "old-school Christian" who gave a great deal to his local community.
Bruce Cockburn rules!

On Sunday night, July 17, I had a ringside seat at the Vancouver Folk Music Festival as Bruce Cockburn sang a dozen of his best songs (Lovers in a Dangerous Time, Tokyo, If a Tree Falls, If I Had a Rocket Launcher . . .).
As the sun set in the west, down at Jericho Beach, he reminded us of the reference to English Bay in Wondering Where the Lions Are:
Freighters on the nod on the surface of the bay
One of these days we're going to sail away,
going to sail into eternity
some kind of ecstasy got a hold on me

All in all it was a magical experience. To top it off, the one new song Cockburn performed featured these words: "I'm on the Jesus train, headed for the city of God," after saying "I didn't think I'd ever be writing a song like this again."
He had referred to that song – and to the fact that he has only recently again been involved in worship and describing himself as a Christian following a long hiatus – in a couple of interviews I quoted in an article before the Folk Fest.
(Cockburn followed the 'Jesus train' song directly with one of his more radical songs, Call it Democracy, as if to reassure the more leftist/secular portion of his audience that he hadn't left them behind.)
The whole weekend was excellent, as usual. One disappointment was that the unofficial 'gospel workshop' (sometimes described as 'church in the park') usually featured at Stage Two at 10 am on Sunday morning was discontinued this year. I hope it will be back next year; it's always a big hit.
August events
I will be taking a break throughout August, so I'll just highlight some of the most significant events coming up this month:
*
Vancouver Bach Festival
: Johann Sebastian Bach is often described as the Fifth Evangelist because of his great devotion to scripture and his desire to glorify God. Ten concerts at Christ Church Cathedral August 2 – 12 will feature his music.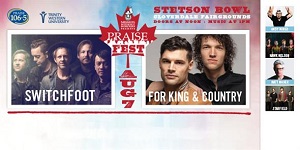 *
PRAISE Fest 2016
will feature a day's worth of music August 7 at the Stetson Bowl (Cloverdale Fairgrounds). Featured musicians include Switchfoot, For King & Country, Matt Maher, Andy Mineo, Hawk Nelson and Starfield.
*
OM Vancouver Challenge
: OM Canada offers a week-long opportunity (August 14 – 21) to respond to the massive influx of immigrants, particularly Muslims, Hindus and Sikhs, by "training believers to share their faith clearly, confidently and cross-culturally."
OM Surrey Challenge
runs August 22 – 29.
*
Ravi Zacharias Ministry Conference
: Westside Church will host a couple of reasonably priced evenings September 6 – 7 featuring internationally renowned author/thinker/apologist Ravi Zacharias, along with Mary Jo Sharpe and Andy Bannister. They will explore the relevance and application of the ancient Christian beliefs in light of postmodern thinking, and discuss its uniqueness in light of other major religions.
Jul 2016
My (Re)conciliation
– July 28, 2016 - August 1, 2016 at All Day
The Colour Collective: The View from Here
– July 28, 2016 at All Day
Jubilation
– July 28, 2016 - July 30, 2016 at 7:30 pm - 9:30 pm
Surrey Night Market: Sunday Worship / Open Church Service
– July 31, 2016 - August 14, 2016 at 5:00 pm - 6:00 pm
Aug 2016
Vancouver Bach Festival
– August 2, 2016 - August 12, 2016 at All Day
Incarnation Tour Concert (Dave Siverns)
– August 2, 2016 at 7:00 pm - 9:00 pm
Business By the Book: Sam Chung
– August 3, 2016 at 12:00 pm - 1:00 pm
Regen: James Fam / Regen Band
– August 3, 2016 at 7:00 pm - 9:00 pm
Summer Community Day
– August 6, 2016 at 12:00 pm - 5:00 pm
The Coco Mamas: 17th Annual Burnaby Blues & Roots Festival
– August 6, 2016 at 1:00 pm - 10:00 pm
PRAISE Fest 2016
– August 7, 2016 at All Day
Regen: Simon Gau / Broadway Church Band
– August 10, 2016 at 7:00 pm - 9:00 pm
The Global Leadership Summit
– August 11, 2016 - August 12, 2016 at All Day
Roberts Liardon
– August 11, 2016 - August 12, 2016 at 7:00 pm - 9:00 pm
Marc Dupont: Revival Meetings
– August 12, 2016 - August 14, 2016 at 7:00 pm - 9:00 pm
Roberts Liardon
– August 13, 2016 at 12:00 pm - 2:30 pm
OM Vancouver Challenge
– August 14, 2016 - August 21, 2016 at All Day
Regen: Josh Loeve / Centre Church Band
– August 17, 2016 at 7:00 pm - 9:00 pm
Mozart's Die Zauberflote (The Magic Flute)
– August 19, 2016 - August 20, 2016 at 7:30 pm - 9:30 pm
Mozart's Die Zauberflote (The Magic Flute)
– August 21, 2016 at 2:30 pm - 4:30 pm
City-wide Prayer
– August 21, 2016 at 5:00 pm - 7:00 pm
Bethel Music Breakouts / Worship Night
– August 22, 2016 at 12:00 am
Catherine M. Kelly: Come Away and Rest Awhile - A Retreat on Sabbath-Keeping
– August 22, 2016 - August 23, 2016 at All Day
Fusion Ignite
– August 22, 2016 - August 25, 2016 at All Day
OM Surrey Challenge
– August 22, 2016 - August 29, 2016 at All Day
Bethel Music Worship Night
– August 22, 2016 at 7:00 pm - 9:30 pm
Regen: Chris Karuhije / Regen Band
– August 24, 2016 at 7:00 pm - 9:00 pm
Exodus Concert
– August 27, 2016 at 6:30 pm - 9:30 pm
Summer Choir Concert featuring music by Bach and Purcell
– August 27, 2016 at 7:00 pm - 9:00 pm
Call for Artists: 'Living on Shared Territory' Art Show
– August 29, 2016 - September 2, 2016 at All Day
Kickers Soccer Camp
– August 29, 2016 - September 2, 2016 at 9:00 am - 3:00 pm
Regen: Jason Ballard / CLA Band
– August 31, 2016 at 7:00 pm - 9:00 pm
Sep 2016
Fr. Robert Spitzer: What's Wrong with Assisted Suicide?
– September 2, 2016 at 7:00 pm - 9:00 pm
Eastside Story Guild's Teen Theatre presents Alice in Wonderland
– September 3, 2016 at 12:30 pm - 2:00 pm
Eastside Story Guild's Teen Theatre presents Alice in Wonderland
– September 3, 2016 at 4:00 pm - 5:30 pm
Alpha Team Training
– September 6, 2016 at All Day
Alpha Team Training
– September 6, 2016 at 6:00 pm - 9:00 pm
Ravi Zacharias Ministry Conference: Jesus, Life and World Religions
– September 6, 2016 - September 7, 2016 at 7:00 pm - 9:00 pm
Alpha Team Training
– September 7, 2016 at 7:00 am - 9:00 am
Vancouver Pastors Prayer Fellowship
– September 7, 2016 at 10:30 am - 12:30 pm
Business By the Book: Rick Goossen
– September 7, 2016 at 12:00 pm - 1:00 pm
Freedom Session Leadership Training
– September 9, 2016 - September 10, 2016 at 7:00 pm - 4:00 pm
Chapel UBC
– September 9, 2016 at 7:30 pm - 9:30 pm
Greg Drummond Band
– September 10, 2016 at 7:00 am - 9:00 am
The Church and Same-Sex Attraction
– September 10, 2016 at 9:00 am - 12:00 pm
Fit Faith Challenge
– September 10, 2016 at 10:00 am - 3:00 pm
Michael Goheen: The Story of the Bible
– September 10, 2016 at 7:30 pm - 9:30 pm
Alpha Team Training (three Sunday evenings)
– September 11, 2016 at 12:00 pm - 2:00 pm
Praise in the Park
– September 11, 2016 at 1:00 pm - 5:00 pm
Book Launch: Ashley Moyse, Jason Byassee, Ray Aldred, Ross Lockhart
– September 14, 2016 at 3:00 pm - 5:00 pm
Sarah Jane: Visible Light
– September 14, 2016 at 4:30 pm - 7:30 pm
Plumbline Conference
– September 15, 2016 - September 18, 2016 at All Day
Bishop Remi De Roo: Reflections from a Second Vatican Council Father
– September 15, 2016 at 7:00 pm - 8:30 pm
Heavenly Melody Concert
– September 15, 2016 at 7:30 pm - 9:30 pm
MCC Festival for World Relief
– September 16, 2016 - September 17, 2016 at All Day
Talks with Tom: Faith and Politics
– September 16, 2016 at 7:00 am - 8:30 am
A Day with Forge Canada: Faithful Presence - Discipleship at the Margins (Alan Hirsch, Deb Hirsch, Kim Hammond, Cam Roxburgh)
– September 16, 2016 at 9:00 am - 3:00 pm
Leadership Conference with Peter Irvine
– September 16, 2016 - September 17, 2016 at 7:00 pm - 12:30 pm
Heavenly Melody Concert
– September 16, 2016 at 7:30 pm - 9:30 pm
Iain Provan: Seriously Dangerous Religion
– September 16, 2016 - September 17, 2016 at 7:30 pm - 12:30 pm
Alpha Team Training
– September 17, 2016 at 9:00 am - 11:00 am
Festival of Hope: Pastors Breakfast
– September 17, 2016 at 10:00 am - 12:00 pm
GN2016: Help Evangelize Japanese Youth
– September 17, 2016 at 7:00 pm - 9:00 pm
Soul Dance – with Souled Out
– September 17, 2016 at 7:00 pm - 11:00 pm
Christian Legal Fellowship National Conference
– September 22, 2016 - September 25, 2016 at All Day
City in Focus 2016 Annual Awards
– September 22, 2016 at 5:00 pm - 7:00 pm
Lauren Mann in Concert
– September 22, 2016 at 8:00 pm - 10:00 pm
Lauren Mann in Concert
– September 23, 2016 at 7:00 pm - 9:00 pm
Walk the Wall
– September 24, 2016 at 9:00 am - 1:00 pm
WorldServe Thrift Store Grand Re-opening
– September 24, 2016 at 9:00 am - 5:00 pm
Spiritually Rooted Direct Access Training
– September 24, 2016 at 2:00 pm - 5:00 pm
A Rocha: Brooksdale Volunteer Appreciation Shindig
– September 24, 2016 at 3:00 pm - 5:00 pm
King Road MB Church 50th Anniversary
– September 24, 2016 at 5:00 pm - 8:00 pm
REST International: A Night for Nigeria
– September 24, 2016 at 5:30 pm - 8:00 pm
Life Explored Vancouver Launch
– September 24, 2016 at 7:00 pm - 9:00 pm
Dedication of St. Alban's Mural
– September 25, 2016 at 11:15 am - 11:45 am
Choral Evensong to Celebrate Rupert Lang's 30th Anniversary at Christ Church Cathedral
– September 25, 2016 at 3:00 pm - 4:00 pm
Babar the Elephant by Francis Poulenc (for narrator and piano), followed by The ​Josquin Singers ​Renaissance repertoire
– September 25, 2016 at 4:00 pm - 6:00 pm
Jazz Vespers: Flock & Hopson Quartet
– September 25, 2016 at 4:00 pm - 5:00 pm
Coffeehouse Concert Series: Steve Delamar and Nightlight
– September 25, 2016 at 7:00 pm - 9:00 pm
Engaging the Muslim Scriptures
– September 25, 2016 at 7:00 pm - 9:00 pm
Open Bethlehem: Director Leila Sansour in attendance
– September 26, 2016 at 5:30 pm - 8:30 pm
An Evening with John Bell & Blackthorn
– September 26, 2016 at 6:00 pm - 8:45 pm
Hillsong Young & Free Canadian Tour
– September 26, 2016 at 7:00 pm - 9:00 pm
Book Signing: The Face of the Deep with Paul J. Pastor
– September 27, 2016 at 12:00 pm - 1:00 pm