Pacific Theatre's new play isn't based in Vancouver, but many of the themes will resonate here. The Canadian premiere of God Said This by Leah Nanako Winkler begins this Friday (June 2).
Here is the outline:
Sisters Hiro and Sophie grew up together in Kentucky, but their lives have taken them down very different paths. When their mother Masako begins chemotherapy, Hiro returns to her family's messy world as they dig through their past to find a picture they can all fit into.
A sharp, funny and compassionate look at what it means to face the Unknown together.
Hiro has been living in New York, while Sophie is a born again Christian. Their father is a recovering alcoholic who wants to repair his broken relationship with his daughters.
A preview of the play on Vancouver Presents included this:
Born in Japan and growing up in Kentucky, playwright Leah Nanako Winkler wrote the play while her own mother was undergoing cancer treatment.
And while God Said This chronicles the complexities of a familial reconciliation in the throes of crisis, Winkler also wrote the play explicitly for a company of mixed-race actors, something she states in her script notes: "James, Masako, Hiro and Sophie are meant to be a mixed-race family [and] remember that Kentuckian doesn't always mean white."
For actor Stephanie Wong, who portrays Sophie, this will be the first time she will perform a role written as mixed race, an opportunity she calls "pretty special."
"This family dynamic resonates with my own personal experience, coming from a mixed-race family dealing with the universal struggles of cancer and alcoholism," she says.
Yoshie Bancroft, who plays eldest sister Hiro, agrees.
"There is so much heart, care, pain, but most importantly for me: the representation of a mixed Japanese/white experience, family story, and the cultural nuances that come with that. Also, the humour."
God Said This runs until June 24.
Michael Card
Will he sing? Don't know – but the publicity picture shows him holding a guitar, so that's a good sign. And I have seen Steve Bell and others sing during their lectures.
I've known of Michael Card as a musician over the past many decades, but he is actually in town to deliver a lecture, and teach a course, at Regent College.
Card will speak on Listening to the Life of Jesus next Wednesday (June 7). Here is how Regent describes the talk:
According to one of Jesus's favourite texts from the Hebrew Bible, the best way to love God is to shema – to listen to Him with all our heart, mind and everything we are.
But what does that actually look like? Join singer, songwriter and author Michael Card for an Evening Public Lecture exploring this vital question.
Card is no doubt known primarily for his music. He has recorded more than 35 albums. Among his best known songs is 'El Shaddai,' which was also recorded by Amy Grant. He has been particularly inclined to concept albums. One writer said in a review of his last album, in 2019: "He used [the format] as a vehicle to tell a story bigger than could be told through any one song."
But he is also the author of more than 20 books, the last eight or so published by InterVarsity Press:
Michael Card has been performing and writing biblical music for the last 40 years. In that time he has overviewed the Bible from Genesis to Revelation. In the course of researching these songs he also began to teach in the context of his local church and then to eventually write books from those studies.
The lecture will be held in the Chapel, but will also be livestreamed. Card will also be teaching The Galilean: Details of the Heart of Jesus from June 5 to 9.
Persecuted Church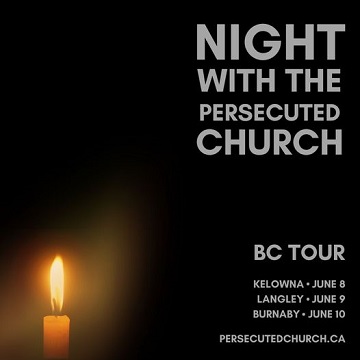 Earlier this year, the religious liberty organization Open Doors released its annual World Watch List, which ranks the 50 countries where Christians face the most extreme persecution.
Next week, two local churches are offering the opportunity to learn more.
Open Doors will be at Living Waters Church June 9 and New Westminster Christian Reformed Church June 10. 
Here is a brief description of the evenings:
Have you ever wondered what it would be like if it was illegal to go to church? Or to own a Bible? What if following Jesus meant you were kicked out of your home, family or community? This is a reality for millions of persecuted Christians around the world.
Night with the Persecuted Church is an opportunity to spend an evening learning about the realities of Christian persecution. You'll hear stories from your persecuted family, learn how you can be praying, and get great resources to keep you informed.
The 2023 World Watch List released January 17 included several key findings:
Persecution of Christian has never been worse during the time Open Doors has been monitoring the situation.

In Open Doors' World Watch List top 50 alone, 312 million Christians face very high or extreme levels; more than 360 million worldwide.

More than 124,000 Christians were forcibly displaced from their homes because of their faith.

Some 15,000 became refugees.

More than 5,600 were killed for their faith

More than 2,100 churches were attacked or closed.

North Korea has returned to top spot, after having been replaced by Afghanistan last year.

Many Sub-Saharan African nations are suffering from increased Islamic extremism and violence.
Jun 2023
The Gathering: Journeying Towards Pastoral Health – June 2, 2023 - June 3, 2023 at 12:00 pm - 6:00 pm
The Extra Mile 2023: A Himalayan Life Fundraising Event – June 3, 2023 at 9:15 am - 2:00 pm
VOS presents 2023 Spring Concert 'Gardens: from Creation to Eternity' – June 4, 2023 at 7:30 pm - 9:30 pm
Carmen Joy Imes: 'Who Do You Say That I Am?' Being God's Image in an Age of Expressive Individualism – June 5, 2023 at 7:30 pm - 9:00 pm
Gregory K. Hillis: Letters to a Black Catholic – June 6, 2023 at 6:00 pm - 8:30 pm
Ed Ng: Mental Health & Community – Caring for Family & Friends – June 7, 2023 at 12:00 pm - 12:45 pm
God in Ancient China | 中国古代人的神: How the ancient Chinese worshipped the God of the Bible – June 7, 2023 at 6:30 pm - 8:30 pm
Michael Card: Listening to the Life of Jesus – June 7, 2023 at 7:30 pm - 9:00 pm
Jazz Evensong @ Brentwood: Dean Thiessen & Friends – June 7, 2023 at 8:00 pm - 9:00 pm
Life-Light by Thomas Brasch – June 8, 2023 - June 14, 2023 at All Day
Provincial Leaders Dinner 2023 – June 8, 2023 at 5:00 pm - 8:00 pm
56th Annual British Columbia Leadership Prayer Breakfast – June 9, 2023 at 7:30 am - 9:00 am
Night With the Persecuted Church – June 9, 2023 at 7:00 pm - 8:15 pm
Church is Essential 2023 – June 10, 2023 at 8:30 am - 4:30 pm
Servant Partners: Community Transformation Certificate (two days) – June 10, 2023 - June 17, 2023 at 9:00 am - 3:00 pm
A Rocha Volunteer Day – June 10, 2023 at 9:30 am - 2:00 pm
Bible Saturday: Matthew Lynch – The World of Leviticus – June 10, 2023 at 9:30 am - 11:45 am
BC Christian Academy's 30th Anniversary Festival – June 10, 2023 at 10:00 am - 4:00 pm
Night With the Persecuted Church – June 10, 2023 at 7:00 pm - 8:15 pm
Saving our Planet: Faith in Action II – June 11, 2023 at 1:00 pm - 6:00 pm
Jazz Vespers in the Valley with Bryn Kinders – June 11, 2023 at 3:30 pm - 4:30 pm
The Color: No Greater Love Tour – June 11, 2023 at 7:00 pm - 9:00 pm
Faith Leaders Advocacy Webinar – June 14, 2023 at 9:00 am - 10:00 am
UGM Summer Connect – June 14, 2023 at 11:00 am
Jazz Evensong @ Brentwood: Gabriel Hasselbach & Friends – June 14, 2023 at 8:00 pm - 9:00 pm
Marketplace Mornings: Finding God in the Valley with Greg Roberts – June 15, 2023 at 7:00 am - 8:30 am
What is it like to be a Christian Observer at a UN Climate conference? – June 15, 2023 at 4:00 pm - 5:00 pm
Wild Light – June 15, 2023 - June 17, 2023 at 7:30 pm - 9:30 pm
MVA: Foundations of Community Organizing Training – June 16, 2023 - June 17, 2023 at 5:30 pm - 5:00 pm
Celebrate Juneteenth / Father's Day with Marcus Mosely – June 18, 2023 at 1:30 pm - 5:30 pm
2023 Vancouver Gospel Festival – June 18, 2023 at 6:00 pm - 9:00 pm
Danny Michel – June 18, 2023 at 8:00 pm - 10:00 pm
Worship for Justice Tour presents Don Moen & Paul Baloche, with Brooke Nichols – June 19, 2023 at 7:00 pm - 9:30 pm
Sam Rocha Trio @ The Princeton – June 19, 2023 at 9:00 pm - 10:00 pm
Second Annual Skidmore Foundation Golf Tournament – June 21, 2023 at All Day
Jazz Evensong @ Brentwood: Mennonite Jazz Committee – June 21, 2023 at 8:00 pm - 9:00 pm
City-wide Worship Night: Worship in the City – June 22, 2023 at 7:00 pm - 9:00 pm
God Said This by Leah Nanako Winkler – June 22, 2023 - June 24, 2023 at 8:00 pm - 10:00 pm
Filmmaking Basics Workshop – June 23, 2023 - June 24, 2023 at 8:30 am - 3:00 pm
Refugee Support and Volunteer Training – June 24, 2023 at 8:45 am - 3:00 pm
House of James: 50th Anniversary BBQ – June 24, 2023 at 11:00 am - 2:00 pm
Worship Invades Pitt Meadows – June 24, 2023 at 7:30 pm - 10:30 pm
Jazz Vespers with Carman J. Price – June 25, 2023 at 4:00 pm - 5:00 pm
One With Them: A Day for Christian Captives – June 25, 2023 at 4:00 pm - 5:00 pm
Mark D. Roberts: Faith-Work Integration – New Learning for a New Day – June 26, 2023 at 7:30 pm - 9:00 pm
Church Earthkeepers Meet-Up – June 27, 2023 at 5:00 pm - 6:00 pm
Strategic Leadership for Christian Higher Education Administrators: (1) Having Difficult Conversations, and (2) Onboarding New Faculty – June 28, 2023 at 8:30 am - 12:00 pm
Mabiala Kenzo: Developments in Postcolonial Theology – June 28, 2023 at 12:00 pm - 12:45 pm
Jazz Evensong @ Brentwood: Karen Graves & Miles Black – June 28, 2023 at 8:00 pm - 9:00 pm
Christian Climate Observers Program at COP28 (2023): Application – June 29, 2023 - July 14, 2023 at All Day
Surroundings by Cara Bain – June 29, 2023 - August 16, 2023 at All Day
Surroundings by Cara Bain: Opening Reception – June 29, 2023 at 4:30 pm - 6:30 pm
New Roots 2023 – June 29, 2023 at 8:00 pm - 9:30 pm