Rapper Kendrick Lamar is asking for prayer, so you can engage with him whether you go to see him in concert August 2 at Rogers Arena or not.
Just a couple of weeks ago, Jon Caramanica wrote in The New York Times about his Phoenix concert:
DAMN., Mr. Lamar's fourth studio album, released in April, is his first record rooted in the tensions associated with success [DAMN. had the biggest Billboard debut of 2017 and just went double platinum]. He leaned heavily on it at this concert, returning again and again to the album's most potent mantra: "Ain't nobody prayin' for me."
That declaration is one thing to say on an album, and another altogether when a crowd of 18,000 is saying it back to you. The immersion was churchlike, less about sensory overload than a fervent commitment to take in a pastor delivering one demanding statement after another.
And Lamar is a demanding artist. Writing in Vulture, Craig Jenkins said:
It's been two years since Kendrick Lamar's To Pimp a Butterfly, and we are not alright. Bold, organized racism is ascendant. Military conflict seems inevitable. Environmental decay can't be far off. Doom hangs on the air. Butterfly was a record about weathering bad times and the chain reaction between faith, hope, and change.  "Alright" tapped old slave spirituals' steely resolve, providing a sense that time could be bided, and trials overcome through patience. Through belief. In church, you're told that "Faith is the substance of things hoped for, the evidence of things not seen."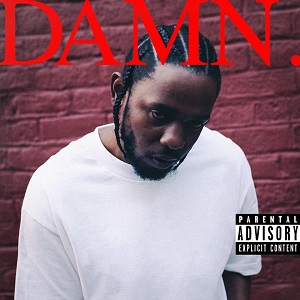 But what happens when that hope fades? DAMN. is Kendrick Lamar's trip to the same place of fretful hyperawareness many of us have occupied throughout 2017's onslaught of bad news. . . .
Faith is this album's cornerstone, but it's not the joyful, celebratory faith of Chance the Rapper, the grizzled, determined faith of Lecrae, or the darkly yearning faith of DMX and Kanye West. DAMN. sees belief nudged into doubt by a volatile mix of world disorder and offbeat theology.
ln a nuanced assessment of the Lamar's religious worldview, Matthew Linder said in a recent Christianity Today article (Kendrick Lamar's Duel with Damnation):
While his first two albums (2012's good kid, m.A.A.d city and 2015's To Pimp a Butterfly) explore Kendrick's experience of God's grace through justification and sanctification, all 14 tracks of DAMN. wrestle with anxiety over salvation's assurance, exploring Kendrick's fears of condemnation in this life and damnation in the next.
As part of a wave of high-profile, religiously influenced rappers that includes such artists as Kanye West and Chance the Rapper, Kendrick's not alone in exploring faith-based themes. . . . Kendrick, meanwhile, consistently envelopes his narratives of hope and despair within overtly Christian language and theology. . . .
Kendrick's state of fear is further heightened by the oft-repeated cry throughout the album, "Nobody prays for me," which expresses his longing for the assurances of praying saints to come alongside him in his doubts and fears. A prayer eventually comes on "FEAR" – spoken by Kendrick's cousin Carl –  but, tellingly, it is a prayer centered on the condemnation of God's law, and not the consoling assuredness of Jesus' death on the cross and resurrection that Kendrick clung to on previous albums. . . .
In many ways, though, the suffocating, oppressive weight of fear on DAMN. captures the anxieties many of Kendrick's listeners live through every day. The rapper's sense of urgency in releasing this album was guided by his determination to help his listeners in "Learning to accept it [fear], and not run away from it." DAMN., then, isn't a record that excludes God so much as one whose dark contours explore how a world that produces suffering, fear, and doubt isn't easily resolved.
So, pray for Kendrick Lamar – whether from afar or as he calls out in person.
(We almost had Chance the Rapper around this summer as well; he was to have been a headliner at the Pemberton Festival in July, but it was cancelled due to bankruptcy.)
Bach Festival

If rap isn't your cup of tea, the Bach Festival might have more appeal. The festival is one of the largest of its type in North America and runs this year from August 1 – 11.
Of particular interest to some – during this year dedicated to the 500th anniversary of the Reformation – might be Lutheran Vespers: Songs for Troubled Times (August 3). This concert will be followed by a free screening of Sacred Music: Bach and the Lutheran Legacy. This hour-long documentary addresses how the Protestant Reformation shaped the works of J.S. Bach.
The connection between Bach and Martin Luther is considerable, as the Welcome to LutherCountry website points out:
Martin Luther and Johann Sebastian Bach shared more than a love of music! Luther was a choir boy and later preached (1521) in Eisenach's St. George's Church, the very same church where Bach was baptized (1685) and sang in the choir over a century later.
Some even argue that without Luther, there would be no Bach.
One article in Christian History pointed out:
Almost literally from cradle to grave, Bach lived and worked in a part of the world where, as James R. Gaines put it, "Luther was a great deal more compelling than gravity."
Another article noted:
When he was 48, Johann Sebastian Bach acquired a copy of Luther's three-volume translation of the Bible. He pored over it as if it were a long-lost treasure. He underlined passages, corrected errors in the text and commentary, inserted missing words, and made notes in the margins.
Near 1 Chronicles 25 (a listing of Davidic musicians) he wrote, "This chapter is the true foundation of all God-pleasing music." At 2 Chronicles 5:13 (which speaks of temple musicians praising God), he noted, "At a reverent performance of music, God is always at hand with his gracious presence."
Go here for the full listing of concerts. There are concerts almost daily (sometimes twice daily) from August 1 – 11, at Christ Church Cathedral, except for the final one at the Chan Centre.
Canada on Track

A cross-country initiative called Canada on Track is drawing thousands of Canadians together in 13 city-wide gatherings.
The first – which was linked to Vancouver's Voices Together event – was on Canada Day in Kingston. From there, the gatherings have been moving from east to west – from St. John's, Newfoundland July 4 – 5 to Vancouver August 25 – 27.
Organizers say this about the events:
We welcome you, your church and ministerial to be part of an exciting Sea to Sea Prayer Initiative that joins the prayers of thousands of believers together across Canada this summer . . . calling Canada on track with God's plans and purposes.
This 150th year in Canada is a crucial time as our nation reflects on our history, identity and purpose.  We have the opportunity to stand together as Christians, to be a voice, to carry the heart of God and pray for God's plans and purposes in Canada as it is in heaven. Together let's bring our rich Christian heritage to the forefront . . . at such a time as this!
The event will take place at Westwood Community Church; go here for more information.
Summer break: Back in September
I will take the rest of the summer off. Look for more weekly updates of Church for Vancouver in early September. However, I will keep up with Jobs and Events throughout August. Flyn Ritchie
Jul 2013
Ancient Wisdom for Communities Today
– July 10, 2013 at 7:00 pm - 10:00 pm
Malcolm Guite: The Word Made Flesh: Christ and the Imagination
– July 10, 2013 at 7:30 pm - 9:30 pm
Merton Reception
– July 11, 2013 at 5:30 pm - 7:00 pm
Two Monks and a Dutch Quester: Thomas Merton, John Eudes Bamberger and Henri Nouwen
– July 11, 2013 at 7:00 pm - 9:30 pm
Summer Carnival
– July 12, 2013 at 5:00 pm - 9:00 pm
Community Fun Day 2013
– July 13, 2013 at 11:00 am - 4:00 pm
BC Christian Soccer League finals
– July 13, 2013 at 6:15 pm - 9:00 pm
John Stackhouse: La Sagrada Familia, El Mundo Sagrado: The Wild Christian Architecture of Antoni Gaudi
– July 15, 2013 at 7:30 pm - 9:30 pm
Regen: Sam Owusu / Tenth Church Worship
– July 17, 2013 at 7:00 pm - 10:00 pm
Roger Lundin: Tell Me a Story: Modern Narratives and the Search for God
– July 17, 2013 at 7:30 pm - 9:30 pm
Theology on Tap With Dr. John Stackhouse
– July 18, 2013 at 7:00 pm - 9:00 pm
World Christianity Conference
– July 19, 2013 at 7:00 pm - 9:00 pm
Knowing and Being Known
– July 19, 2013 at 7:30 pm - 10:00 pm
Connected: The Musical
– July 19, 2013 at 8:00 pm - 10:30 pm
World Christianity Conference
– July 20, 2013 at 8:00 am - 5:00 pm
Postmodern Urban Spaces: A City Tour
– July 20, 2013 at 9:30 am - 1:00 pm
Taiwan Aborigine Choir
– July 20, 2013 at 7:30 pm - 9:30 pm
Taiwan Aborigine Choir
– July 21, 2013 at 7:30 pm - 9:30 pm
Forum: The Struggle for Social Justice in Colombia
– July 22, 2013 at 7:00 pm - 9:00 pm
Christopher Hall: Creedal Hermeneutics: How the Creeds Can Help Us Read the Bible
– July 22, 2013 at 7:30 pm - 9:30 pm
North America Refugee Roundtable 2013
– July 24, 2013 at 7:30 am - 9:30 pm
Regen: Mark Clark / The Village Church Band
– July 24, 2013 at 7:00 pm - 10:00 pm
David Smith: Bonhoeffer, Practices and Pedagogy
– July 24, 2013 at 7:30 pm - 9:30 pm
North America Refugee Roundtable 2013
– July 25, 2013 at 7:30 am - 9:30 pm
Theology on Tap With Dr. John Stackhouse
– July 25, 2013 at 7:00 pm - 9:00 pm
North America Refugee Roundtable 2013
– July 26, 2013 at 7:30 am - 9:30 pm
The Rise of Commitment-phobia in Practice and Beliefs
– July 26, 2013 at 7:30 pm - 10:00 pm
Fraser Lands Community Day 2013
– July 27, 2013 at 11:00 am - 4:00 pm
Arctic Motorcyclist Visiting
– July 28, 2013 at 12:00 pm - 3:00 pm
Vinesong
– July 28, 2013 at 7:00 pm - 9:30 pm
Ebenezer Youth Week: Jesus and the Zombie Apocalypse
– July 29, 2013 at 6:00 pm - 10:00 pm
Anti-Racism / Dismantling White supremacy reading and discussion
– July 29, 2013 at 7:00 pm - 9:30 pm
Iwan Russell-Jones: American Prophet: The Legacy and Challenge of Martin Luther King Jr.
– July 29, 2013 at 7:30 pm - 9:30 pm
Regen: Regeneration / Regeneration Band
– July 31, 2013 at 7:00 pm - 10:00 pm
Soong-Chan Rah: Tears of Hope and Change: The Need for Lament in a Multicultural World
– July 31, 2013 at 7:30 pm - 9:30 pm
Aug 2013
Dodge
– August 2, 2013 at 7:00 pm - 9:00 pm
The Israelites in Egypt: The Story of Exodus and Ancient Egypt
– August 5, 2013 at 5:30 pm - 6:30 pm
Chant and Culture
– August 6, 2013 at 9:45 am - 9:00 pm
17th-Century German Sacred Music with Trombones: an Italian Inheritance
– August 6, 2013 at 5:30 pm - 6:30 pm
Chant and Culture
– August 7, 2013 at 9:00 am - 12:45 pm
Business By the Book: Richard Scott
– August 7, 2013 at 12:00 pm - 1:00 pm
A Day of Prayer and Fasting
– August 7, 2013 at 7:00 pm - 9:00 pm
Regen: Sergio Najarro / Restoration Church Band
– August 7, 2013 at 7:00 pm - 10:00 pm
G.F. Handel's Israel in Egypt
– August 7, 2013 at 7:30 pm - 9:30 pm
Wolf at the Door
– August 7, 2013 - August 17, 2013 at 8:00 pm - 10:00 pm
The Global Leadership Summit
– August 8, 2013 - August 9, 2013 at 8:30 am - 5:45 pm
Chant and Culture
– August 8, 2013 at 9:00 am - 9:00 pm
Jubilare sine Verbis: The Liturgical Role of Melisma in Gregorian Chant
– August 8, 2013 at 5:30 pm - 6:30 pm
Chant and Culture
– August 9, 2013 at 9:00 am - 4:30 pm
Dodge
– August 9, 2013 at 7:00 pm - 9:00 pm
Edith Krause: Artist talk on [a]drift
– August 10, 2013 at 2:00 pm - 4:00 pm
The Latin Baroque:Sources and Performance Practices
– August 12, 2013 at 5:30 pm - 6:30 pm
Regen: Ben Woodman / Terra Nova Church
– August 14, 2013 at 7:00 pm - 10:00 pm
The Return: Christian Rappers and DJs
– August 16, 2013 at 6:00 pm - 10:00 pm
Dodge
– August 16, 2013 at 7:00 pm - 9:00 pm
Oliver Mtukudzi and the Black Spirits
– August 16, 2013 at 7:00 pm - 11:00 pm
Outdoor Movie: Courageous
– August 17, 2013 at 8:30 pm - 10:30 pm
Wind & Fire Service With Pastor Hector Gimenez
– August 18, 2013 at 7:00 pm - 9:30 pm
'Interest meeting' for John Maxwell event in April 2014
– August 20, 2013 at 2:00 pm - 3:30 pm
'Interest meeting' for John Maxwell event in April 2014
– August 20, 2013 at 7:00 pm - 8:30 pm
Regen: Braden Douglas / Daniel Bremnes
– August 21, 2013 at 7:00 pm - 10:00 pm
Dodge
– August 23, 2013 at 7:00 pm - 9:00 pm
The Return: Christian Rappers and DJs
– August 23, 2013 at 7:00 pm - 10:00 pm
Kingdomfest '13
– August 24, 2013 at 2:00 pm - 8:00 pm
OMF Annual Summer Barbecue and Open House
– August 24, 2013 at 4:30 pm - 7:30 pm
Regen: Simon Gau / Pat Latham (SNAB Band)
– August 28, 2013 at 7:00 pm - 10:00 pm
Kevin Mills in concert
– August 30, 2013 at 7:00 pm - 9:30 pm
City on Call
– August 31, 2013 at 11:00 am - 9:00 pm
Sep 2013
Business By the Book: Trevor St. Germain
– September 4, 2013 at 12:00 pm - 1:00 pm
UGM Art Gallery Open House
– September 5, 2013 at 7:00 pm - 10:00 pm
MCC Festival for World Relief
– September 6, 2013 at 5:00 pm - 9:00 pm
Perogy Night in Vancouver
– September 6, 2013 at 5:00 pm - 8:00 pm
MCC Festival for World Relief
– September 7, 2013 at 8:00 am - 2:00 pm
Prayer Canada Prayer Breakfast
– September 7, 2013 at 8:00 am - 9:30 am
Streams of Justice film showing: Muffins for Granny
– September 9, 2013 at 6:30 pm - 9:30 pm
Cocktail Party: Discover Connecting God's Work With Ours
– September 10, 2013 at 6:00 pm - 8:00 pm
Speaking in Oil by Haitao Yin
– September 11, 2013 - October 17, 2013 at All Day
Vancouver Pastors' Prayer Fellowship
– September 11, 2013 at 10:30 am - 12:30 pm
Opening: 'Speaking in Oil' by Haitao Yin
– September 11, 2013 at 4:30 pm - 7:30 pm
Black and Blue Sari Fundraiser
– September 11, 2013 at 6:00 pm - 9:00 pm
All Sons & Daughters with Bruxy Cavey & Ben Cantelon
– September 11, 2013 at 7:00 pm - 10:30 pm
Film: Muffins for Granny
– September 11, 2013 at 7:00 pm - 9:30 pm
Bethel Music Tides Tour
– September 12, 2013 at 7:00 pm - 10:00 pm
8th annual Gospel Night: Japanese & Korean Christians
– September 13, 2013 at 6:30 pm - 10:00 pm
Big Business, Family and Faith: The Gaglardi Story
– September 13, 2013 at 7:30 pm - 9:00 pm
Living Proof Live Simulcast with Beth Moore
– September 14, 2013 at 9:30 am - 4:30 pm
New Music from Taize
– September 14, 2013 at 10:00 am - 12:00 pm
The Gentlemen of Fortune
– September 14, 2013 at 6:00 pm - 9:30 pm
Josh Garrels in Concert
– September 14, 2013 at 8:00 pm - 10:00 pm
reForming Relationships: Kisemanito Pakitinasuwin — The Creator's Sacrifice
– September 15, 2013 at 11:30 am - 1:30 pm
Ecumenical Truth and Reconciliation Service of Worship
– September 15, 2013 at 2:30 pm - 4:30 pm
From History to Her Story: The Power of Women's Testimony in Truth and Reconciliation
– September 15, 2013 at 5:30 pm - 9:00 pm
British Columbia Reconciliation Week
– September 16, 2013 - September 22, 2013 at All Day
Perspectives
– September 16, 2013 at 7:00 pm - 10:00 pm
All Nations Canoe Gathering (Reconciliation Week)
– September 17, 2013 at 9:00 am - 12:00 pm
Living Single Again
– September 17, 2013 at 7:00 pm - 9:00 pm
Truth and Reconciliation Commission: BC National Event
– September 18, 2013 - September 21, 2013 at All Day
Dancing With Economics, Politics and Jesus: Breakfast With Former Prime Minister of South Korea, Dr. Chung Un-Chan
– September 18, 2013 at 7:00 am - 9:00 am
Skillet (Carnival of Madness Tour)
– September 18, 2013 at 5:00 pm - 11:30 pm
reForming Relationships: Kisemanito Pakitinasuwin — The Creator's Sacrifice
– September 18, 2013 at 6:30 pm - 8:30 pm