I will be giving you all a break from my weekly Church for Vancouver updates through the summer, so I thought I'd just point out a few highlights on the horizon.
Open houses
Two communities in south Surrey will be welcoming the public July 9:
Market Summer Celebration
A Rocha Canada's Market Summer Celebration at Brooksdale Environmental Centre (12 – 4 pm):
An afternoon full of fun games, tasty food, good community, an abundance of farm fresh veggies and more!
The market will be open for regular hours (10 am – 4 pm) July 9, with summer celebration festivities starting at noon! Drop by and join us for:
Delicious pizza from the Raving Gamer food truck
Lots of fun lawn games
Face painting
Shop our selection of local goodies
Lots of summer veggies!
Self-guided tours will be available for you to enjoy the nature trails and the beauty of the Brooksdale Environmental Centre in south Surrey.
Two other A Rocha-related matters:
A Rocha is also hosting an online talk today (June 30): 'Responding to the Groaning of Creation in a Changing Climate.'
The Christian Climate Observers Program (CCOP) – supported by A Rocha – is inviting applications for the 27th Session of Conference of Parties, UN Framework Convention on Climate Change (COP27) at Sharm El-Sheikh, Egypt in November. Deadline is July 25.
Women's Centre, Adult & Teen Challenge:
The Adult & Teen Challenge Women's Centre Open House:
Come see what we're talking about, 11 am – 2 pm:
Centre tours
Great food
Great people
Student testimonies
They will also host open houses at the Okanagan Men's Centre (August 6) and Chilliwack's Men Centre (August 20).
Seminary lectures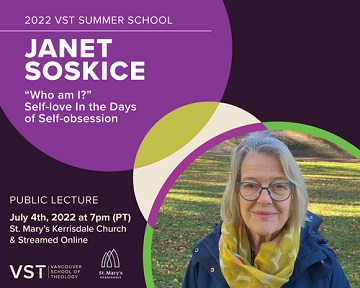 The current mood is well represented in upcoming lectures at Regent College, Vancouver School of Theology and St. Mark's College, with topics like these:
* 'Who am I': Self-love in the Days of Self-obsession
* Reading Romans in a Time of Upheaval
* Reconciled to Reconcile: A Visible Witness in a Divided World
* Tensions, Disruptions and Incompleteness: Thomas Merton on Sustaining Hope in the Face of Social Crisis
* Perspectives on Truth, Reconciliation and the Catholic Church
There are several other evening talks planned as well, not all quite so focused on current distress. Scroll down to see all the lectures.
Festivals

Well, there's really just one festival, but Bach Festival 2022 features 13 concerts between July 27 and August 5:
This year's Bach Festival explores new territory by fusing Scottish traditional music with Baroque masters. It is well known that J.S. Bach employed instrumentalists for his church performances who often also played in taverns. We also know that Baroque dance-forms, such as the gavotte and gigue (jig), were born in country dances which were reimagined by composers of the time for courtly circles.
Scottish Baroque, a fusion of Scottish traditional music combined with the virtuosity and style of 17th and 18th-century Italian music, began in a pub in Edinburgh's medieval Old Town. Here the popular music of Corelli sat side by side with the rhythmic drive of local reels and jigs. The same musicians would play both repertoires, with the same enthusiasm for each, and using the same technique and instruments.
For a more casual musical experience you could drop by St. Andrew's-Wesley United Church for one of their Thursday Lunchtime Concerts, until July 28.
Have a great summer!
June 30, 2022
A Rocha Talks: Responding to the Groaning of Creation in a Changing Climate
– June 30, 2022 at 5:00 pm - 6:15 pm
July 1, 2022
Revival Langley Conference
– July 1, 2022 - July 3, 2022 at All Day
Voices Together from Sea to Sea
– July 1, 2022 at 10:00 am - 12:00 pm
July 4, 2022
Anton Dolfo-Smith: The Long Goodbye
– July 4, 2022 - July 9, 2022 at 12:00 am
Christian Climate Observers Program 2022: Application
– July 4, 2022 - July 25, 2022 at All Day
Kickers Soccer Camp
– July 4, 2022 - July 8, 2022 at 9:00 am - 3:00 pm
FLO Summer Soccer Camp 2022 (two camps)
– July 4, 2022 - July 8, 2022 at 1:00 pm - 4:30 pm
Janet Soskice: 'Who am I?' Self-love in the Days of Self-obsession
– July 4, 2022 at 7:00 pm - 8:30 pm
Wesley Hill: Reading Romans in a Time of Upheaval
– July 4, 2022 at 7:30 pm - 9:00 pm
July 5, 2022
The Growing Season: Book Launch Party
– July 5, 2022 at 7:00 pm - 9:00 pm
July 6, 2022
Faculty Roundtable: Gender Dynamics in the New Testament
– July 6, 2022 at 12:00 pm - 12:45 pm
Jules Martinez-Olivieri: Reconciled to Reconcile – a Visible Witness in a Divided World
– July 6, 2022 at 7:30 pm - 9:00 pm
July 7, 2022
Gary Hall: Tensions, Disruptions and Incompleteness: Thomas Merton on Sustaining Hope in the Face of Social Crisis
– July 7, 2022 at 7:00 pm - 8:30 pm
Bez Open Mike, with Russ Rosen (Thursday evenings)
– July 7, 2022 - July 14, 2022 at 7:30 pm - 9:00 pm
July 8, 2022
BC Christian Ashram: Thy Will Be Done
– July 8, 2022 - July 10, 2022 at All Day
Lance Odegard
– July 8, 2022 at 8:15 am - 10:15 am
July Contemplative Prayer Retreat
– July 8, 2022 at 10:00 am - 5:00 pm
Perspectives on Truth, Reconciliation and the Catholic Church, with Deacon Rennie Nahanee
– July 8, 2022 at 6:30 pm - 8:00 pm
July 9, 2022
Adult & Teen Challenge BC Open House
– July 9, 2022 at 11:00 am - 2:00 pm
A Rocha's Market Summer Celebration
– July 9, 2022 at 12:00 pm - 4:00 pm
July 11, 2022
C. Stephen Evans: The Fear of the Lord & the Virtue of Accountability
– July 11, 2022 at 7:30 pm - 9:00 pm
July 13, 2022
Faculty Roundtable: Q & A – The Enduring Relevance of Kierkegaard
– July 13, 2022 at 12:00 pm - 12:45 pm
Lynn H. Cohick: God Shows No Favouritism – the Body of Christ & the Household Codes in Ephesians
– July 13, 2022 at 7:30 pm - 9:00 pm
July 14, 2022
Thomas Oord: Overcoming Obstacles to Love
– July 14, 2022 at 7:00 pm - 8:15 pm
July 18, 2022
Peter Cheng on Laozi's Dao De Jing
– July 18, 2022 at 12:00 pm - 1:15 pm
Yohanna Katanacho: Theology of the Land from a Palestinian Perspective
– July 18, 2022 at 7:30 pm - 9:00 pm
July 20, 2022
Faculty Roundtable: Q & A – Palestinian Christianity
– July 20, 2022 at 12:00 pm - 12:45 pm
Susan Phillips: To Make an End is to Make a Beginning – Marking Completion in Perilous Times
– July 20, 2022 at 7:30 pm - 9:00 pm
July 25, 2022
Chelle Stearns: 'With Sighs Too Deep for Words': Silence, the Holy Spirit & Music in the Processing of Traumatic Experience
– July 25, 2022 at 7:30 pm - 9:00 pm
July 26, 2022
Bach Festival 2022
– July 26, 2022 - August 6, 2022 at All Day
July 27, 2022
Dennis R. Edwards: Reimagining Humility
– July 27, 2022 at 7:30 pm - 9:00 pm
July 28, 2022
Lunchtime Concert: Rebecca Collett
– July 28, 2022 at 12:30 am - 1:15 am
July 29, 2022
GCN Partner Dinner
– July 29, 2022 at 5:45 pm - 9:00 pm
August 1, 2022
Mary McCampbell: The Sacred Function of Stories – How Imagination Discloses the Imago Dei
– August 1, 2022 at 7:30 pm - 9:00 pm
August 15, 2022
Kickers Soccer Camp
– August 15, 2022 - August 19, 2022 at 9:00 am - 3:00 pm
August 30, 2022
Church Earthkeepers Meet-Up (last Tuesday of each month)
– August 30, 2022 - November 29, 2022 at 5:00 pm - 6:00 pm