I realized very early on in my Christian life, way back in 1977, just how international a reputation Regent College had already developed.
The school had only been running for a few years when missionary farmers in Zambia (where I got saved) and the folks at L'Abri in Switzerland (where I met my wife Margaret) were urging me to check it out when I got back to Vancouver.
The school's international focus, and impact, is obvious as one peruses the materials assembled for Regent's 50th anniversary. It was to have been celebrated in person last year, but that was postponed because of the pandemic.
Instead, two online gatherings will be held this Friday and Saturday (June 25 – 26). The former will focus on alumni now based in Asia and Oceania, the latter for those in Africa, the Americas and Europe.
Regent's 50/50 Alumni Project illustrates the international character of the school, profiling one student from each year of the school's first 50 graduating classes. Many are professionals, representing Regent's early focus on training lay people to apply their faith in their careers. Many have become pastors and other types of religious leaders. And they come from all over the world.
For example, the nine in the picture I have used (of the 50) are a writer (Malaysia), campus pastor / novelist (Finland), campus minister / church planter (Taiwanese/American), physician / doctoral student (Singapore / Vancouver), entrepreneur (South Africa), pastor (United States), university student ministry worker (Ecuador), writer / editor (United States) and theology professor (Taiwan).
(Not that we should overlook Regent's local influence; so many of our local pastors have been trained there.)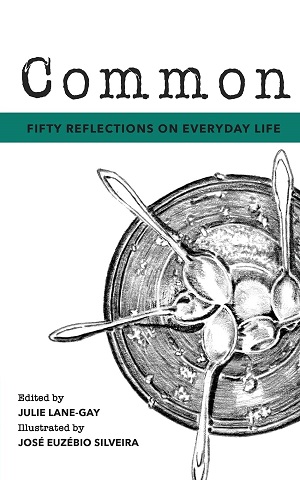 A similar theme emerges from Common: Fifty Reflections on Everyday Life (Regent College Publishing, 2021), published by Julie Lane-Gay. From the Introduction:
Composed several months before the pandemic arrived, these 50 reflections were written by people thinking Christianly – an obstetrician writing on babies, a marine biologist on oceans and a vintner on wine. How many theological schools do you know of that can count in their alumni seven veterinarians who could have written on dogs?
All the entries are written by Regent people:most are alumni, and a few have served the College in essential ways. They are young, old, Brazilian, Australian, Zambian, Singaporean, German, Chinese, American and Canadian (and more). They are filmmakers, pastors, police officers, scholars, chefs, real estate developers and presidents of companies and universities.
The program for the two gatherings, each of which will last well over two hours, includes several talks, an opportunity to honour the founders (James Houston, Ward Gasque, Carl Armerding and a number of lay people, mainly Plymouth Brethren), music and time for interaction between participants.
No doubt there will also be recognition of some of the world renowned scholars/leaders (J.I. Packer, Eugene Peterson, Maxine Hancock, Loren Wilkinson, Bruce Waltke . . .) who have taught at Regent College over the years.
Mark Noll will address the topic 'Location, Location, Location,' which may or may not reflect a point made by Charles Cotherman in To Think Christianly: A History of L'Abri, Regent College and the Christian Study Center Movement (IVP, 2020):
[James] Houston set his eyes on the university during his first decade at Regent. He sensed that modern students were 'not going to be satisfied with university life in a desperate world, if it is only a preparation for a better job, or an institution concerned with learning for its own sake.'
He also predicted that as the church declined in public esteem the university was destined to 'become the central institution of our time.' Thus 'the Christian presence is vitally needed there now.'
It is indeed. I had walked right by Regent College almost daily while doing my BA in history in the early 70s, never noticing its existence. But it is strategically placed right at the entrance to UBC. Many thanks to the founders, the staff and the supporters of Regent College.
After returning from Zambia and Switzerland, I was able to take a few Regent course while studying law on the other side of campus, and a handful since. Those courses, interactions with professors and students and evening lectures have all been a blessing to me. (And I'm sure I must be well on my way to earning a DipCS, if they still offer such a degree.)
Voices Together 2021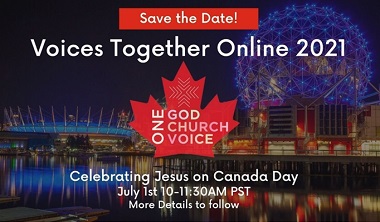 Giulio Gabeli, pastor of Westwood Community Church and chair of Voices Together 2021, is inviting everyone to join in united, cross-Canada prayer to celebrate Jesus on Canada Day, July 1.
Here is his description of the event:
Voices Together is a multicultural and a multi-denominational display of the church in all its diversity and beauty lifting high the name of Jesus through worship, dance, song and declaration over our nation in the context of celebrating our Canadian heritage.
As the church gathers to pray and to proclaim the Good News that Jesus is the Way the Truth and the Life – and the only answer for Canada in these very difficult times – we believe that this will spark a move of God touching every sphere and sector of our country in great revival.
Previously Voices Together has been a gathering of the Church in the Greater Vancouver area of BC celebrating Jesus on Canada Day.
This year's gathering will be unique as Voices Together begins in Eastern Canada with the church in the Atlantic provinces taking the lead, and continues to move across Canada, province by province throughout the morning.
Voices Together BC will be sealing this time together at 10 am.
See below for times in each province.
6 am – Led by Indigenous leaders
7 am – Led by Atlantic Canadian leaders
8 am – Let by Central Canadian leaders
9 am – Led by Prairie Canadian leaders
10 am – Prayer led by BC leaders
Visit www.voicestogether.ca and the Facebook page https://www.facebook.com/voicestogether2017.ca to view video clips and pictures of past celebrations. To register click here.
Community Kitchen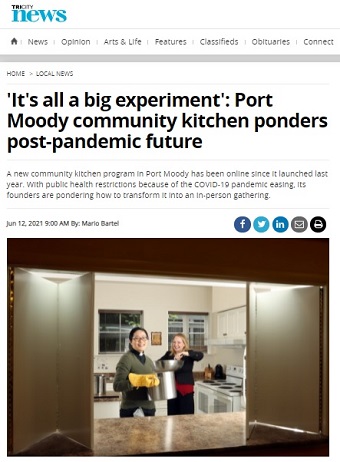 TriCity News reported June 12 about a couple of Port Moody churches which are linking people through a community kitchen.
A new community kitchen program in Port Moody has been online since it launched last year. With public health restrictions because of the COVID-19 pandemic easing, its founders are pondering how to transform it into an in-person gathering.
When the rest of the world was staying apart and dining on take out, Jenn Swanson and Vivian Lam were bringing people together to cook their own meals – virtually, of course.
Now, with public health restrictions easing and a return to normal life expected by the fall, the pastors at Inlet United and St. John the Apostle Anglican churches in Port Moody are trying to figure out how to transform their new Spring Street Community Kitchen from an online platform to an in-person gathering.
Or maybe they won't.
Or maybe some sort of hybrid format, with people able to attend in the kitchen as well as in a Zoom meeting, is the way to go?
Whichever way they choose, Swanson and Lam are confident the community building and exchange of stories as well as tasty recipe ideas will continue. . . .
The last virtual community kitchen of the spring is scheduled for June 24. Then the pastors will use the summer hiatus to determine how it moves forward in the fall.
here for the full story.
Evangelism Survey

If you are "involved in some form of paid or voluntary congregational/parish leadership in Canada," two national groups would love to have you participate in their survey.
Here is their pitch:
On behalf of a national partnership between the Flourishing Congregations Institute and Alpha Canada, with in-kind support from the following sponsors – Canadian Church Leaders Network, Catholic Christian Outreach, Divine Renovation and WayBase – you are invited to give up to 10 minutes to complete an online survey that explores the attitudes, behaviours and experiences surrounding evangelism in Canadian congregations, across theological sectors. Those who participate will be entered into one of 20 draws for a $100 Amazon gift card.
This survey is open to any and all church/parish leaders across Canada. Participation is completely voluntary and your confidentiality will be maintained.
At the conclusion of the study, a report with key findings and practical tools and resources to arise from this research will be made publicly available online and through an Alpha-led public online Evangelism Summit event in Fall 2021.
Don't delay! Click here to complete this short 10-minute survey and help us better understand evangelism in Canadian congregations/parishes. Moreover, please share this communication with as many Canadian church/parish and denominational leaders as you can think of in your network.
If you want more information about this survey email [email protected].
Jun 2021
Run Alpha Q & A
– June 24, 2021 at 10:00 am - 11:00 am
Hinge Point: Learning to Navigate a Racialized Society, Together
– June 24, 2021 at 10:30 am - 12:00 pm
Pointing to Things Unseen: A Gestural Approach to Religious Signs
– June 24, 2021 at 12:00 pm - 1:00 pm
A Conversation: Acting Together in Canadian Churches to Observe International Decade for People of African Descent
– June 24, 2021 at 4:00 pm - 5:30 pm
What Do Missionaries Do and Why?
– June 24, 2021 at 5:00 pm - 6:00 pm
Three Ways Your Church Can Prepare to Welcome Refugee Claimants in the Post-Pandemic World
– June 24, 2021 at 7:00 pm - 8:30 pm
Regent College 50th Anniversary Online Reunion (two events)
– June 25, 2021 - June 26, 2021 at All Day
Indian Horse: Film Screening
– June 25, 2021 at 7:00 pm - 8:30 pm
One With Them: A Day for Christian Captives
– June 27, 2021 at All Day
World Refugee Sunday
– June 27, 2021 at All Day
AC Literary Expedition: Discussing Progressive Christianity
– June 27, 2021 at 4:00 pm - 6:00 pm
Past, Present and Future: Reconciliation as an Everyday Reality
– June 28, 2021 at 7:00 pm - 8:30 pm
Mark Roberts: Lifelong Flourishing – Surprising Wisdom from Scripture & Science
– June 28, 2021 at 7:30 pm - 9:00 pm
The Gospels: A New Translation – a Conversation with Sarah Ruden
– June 29, 2021 at 10:00 am - 11:00 am
David deSilva: The Indispensable Circularity of Grace
– June 30, 2021 at 7:30 pm - 9:00 pm
Jul 2021
Voices Together Online 2021
– July 1, 2021 at 10:00 am - 11:30 am
Kickers Soccer Camp
– July 5, 2021 - July 9, 2021 at 10:00 am - 2:00 pm
FLO Summer Soccer Camp 2021 (two camps)
– July 5, 2021 - July 9, 2021 at 1:00 pm - 4:30 pm
John Walton: The Hand Writing on the Wall – Deciphering the Narrative of Daniel
– July 5, 2021 at 7:30 pm - 9:00 pm
Miroslav Volf: Debt of Gratitude? How (not) to be grateful to God
– July 6, 2021 at 7:00 pm - 8:00 pm
Mariam Kovalishyn: The Brothers of Life – How Reading James May Help Us Hear Jesus Better
– July 7, 2021 at 7:30 pm - 9:00 pm
SIM Canada: Building Resilience in Stressful Times
– July 8, 2021 at 5:00 pm - 6:00 pm
Christine Bochen: Come, Dance in "the water of life": Thomas Merton's Call to Joy
– July 8, 2021 at 7:00 pm - 8:00 pm
BC Christian Ashram Retreat (online)
– July 9, 2021 - July 11, 2021 at 6:30 pm - 12:00 pm
Wesley Hill: Logs and Specks – Culture Wars & the Imperative of Christian Self-Examination
– July 12, 2021 at 7:30 pm - 9:00 pm
John Swinton: The "Hidden" Side Effects of COVID 19
– July 13, 2021 at 7:00 pm - 8:00 pm
Bruce Hindmarsh: 'You Have Never Talked to a Mere Mortal' – the Implications of a 'Negative' Theological Anthropology
– July 14, 2021 at 7:30 pm - 9:00 pm
Rikk Watts: Paul – Theologian, Historian or Something Else?
– July 19, 2021 at 7:30 pm - 9:00 pm
Diane Stinton: 'Universal Sister' – Dynamics of Spirituality Illuminated in St. Josephine Bakhita
– July 21, 2021 at 7:30 pm - 9:00 pm
Christian Climate Observers Program (CCOP) 2021 (application period for November 1 - 2 event)
– July 22, 2021 - August 1, 2021 at All Day
Bullies & Saints: A Conversation with John Dickson
– July 22, 2021 at 12:00 pm - 1:00 pm
GROW (Summer Edition)
– July 25, 2021 at 5:00 pm - 8:00 pm
Gordon T. Smith: Communities of Hope –Sustaining Hopeful Resilience
– July 26, 2021 at 7:30 pm - 9:00 pm
Malcolm Guite: River Deep, Mountain High – the Gospel in the Psalms
– July 28, 2021 at 7:30 pm - 9:00 pm