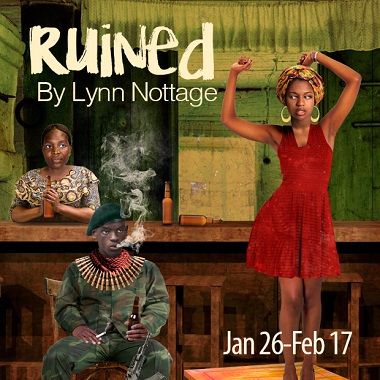 Pacific Theatre is hosting a like-minded theatre company early next month. Dark Glass Theatre (an initiative of the Humanitas Anabaptist-Mennonite Centre) is presenting Ruined, by Pulitzer Prize winning writer Lynn Nottage.
Here is how they describe the play:
Ruined explores the plight of women living in a small tin mining town in the civil war-torn Democratic Republic of Congo. The setting is Mama Nadi's poolroom and bar.
Mama Nadi protects and profits off the bodies of the women who have become casualties of the long and brutal war. She ensures survival by catering to both sides of the conflict, but how long can she keep the war outside her walls?
Dark Glass Theatre was created by Angela Konrad, who has acted in Pacific Theatre plays (Outside Mullingar, Wit). Ruined is their first professional production. Here is how they describe their work:
Dark Glass Theatre exists to tell stories that enable us to see, face to face, people we might not otherwise meet, thereby decreasing judgment, increasing compassion and fostering empathy.
We believe that one of the most damaging forces at work in our world is the demonizing of the "other." Whether separated by trauma, social standing, religion, race, sexual orientation, geography, age or gender, breaking down barriers begins with a willingness to see beyond labels like "oppressed" and "oppressor." As we come face to face with another's perspective, without judgment, we are empowered to act in love. And that action can change the world.
We aspire to tell stories that build bridges between groups or individuals separated by discord or trauma, and to equip individuals to explore and express their own stories of forgiveness and healing.
Note (January 26): Due to a last-minute change in casting for RUINED, and because of the complexity and importance of this particular story, opening night has been moved to

 February 2

. Season apprentice Mariam Barry will be stepping into the role of Mama Nadi. It will still run until February 17.
Welcome to the neighbourhood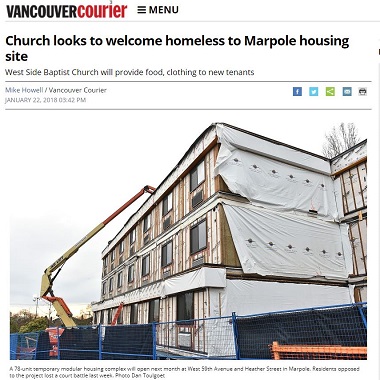 The
Vancouver Courier
featured a positive
article
 January 22 about
Westside Baptist Church
and its warm reception of the modular housing being built in Marpole:
A south Vancouver church is reaching out to the non-profit housing manager of a soon-to-be-opened 78-unit modular housing complex in Marpole for homeless people and wants to donate food and supplies to tenants once they move in next month.
Felix Loo, a member of West Side Baptist Church on Ash Street, said it was important to him and other members of the congregation to welcome the area's new neighbours after the pushback from other residents who don't want to see the complex built.
"We don't want to send a message that this group of people are not welcome in our community," said Loo, who said the church is about 10 minutes from the modular housing site at West 59th Avenue and Heather Street. "As a church in the community, I think one of the most important mandates is to reach out to this group of people – not for the purpose of proselytizing, but to actually try to integrate them into the community."
For the full article go here.
Westside Baptist Church is located in a light industrial commercial area at the corner of Ash and W 70th Avenue, just a block southwest of Cambie and Marine. Westside was a church plant by the Canadian Baptists of Western Canada in September 1990 among the Chinese community in west side of Vancouver. There is an English service and a Cantonese service.
A BC Supreme Court judge dismissed a lawsuit against the Marpole modular housing last week.
Lady Bible Hunters: Sisters of Sinai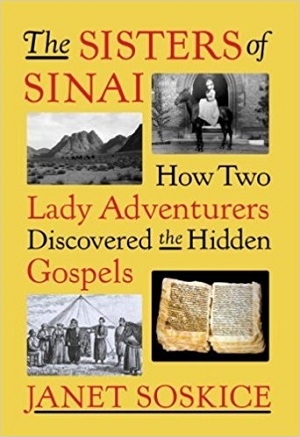 It's only an hour and it's in the middle of the day way out at Regent College (January 31), but Dr. Janet Soskice has a fascinating story to tell –
The Incredible Lady Bible Hunters – Sisters of Sinai
.
Here's what to expect:
In 1892 Scottish twin sisters, both widowed and neither with any formal academic qualifications, made their way by camel and foot across the Sinai desert to St. Catherine's Monastery where Agnes made one of the most important Bible finds of the century, launching them on a career of eastern Bible hunting, sleeping in tents, placating skeptical monks and fabulous finds . . . including those that lead to the treasure trove of Jewish manuscripts that is the Cairo Genizah.
Join us for this lunchtime public lecture, in which Dr. Janet Soskice tells the story of these sisters and their incredible find. All are welcome to bring their lunch and engage in a brief Q & A period afterward
Janet Soskice is a Regent graduate and Professor of Philosophical Theology in the Faculty of Theology and Religious Studies at the University of Cambridge. This true story is based on her 2009 book The Sisters of Sinai: how two lady adventurers found the hidden gospels which, on publication, was read as Book of the Week on BBC Radio 4 and was in the 'Best Books of the Year' lists of The Washington Post and The Christian Science Monitor.
I'm just sorry that I'll be out of town for the day.
There will be a couple of other opportunities to hear from Soskice. She is presumably in town to deliver the G. Peter Kaye Lecture (Speaking About God: Mercy Matters) for Vancouver School of Theology, at St. Mark's College, February 2. And she will be at VST for the morning of February 3 to tackle Inclusivity and Christology Revisited.
Balancing science and faith
Dr. William Newsome, Director of the Stanford Neuroscience Institute and Professor of Neurobiology at Stanford University will be speaking on the theme 'Of Two Minds: A Neuroscientist Balances Science and Faith' at Trinity Western University (January 30) and UBC (January 31).
This is the abstract of Newsome's talk, from the site of the Graduate & Faculty Christian Forum, which is co-sponsoring the UBC event:
The 'central dogma' of neuroscience is that all our behaviour and mental life – including our sense of a conscious, continuing self – is inextricably linked to the biology of the brain.
Neuroscience 'explanations,' therefore, tend to account for mental phenomena such as thought, emotion and belief in terms of the basic elements of cellular communication within the brain – action potentials, synapses and neuromodulation.
Such mechanistic accounts, which appear increasingly powerful, have been cited as evidence that 'folk psychological' explanations of behaviour – including beliefs, values and faith – will be replaced ultimately by deeper and more accurate neuroscientific explanations.
In contrast, I argue that the deepest and most accurate accounts of behaviour necessarily involve multiple levels of explanation. Within neuroscience itself, the best explanations are inherently multilevel, appealing simultaneously to behavioural, circuit-level, cellular and genetic insights. Outside the domain of neuroscience proper, human behaviour depends additionally on multiple levels of social and cultural organization and insight.
Each level of explanation complements and corrects, but does not replace, the others. More than ever in our world, beliefs, values and faith matter.
The other sponsors for Newsome's lecture series are the Canadian Scientific and Christian Affiliation (CSCA), ACTS Seminaries and the Institute for Christian Apologetics.
Jan 2018
Week of Prayer for Christian Unity
– January 18, 2018 - January 25, 2018 at All Day
Canada Summer Jobs Webinar
– January 25, 2018 at 9:00 am - 9:45 am
Week of Prayer for Christian Unity: Service
– January 25, 2018 at 12:00 pm - 1:30 pm
St. Francis Xavier Relic Pilgrimage
– January 25, 2018 at 12:30 pm - 11:00 pm
Missions Fest 2018: What is the Gospel?
– January 26, 2018 - January 28, 2018 at All Day
Three Second Peaks: Paintings by Neil Peter Dyck Gallery Exhibit Opening Reception
– January 26, 2018 at 7:00 pm - 8:00 pm
Cathedral Organist Denis Bédard
– January 26, 2018 at 8:00 pm - 10:00 pm
CEO Global UBC Kick-Off
– January 27, 2018 at 11:30 am - 2:30 pm
Jazz Vespers with Company B Jazz Band
– January 28, 2018 at 4:00 pm - 5:15 pm
Jazz Vespers: Glenda Rae, Brett Wade, Miles Black
– January 28, 2018 at 4:00 pm - 5:00 pm
Why Not Canada?
– January 29, 2018 at 9:00 am - 1:00 pm
Gender Matters
– January 29, 2018 at 7:00 pm - 8:30 pm
FoodSafe (Level 1) for Food Program Participants & Volunteers
– January 30, 2018 at 8:45 am - 3:30 pm
Why Not Canada?
– January 30, 2018 at 9:00 am - 1:00 pm
Dr. William Newsome: Neuroscience and Consciousness
– January 30, 2018 at 1:10 pm - 2:25 pm
Dr. William Newsome: Of Two Minds - A Neuroscientist Balances Science and Faith
– January 30, 2018 at 7:00 pm - 8:30 pm
An Evening with Stella's Voice
– January 30, 2018 at 7:30 pm - 9:00 pm
Dr. Janet Soskice: The Incredible Lady Bible Hunters – Sisters of Sinai
– January 31, 2018 at 12:00 pm - 1:00 pm
Dr. William Newsome: Of Two Minds - A Neuroscientist Balances Science and Faith
– January 31, 2018 at 4:00 pm - 5:30 pm
Creative Writing with Matthew Dickerson
– January 31, 2018 at 7:00 pm - 8:30 pm
Jazz Evensong: Jennifer Hayes & Friends
– January 31, 2018 at 8:00 pm - 9:30 pm
Feb 2018
New Generations
– February 1, 2018 - February 3, 2018 at All Day
Unity of Spirits Art Exhibition
– February 1, 2018 - February 2, 2018 at All Day
Talks with Tom: Amidst the Busyness
– February 2, 2018 at 7:00 am - 8:30 am
G. Peter Kaye Lecture: Janet Soskice
– February 2, 2018 at 7:00 pm - 9:00 pm
Janet Soskice: Inclusivity and Christology Revisited
– February 3, 2018 at 9:30 am - 12:30 pm
Mental Health, Faith & Youth: A Sanctuary Workshop
– February 3, 2018 at 9:30 am - 12:30 pm
Stayed on Freedom: A Musical Celebration of Black History Month
– February 3, 2018 at 7:30 pm - 9:30 pm
Perspectives Course (Sunday evenings)
– February 4, 2018 at 6:15 pm - 9:15 pm
Evening of Lament for Missing and Murdered Indigenous Women
– February 5, 2018 at 7:00 pm - 9:00 pm
Perspective Course (Monday evenings)
– February 5, 2018 at 7:00 pm - 10:00 pm
Kairos Course (Tuesday evenings)
– February 6, 2018 at 7:00 pm - 9:30 pm
Multiply 2018
– February 7, 2018 - February 8, 2018 at All Day
Dr. Mary McCampbell: "We are Changed Souls": Prophetic Critique & Post-Secular Hope in the Fiction of Douglas Coupland
– February 7, 2018 at 12:00 pm - 1:00 pm
Art Exhibition: Opening Reception of Adrift by Jenny Hawkinson
– February 7, 2018 at 6:30 pm - 8:30 pm
An Evening with Ed Stetzer: The Future for Canadian Evangelism, Renewal & Church Planting
– February 7, 2018 at 7:30 pm - 9:30 pm
Jazz Evensong: The Kristian Braathen Trio
– February 7, 2018 at 8:00 pm - 9:30 pm
RockRidge Canyon Unplugged Weekend
– February 9, 2018 - February 12, 2018 at All Day
Re-Enchanting Discipleship: Christian Life in a Secular Age
– February 9, 2018 at 9:00 am - 9:00 pm
James K.A. Smith: Re-Enchanting Culture
– February 9, 2018 at 7:00 pm - 9:00 pm
Jazz Vespers: Don Stewart, Mike Henry, Kenny Wayne
– February 11, 2018 at 4:00 pm - 5:00 pm
Jazz Evensong: Maria Ho & Friends
– February 14, 2018 at 8:00 pm - 9:30 pm
The Garden of Earthly Delights by Hfour Studio
– February 15, 2018 at 12:00 am
Book Launch: Dr. Bruce Hindmarsh – The Spirit of Early Evangelicalism (with Mark Noll)
– February 15, 2018 at 7:30 pm - 9:00 pm
Ruined by Lynn Nottage
– February 15, 2018 - February 17, 2018 at 8:00 pm - 10:00 pm
Samson Movie in Canadian Theatres
– February 16, 2018 at 12:00 am
Worship Central Conference
– February 16, 2018 - February 17, 2018 at All Day
Voices for TRAC (Trinity Refugee Awareness Campaign)
– February 16, 2018 at 7:30 am - 9:30 am
Date Night Comedy Tour
– February 16, 2018 at 7:30 pm - 9:30 pm
Renovaré: The Listening Life
– February 17, 2018 at 8:30 am - 5:00 pm
You are My Beloved: A Lenten Retreat
– February 17, 2018 at 9:00 am - 12:30 pm
Prophecy Speaking Today Workshop
– February 17, 2018 at 10:00 am - 3:00 pm
Alio Modo featuring Vancouver Viols
– February 18, 2018 at 2:00 pm - 3:30 pm
Jazz Vespers: The Hot Mammas
– February 18, 2018 at 4:00 pm - 5:00 pm
Gospel Music Workshop
– February 19, 2018 at 7:00 pm - 8:30 pm
FaithTech YVR Coffee Shop Takeover
– February 20, 2018 at 7:00 pm - 10:00 pm
Water from Stone: Opening Reception
– February 21, 2018 at 4:30 pm - 7:30 pm
Jazz Evensong: The Doe Bender Group
– February 21, 2018 at 8:00 pm - 9:30 pm
Let's Talk Marijuana (indoubt:live)
– February 22, 2018 at 7:00 pm - 9:00 pm
Rise (Worship Leader Training) Conference 2018
– February 23, 2018 - February 24, 2018 at 6:30 pm - 2:30 pm
One Game = One Giant Step of Youth
– February 23, 2018 at 7:30 pm - 10:00 pm
The Bible: Why We Can Trust It
– February 24, 2018 at 9:00 am - 1:00 pm
Workshop: Songs of Justice, Songs of Freedom, Songs of Hope
– February 24, 2018 at 9:00 am - 4:00 pm
Flavours of Hope: Pop-Up Community Dinner
– February 24, 2018 at 5:30 pm - 8:00 pm
Vancouver Cantata Singers: Cantus Missae - Rheinberger and the Romantics
– February 24, 2018 at 7:30 pm - 9:00 pm
Spirit(us): An Evening with Kiya Tabassian
– February 24, 2018 at 8:00 pm - 10:00 pm
Concert: Songs of Justice, Songs of Freedom, Songs of Hope
– February 25, 2018 at 3:30 pm - 5:30 pm
Jazz Vespers
– February 25, 2018 at 4:00 pm - 5:00 pm
Jazz Vespers with Roma Swing Trio
– February 25, 2018 at 4:00 pm - 5:00 pm
Jazz Vespers: Olaf DeShield
– February 25, 2018 at 4:00 pm - 5:00 pm
Income Tax Ministry (Tuesdays & Saturdays)
– February 27, 2018 - April 24, 2018 at 9:30 am - 2:00 pm