Two students from a local Catholic school have been chosen to represent British Columbia with their Truth and Reconciliation submissions to the Imagine a Canada youth program at the University of Manitoba.
Olivia Wall and Maksimas Viskontas were among the 12 students chosen from across the nation. They are the only two from BC – and both attend St. Pius X Elementary School in North Vancouver.
A release from the school by Dr. Gina Oh noted:
Maksimas Viskontas' goal in his essay was to bring awareness to the past, present and future states of Truth and Reconciliation and where we are collectively in our learning process.
He states, "Defining Truth and Reconciliation is not something simple, but rather a complicated process; one which requires both prudent attention and perseverance." He continues to shed light on hope by saying "The history of this nation is filled with dark moments . . . there is only a single thing we can protect: our future," implying it is up to all of us to re-write our future.
Olivia Wall wanted her song, titled Hand In Hand, to sound like a fall day in September. A young girl walking to school, trying to be cool, knowing nothing about what happened at the residential schools.
In the song, the young girl learns of this at school and now wants to "[seek] justice from those who were in reign" and we must cooperatively "build our home, a native land, together we will walk hand in hand." This song will also be available on all streaming platforms.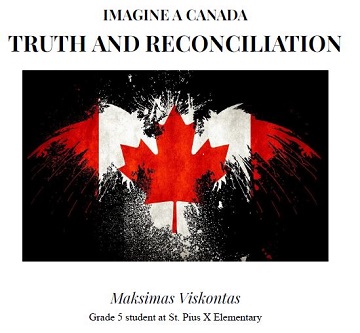 Grade 5 teacher, Marielle Lung, spearheaded the project which led to the winning entries. She was interviewed for an April 17 North Shore News article:
"As we read [I Am Not a Number by Jenny Kay Dupuis and Kathy Kacer], I invited students to share and reflect on their thoughts by way of a learning journal. This was the first time I had invited students to document their thoughts about residential schools," she explained.
"I was most surprised by their level of interest, understanding and engagement as they continually added to their journals. Their entries were honest and raw and it made me want to find a way to have their voices be heard."
After months of unpacking our understanding of Truth and Reconciliation, Lung said her students were ready to move from discussions of history and context to action and doing something with this new knowledge.
"I received projects in the forms of essays, artwork, song, poetry, digital media, 3D constructions and multimedia art. Some students reached out to people in Indigenous communities personally. … I was absolutely amazed by our students' level of thought, reflection and understanding of Truth and Reconciliation," she said.
I posted a couple of articles about Deacon Rennie Nahanee and St. Paul's Squamish Nation Church on the North Shore following news that the remains of 215 children had been found buried on the site of the former Kamloops Indian Residential School, here and here.
Neighbourhood showers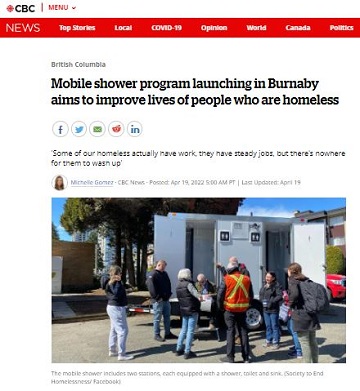 A Burnaby church will provide a home for two mobile showers. An April 19 CBC News story described the arrangement:
A new mobile shower program opening in Burnaby this week hopes to bring a little more dignity into the lives of people who are homeless.
Operated by the Society to End Homelessness in Burnaby, the program will run Thursday mornings between 9:30 and 11:30 am at The Neighborhood Church – formerly known as the Southside Community Church – at 7135 Walker Avenue.
Executive director Carol-Anne Flanagan says the initiative hopes to address the stigma that people without homes experience in their daily lives.
Flanagan said having the opportunity to shower not only improves health and hygiene but also self-esteem.
"There's always stigma attached to homelessness, although some of our homeless actually have work, they have steady jobs, but there's nowhere for them to wash up."
The society has a grant of $104,000 from the Union of B.C. Municipalities to operate the program. The initiative is the first of its kind in Metro Vancouver, with the only other free mobile shower in the Lower Mainland located in Abbotsford.
Refresh Mobile Showers launched May 1, 2019 at Bakerview Church in Abbotsford, as a ministry of King Road MB Church.
Baptism testimonies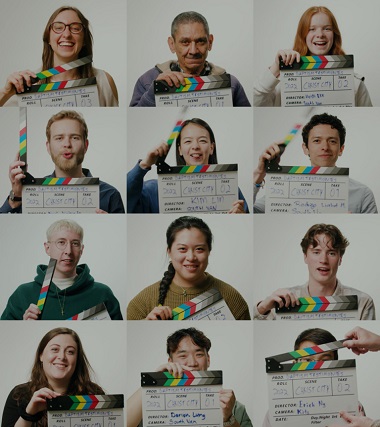 Easter Sunday was a day of rejoicing for all of us, but it was particularly significant for a number of people at Christ City Church in South Vancouver.
The church featured 12 baptisms, accompanied by uplifting testimonies:
Therefore, if anyone is in Christ, he is a new creation. The old has passed away; behold, the new has come. 2 Corinthians 5:17
Today we celebrate the resurrection of Jesus Christ. Easter is the annual reminder that death has been defeated and that there is hope beyond this life.
We also celebrate with people in our community who have placed their hope in Jesus and are demonstrating that publicly through baptism.
Below are the written testimonies of this joyful group.
Flourishing, online
Food for the Hungry (FH), based in Abbotsford, is hosting a two-morning online Flourishing Conference April 29 – 30.
It will provide an opportunity "to explore the root causes of poverty and discover how you can be part of the solution – both overseas and over your own fence."
Keynote speakers Brian Fikkert and Rudo Kayombo will be joined by several Canadian speakers, including Brian McConaghy (Ratanak International) and Cherie White (Steadfast Developments).
Fikkert is co-author of several books, including the best-selling When Helping Hurts: How to Alleviate Poverty Without Hurting the Poor . . . and Yourself. He holds a PhD in Economics from Yale University and is Founder and President of the Chalmers Center for Economic Development.
Here are some quotes by Fikkert from a recent podcast:
"We tend to define poverty as a lack of physical things, hence our solutions tend towards providing physical things."
"The poor tend to describe their condition in far more psychological and social terms."
"If you can actually get people working again, it has its own therapeutic effect."
"Most poor people in the world are not in a crisis, they are actually in a chronic condition."
There is a place for bringing in outside resources when the local resources are inadequate, but those outside resources should only be brought in when they complement the internal resources rather than crush them."
"I think financial supporters have one of the most difficult jobs in the whole world."
"We've got to start moving into how God really works in the world, and most of us aren't functioning out of that very well."
"We are functioning out of a theory of change that is more reflective of a Western individualism than of a proper understanding of what a human being is."
"There's a better story for the poor, and there's a better story for us, than the story of the American Dream of highly individualistic, highly self-centred, highly materialistic existence."
"God has wired us to be priest-rulers to extend his reign and his worship from the Garden of Eden throughout all of creation."
"Every nonprofit is terrified of their financial resource partners."