Mike Farnworth, Minister of Public Safety and Solicitor General, recently announced there will be a review of how the province has handled the pandemic.
A March 16 provincial release began:
The Province is launching an independent review and public consultation on government's operational response to the COVID-19 pandemic to better inform preparations and responses to future emergencies and ensure British Columbians are protected. . . .
The review will include what aspects of preparedness, engagement, communications and implementation worked well, what changes were made to improve operational effectiveness as the pandemic evolved, and what improvements can be made to better prepare for pandemics and emergencies.
An intriguing article by Terry O'Neill in The B.C. Catholic pointed out that the Roman Catholic Archdiocese of Vancouver will, in turn, assess the whole situation: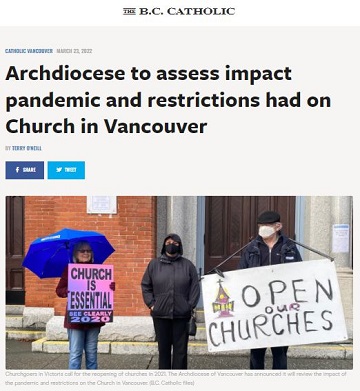 The announcement of the far-reaching review was made March 23 and came while criticism mounted over the narrow parameters of a BC government pandemic review that will not be examining the consequences of Victoria's pandemic-fighting orders, including restrictions on faith communities. . . .
An archdiocesan spokesman said [its] working group will gather submissions from outside experts, clergy and laity, and will consult with other faith communities on the impact of the disease itself, media, communications, social changes and government measures on the Catholic community, as well as the archdiocese's handling of the pandemic and various restrictions.
O'Neill quoted from outside sources himself:
Speaking in a telephone interview from his Surrey office, Rev. Mark Peters, Canadian Pacific District Superintendent of the Christian and Missionary Alliance, said Victoria should have staged a full and open review of its pandemic measures.
"I think for the government to look at what it decided, how it communicated and implemented … would be a healthy part of any decision-making process," Peters said. "And hopefully they learn something should they ever need to implement similar decisions in the future."
He noted that government pandemic orders caused much polarization in society, including within church congregations and even families. The reconciliation that's now needed may be aided with more knowledge about how the government decided on the measures that led to the disagreements, he said.
The government's lack of transparency in making its pandemic-related decisions clearly needs to be reviewed, said Heidi Tworek, an associate professor and Canada Research Chair in History and Policy of Health Communications at UBC.
"I'm genuinely perplexed by it because I think it leads to suspicion," Tworek told reporters. "This is quite strange, in a way, to have a review that is so limited, and I think that does raise questions as to what are going to be the findings that come out of it."
Go here for the full article.
Mission Central GROW
The third of Mission Central's three annual conferences – which have taken the place of Missions Fest – is set for this Saturday (April 2). Mission Central GROW will be a live event at Nelson Avenue Community Church in Burnaby.
Here is the outline of GROW, which Mission Central describes as "a gathering of young adults who are seeking to be passionate missional followers of Jesus":
The format
This year there will be two panel discussions on two topics – unity and social justice. The panels will feature enthusiastic, passionate and recognized leaders who will share their insights into the topics, how we can align with the Kingdom, and how, we as disciples of Jesus, are can live into them well. Following the panel there will be a Q&A and small group discussion.
1. Should Christians be concerned about social justice (ie. reconciliation, preventing sexual exploitation)? Why? How might we be contributing to social injustice?
2. Is unity in the church possible? What does it look like? What's the core truth of unity and how do we deal with difficult or polarized opinions?
See details on our panelists: click here
What's special about GROW?
GROW helps you grow as a missional follower of Jesus, helps you grow in your purpose and calling, and grow in community. To encourage community, we group people in affinity groups that are oriented to vocation, or spheres of influence.
The main groups are:
Family
Business (this group is broad and may include plumbers and stock traders)
Media
Arts
Healthcare
Law and Government
Religion
Science, Engineering, Math
IT
University/College Students
Education
Other (Folks who are part of the Gig economy, trades, service industry)
Registration is required.
Regent College events
Regent College is offering a particularly rich assortment of events over the next week, some online and some in person:
• Margaret Somerville
One to mark in your diary is Margaret Somerville's lecture next Friday (March 8). The internationally renowned ethicist will address the topic Personhood and Bioethics:
Does 'Personhood' help us make wise decisions in bioethics? Asked another way, is personhood a useful, useless or dangerous concept in Bioethics? That depends on how the concept is defined and used.
Personhood is a useful concept when it helps us to find a common starting point on which we can all agree.
That allows us to experience belonging to a common moral universe. It is also useful when it helps us to make good ethical decisions. It is useless when we cannot agree on who or what is a person or on what respect for persons and their protection requires.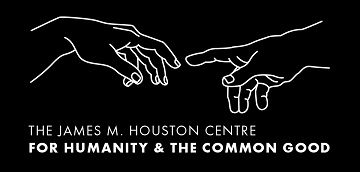 It is dangerous when it is used as an exclusionary device that places vulnerable people at risk of serious harm and denies them the respect and protections to which they would be entitled if they were seen as persons. Therefore, who is a person?
Somerville's lecture concludes Regent College's Centre for Humanity and the Common Good's eight-part lecture series on the Theology of the Person. Though the event is free, one must register to participate.
While the lecture is streaming online only, Regent is inviting anyone interested to gather at the college and watch Dr. Somerville's lecture. Those who attend the lecture in person will be invited to participate in an exclusive question and answer period that is not available online.
• Called to This Time: Easter
Regent College professor Mark Glanville will lead Called to This Time, a March 31 "workshop series that equips church leaders to engage the church calendar, deepening an understanding of the church's vocation during the seasons in which we find ourselves":
As a weary world approaches the joint movements of Holy Week and Easter, we invite pastors and church leaders to come together and consider the richness of this time.
At this workshop, we will join Mark Glanville, Regent College's Associate Professor of Pastoral Theology, to explore the theological implications of these seasons in our church calendar, and to encourage one another in our calling to lead and form worshiping, transforming, and missional communities.
• Niels Henrik Gregersen: Interface Lecture
Niels Henrik Gregersen, Professor of Systematic (Contemporary) Theology at the University of Copenhagen, will deliver his third talk (March 31) in a series of Interface lectures, which " probe and preserve the relationship between theology and science."
In Living in a World of Shocks and Resilience: Towards a Theology of Disasters, Gregersen "argues that theology and science need to address both deep-seated human experiences of resonance with our world as well as the discrepancies that we experience as shocks. Disasters call forth the need for humans to intervene in nature, while still recalling that we are ourselves part of nature."
• Kelly Dycavinu: When the World was Young
Kelly Dycavinu will read from her novel as part of her IPIAT (Integrative Project in the Arts and Theology), April 1 in the Regent College Chapel.
Here is Kelly's invitation:
When the World was Young is a historical fiction novel that tells the story of Rahab, a Canaanite prostitute, prior to when she's introduced in the Hebrew Bible. Set in the ancient Near East during the Late Bronze Age, this coming-of-age novel explores themes of rejection and deception, love, loss and belonging.
Interspersed between readings of When the World was Young I'll share highlights from my academic work that explores the narrative theory of Paul Ricoeur on fiction's capacity to "remake reality," and the ways in which our engagement with fiction is a reflection of the Imago and Missio Dei, both the image and mission of God.
Arrive early for light refreshments.
• Ross Hastings: Book Launch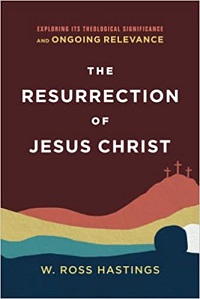 Regent College professor Ross Hastings will offer a lecture and take part in a Q&A for the Book Launch of The Resurrection of Jesus Christ April 6:
This book reveals the hidden depths of the theological significance and ongoing relevance of the resurrection of Jesus Christ for our being, our salvation, Christian life, ethics, and our future hope. Ross Hastings explains that the resurrection has profound consequences for who we are.
Jesus as the last Adam formed a new humanity when he rose again. This has significance for our regeneration, our future resurrection, the reaffirmation of creation and the moral order and ethics.
This event will be both live and online.
• Michelle Leone Huisman: Global Pandemic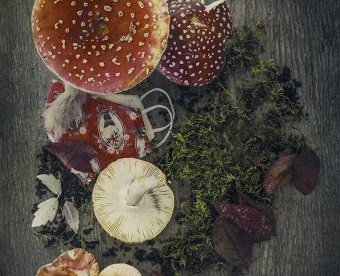 And all the while, Michelle Leone Huisman's Global Pandemic exhibition will be open for viewing at the Dal Schindell Gallery, upstairs at Regent College:
Global Pandemic is fine art photographer Michelle Leone Huisman's statement on the two pandemics we are currently facing: COVID-19 and a second more insidious accumulation of waste produced in response.
In the fall of 2020, the world used 129 billion disposable plastic masks every month, or three million masks per minute (source: World Economic Forum).
Pairing the darker side of these two pandemics with playful childhood themes, Global Pandemic hopes to illuminate the collective consciousness that links the health of our planet with the well-being of our children, while remembering the folklore produced in previous times of societal distress.
Global Pandemic runs until April 10.
Mar 2022
Taste of Alpha
– March 31, 2022 at 9:00 am - 10:15 am
Mark Glanville: Called to this Time – Easter
– March 31, 2022 at 9:30 am - 12:00 pm
Standing Guard
– March 31, 2022 at 10:00 am - 11:30 am
Interface Lectures: Niels Henrik Gregersen – Living in a World of Shocks and Resilience: Towards a Theology of Disasters
– March 31, 2022 at 12:00 pm - 1:30 pm
Lauren Strumos: Notions of Justice Among Activists Opposed to the Trans Mountain Pipeline
– March 31, 2022 at 5:00 pm - 6:00 pm
Kairos Blanket Exercise
– March 31, 2022 at 5:30 pm - 6:30 pm
Apr 2022
Laila Biali
– April 1, 2022 at 8:00 am - 10:00 am
When the World was Young: Novel Reading and IPIAT Thesis Presentation by Kelly Dycavinu
– April 1, 2022 at 5:00 pm - 6:00 pm
A Day for Churches to Explore Developing Affordable Housing
– April 2, 2022 at 9:30 am - 12:30 pm
Mission Central GROW
– April 2, 2022 at 10:00 am - 5:00 pm
Pysanky Egg Workshop
– April 2, 2022 at 10:00 am - 12:00 pm
Pysanky: Ukrainian Easter Eggs
– April 2, 2022 at 2:00 pm - 3:30 pm
Seminary Connect by ACTS Seminaries
– April 5, 2022 at 12:00 pm - 2:00 pm
Dr. Ard Louis: Natural Science and Scientism: Probing the Difference
– April 6, 2022 at 12:00 pm - 1:00 pm
Book Launch with Dr. Ross Hastings: Rising to the Resurrection of Jesus: Its Theological Significance & Ongoing Relevance
– April 6, 2022 at 7:00 pm - 8:45 pm
Global Pandemic by Michelle Leone Huisman
– April 7, 2022 - April 10, 2022 at All Day
Chinese Christianity: Making Sense of the Present in Light of the Past
– April 7, 2022 at 11:00 am - 12:30 pm
VST Faculty Book Launch
– April 7, 2022 at 1:00 pm - 2:30 pm
Global Pandemic: Artist Talk
– April 7, 2022 at 6:00 pm - 7:30 pm
Margaret Somerville: Theology of the Person – Personhood & Bioethics
– April 8, 2022 at 6:30 pm - 9:30 pm
Keening for the Dawn: Lament, Hope & Yearning for God
– April 9, 2022 at 9:30 am - 4:00 pm
'Recovering Racists' Book Launch
– April 12, 2022 at 12:00 pm - 1:00 pm
Joy Clarkson: Is Re-enchantment Possible? – Piranesi and the Postmodern Condition
– April 13, 2022 at 12:00 pm - 1:30 pm
Lost and Found: Opening Reception
– April 13, 2022 at 4:00 pm - 7:00 pm
United Voices "Arise!" Spring Concert
– April 14, 2022 at 2:00 pm - 4:00 pm
How the World Began
– April 14, 2022 - April 16, 2022 at 8:00 pm - 9:30 pm
Testament
– April 15, 2022 - April 18, 2022 at All Day
An Artistic Journey: Original art by Chris Woods
– April 15, 2022 at 10:00 am - 4:00 pm
Stations of the Cross (two guided walks)
– April 15, 2022 at 10:30 am - 2:30 pm
Hearing God Seminar 2022 (Saturday mornings)
– April 17, 2022 at 10:00 am - 12:00 pm
Religion at the Edge: Findings from the Cascadia Project
– April 20, 2022 at 11:00 am - 12:00 pm
Creation Care and the Good News of Jesus Christ
– April 22, 2022 at 7:00 pm - 8:00 pm
Meet the Author of 'Posting Peace'
– April 27, 2022 at 4:00 pm - 5:00 pm
The Good Samaritan and Health Care Justice: Scott Kline
– April 27, 2022 at 7:00 pm - 9:00 pm
Shari Ulrich's Trust Me' Series presents Martyn Joseph
– April 27, 2022 at 7:30 pm - 9:30 pm
Faith & the Environment
– April 28, 2022 at 7:00 pm - 8:30 pm
Flourishing Conference: Overseas and Over Your Fence (online, two mornings)
– April 29, 2022 - April 30, 2022 at 8:30 am - 12:30 pm
2022 CLF National Law Student Conference
– April 29, 2022 - May 2, 2022 at 6:00 pm - 12:00 pm
God & Government British Columbia Conference
– April 29, 2022 at 7:00 pm - 9:00 pm
The Rogue Folk Club presents Martyn Joseph
– April 29, 2022 at 8:00 pm - 9:30 pm
Free Income Tax Service
– April 30, 2022 at 9:30 am - 2:00 pm
SIM 2022 Virtual Banquet
– April 30, 2022 at 4:00 pm - 5:00 pm