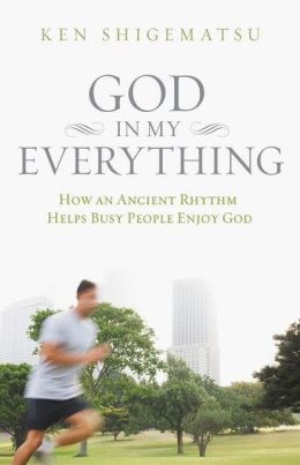 Ken Shigematsu: God in My Everything
When I first wrote about God in My Everything in August, the big news was how well the book was selling. I have no doubt sales are continuing briskly. Not only is this a timely and well-written book, but it has very broad appeal in our stress-filled world.
Ken Shigematsu has seized the day on a couple of fronts. In terms of the broader culture, he focuses more on spirituality than religion. And in terms of the church, he captures the widespread longing for an 'ancient-future' faith, one which draws on our rich Christian heritage. 
This book offers ways to a deeper spirituality which can be realized not in spite of, but in the midst of, the daily stresses of our busy-stressful-urban lives. For those who find going to church just another stop in a hectic weekly round, he reminds us that God wants a relationship with us all week long. He suggests implementing a 'rule of life,' based on ancient spiritual practices. 
Following a visit to an Irish monastery with his mentor, Ken says, "I began to ask the question which underlies this book: 'Is it possible to follow the monastic way, enjoying God in every area of my life, while immersed in the busy routines of modern life?'" His answer is yes, and it is fleshed out in God in My Everything.
The breadth of the book's appeal has been obvious from some of the reviews. 'Pastor's book breaks down walls between Christians.' So read the headline for a guest review by retired Anglican priest Don Grayston for The Vancouver Sun's Doug Todd.
"It's not what in former years I would have expected from an evangelical," said Grayston, "but it is clearly part of the phenomenon of evangelical interest in a movement known as neo-monasticism, with its emphases on community, daily worship and the union of contemplation and action . . . The encouraging thing about that, of course, is that it points to a crumbling of the old walls between evangelicals – some at least – and the Christian mainstream."
At the other end of the theological spectrum, a review on the Fundamentally Reformed ('Reforming Fundamentalism Through Reformed Theology') blog had this to say:
 "I appreciated the book's emphasis that all of life is to be lived for God's glory, and that the joys of life are not divorced from Christian devotion. There was an emphasis on social justice and good deeds, but not at the expense of Christian witness and gospel declaration. Shigematsu strikes a good balance in this book, and people from a variety of Christian denominations can appreciate his contribution. We go wrong when we lose that balance and stress one area of life to the expense of others."
Ken clearly represents a new, broader outlook in the church, because he looks to history, mystery and spiritual disciplines for inspiration. (Speaking of mystery, I'm still not sure how the senior pastor of a 2,000-plus member church finds time to write a book. Impressive!)
God in My Everything would make an ideal present for a very wide swathe of urban Christians, but would also appeal to many in the spiritual-but-not religious camp.
I wrote about Sarah Bessey and her new book a month ago (Jesus Feminist: Just gone to press, already getting a lot of attention), so I won't say much more now. Just a couple of things: 
1. The folks at the Council on Biblical Manhood and Womanhood (a theologically conservative, 'complementarian' group, in case the name doesn't already give it away) have treated her quite gently.
Their reviewer, Courtney Reissig, said "Bessey is gracious in her tone. She doesn't resort to name-calling. She seems to be genuinely humble about her view of women's roles in the church, home, and abroad. Even as someone who disagreed with her conclusions, I greatly appreciated her tone. In fact, I felt like she was someone I could have a conversation with about this issue without finding myself in the middle of a heated argument. I hope I can do that with her in person someday."
That is impressive, in my view, whatever one's view on how women should participate in church and culture.
2. I enjoyed a comment on the book by Abbotsford pastor/blogger April Yamasaki. After pointing out that much of Jesus Feminist is not really new(s) in much of the church (once you get past the "wonderfully provocative title"), she says: "What's new for me in this book isn't so much the notion that women are people, or that marriage means mutual submission, but the way Sarah articulates these basic understandings – in vividly poetic language and by sharing her own personal experience. Although we live in the same city, we've never met, yet her voice comes through so clearly that I feel as if I know her."
I expect it won't be long before they meet. Among the things they could discuss is that fact that they both authored books this year; April wrote Sacred Pauses, which I'll discuss next week.
When a friend read an earlier article on this site about Daughters in the City, she told me her grandmother was one of the young women referred to in the subtitle as 'Mennonite Maids in Vancouver, 1931-61.' The stories are an important piece of local history, now made known outside of family circles.
This book describes how "young Mennonite women, mostly adolescents, began to arrive in Vancouver, seeking work as domestic servants. Most had recently come to Canada as refugees from Russia, having escaped the terror of Stalin's regime . . . From archival records, interviews and historic photos, Ruth Derksen Siemens assembles the history of two girls homes (mädchenheime) established to support and protect the working girls."
Anyone could enjoy this book, but it would be an ideal gift for anyone with Mennonite roots.
Regent College prof Hans Boersma is clearly possessed of an impressive and fertile mind – and equally clearly, he is a disciplined writer; his output is impressive.
Embodiment in the theology of Gregory of Nyssa is a much-debated topic – so says the publisher of Embodiment and Virtue in Gregory of Nyssa, at any rate! Hans argues that "this-worldly realities of time and space, which include embodiment, are not the focus of Gregory's theology. Instead, embodiment plays a distinctly subordinate role. The key to his theology, Hans suggests, is anagogy, going upward in order to participate in the life of God."
Ron Dart, who teaches in the department of philosophy and politics at the University of the Fraser Valley, wrote a review in Clarion: Journal of Spirituality and Justice which helps describe the significance of the book for those of us who are a little shaky on our Church Fathers. I'm joking, of course, but Hans and Ron would no doubt point out that most of the Protestant church has neglected church history and tradition – and the Church Fathers and Mothers in particular – to our detriment.
His Nouvelle Theologie and Sacramental Ontology: A Return to Mystery was reprinted earlier this year by Oxford University Press. In a lengthy First Things review, Matthew Levering describes Hans as a "distinguished evangelical theologian" and says "he reveals himself to be not only a scholar but also something of a mystic for our times." (I understand that Hans' Heavenly Participation: The Weaving of a Sacramental Tapestry might be an easier way to edge into the same material.)
Hans co-edited Heaven on Earth: Theological Interpretation in Ecumenical Dialogue, a collection which "assembles essays by 11 leading Catholic and evangelical theologians in an ecumenical discussion of the benefits – and potential drawbacks – of today's burgeoning corpus of theological interpretation."
He has also just released an e-book called Eucharistic Preparation, which "deals with the question of the importance of the Eucharist, and it challenges Protestants (and especially evangelicals) to think and to treat the Eucharist more seriously than we sometimes do."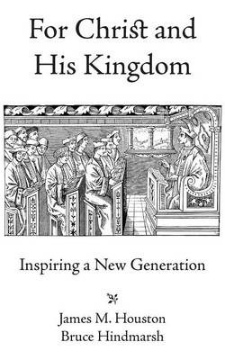 James Houston & Bruce Hindmarsh: For Christ and His Kingdom
This impressive pair of Regent College academics gave the opening and closing plenary addresses at the first National Forum on Christian Higher Education last year at The King's University College in Edmonton.
For Christ and His Kingdom is a collection of their addresses. "Bruce Hindmarsh [currently president of the American Society of Church History]  presents the need for intellectual and spiritual integrity as essential to paradosis, the transmission of a living faith to the next generation, while James Houston [who left a post at Oxford to become one of the 'founding fathers' of Regent, now retired] provides a compelling case for a fulsome theological understanding of the person in Christ as intrinsic to an authentic Christian education that avoids the reductionism of secular viewpoints."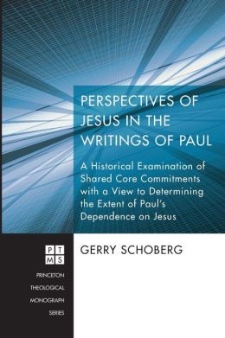 Gerry Schoberg: Perspectives of Jesus in the Writings of Paul
Gerry Schoberg is senior academic administrator at Regent College, and also teaches courses in New Testament and Biblical Languages. I'm afraid I missed the book launch earlier this fall, and haven't seen the book, so all I can do is quote from the publisher's description:
"Was Paul shaped by the movement that began with the teaching and activities of Jesus, or did he start something new? Attempts to answer this question one way or the other have a long history dating back to the 19th century. The purpose of this book is to raise the question again in light of more recent scholarly work – especially in light of historical Jesus research and the so-called New Perspective on Paul.
"The strategy employed is to find family resemblances between Jesus and Paul on matters that are both fundamentally important and distinctive and that can best be explained in terms of Paul's dependence on Jesus.
"Three aspects of Jesus' ministry – his welcome of the marginalized, his challenge to his followers that they would share his fate, and his belief that God was doing something profoundly new – are presented as the source of three corresponding aspects in Paul's thought-his welcome of Gentiles, his language of participation, and his belief in the present reality of new creation.
Crossing the UBC campus to the Vancouver School of Theology, Harry Maier has also been focused on Paul. His Picturing Paul in Empire is due out later this month.
The publisher says "Pauline Christianity sprang to life in a world of imperial imagery . . . Harry O. Maier places the later, often contested, letters and theology associated with Paul in the social and political context of the Roman Empire's visual culture of politics and persuasion to show how followers of the apostle visualized the reign of Christ in ways consistent with central themes of imperial iconography.
"They drew on the Empire's picture language to celebrate the dominion and victory of the divine Son, Jesus, to persuade their audiences to honour his dominion with praise and thanksgiving."
I enjoyed reading Harry's 'elevator speech' about the books:
"My book develops a new model of biblical interpretation which I call visual exegesis, a form of interpretation that seeks to move beyond purely lexical treatments of the Bible and focuses as well on visual components of biblical texts and their uses of evocative language as a means of persuasion, here specifically to draw attention to Roman imperial visual culture to show how followers of Paul used, developed, and inflected political imagery and discourse to formulate universal claims for the person and work of Jesus, and to express their ethical and communal ideals."
Perfect for elevators in UBC's ivory towers, no doubt, but possibly in need of some streamlining out in the real world!
A couple of great spots to find these books are Regent Bookstore out at UBC and Pilgrim Book & Bible at 2714 Kingsway in East Van.
This is the second in a series of three articles on books by Vancouver authors. The first considered books such as Planted (Leah Kostamo), Passionate Embrace: Faith, Flesh, Tango (Sandra Vander Schaaf) and several others. I'll look at one more set of books, next week, including Sacred Pauses (April Yamasaki) and Missional God, Missional Church (Ross Hastings).