Through Union Gospel Mission's 81-year history, we have been faithfully blessed with strong, stable, and vision-laden leadership – and William B. Mollard has been no exception.
As UGM's fourth President, Bill felt called to establish a compassionate, faith-based continuum of care for all people, including families, across Metro Vancouver.
Remarkable progress has been made toward accomplishing that dream, with UGM's 601 East Hastings building completed in 2011, and our Women and Families Centre now opening this spring.
Mollard will retire this summer.
Women and Families Centre
The Women and Families Centre opened January 31. It will provide housing to 135 women and children, from bachelor suites to three bedroom units – and they can stay for up to five years.
Families will be strengthened "through preventive parenting programming, family oriented housing, a childcare centre and after school children and youth development programs."
The federal government gave the project a big boost when it announced an $11.3 million cash injection early in 2019.
A virtual opening event took place for the centre last fall, accompanied by these comments:
The 77,000 square foot Women and Families Centre, complete with 63 housing units, will change the trajectory of entire families for generations – fewer women and children on the street, fewer children living below the poverty line, and a future where families can thrive instead of struggling to survive.
The Sanctuary, a unique supportive recovery program designed specifically for women and operated through a Wraparound Model of Care, including continuing aftercare support for the program's alumna, will also operate out of the building.
"I'm most excited about being able to provide a culturally aware and trauma-informed environment for women and children for up to a five year continuum of care, where they can feel accepted, seen, known and enjoy relationships and support as they walk on this journey of becoming," says Tara MacDonald, Senior Manager of Women's Recovery and Housing.
This new building would not have been possible without the support of all three levels of government, including the Canadian Mortgage and Housing Corporation, BC Housing and the Ministry of Children and Families and the City of Vancouver, as well as many foundations, businesses and individuals including Streetohome.
Lives changed
UGM's recent Opening Doors report features two women who have turned their lives around through their interaction with UGM's Sanctuary.
Virginia experienced alcohol poisoning:
Addiction unravelled Virginia, and one day, she found herself dying of alcohol poisoning while living in the backseat of her car. "I recall asking God to let me go because I was so exhausted from my life," she shares. "But after a few hours, I realized He was there with me. I started praying, and I promised that if I somehow made it out alive, I'd turn my life back over to Christ."
After miraculously surviving, Virginia embedded herself into a church community, checked herself into detox and began her recovery journey at UGM's Sanctuary.
Joelle suffered through abusive relationships and attempted suicide:
That started a cycle of recovery and homelessness. However, bringing her second child into the world – a precious daughter – disrupted that. Not only did Joelle receive stabilization support and was thriving in recovery, but she also found subsidized housing. Sadly, she eventually relapsed, and her daughter was taken away. . . .
That brought Joelle to The Sanctuary, which she knew was a safe place." Everyone was super welcoming. The Sanctuary has always had an open door," she explains. Here, Joelle embraced the support, and courageously worked through her past.
Go here for more of their stories.
UGM headquarters
Bill Mollard took over from Maurice McElrea in 2008, and he got right to work. Here is part of an article Lloyd Mackey posted on Church for Vancouver following a celebration of UGM's 75th anniversary in 2015:
In 2011, Bill Mollard oversaw the largest expansion in UGM history – the opening of a 70,000 square-foot multipurpose facility at the corner of Hastings and Princess, equipped to allow most of UGM's programs to double and in some cases triple in size, providing much-needed life-saving support.
Since that time, UGM has established the Women and Families Centre and opened a women's day shelter – which is now a 24/7 stabilization program for woman and women with infants. [Which has now grown into the work described above.]
UGM currently runs seven facilities across Metro Vancouver, providing meals, shelter, safe and affordable housing, alcohol and drug recovery, counselling, chaplaincy and more.
Repair to Wear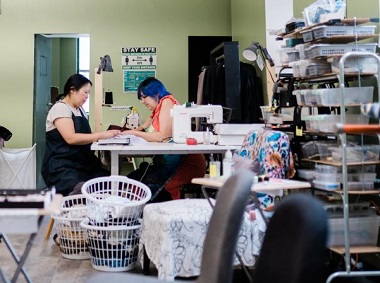 UGM continues to partner and innovate, while carrying on with initiatives developed over the years.
A February 4 announcement from Quest Outreach Society describes one recent change:
After a decade-long partnership between Quest Outreach Society and UGM (Union Gospel Mission) Quest's Downtown East Side (DTES) market will be moving from its 611 East Hastings location at UGM.
We are grateful for UGM's contribution and support to our mission of combating food insecurity in the DTES.
UGM is expanding and growing its social enterprise program, 'Repair to Wear.' As a result of this expansion, they need the space to better serve their community and will be moving into 611 East Hastings as soon as Quest has secured its next new market location. We wish UGM all the best with this exciting expansion and endeavour!
Repair to Wear provides low barrier employment; in a February 8 release, UGM stated:
Repair to Wear has seen continual growth and success over the last few years and as a result have outgrown the space that was originally allocated for them in UGM's new Women & Families Centre.
"We anticipate that this program will keep growing in the coming years, and will need more space," Mollard shares.
Go here for the full statement.