Joannie Fu and Vinson Shih are in the midst of final exams at the University of Toronto, but their minds are still on Richmond, where they grew up.
In particular, they are with the homeless people who will benefit from the temporary modular housing planned for the centre of the city. But they are afraid those homes won't be built.
The City of Richmond is proposing to build a 40-unit, three-storey building at 7300 Elmbridge way, in partnership with BC Housing. However, there has been strong negative response by some community members; hundreds of people packed an open house February 28.
Supporters of the housing proposal now fear that city council will cave in and cancel the project because this is an election year.
Petition supports housing
Fu and Shih are so concerned about the fate of the project that they have initiated a Richmondites for Modular Housing petition to Mayor Malcolm Brodie and city councilors. As of March 28, about 940 people had signed the petition, which begins like this:
Our names are Joannie Fu and Vinson Shih and we are students from the University of Toronto. We have spent our childhood and adolescence in Richmond and continue to call it home. Planning to base our futures here, we are deeply invested in our community.
Recently, it has come to our attention that there has been some vocal opposition against the planned modular supportive housing initiative to be built at 7300 Elmbridge that will help those experiencing homelessness and women fleeing domestic abuse. Many of the arguments presented by the opposition work to perpetuate misinformed ideas of homelessness and foster unfounded fear against people experiencing homelessness.
The students point out that Richmond is a "compassionate community" and highlight the benefits of housing homeless people:
Instead of teaching our children to fear those that seem different based on their circumstances, this is the perfect opportunity to educate our future generations on the effect on individuals of not having a home, and how we can work together to solve the problem through community involvement, community stewardship and volunteerism.
They also address some of the issues raised by opponents of the project (bringing crime and drugs into the city, children's safety will be threatened, housing should be built elsewhere . . .).
Fu is a member of The Tapestry Church in Richmond (pastor Albert Chu told me the church is supportive of the modular housing). She described some of her motivation for getting involved in the issue:
This issue is important to me because of my faith and the values that I was brought up with. As Christians, one of the most important commandments that Jesus has set out for us is to 'love our neighbours as ourselves.' There are no conditions in the love you are supposed to show your neighbours.
Jesus does not say 'love your neighbours only if they are rich.' Jesus does not say 'love your neighbours only if they live in houses.' Jesus says 'love your neighbours as yourselves.' For me, Jesus is a source of wisdom and strength, it is in His words about social justice, empathy and compassion that I am able to find inspiration and guidance.
Shih is not a church-goer, but has been influenced by his experiences with a local church. He said:
I have personally volunteered at Richmond Bethel Church (now Church on Five) in grade 11 and 12 as part of my high school, J.N. Burnett's Interact Club. One memorable volunteer experience there was a Christmas event where we served dinner to disadvantaged individuals.
At the church, I was inspired by the love and volunteerism shown by the church staff, leaving me with a great impression. The experience was the first time I was exposed to people experiencing homelessness, and really allowed me to check my own privilege that I had taken for granted previously.
But just as important was seeing the example set by church members and my peers that I volunteered with, who were welcoming and non-judgmental toward everyone, not less those experiencing homelessness. I can definitely say that my experience at Bethel was one factor that informed my understandings of love and compassion, and played a contributing role in my decision to start the petition.
Another petition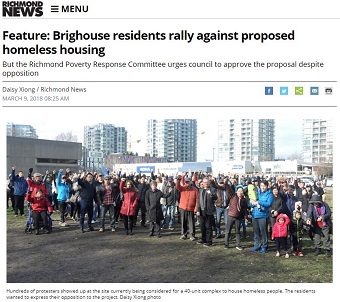 , initiated by residents of Oval Village, which is close to the proposed development, lays out the case against it; it has 850 signatures. (A March 9 article in the Richmond News said two webchat groups had already garnered over 1,000 signatures in another petition, and that opposition organizers were planning to present 10,000 letters to politicians.)
This petition focuses on several issues, including retaining dog walking and green space, a lack of transparency in the process and a too-tight deadline. It states that modular housing will be a bandaid solution and that homelessness is not as serious a problem as claimed in Richmond.
It also refers to the 'Children/women/elders safety issue':
Six full-time daycare centres are just 5 – 10 minutes walking distance away from the planned location; Brighouse Elementary School is 10 minutes walking distance away; Richmond Kinsmen Adult Day Centre is five minutes walking distance away. Richmond Oval, a comprehensive gymnasium with all kinds of exercises and events, is just five minutes walking distance away. In any case, kids/elders/women's safety should be the first priority consideration for the City and Councillors, especially for this large populated area.
Sermon: Love is stronger than fear
Pastor Victor Kim of Richmond Presbyterian Church responded to those kinds of fears in his March 25 sermon. (He told me in a phone conversation that "We're people who believe in God's abundance; we needn't fear scarcity.")
Here is part of the sermon, which I will quote at some length, because it is both eloquent and timely:
These are days of fearmongering and wall building.
These are days of circling the wagons and protectionism.
These are days when the fear of terrorism, of cyber espionage and of fake news
threaten to convince people that the only way we can be safe
is to exclude, shut out or shut down the other.
Strength, not vulnerability is the order of the day.
It shows even in our community when people become convinced
that extending housing to the poor, to the needy and most vulnerable in our midst,
isn't okay if it's in our back yard.
NIMBY, not in my back yard!
Its unsafe, we don't know what might happen, they aren't like the rest of us,
put them somewhere else, somewhere we won't be vulnerable.
I'm not sure that hate is the opposite of love,
I think that for most of us it's not hate, but fear, that keeps us from loving as we might,
as God imagines we can, intends we can.
We fear that in order for others to win, we have to lose, so we better win instead.
We fear that there isn't enough, so we better get what we can, while we can.
We fear scarcity when the truth is that God is about abundance.
All you have to do is to listen to Jesus as he speaks about the kingdom of God.
It's about feeding thousands from a boy's lunch and having baskets of leftovers.
It's like a king, forgiving his servant billions of dollars in debt.
It's like a sower scattering seed everywhere, liberally, generously.
It's like a vineyard owner paying overpaying people.
It's like a father who welcomes home his wayward son and throws him a party.
It's like gallons of water turned into the finest wine.
God isn't about just enough, God is about abundance.
In God, trusting in God, there's more than enough for everyone.
Life isn't some zero-sum game where there are winners and losers.
The life God has given, the life that Christ has redeemed, has room for all.
The life God intends has room, makes room, for those who are most at risk,
most disadvantaged, most in need, those who are hungry, thirsty, naked, sick,
oppressed, marginalized, shut out, stigmatized, voiceless, powerless.
We cannot let our fear shut out our willingness to be vulnerable, to love. . . .
Friends, this Holy Week, will we allow ourselves, our hearts, to be vulnerable?
Will we let someone, some thing, some cause, break our hearts
because we love so much, because we will risk for love's sake?
If we say we know the love of our Father,
if we know the vulnerable love of God in our lives,
I pray that we too would find the heart to do,
not as we will, but as God wills for us. Amen.
From NIMBY to YIMBY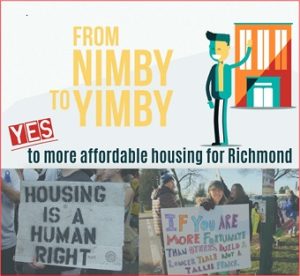 There have been have been two meetings to support the modular housing project. A press release from the Richmond Poverty Response Committee – which has been asked to act as lead on this issue – stated:
At an emergency Action Planning Forum 'From NIMBY to YIMBY,' people were turned away as an overflow crowd met at Richmond Caring Place on March 21, to show they stand strongly in favour of the modular supportive housing proposal for 7300 Elmbridge Way.
The meeting included long time residents and newcomers, seniors and youth, parents, local social services, service club members and people from the faith community. Representing a broad cross section of the population, the group underscored their belief that they want Richmond to be a welcoming and compassionate community.
De Whalen, chair of Richmond Poverty Response Committee thanked the many individuals and groups who came and said, "This is the right thing to do. We have a social responsibility to house our most vulnerable residents. Housing is a human right and everyone deserves a home and help when they need it."
A second meeting took place at Richmond Presbyterian Church March 28.
Response from faith communities
I have not come across any churches that are opposing the housing in an institutional way, but there is no doubt that many congregants oppose it.
On the other hand, pastor JB Lim of Thrive Church – which is within a block or so of the proposed site – said, "We are praying for the mayor and city councillors to make the best decision for everyone involved." He notes that some members of his congregation live within the affected area, and some help out at the local Food Bank.
Bill Chu, founder of Canadians For Reconciliation Society and a Richmond resident, said:
The proposed site is at the right place because it is within a block of the Pathway Clubhouse, Richmond Foodbank, Thompson Community Service, Anne Vogel Clinic and very close to Richmond Hospital and public transit routes. It is the right time since it is the rarest time when the provincial government is willing to pay for the construction and operation while the city provides the land for the housing.
Victor Kim says the faith community is mobilizing:
At this time there is growing support for supportive housing in Richmond from faith communities, including Presbyterian, United and Lutheran churches. (There will be more for certain). I'm also reaching out to other faith communities including the mosques, temples and synagogues in Richmond.
Kim said there will be a major rally in support of the modular housing project April 9, 6 pm, at Richmond City Hall. (Note, April 5: City council has changed the date on which the housing issue will be discussed and therefore the rally is being postponed.)
Westside Baptist Church and Granville Chapel played active roles in welcoming temporary modular housing – and the people moving into that housing – to Marpole, in Vancouver. Go here and here for more.