There will be several multi-church Easter gatherings around Vancouver. Here are some I have heard about:
Downtown Eastside
Several churches in the Downtown Eastside will gather for worship on Good Friday, 10:30 am at the Japanese Hall. Stay after for a potluck lunch.
Then, at noon, The Way of the Cross starts out from First United Church, making five other stops along the way:
An ecumenical pilgrimage through one of Canada's poorest neighbourhoods; Vancouver's Downtown Eastside Commemorating the places of pain and hope in our community; Featuring reflection, song and prayer.
Hastings Sunrise
Join with Longhouse Church, Joy Fellowship, Vancouver Eastside Vineyard Church and Ward Memorial Baptist Church for the Hastings Sunrise Good Friday Interchurch Service and Walk:
We will walk and worship together in loving and joyful witness through our neighbourhood, stopping for 20 minutes at three of the church locations, beginning at the Longhouse Church (Franklin and Penticton), then Vancouver Eastside Vineyard church at St. David's, and ending with communion  at Ward Memorial Baptist Church.
Trout Lake
First Vancouver Christian Reformed Church notes their plans for Easter Sunday:
We'll once again gather with other East Vancouver churches to celebrate Jesus' resurrection and pray for his resurrection power to continue transforming our neighbourhoods. Join us (7:30 am) at the beach at the south end of Trout Lake (John Hendry Park).
Burnaby Mountain
Join Earthkeepers and Salal & Cedar for Ecological Stations of the Cross:
We will walk, pray and contemplate as we draw connections between this time and the betrayal, arrests and the suffering of creation that we see all around us – but particularly on Burnaby Mountain.
And here are a couple of other gatherings that look interesting:
Coastal's Easter at the Orpheum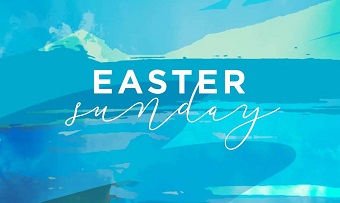 Populist listed 9 Things To Do EASTER SUNDAY in Downtown Vancouver, and one of them was Coastal Church Easter Sunday Services at the Orpheum Theatre (9:30 am and 12:30 pm):
Being that Easter is a religious holiday and all, you may have the tradition of attending the Easter morning service that you grew up with. For others, you might just be curious and want to be welcomed regardless of your background or faith.
Whatever your denomination, Coastal Church promises a warm welcome greeting and a fun experience with live music, an inspiring message from senior Pastor Dave Koop and to hear the story of the death and resurrection of Jesus Christ, told in a relatable way. Did we mention it's in a theatre with lots of other people just like you?? (cultural barriers begone!) Also coffee and refreshments will be served afterwards.
Gospel Good Friday
St. Helen's Anglican Church in Point Grey will be continuing their tradition of soulful music with a Gospel Good Friday service:
This year we welcome the phenomenal soul/gospel singer Dawn Pemberton, as well as bassist Steve Johnston and drummer Mike Ferguson. Dawn will lead the choir and congregation in traditional gospel songs, in particular the 'Give Me Jesus' refrain during the stations of the cross.
Worship Invasion: Because He Lives
Cedar Grove Church in Surrey will host Easter Weekend Worship Invasion: Because He Lives, March 31, 7:30 pm:
'Because He lives, I can face tomorrow . . . an old familiar song but still true today. Come enjoy Easter with the Worship Invasion family. Powerful, anointed praise and worship to celebrate what Jesus did for us at this very special time in history.
For more Easter concerts and events, check the Calendar listings below.
Movies at Easter
Three Christian movies have come out in the last few days, with another one to open on Friday. Here is a taste of what our local film expert Peter Chattaway had to say in his March 27 FilmChat blog post:
The last weeks before Easter often see a glut of "faith-based" movies, and this year is no exception. Two films aimed squarely at the religious market are currently playing in North American theatres, and a third film that tells a biblical story but was made for a more general audience is currently playing in Europe, Australia and elsewhere.
Only one of these films has been doing all that well at the box office, though.
The big success story right now is I Can Only Imagine, which has earned $39.5 million in its first 11 days of release in North America. That alone puts it among the top 10 "faith-based" films of all time, and there's still plenty of revenue to come. . . .
But the success of I Can Only Imagine shows that "faith-based" films do have some life left in them. The question is how many of these films the market can handle at a time.
We may get another chance to find out this Friday when God's Not Dead: A Light in the Darkness, the third film in the God's Not Dead series, opens in 1,685 theatres.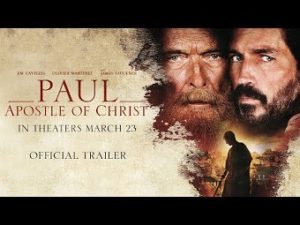 Go here to read the whole comment; there is much more about I Can Only Imagine, Paul, Apostle of Christ and Mary Magdalene on the FilmChat blog.
The Guardian quoted Chattaway in its March 25 article, Faith films challenge Hollywood at box office:
The faith-based genre is showing Hollywood that age and diversity are not necessarily antithetical to box-office success, and offer starring roles to actors who may no longer be at the top of casting directors' call-in lists.
"In last year's hit The Shack, God was played by a black woman, an Asian woman played the Holy Spirit and Jesus was played by an Israeli," says Peter Chattaway, reviewer for the faith-based film site, Patheos. A 10-part mini-series, The Bible, cast Samson as black; in the follow-up series, AD: The Bible Continues, several apostles were black and Mary Magdalene was part black, part Chinese.
"Churches are increasingly diverse and that is being reflected in the films that are being made for their congregations," says Chattaway.
For the full article, including more from Chattaway, go here.
Gospel Mission losing home base
Gentrification is driving people from the Downtown Eastside, but ministries are falling prey as well. Here is a portion of a March 24 story on CBC News (Historic Vancouver mission falls victim to city's real estate boom):
One of the city's oldest missions in the Downtown Eastside, which has been serving the needs of the neighbourhood's most impoverished and addicted for decades, has been sold.
The building has been standing on Carrall Street since 1889. The Gospel Mission Society moved in during the 1940s and has since been offering religious day services, meals, movie nights and warm showers, and welcomes some of the city's most vulnerable residents. . . .
Next door to the Gospel Mission, another building was also sold, and is in the process of being demolished. Staff at the mission believe a condo tower is set to replace it. . . .
Pastor Wesley Chadwick spent six months doing repairs and renovating the four shower stalls. The grand reopening was Saturday morning.
"It's somewhere to get clean, to shower and to feel human and to be treated with dignity in an environment that is welcoming," Chadwick said.
But the pastor's efforts will soon be for naught, because the building will eventually be demolished and the mission will need a new home.
For the full story go here.
TAKE 6 at the QE Theatre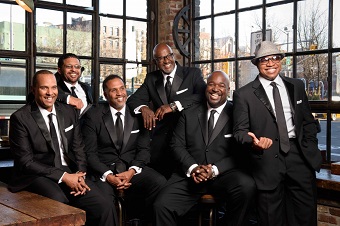 One of the world's best known gospel groups will be in Vancouver April 6:
The VanMan Male Choral Summit gets a high-octane kick off with an incendiary performance by TAKE 6, the most awarded a cappella group in history!
Heralded by Quincy Jones as "the baddest vocal cats on the planet," this 10-time GRAMMY award-winning ensemble brings their intoxicating brew of gospel, jazz, R&B and pop to the Vancouver's Queen Elizabeth Theatre for an unforgettable evening.
When TAKE 6 was inducted into the Gospel Music Hall of Fame in 2014, this is how they were described:
TAKE 6 is an American a cappella gospel music sextet formed in 1980 on the campus of Oakwood College in Huntsville, Alabama. Their eponymous debut album, released in 1988, won them two GRAMMY® Awards and resulted in top 10 appearances on both the Billboard Contemporary Jazz and Contemporary Christian Charts. The group's contemporary style integrates R&B and jazz influences into their devotional songs, with a swinging, harmony-rich sound.
In 2008, TAKE 6 released The Standard, which was a first-time voyage for the group into a more traditional jazz repertoire. The Standard, a critically hailed success, garnered three more GRAMMY® nominations providing them the distinct honor of being the most GRAMMY® nominated vocal group in history.
TAKE 6 released 18 albums and earned a total of 12 GRAMMY® Awards, five Dove Awards, and a Soul Train award. They were named Vocal Group of the Year by Black Radio Exclusive as well as Best Jazz Vocal group for four consecutive years in a Downbeat Readers Poll. Truly their heart for the gospel and extraordinary talent caused the message of hope to be heard by jazz and pop listeners alike.
Feb 2018
Income Tax Ministry (Tuesdays & Saturdays)
– February 27, 2018 - April 24, 2018 at 9:30 am - 2:00 pm
Mar 2018
Hastings Sunrise Good Friday Interchurch Service and Walk
– March 30, 2018 at 10:00 am - 11:30 am
Joint Downtown Eastside Churches Service
– March 30, 2018 at 10:30 am - 12:00 pm
Stainer's Crucifixion: A Good Friday Oratorio
– March 30, 2018 at 10:30 am - 11:30 am
Gospel Good Friday with Dawn Pemberton
– March 30, 2018 at 12:00 pm - 1:30 pm
Way of the Cross Walk 2018
– March 30, 2018 at 12:00 pm - 1:30 pm
Good Friday Community Dinner
– March 30, 2018 at 5:30 pm - 7:30 pm
Vancouver Chamber Choir / Chamber Cantata Singers: Rachmaninov Vespers and Laurisden Lux Aeterna
– March 30, 2018 at 8:00 pm - 10:00 pm
Ecological Stations of the Cross
– March 31, 2018 at 1:00 pm - 3:00 pm
Messiah Sing-Along
– March 31, 2018 at 2:00 pm - 5:00 pm
Easter Weekend Worship Invasion. Because He Lives.
– March 31, 2018 at 7:30 pm - 10:30 pm
Apr 2018
Coastal Church Easter Sunday Services (9:30 am & 12:30 pm)
– April 1, 2018 at All Day
Easter Sunrise Service at Trout Lake
– April 1, 2018 at 7:30 am - 8:30 am
The Total Athlete with Jeremy Lin
– April 1, 2018 at 7:00 pm - 9:00 pm
Celebrating Spirituality with People Who Have Dementia, with Gemma Jones
– April 4, 2018 - April 5, 2018 at 9:00 am - 4:00 pm
Film Screening: The Crucified King – a Documentary by Iwan Russell-Jones
– April 4, 2018 at 12:00 pm - 1:30 pm
Jazz Evensong: The Hot Mammas
– April 4, 2018 at 8:00 pm - 9:30 pm
Dr. Alison Marshall: Bayanihan & Belonging – Filipinos and Religion in Canada
– April 5, 2018 at 6:00 pm - 8:30 pm
EMS Canada 2018: Mission and Evangelism in a Secularizing World
– April 6, 2018 at 8:30 am - 4:30 pm
Comedy Night at the Bez
– April 6, 2018 at 7:00 pm - 10:00 pm
Rainer Kunz: Discovering and Developing Your Strengths
– April 6, 2018 - April 7, 2018 at 7:00 pm - 5:00 pm
Take 6 in Concert
– April 6, 2018 at 8:00 pm - 10:30 pm
Biblical Worldview Weekend 2018
– April 7, 2018 - April 8, 2018 at All Day
Ratanak International's Emerald Gala
– April 7, 2018 at 6:15 pm - 9:30 pm
Jazz Vespers: Cory Weeds
– April 8, 2018 at 4:00 pm - 5:00 pm
Essentials for Understanding Dementia & Care, with Gemma Jones
– April 9, 2018 - April 10, 2018 at 9:00 am - 4:30 pm
Official Opening: Indian Residential School History and Dialogue Centre
– April 9, 2018 at 10:00 am - 11:30 am
Dr. Jonathan Sarfati: Biblical Worldview & Creation
– April 9, 2018 at 7:00 pm - 9:00 pm
Jewish-Christian Dialogue: Medical Assistance in Dying (MAiD)
– April 10, 2018 at 2:00 pm - 5:00 pm
How to Host an Alzheimer Café, with Gemma Jones
– April 11, 2018 at 9:00 am - 4:30 pm
The Choir of Royal Holloway
– April 11, 2018 at 7:30 pm - 9:30 pm
Alzheimer Café and Dementia Care, with Gemma Jones
– April 12, 2018 - April 17, 2018 at All Day
Bar Mitzvah Boy by Mark Leiren-Young
– April 12, 2018 - April 14, 2018 at All Day
Rev. Malcolm Hedding - ICEJ Canada
– April 12, 2018 at 10:00 am - 12:00 pm
About the Alzheimer Café & How to Help, with Gemma Jones
– April 13, 2018 at 9:00 am - 4:30 pm
Jordan Klassen in Concert
– April 13, 2018 at 7:00 pm - 10:00 pm
Forever & Ever: A Christian Rock Musical
– April 13, 2018 - April 14, 2018 at 8:00 pm - 10:00 pm
Iron Sharpens Iron
– April 14, 2018 at All Day
International Student Ministries Breakfast
– April 14, 2018 at 9:00 am - 11:00 am
Come and See What Happens at an Alzheimer Café, with Gemma Jones
– April 14, 2018 at 12:00 pm - 5:00 pm
Rev. Malcolm Hedding - ICEJ Canada
– April 14, 2018 at 2:30 pm - 4:30 pm
Rev. Malcolm Hedding - ICEJ Canada
– April 14, 2018 at 5:00 pm - 7:00 pm
All Above Me
– April 14, 2018 at 7:00 pm - 9:00 pm
Ember
– April 14, 2018 at 7:00 pm - 9:00 pm
Mercy at the Cross: An Easter Concert of Worship
– April 14, 2018 at 7:00 pm - 9:00 pm
Rev. Malcolm Hedding - ICEJ Canada
– April 15, 2018 at 10:30 am - 12:30 pm
Rev. Malcolm Hedding - ICEJ Canada
– April 15, 2018 at 2:30 pm - 4:30 pm
Lift Every Voice
– April 15, 2018 at 3:00 pm - 4:30 pm
Organ Concert: Edward Norman & Steve Denroche
– April 15, 2018 at 3:00 pm - 4:30 pm
Essential Understanding for Dementia Care, with Gemma Jones
– April 16, 2018 - April 17, 2018 at 9:00 am - 4:30 pm
Defining Housing Justice: A Community Forum
– April 16, 2018 at 7:00 pm - 9:00 pm
The Arts, Faith and the Apocalyptic Imagination
– April 18, 2018 at 7:00 pm - 9:00 pm
Relationship: Singleness & Marriage – A Conference with Dr. Tim Lane
– April 19, 2018 - April 21, 2018 at All Day
TWU Men's Volleyball Team vs 'The Legends'
– April 19, 2018 at 6:45 pm - 9:00 pm
Dr. Tim Lane: Redeeming All of Your Relationships
– April 19, 2018 at 7:00 pm - 9:00 pm
Destiny Awakens Women's Conference
– April 20, 2018 - April 21, 2018 at All Day
Sideshow
– April 20, 2018 - April 21, 2018 at All Day
Church Renewal Round Table
– April 20, 2018 at 10:00 am - 12:00 pm
T4T (Training for Trainers) with Rev. Ying Kai & Grace Kai
– April 20, 2018 - April 21, 2018 at 7:00 pm - 4:30 pm
The Kwerks
– April 20, 2018 at 7:00 pm - 10:00 pm
HOPE International Development Agency Dinner & Film Premiere
– April 21, 2018 at 5:30 pm - 8:30 pm
Danny & Debi Brooks
– April 21, 2018 at 7:00 pm - 9:30 pm
Forever and Ever: A Christian Rock Musical
– April 21, 2018 at 7:00 pm - 9:00 pm
Jazz Vespers: Kristian Alexandrov & Shannon Gaye
– April 22, 2018 at 4:00 pm - 5:00 pm
Dr. Naim Ateek: Book launch of 'A Palestinian Theology of Liberation'
– April 22, 2018 at 6:30 pm - 8:30 pm
Foster Care Info & Awareness Night
– April 22, 2018 at 7:00 pm - 8:30 pm
Stop SOGI 123 Rally
– April 23, 2018 at 11:00 am - 1:00 pm
Made in God's Image
– April 24, 2018 at 7:00 pm - 9:30 pm
Church Leaders Forum: The 5 Conversions of the Church
– April 25, 2018 at 9:30 am - 12:30 pm
Where Discipleship Meets Mental Health & Social Isolation
– April 25, 2018 at 10:00 am - 12:30 pm
Recipe for Success Gala, with Vikram Vij
– April 25, 2018 at 6:00 pm - 9:00 pm
Welcome the Stranger: Refugees Becoming Neighbours
– April 26, 2018 at 7:00 pm - 9:00 pm
Spirit(us): An Evening with Tenor Charles Daniels
– April 26, 2018 at 8:00 pm - 10:00 pm
BC Healing Rooms Conference
– April 27, 2018 - April 29, 2018 at All Day
Coalesce: Grad Art Exhibition at TWU
– April 27, 2018 - April 29, 2018 at All Day
Discovered
– April 27, 2018 - April 28, 2018 at 7:00 pm - 10:00 pm
Harvest Glory Night with Che Ahn
– April 27, 2018 at 7:00 pm - 9:30 pm
God's Created Dinosaurs and In Search of Leviathan with JD Mitchell
– April 27, 2018 at 7:30 pm - 9:30 pm
Soprano Sarah McGrath and Organist Denis Bédard
– April 27, 2018 at 8:00 pm - 10:00 pm
Kingdom Rise Conference
– April 28, 2018 at 12:00 am
People of Faith & Friends Against Kinder Morgan
– April 28, 2018 at 8:00 am - 4:00 pm
BC Christian Academy: Branching Out & Bearing Fruit
– April 28, 2018 at 9:00 am - 10:00 am
Lighthouse Harbour Ministries Spring Luncheon
– April 28, 2018 at 12:00 pm - 1:30 pm
The Fallen Tent: the Story of Paul & Silas in Philippi
– April 28, 2018 at 12:00 pm - 1:00 pm
Most Popular Origin Beliefs, and Divine Proportions in God's Creation with JD Mitchell
– April 28, 2018 at 2:00 pm - 4:00 pm
Divine Proportions in God's Creation – The Hand of God with JD Mitchell
– April 28, 2018 at 7:00 pm - 9:00 pm
Worship Invasion
– April 28, 2018 at 7:30 pm - 10:30 pm
Jazz Vespers: Linda Szentes & Jazzlinks
– April 29, 2018 at 4:00 pm - 5:00 pm
Jazz Vespers: Linda Szentes & Jazzlinks
– April 29, 2018 at 4:00 pm - 5:00 pm
Jazz Vespers: Linda Szentes & Jazzlinks
– April 29, 2018 at 4:00 pm - 5:00 pm
Evening Service with Rev. Hyeon Soo Lim
– April 29, 2018 at 7:00 pm - 8:15 pm
Journey 101 (Sunday evenings)
– April 29, 2018 at 7:00 pm - 9:00 pm