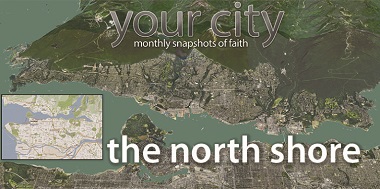 Peter Biggs of The Light Magazine is researching one Metro Vancouver / Fraser Valley municipality each month, and producing a focus on each one. The April issue features the North Shore.
The North Shore is revered for its natural beauty. Mountains and wilderness are to the immediate north with breathtaking views of Vancouver and the Burrard Inlet to the south. Indigenous peoples have populated the North Shore for thousands of years.
Three municipalities
There are three municipalities on the North Shore:
District of North Vancouver: Population 85,395
Encompassing Grouse Mountain and Mount Seymour to the north, the District stretches from Deep Cove west to the Capilano River.
City of North Vancouver: Population 52,898
Not unlike Langley, which has both a 'City' and a 'Township,' the City of North Vancouver exists within the District, and has its own council. Of the three areas, it is the most urbanized. Lonsdale Quay Market has enjoyed commercial success aided by its accessibility to the SeaBus terminal at the base of Lonsdale Avenue.
District of West Vancouver: Population 42,473
The iconic First Narrows bridge crosses from Stanley Park to West Vancouver, which stretches from the Capilano River to Horseshoe Bay. With its panoramic view of English Bay, along with its beaches, mountains and small town charm, the area is arguably one of the most sought after urban places to live in Canada.
Indeed, the British Properties area was once thought to be the richest piece of real estate in the country. There is a high proportion of seniors and West Vancouver is home to Canada's first shopping mall, Park Royal Shopping Centre. Horseshoe Bay's BC Ferries Terminal is one of the main connecting points between the mainland and Vancouver Island.
Populations
The North Shore's total population in 2016 was 180,319. What is striking is that the populations of West Vancouver and the District of North Vancouver barely shifted in the past five years, while the City of North Vancouver grew by 9.8 percent. According to the 2016 Census, that put it among the fastest growing communities in the Lower Mainland (with Langley at 12.6 percent, Surrey at 10.6 percent and Coquitlam, 9.8 percent).
Lighthouse Harbour Ministries
Lighthouse Harbour Ministries reaches out to seafarers by boarding ships in dock and also picking up sailors and driving them to one of two Seafarers's Centres – in North Vancouver and the Fraser Surrey Docks. Here they enjoy socializing with volunteers, get assistance and literature, and enjoy recreational activities.
Chaplain Paul Ratsoy said:
Most have their primary physical needs met on their ships, but feel the isolation and separation from families, with most sailings lasting nine months.
Lighthouse also shares the gospel and distributes custom Bibles:
Ships' crews are usually around 20. Although many sailors are from the Philippines, they come from all over the world and sometimes from 'restricted' countries. It's an amazing opportunity!
North Shore School of Mission
A recent and exciting development for the area is the establishment of North Shore School of Mission, headed by Anthony Brown – lead pastor at Hillside Church. The school shares premises with Hillside in Lynn Valley.
Brown said:
We've lots of older teens and 20s that are eager to grow in their faith. Plus there are lots of theologically gifted pastors. Instead of these young people leaving our community for a short-term mission, we wanted to provide a good experience of ministry here, along with the passion of a short-term mission.
We've worked with Columbia Bible College [in Abbotsford] so our students can get a year of college credits and partner with overseas missions for them to have a month there.
The school offers three ways to learn:
1. An accredited ministry apprenticeship program, aimed at helping young people explore the possibilities of future work in church ministry and missions, while giving them academic credit towards a Bible college bachelor's degree.

2. An accredited part-time graduate program, in which church leaders and members can learn about joining the mission of God in their neighbourhood.
3. Courses, classes and special events for everyone, to stretch faith, explore Christian beliefs and grow disciples. Cost is very reasonable at $2,000/year (normally the cost of credits would be $8,540). Students serve an internship in a local North Shore church. In lieu of wages, students serving for 10 or more hours per week will have a significant portion of their tuition paid by their placement church (this amounts to about $4,500).
The school anticipates serving up to 12 full-time students.
Public courses on Mondays
The school also offers 10 week courses open to the public on Monday evenings. The last one attracted 30 people. (Next up is Global Missions with John Hall, executive director of Missions Fest, beginning April 9. Cost is $60.)
Brown said, "The geography of the North Shore is an aid to significant local inter-congregational shared mission. I know we have to collaborate for the kingdom, it's a geographic gift from God!"
Harvest Project
While the community enjoys overall prosperity, visitors to Harvest Project reflect the make-up of the North Shore – including young families, newcomers and those with chronic health issues. The high cost of housing, the realities of single-parent families and the challenging job-market have intensified everyday struggles for many who now live on the margins of homelessness on the North Shore.
Recent surveys show that thousands of North Shore residents are forced to spend more than 60 percent of family income on accommodation. This situation can force parents to choose between remaining housed and providing food for their families.
"The kind of hurt and need we see is more camouflaged than other 'raw' street areas. On the North Shore one in five households are headed by a lone parent," said Kevin Lee, development officer with Harvest.
Harvest is unique in encouraging clients toward one on one assessment. Initially they are 'triaged' in reception, if they have emergency needs they meet with a trained 'needs volunteer' for pre-assessment. Most return and meet with a 'chronic care partner' for a full assessment; goals are set and the focus is on moving forward. Prayer is often a part of that," Lee says.
Harvest often cross-refers clients with North Shore Community Services.
Harvest sees around 250 family groups (up to 500 or more individuals) a month. They have five full-time staff and 140 or so weekly volunteers.
Lions Gate Christian Academy
Lions Gate Christian Academy is situated in the Seymour area of North Vancouver. Over its 20-year history the school has moved five times.
Principal Adam Reid said:
Plymouth Road Elementary School closed in 2010; we moved in to the premises in 2014 on a lease from the District of North Vancouver for 10 years. We are asking for prayer that we are either able to extend the lease or find land to build.
Of the more than 300 students from kindergarten to grade 12, approximately one-third are from visible minorities, with 36 international students.
North Shore churches
There are some 40-plus churches on the North Shore. With a couple of exceptions they are all small in number. Perhaps because of these challenges pastors have often enjoyed a strong camraderie.
'Good and faithful servants'
Owen Scott has just retired after 31 years at Valley Church and was honoured at the recent monthly North Shore Pastor's Prayer time.
One pastor described him as "Owen 'Grand Apostle of the North Shore' Scott. Consummate shepherd. Total Kingdom guy. Beautiful legacy of love and faithfulness. He's taught us all the importance of the long game. What a run! I love him."
James Bonney of Shore Church said, "Owen Scott is my hero and was the first person to say how thankful he was that more church planters were coming to the North Shore! So glad you are honouring him."
Congregational friendship
Sutherland Church and St. Timothy's Anglican enjoy a unique relationship. St. Timothy's rents space from Sutherland. Both churches are evangelical, but come from quite different traditions. Sutherland is Brethren and St. Timothy's Anglican.
The respective pastors are friends. This has advanced an unprecedented congregational collaboration. Ken Bell (St. Timothy's) states, "We're quite happy if our people attend each other's programs, step in for each other pulpit-wise and from time to time have joint worship services."
They are currently pioneering together an outreach called 'Tasting Room Theology' where they go to a local business and over to bring 20 – 30 new folks in for a presentation on the business (the last one was an ice cream store).
After the business presentation (with free tastings!) a guest speaker might give a short talk. Church people are very comfortable inviting neighbours, and it is a 'soft' introduction to things spiritual. "It is really 'pre-evangelistic'," Bell said.
"Friday nights is joint kids and teens, we also have done joint sermon series. Ken is more of a 'details' guy but we spark off each other!" said Sutherland's senior pastor Todd Wiebe.
The new Shore Church
James Bonney is lead pastor of a new church that meets at the Park & Tilford Cineplex.
Five and a half years ago he was a church planting apprentice working with Norm Funk at Westside Church in Vancouver. A church member happened to give him a $100 gift certificate to a coffee shop in West Vancouver. This would lead to him spending time there studying.
He said:
I would overhear conversations that reflected a lot of life dissatisfaction. I began to talk to people there and got a 'burden' – that led to prayer walks. One day my wife and I went to a movie at Park & Tilford. I got a strong sense of excitement and emotion that this was where 'my church' was going to be (we were living in Kitsilano at the time).
As a satellite or 'campus' of Westside Church they started with around 40 people. They grew gradually (the church is now around 200) with lots of 'de-churched' or outright 'lapsed' people coming.
We do however see a lot of turnover, mainly because of housing issues, with people moving out to places like Vernon or Squamish or the Fraser Valley.
March 22 marked the official commissioning of Shore Church, which will now be independent, no longer be a campus of Westside. Bonney greatly appreciates the other Pastors on the North Shore. "Unfortunately the main Westside Church staff meeting conflicts with the North Shore Pastors gathering, but I do see us as part of the wider church on the North Shore," he said.
Iranian church
North Shore has a significant Persian population and an Iranian church.
Go here for The Light's complete North Shore profile.