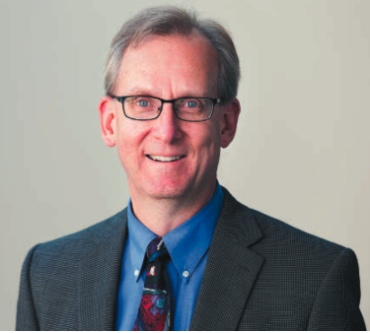 Jeffrey Greenman became president of Regent College earlier this year; he is also professor of theology and ethics at the graduate school on the UBC campus. Prior to assuming his present role he served as academic dean and executive vice president at Regent.
This Q&A first appeared in the July/August 2015 issue of Faith Today and is re-posted by permission.
Faith Today: What mission drives Regent College?
Jeffrey Greenman: Enabling Christians to live deeper, better integrated lives in God's service in every sphere of society. We are focused on equipping the whole person – heart, head and hands – to participate actively and joyfully in God's mission to the world. For us, such people are pastors, artists, entrepreneurs, lawyers, scholars, teachers, engineers, accountants . . .
FT: How do you view Regent's role within North American evangelicalism?
JG: Regent has a place in the wider spectrum of theological schools as an example of theologically serious, culturally engaged, transdenominational evangelicalism. It has been a pioneer in some ways as the first theological school primarily intended for the laity, and by developing an extensive, internationally known summer school program. Regent has also pioneered as an evangelical thought leader in the areas of Christian engagement with the arts, in marketplace theology and in spiritual theology.
FT: You are leading in what has been publicly acknowledged as a challenging time in Regent's history. What are you learning right now about leadership?
JG: It's essential to face reality. Sometimes that means making very difficult or unpopular decisions for the sake of an organization's viability and long-term flourishing. There's a natural tendency to want to avoid as long as possible making budget reductions when it means people will lose their jobs. One major role for the leader in such situations is to absorb the community's pain. Clear and timely communication is the biggest challenge. People appreciate that I accepted personal responsibility for the decisions made.
FT: How do you take care of yourself as a leader? What feeds you?
JG: Like most leaders I am very aware of the importance of self-care for busy, under-pressure people, but less than perfect at taking proper care of myself. Even so, I have a strong commitment to keeping the sabbath as a day of real rest, and to spending time daily in prayer and scriptural meditation, especially soaking in the Psalms. I am sustained by the prayers of many people, and by the wise counsel of a close circle of trusted peers who have no connections with Regent and who give honest feedback and valuable advice.
FT: Top leadership book recommendation?
JG: If I could choose just one, it would be Henri Nouwen's In the Name of Jesus: Reflections on Christian Leadership (Crossroad Publishing, 1992).
FT: What is your top leadership advice?
JG: Listen. The most important leadership skill is listening well – to God, to peers and mentors, and to the people you are serving. Really listening helps to prevent the problem of falling too much in love with your own ideas or theories, or being isolated from the real concerns of the people you are leading.
FT: Heroes?
JG: Rev. John Stott (d. 2011). His integrity, humility, biblical faithfulness, passion for Christ and global vision of the church are truly exemplary.