When Joshua Harris was just 21, he wrote I Kissed Dating Goodbye. The book sold more than a million copies and some Christians followed it almost as if it were gospel.
A couple of years ago, Harris left the American megachurch he had been pastoring and moved his family to Vancouver.  Studying at Regent College, he says he has been confronted by many new ideas and is reevaluating the outlook presented in his best-seller of 20 years ago..
That process of reevaluation has broadened since Harris met Jessica Van Der Wyngaard at Regent. She was deeply influenced by I Kissed Dating Goodbye as a teenager, but came to question its message as she matured.
Together they have decided to produce a film – I Survived I Kissed Dating Goodbye – which will reassess the book and its influence. They have just launched a Kickstarter campaign to fund the film.
Following is the premise for the project: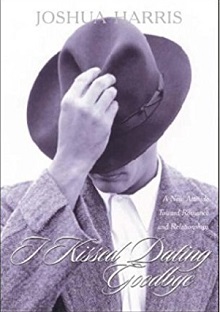 In 1997 a 21 year old single Christian wrote a revolutionary book on dating. This book would go on to be an international bestseller and catapult its unsuspecting author, Joshua Harris, into the Christian spotlight. I Kissed Dating Goodbye "turned the Christian singles scene upside down" and continues to shape the consciousness of how Christians view singleness, dating and the roadmap to marriage.
Through the connective platform of social media, Harris has been dealt a battering of online criticism from disenchanted Christians in recent years. Some have lashed out at Harris directly for I Kissed Dating Goodbye and others have set up websites dedicated to Harris' "victims."
Many online have called for Joshua Harris to apologize for what they believe was hurtful teaching, while others are applauding him for his stance and encouraging him to stand his ground. Harris has felt pressure from all sides to do or say something.
In this documentary, we see Joshua Harris finally ready to speak out about I Kissed Dating Goodbye, 20 years on. 
To gain a fuller sense of Harris's motivation for reassessing the book, check out his July 10, 2016 interview on NPR (partial transcript here, his YouTube account, accompanied by many comments, both positive and negative, from people who had read and been influenced by the book here).
Harris described the book in this way during the interview:
The idea of the book is that a lot of times, in dating, we play a lot of games with each other. We hurt each other, we get into relationships when we're not really ready to pursue commitment. So the idea behind the book is that it might be a good idea to take a break from the dating game for certain people, and to enjoy friendships and build relationships that way, but not pursue a bunch of short-term romantic relationships. All that coming from a Christian perspective, and saying we should be loving each other as God tells us to love one another.
Interviewer Rachel Martin said "Joshua Harris has been reflecting a lot on the impact of his book. He's heard from people who felt his writing taught them to be ashamed of their bodies and to feel guilty for having any sexual desires." . . .
Harris responded:
I think I'm finally at a place where I'm really trying to listen to those voices. And I think it's taken time for the consequences of the way that people applied the book and the way the book affected people to play out. And so I'm hearing these different voices saying, here's how your book was used against me, here's how it was forced on me, or here's how I tried to – no one forced it on me – but I tried to apply it and it had this negative consequence in different ways.
I'm trying to go back and really evaluate, you know, where did my book contribute to that? Where was it too stringent? And where was that me and what I was writing, and where was that – the families and the church cultures and so on? So I feel like I'm on the front end of a process to help people in some way if I can apologize where needed and reevaluate where needed.
Van Der Wyngaard, director and producer of I Survived I Kissed Dating Goodbye, said on the Kickstarter site:
Like many of you, I read I Kissed Dating Goodbye when I was a teenager. At the time it had a profoundly positive impact on me. While I was still in high school and beginning life as a young adult, its teachings made total sense. I was part of a church culture that was also affected by the influence of the "anti-dating" craze that was sweeping the (evangelical) church at large, thanks to I Kissed Dating Goodbye.
As a single Christian female approaching 30 I began to question the effectiveness of the book's teachings in my own life. I was doing everything right, where was my future husband? Despite having these questions I stayed connected to church and my Christian friends. Together we'd often vent our frustrations at the church on how it was handling, or not handling, issues facing their growing single demographic.
It was during this time that I began my MA in Theological Studies at Regent College. Also at this time I felt compelled to respond to the growing frustrations I saw in my fellow believers who grew up reading books such as I Kissed Dating Goodbye and were now feeling let down by its teachings.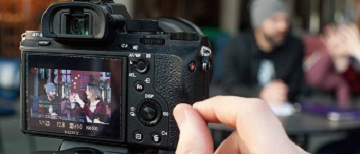 I wanted to make a documentary so a greater spectrum of Christian voices could be heard on this important topic that affects all of us. 
Thanks to the divine timing of God, Joshua Harris found himself also at Regent College at precisely the time I was considering making such a film.
After several months of being casual acquaintances at school, I shared my vision for this documentary with Joshua.
I could not think of a better conversation partner for the audience than Joshua, this influential author of the book we all remember from our teen years! 
And here Joshua Harris found himself reflecting on the impact his book had on a generation, and how he inadvertently shaped Christian sexuality. After several months of consideration, Joshua agreed to help bring this documentary to life.
Overseeing the project will be professor Iwan Russell-Jones, who joined Regent College with more than 25 years of experience as a producer and director for the BBC. He recently completed the Making Peace with Creation documentary in partnership with retired Regent professor Loren Wilkinson.
The Kickstarter campaign aims to raise $50,000 by August 5 to support the project; go here for the full story.