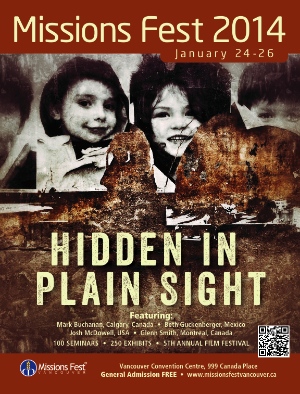 Ah, Missions Fest! Always one of my favourite times of year, not far behind Christmas and summer holidays. There are other missions conferences around the world – including several directly modelled on ours – but few if any rival the diversity of groups represented and the numbers of people who attend. It is on all day Friday, Saturday and Sunday (January 24 – 26).
What I enjoy most is wandering from booth to booth, one moment chatting with an elderly couple who have devoted their lives to the people of Belarus (or Thailand or Bolivia or Bangladesh), then with a business woman who works with a ministry providing medical supplies to Africa, and on to a young man passionate about ending human trafficking. Take a bit of time to listen, and you will have the world opened up to you. 
Just skim down the list of 250 or so partner agencies (those with booths) and you will see the breadth of Christian mission: A Rocha: Christians in Conservation; Baptist Housing Ministries; Carving a Residential School Healing Pole (they were at the Truth and Reconciliation Commission too); Converge Magazine; Dalit Freedom Network; Latin America Mission; Ratanak International; Wycliffe Bible Translators . . . 
I see the Roman Catholic Archdiocese of Vancouver on the list this year, for the first time, or at least the first time in many years. I hope many people will introduce themselves to Marjeta Bobnar, coordinator of ecumenical and interfaith relations, Rennie Nahanee, coordinator of First Nations ministry, and others at the booth.
Also exciting for me every year is the reminder of the breadth of the local church – members of so many churches and denominations are gathered together in one place, for a common purpose. As you walk the aisles and attend seminars you will see old friends, and meet new ones – from right across the church, and even beyond. 
Speaking of seminars, Missions Fest offers much more than the opportunity to wander about and chat with people. The program is extensive. Here's what Missions Fest director Dwayne Buhler and his team have to say about that:
"This year's theme at Missions Fest is 'Hidden in Plain Sight.'  Some have asked, who are these people? There are millions of people who go by unnoticed; people we may pass by or see on our TV screens everyday. These 'people groups' all have a spiritual need in common; they all need to hear about and have an opportunity to know the Lord Jesus.
"Each of our speakers will share about a people group they are familiar with. Josh McDowell has a passion to reach international students. Beth Guckenberger is committed to caring for the unwanted and forgotten children of the world. Mark Buchanan has a heart for First Nations ministry. Glenn Smith works in Quebec, the region with the lowest church attendance in all of the Americas. Each group represents an opportunity to share the love of Christ and message of the Gospel.
"Our seminar presenters will also be speaking about people groups; nations with few Christian believers, groups that suffer from economic pressures and ethnic persecution, and those who do not have access to Bibles or study materials. These people are found in our cities, and around the world.
"Come to hear our speakers, take in a seminar, watch a film, or visit the 250-plus mission agency displays. Come to worship God with other Christians who are committed to being a witness to people who remain hidden in plain sight."
A couple of final notes. I have not yet gone to the Film Festival, which is already in its fifth year. Dwayne tells me it's a big hit, and a good bargain. Debra Sears and her team have worked really hard on it over the years; they deserve a lot of credit for what they have achieved.
And, finally, Dwayne himself. What can I say, Missions Fest is going to miss him. He's moving on to other things after this year's event. He has done a tremendous job leading Missions Fest over the past few years, and his influence has been felt way beyond the event itself. Thank you Dwayne, and may God be with you and Rhonda as you plan your future!
Lianna Klassen / Square Foot Prayer
You have your choice of two art shows this week, one in Delta and one in the Lookout Gallery at Regent College.
I have known Lianna Klassen over the years as a musician, and a very good one at that. But she is also an artist, focusing on painting and pottery. This week (January 21 – 26) she is presenting The Journey, at Gallery 1710 in Delta.
From her artist's statement: "In my paintings, I experiment regularly with color and texture. Light interacting with dark, and colour against colour are what inspire me to create . . . I take great pleasure in painting reality in a way that makes it obscure, so as to surprise the observer when they find out what the true inspiration is behind the painting. That 'A-ha!' moment fills me with a sense of accomplishment because it encourages the observer to see the object/theme of my art in a brand new way."
Lianna will be holding a reception this Thursday (the 23rd), from 6 – 8 pm.
Also on the 23rd, but a long way from Delta, at the Lookout Gallery on the UBC campus, is Square Foot Prayer: A Regent Community Art Project.
Here is the description: "The Square Foot Prayer project is an artistic prayer labyrinth hosting a compilation of artwork done by members of the Regent community. Each artist has created a square foot prayer window – a visual and symbolic representation of the artist's prayer. The hope is that it will prompt onlookers to pray as they gaze. To participate, please come and give yourself time to pray through this exhibit. We encourage you to bring a non-perishable food item that will go to support Jacob's Well on the Downtown Eastside."
Addiction expertise
I can't imagine a much stronger line-up than this, if you want to get some insights into issues related to addiction. The Breakfast Series sponsored by City In Focus will feature Dr. Evan Wood at St. Paul's Hospital this Friday morning (January 24). He is the director of St. Paul's Urban Health Research Initiative and a professor of medicine at UBC, where he holds the university's Canada Research Chair in Inner City Medicine.
He was the founding principal investigator of Insite, North America's first and only medically supervised safer injecting facility, and has turned his focus to improving prevention and care for patients and families struggling with the challenges of alcohol and drug addiction.
Joining Dr. Wood will be Rob Allore, PhD in genetics and a Jesuit, who is committed to promoting ongoing dialogue between the voices of science and faith.
All that and breakfast – a great way to start your day.
Helping Without Hurting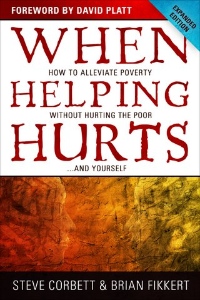 "Could your best attempts at helping actually be harming the poor? Find out why good intentions aren't always enough – and what you can do about it." That is the question, and the challenge, offered by Brian Fikkert during the Helping Without Hurting Conference this Saturday (January 25) at First Baptist Church. Fikkert and Steve Corbett authored a book on the same theme.
Seems a bit odd to have this event up against Missions Fest, but I imagine they know what they're doing. For one thing, participants can just walk down Burrard Street at the end of the day to the Convention Centre. The purposes of the two events certainly overlap nicely.
January 20, 2014
The Wall: Fast and Pray
– January 20, 2014 - January 26, 2014 at All Day
Week of Prayer for Christian Unity
– January 20, 2014 - January 25, 2014 at All Day
The January Series
– January 20, 2014 - January 28, 2014 at 9:30 am - 10:30 am
January 21, 2014
Lianna Klassen: The Journey
– January 21, 2014 - January 26, 2014 at 11:00 am - 4:00 pm
January 22, 2014
Sequentia: Mystical Voices of Mediaeval Germany
– January 22, 2014 at 8:00 pm - 10:30 pm
January 23, 2014
Lianna Klassen: The Journey (reception)
– January 23, 2014 at 6:00 pm - 8:00 pm
January 24, 2014
Missions Fest Vancouver
– January 24, 2014 - January 26, 2014 at All Day
Breakfast with Dr. Evan Wood: Addiction - An Expert View
– January 24, 2014 at 7:30 am - 9:00 am
Missions Fest: Festival Leadership Luncheon with Josh McDowell
– January 24, 2014 at 11:30 am - 1:00 pm
January 25, 2014
Helping Without Hurting Conference
– January 25, 2014 at 8:00 am - 4:45 pm
Official Premiere: The Chicken Manure Incident
– January 25, 2014 at 7:00 pm - 9:00 pm
January 26, 2014
Meet Your Relatives: Grassroots Ecumenism
– January 26, 2014 at 2:00 pm - 4:00 pm