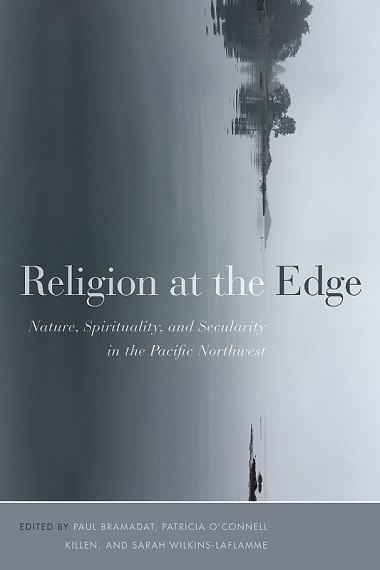 Well, my intentions were good. I was determined to cover all the new local books as they came out this year, rather than clumping them all together, as I did for 2021 books (60 of them!) at the end of last year and early this year.
It was a good idea, and I did post on 11 books in April. Now it's December and I will again devote several posts to new books, possibly into early 2023. Ah well, better late than never? And I continue to be impressed by the number of good authors in these parts.
This week I will look at books which consider the state of the church, life as Christians and related themes. The first few are quite academic, most of the rest less so.
The write-ups are generally from Amazon and publisher / author sites.
* Paul Bramadat, Patricia O'Connell Killen, Sarah Wilkins-Laflamme, editors: Religion at the Edge: Nature, Spirituality and Secularity in the Pacific Northwest (UBC Press)
The Cascadia bioregion – British Columbia, Washington, and Oregon – has long been at the forefront of cultural shifts occurring throughout North America, particularly regarding religious institutions, ideas and practices. Religion at the Edge explores the rise of religious 'nones,' the decline of mainstream Christian denominations, spiritual and environmental innovation, increasing religious pluralism and the growth of smaller, more traditional faith groups in Cascadia.
This volume is the first research-driven book to address religion, spirituality and irreligion in the Pacific Northwest. Employing surveys, archival sources, interviews with faith and community leaders, and focus groups, contributors showcase a spectrum of adherents from Christian, Sikh, Buddhist, Muslim, Jewish, Baha'i, New Age, Indigenous and irreligious communities.
Although the editors do not live in Metro Vancouver / Fraser Valley, the content is very much related to our communities. Paul Bramadat is Director and Professor of the Religion, Culture and Society Program at the University of Victoria. Patricia O'Connell Killen is Professor of Religion, Emerita and Faculty Research Fellow in the Division of Humanities at Pacific Lutheran University in Tacoma, Washington. Sarah Wilkins-Laflamme is Associate Professor / Associate Chair for Undergraduate Studies, Sociology at the University of Waterloo in Waterloo, Ontario.
 W. Ross Hastings: Pastoral Ethics: Moral Formation as Life in the Trinity (Lexham Press)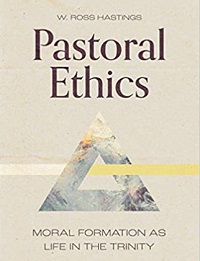 Pastors regularly face concrete ethical questions. And they, too, pursue a moral life. In the busyness of ministry, it can be tempting to think pragmatically or derive one's ethics from the latest cultural concerns.
But standard approaches to ethics, whether deontological, utilitarian or virtue-ethical, all fall short of being distinctly Christian. Ethics ought to be grounded in the gospel and in our triune God.
In Pastoral Ethics, Ross Hastings provides pastors an evangelical and trinitarian framework for moral formation and ethical discernment. For Hastings, ethics must be reclaimed as theological. Theology without ethics becomes gnosticism. Ethics without theology leads to legalism and death.
Christian ethics participates in God's life and God's work. This communion with God leads to obedience to his commands as summed up in the Decalogue, and over several chapters Hastings provides a rich exposition for pastoral formation. Pastors find their identity in God, and this inspires right thinking and acting with regard to authority, life and death, sexuality, work and rest, speech, and desires.
An approach to ethics that prompts faith, hope and love, Pastoral Ethics is an essential guide for Christians in all ministry contexts.
Ross Hastings is the Sangwoo Youtong Chee Professor of Theology at Regent College. He is the author of a number of books, including Total Atonement, Theological Ethics and Missional God, Missional Church. He holds PhDs in organometallic chemistry (Queen's University, Kingston) and theology (University of St Andrews, Scotland). He has pastored several churches, including Westminster Chapel in Burnaby and Peace Portal Alliance Church in Surrey. Regent College has posted his October 6 book launch on YouTube.
Paul L. Allen, editor: Augustine and Contemporary Social Issues (Routledge)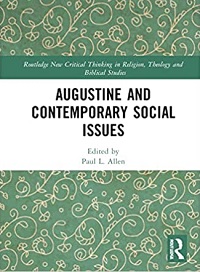 This book focuses on applying the thought of Saint Augustine to address a number of persistent 21st century socio-political issues. Drawing together Augustinian ideas such as concupiscence, virtue, vice, habit and sin through social and textual analysis, it provides fresh Augustinian perspectives on new – yet somehow familiar – quandaries.
The volume addresses the themes of fallenness, politics, race and desire. It includes contributions from theology, philosophy and political science. Each chapter examines Augustine's perspective for deepening our understanding of human nature and demonstrates the contemporary relevance of his thought.
Paul Allen is Academic Dean of Corpus Christi College on the UBC campus. His scholarly work is situated in the fields of science-theology dialogue, theological anthropology and in systematic theology. He has written several books, is subject editor for the forthcoming T&T Clark Encyclopedia of Christian Theology and is working on a three part systematic theological anthropology.
Tim Dickau: The Promise of New Monasticism in a Secular Age (Temple Tracts)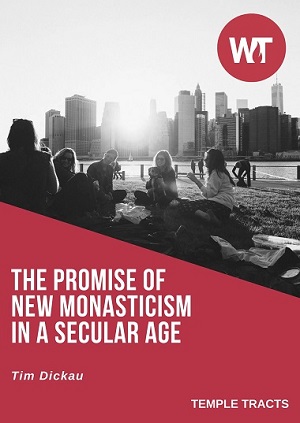 Tim Dickau explores how barriers to transcendence pose a challenge to being the church in Vancouver. He illustrates how most Christian models of the church have until now proved inadequate to the call to participate in renewing the work of God – and recommends a program of a new monasticism as a promising road for churches in navigating this uncontrollable secular age.
Temple Tracts are accessible e-books of 8,000 words analyzing key debates in religion and public life. Written by both established and up-and-coming authors, they engage theology with contemporary social ethics, politics, ecology, digital technology and philosophy.
Go here to see the selection and to download 'The Promise of New Monasticism in a Secular Age' in full. I posted an article from Chapter 6 of the publication here.
Tim Dickau teaches at the Centre for Missional Leadership at St. Andrew's Hall and directs CityGate Vancouver, which helps churches collaborate to address systemic issues. Previously, Tim was pastor at Grandview Church for 30 years. During his tenure, the church refocused its mission in its neighbourhood and developed numerous initiatives for community housing, refugee housing, a children's performing arts group, a social enterprise developer and an urban retreat space, as well as a second congregation. He is the author of two other books.
Anne-Marie Ellithorpe: Towards Friendship-Shaped Communities: A Practical Theology of Friendship (Wiley-Blackwell)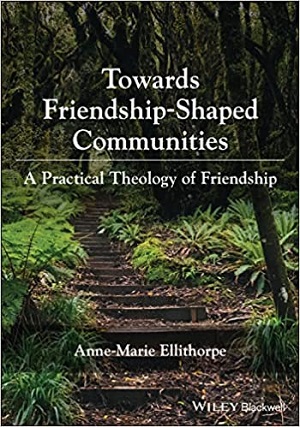 A unique and incisive exploration of the place and nature of friendship in both its personal and civic dimensions
In Towards Friendship-Shaped Communities, Anne-Marie Ellithorpe delivers a constructive and insightful exploration of the place and nature of friendship as innate to being human, to the human vocation and to life within the broader community.
Of particular interest to members and leaders of faith communities, this book responds to contemporary concerns regarding relationality and offers a comprehensive theology of friendship.
The author provides an inclusive and interdisciplinary study that brings previous traditions and texts into dialogue with contemporary contexts and concerns, including examples from Indigenous and Euro-Western cultures.
Readers will reflect on the theology of friendship and the interrelationship between friendship and community, think critically about their own social and theological imagination, and develop an integrative approach to theological reflection.
Anne-Marie Ellithorpe (PhD, University of Queensland) is originally from New Zealand. A practical theologian, she is Research Associate at Vancouver School of Theology, co-chair of the Religious Reflections on Friendship seminar unit of the American Academy of Religion and Director of Educational Ministries at Richmond Presbyterian Church.
Walter Wiens: Preparing to Cross the Finish Line (Mill Lake Books)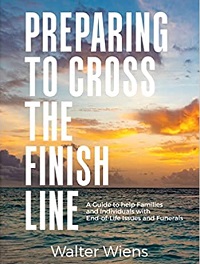 A guide to help families, individuals and pastors with end-of-life Issues and funerals.
Walter Wiens' vision to write Preparing to Cross the Finish Line began when he sensed God's gentle Spirit urging him to write what he had experienced and learned about funerals in his pastoral ministry. The purpose of this book is to help families in their time of grief as well as pastors who counsel families when death has occurred.
Walter believes that funeral planning is a healthy extension of life. Using the metaphor 'crossing the finish line,' he makes clear that a person's preparedness to cross the finish line does not involve only the funeral preparations but begins long before the final stage of life. A redemptive crossing of the 'finish line' includes a right relationship with God, with other people and with oneself.
There is a shorter companion book which contains only the material for families and individuals and would be a good book for churches to have to hand out to families who need it. Go here for information on both books.
Walter Wiens has been Pastor of Care Ministries at Clearbrook Mennonite Brethren Church in Abbotsford for the past two decades. Previously, he served as a pastor in Medicine Hat, Alberta, as a chaplain at Headingley Correctional Institution and then Riverview Health Centre, both in Winnipeg. Edith, his wife of 53 years, has been an integral part of his pastoral ministry.
David M. Carmichael: The Pastor's Complete Memorial Guidebook (Friesen Press)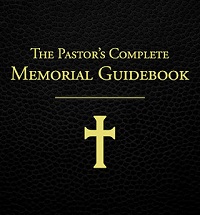 The Pastor's Complete Memorial Guidebook is designed to give clergy insight on all aspects of death and dying and to offer templates and materials with which they can plan and conduct memorial services. Formed as a result of personal experience in dealing with end-of-life care, the contents within this guide are both inspirational and practical.
David Carmichael weaves his own story into this holistic manual, describing his experience of loss and his work in pastoral care. In a straightforward and encouraging manner, he presents the great hope of Christians in the face of death, and he also walks his readers through the process of dying, grief, and planning for a memorial.
Replete with templates, sermon outlines, suggested funeral liturgies, scriptures, and hymns, this personal and practical guide will serve as a valuable tool and companion to men and women in all stages of their pastoral calling.
David Carmichael MEd, DMin, and his wife, Barbara have served at Peace Portal Alliance Church as Pastors of Crisis and End of Life Care for the last nine years. During that time, they have either conducted or planned over 150 memorial or graveside services. They live in White Rock / South Surrey. For information bulk orders or questions, email [email protected]
Stephanie Gray Connors: Conceived by Science: Thinking Carefully and Compassionately about Infertility and IVF (independently published)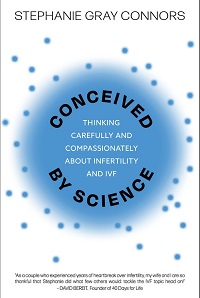 For those who face infertility, is In Vitro Fertilization (IVF) an ethical response to that great suffering? Conceived by Science presents the lived experiences of various people who have struggled to conceive.
It also proposes arguments and principles, from both a non-religious and a Christian perspective, to be guided by when evaluating the ethics of IVF. In doing so, this book appeals to the mind as well as the heart.
Stephanie Gray Connors, who graduated from UBC and has spent much of her life in Metro Vancouver, is an international speaker and author who has spent two decades traveling the world to deliver pro-life lectures at universities, churches, conferences and other venues. She contributed 'Marriage, Motherhood and the Mind' to With All Her Mind: A Call to the Intellectual Life, published this fall by Word on Fire.
April Klassen: And if I Don't?: Reimagining the Single Life (Schleitheim Press)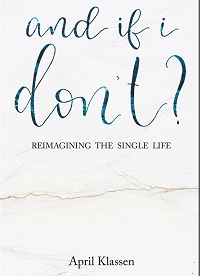 "When you get married . . ."
If these words are familiar to you, then you've likely grown up on the same planet that I have. Or at least in a community where marriage is celebrated, looked forward to and talked about. As it should be.
But the crux of many painful stories is found in the space between when and waiting. We find ourselves stuck in cycles of broken hearts, unfulfilled dreams and expectations for something that was never intended to be a burden. Marriage is a gift, not a script to be followed.
And while we see in Scripture the beautiful ways that marriage points to the love of Jesus for his Bride, a life lived outside of marriage can still embrace commitment, sacrifice and love. So, if the best projection of a life well lived is marked by whatever follows 'when you get married . . .,' then how can we answer the question I've long asked myself: 'And if I don't?'
In her book, April Klassen walks outlines a biblical understanding of singleness within an evangelical framework. This non-fiction work is inspired by the author's own experiences with expectations of singleness and marriage in the contemporary church. The book describes the overlooked benefits of singleness in the church community. Ultimately, it advocates for Christians of all relationship statuses to pursue Christ wholeheartedly.
If you or someone close to you has struggled with their relationship status, finds themselves suddenly single or simply wants to reorient their current relationship around Christ, then this book is a must-read.
April Klassen grew up in Vancouver, yet has spent many of her adult years co-creating community projects around the globe. Inspired by the abundant love of Jesus and his provision in her life as a single, she is passionate to encourage and communicate ways the church can live into its calling as a family of God.
 Tim MacIntosh: Eyes on Jesus: Through Mark's Gospel (Friesen Press)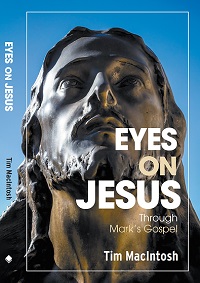 Do you want to draw closer to Jesus, hear his voice, watch his life, know his heart?
Come explore. Eyes on Jesus: Through Mark's Gospel is a collection of daily devotionals that leads the reader through Mark's Gospel, portion by portion, reflecting on Jesus' life and keeping eyes open to know him better. Mark has a unique perspective, unfolding his story of Jesus in fast moving succession, more pointed and concise than the other Gospel writers.
It's an exhilarating adventure. Along the way, we'll get to know Mark's Gospel itself, understanding the text and hearing the whispers of the Spirit. But the main goal, all the way through, is to actually be drawn into ever-closer relationship.
Tim MacIntosh has served, preached and taught as a pastor for the past 41 years, seeing his primary role as leading people more deeply into the Scriptures. He holds a Masters of Divinity degree from Regent College, with a focus on biblical studies and pastoral ministry. He writes a daily devotional blog on Facebook titled Eyes on Jesus (Through the Scriptures), leading readers progressively through the New Testament. He and his wife Sarah live in Abbotsford.
Bradley Jersak: Out of the Embers: Faith after the Great Deconstruction (Whitaker House)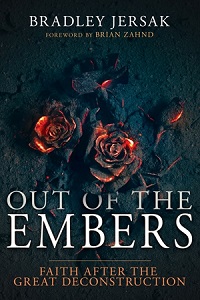 Deconstruction: Trendy brand name for falling away from belief in God? Or a process essential to authentic faith? Liberation or trauma? Prison break or exile? It's complicated. Just like you. Christian history records a Great Reformation and a Great Awakening. But today's 'Great Deconstruction' will surely leave an equally profound impact.
In Out of the Embers, Bradley Jersak explores the necessity, perils and possibilities of the Great Deconstruction – how it has the potential to either sabotage our communion with God or infuse it with the breath of life, the light and life of Christ himself.
In this collection of vulnerable memoirs, philosophical memos and candid provocations, Jersak resists both the hand-wringing urge to corral stray sheep and the exultant desire to play the happy-clappy Ex-vangelical cheerleader.
He employs the wisdom and expertise of the great deconstructionists – Christianity's ancient influences (Moses, Plato, Paul and the Patristics), 'beloved frenemies' (from Voltaire to Nietzsche) and the masters of deconstruction (Dostoevsky, Kierkegaard and Weil) – to double down and deconstruct deconstruction itself.
Where is faith after deconstruction? The author's heart is to engage and empathize with the bereft and disoriented, stoking the brittle ashes for live embers. In this quest for the resilient gospel of the martyrs, the marginal and those outside the threshold . . . inexplicably, in this liminal space, life stirs. A Light shines through the ashes. We find, often for the first time, that living connection Jersak calls "presence in communion."
There is a sea change occurring across the Western church and civilization. Whether we're watching a radical course correction or a complete collapse remains to be seen, and how it pans out will likely depend on how we see what's happening, who we are becoming, how we live in response – and, most important, where we find Christ situated in this storm.
Bradley Jersak is Dean of Theology and Culture at St. Stephen's University in New Brunswick. He also serves as an editor at CWRmagazine and Clarion-Journal.com. He and his wife, Eden have lived in  the Abbotsford area since 1988, where they served as pastors and church planters for 20 years. He is the author of a number of nonfiction and fiction books. 
Kathi Bentall & Margaret McAvity: Wings of the Wild Bird (independently published)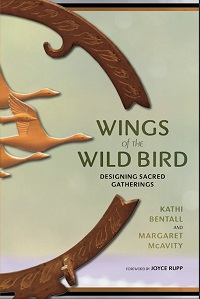 Spiritual directors Kathi Bentall and Margaret McAvity use 'emergent design' as they lead retreats for small groups. Rather than planning these times in detail, they allow each retreat to find its own shape from one day to the next. The result is dynamic, creative and responsive to participants' needs.
In this practical and inspiring book, readers will learn more about this powerful approach to retreat leadership and sacred gatherings: the materials needed, challenges in the planning process, helpful resources to draw on, personal stories of transformation and spiritual growth, and much more.
The book was reviewed on the Anglican Diocese of New Westminster site recently.
Kathi Bentall has always had a heart for supporting and accompanying people. Following international work in Latin America, she became a spiritual director and has led silent retreats for 25 years. She was one of the co-founders of Rivendell Retreat Centre, Bowen Island, and of The Listening Post in Vancouver's Downtown Eastside. Margaret McAvity, after many years as a librarian involved in international education, pursued theological studies and became a spiritual director and retreat leader. She is an active lay person in the Anglican Church, and a long-serving community member of Rivendell Retreat Centre.
John Chalkias: Amazing Abundance: For Those Who Struggle Living Paycheck to Paycheck (Word Alive Press)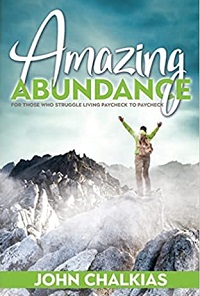 Amazing Abundance encourages its readers that God has a wonderful financial plan for each of us. We don't have to settle for poverty, debt and living paycheck to paycheck.
This book lays out a step-by-step plan to get people out of poverty, moving them out of a poverty mindset and into one of abundance and generosity. From an abundant perspective you will discover that God is a generous Father who loves to give good gifts to His children.
Amazing Abundance draws out rich nuggets of financial wisdom found hidden in plain sight in the Bible.
John Chalkias serves as the executive director and co-founder of Seeds of Hope Children's Ministry and is the author of You Too Can Have an Amazing Life. His desire is to help people, no matter what their circumstance or where they live, to move out of poverty to abundant and victorious living. John and his wife Susan live in Chilliwack. House of James in Abbotsford is hosting a book launch December 9.
Janet Gear: Undivided Love: Navigating Landscapes of Living Faith (Friesen Press)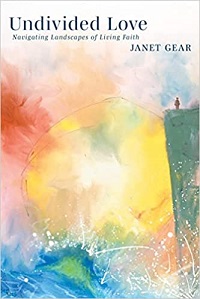 Undivided Love is a book about faith: how it is expressed and what it communicates. Janet Gear offers readers a sympathetic way to interpret the belief-inspired actions of those around them without assuming homogeneous understandings of God, the church and our place in the world.
Recognizing the pastoral and strategic challenges provoked by conflicting understandings of what the church is for, Gear guides leaders in the artistry of handling shadows and strengths coexisting across five streams of lived faith: evangelical, ecclesial, missional, ecumenical and spiritual.
Ultimately, Undivided Love empowers congregations to navigate the terrain of theological diversity shared by their community of faith, to nurture its various longings and receive its unique gifts and to ultimately address the deeper question: What are we called to do?
Janet Gear is a theological educator and ordained minister in the United Church of Canada. She served as Assistant Professor of Practical Theology and Director of Formation at Vancouver School of Theology for 15 years. She currently serves the United Church in the Office of Vocation, and continues to teach, preach, lead retreats and consult with leaders.
John Stackhouse: Evangelicalism: A Very Short Introduction (Oxford University Press)
I already profiled this book in my April local book round-up, but It is worth noting a positive review in the TLS (Times Literary Supplement). Here are a couple of brief excerpts:
Evangelicals are often seen today as a western political constituency instead of a global religious faith.
Evangelicalism: A very short introduction will help outside observers understand how evangelical Christianity grew into a movement of hundreds of millions of people that flourishes around the world, even as it has increasingly become marginalized in secular Europe, and is tempted by politicization in America.
A typical evangelical today is not, in fact, a western white male, but a woman in Singapore, Lagos or Bogotá. . . .
Evangelicalism: A Very Short Introduction is an insightful primer for journalists, scholars, politicians and curious observers into one of the most vibrant, if often caricatured, social movements in the world today.
I plan to profile more local books in the next couple of weeks.