An inspirational evening with a young orchestra whose members play instruments recycled from their home – a garbage dump in Cateura, Paraguay. That's the promise, and I'm hoping quite a few people will take a gamble with the Recycled Orchestra Tour this Friday (May 9) at Willingdon Church in Burnaby. (They will also perform in Chilliwack, White Rock and Abbotsford while they're in this area.) Apart from time, potential losses are minimal; the concert is free, though there is, admittedly, the danger that you might be charmed into making a freewill donation.
One writer had this to say about the home of the orchestra:
"Cateura, as has often been mentioned, is a neighbourhood built around and on a garbage dump.
"Paraguay itself is a country known for its beauty, but most of that beauty is missing in Cateura. Few trees line the streets, there is little room to live, and on the afternoon we visited the neighbourhood its water supply had been cut off for over a day.
"In short, the conditions within the neighbourhood don't allow for the dignity and pride of person that Paraguayans are known for.
"And so it is no wonder then that the Recycled Orchestra has become the pride of Cateura. It is the one thing that the neighbourhood has going for it, the one thing residents can point to and say, "This is ours, and we are proud of it."
"The Orchestra can't solve all of Cateura's problems: there is unemployment, crime, drugs and a lack of educational, health and church facilities.
"But it is a sign of hope, and with hope, human beings can be amazingly resilient."
BC's March for Life is in Victoria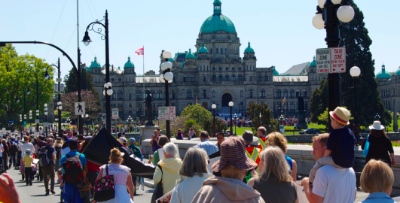 Justin Trudeau doesn't want you running for the Liberal Party if you're a pro-lifer, and unborn children are completely on their own from our government's point of view. None of the major political parties have plans to change that situation. So, kudos to those thousands who faithfully witness to the sanctity of unborn life every year.
This is the sixth year pro-lifers have marched to the legislature in Victoria. The March for Life kicks off at noon on Thursday (March 8). It's a long way from Metro Vancouver, but many are going, and the rest of us can pray along with them.
Some 2,000 pro-lifers gathered in Victoria last year, while 20,000 rallied in Ottawa, and marches also took place in several other provincial capitals.
Bud Osborn passes away
I have just heard that Bud Osborn passed away on Tuesday evening (May 6). The bard of the Downtown Eastside – and he was much more than that – was widely loved and admired.
So that I can get my weekly update out on time, I'll just link to a few good pieces which have already been written:
1. Brian Walsh, Empire Remixed: Bud Osborn: priest, prophet, poet. Presente
This small portion gives the flavour of an evocative piece by Bud's Toronto friend:
". . . Bud Osborn is dead.
He was my friend, my mentor, sometimes my confessor.
And he kept me in cigarettes.
We have lost a priest, a prophet and a poet.
A priest because he mediated the pain of the most vulnerable,
bringing it before the throne of God.
A prophet because he proclaimed to the powerful the cries and demands for justice.
A poet because through his words he gave voice to what was inarticulate,
and engendered an alternative imagination of hope in the midst of the pain.
In his poem, "Down Here" Bud wrote:
let my words
sing a prayer
not a curse
to the tragic
& sacred mystery
of our beautiful
suffering
eternal worth
(from Lonesome Monsters, Anvil Press, 1995)
They did, Bud, they did.
And we are so deeply, deeply grateful.
Bud Osborn.
Amazingly alive.
Presente"
For a good, brief overview of his life:
2. Kim Pemberton, Vancouver Sun: Bud Osborn a 'true hero' for the Downtown Eastside
 "Vancouver poet and social activist Bud Osborn, who helped found the harm reduction program VANDU (Vancouver Area Network of Drug Users), has died at the age of 66.
"Osborn, who lived in poverty himself and was a former drug addict, was outraged by the living conditions of people in Vancouver's Downtown Eastside and dedicated most of his life advocating for them, said longtime friend and VANDU co-founder Anne Livingston.
"'His poetry captures the raw horror of being abandoned, poor, cold and lonely,' she said.
"'He was so alarmed and convinced he could take steps to act.'
"Livingston said Osborn was a tireless advocate, often working 12-hour days doing his advocacy and reading his poetry at countless church gatherings and other community events in the evenings."
3. CBC's Early Edition: Remembering Bud Osborn
4. An excerpt from 'A Prayer' (2008) which demonstrates his role in, and passionate commitment to, the INSITE harm reduction centre:
. . . a flame burst inside me
fueled by grief and rage
like a fierce spontaneous combustion
flashing up through my nervous system
and roared in my head like a psychic explosion
because of another
because of too many
because of an unnecessary
overdose death
yelled
two words repetitively in my head
No More! No More! No More!
of this heart-breaking family-shattering community-diminishing
pain of overdose deaths
I immediately ran from that conversation
to see mark and liz and kirsten at the old Portland hotel
and with dave diewert ann livingston
and several others
planned a day of action
we pounded 1,000 crosses into oppenheimer park
blocked main and hastings with a heavy chain
and distributed statistics of misery
to commuters unable to get to work
1000 crosses memorializing just three years of overdose deaths
a cross is a symbol of political execution
a cross is a symbol for social revolution
and that afternoon
a battle to save lives was declared
the battle to save the lives of those
so many others wanted to die
and from that afternoon
to INSITE's opening
we've never ceased in our efforts
to save lives and bring peace
against the war on drug addicts
war on the truth
war on the most
physically and mentally vulnerable human beings
in our courageous community . . ."
I had the honour of meeting Bud Osborn a handful of times back in the 90s and, like many, was struck by his humility. He came out to the BC Christian News office in Langley one time, and wrote several articles for us; we interviewed him for others. He was always looking for new ways to share the plight of his friends and compatriots on the Downtown Eastside.
Bud followed Jesus in a unique way, and he blessed both the church and the broader community. There will be a memorial in the 100 Block of East Hastings May 16.
May 2014
Via Crucis: The Way of the Cross
– May 5, 2014 - May 9, 2014 at All Day
Lifelong Living: Plain Talk About Palliative Care
– May 5, 2014 at 7:00 pm - 9:00 pm
Vancouver School of Theology Convocation 2014
– May 5, 2014 at 7:00 pm - 9:00 pm
Regent College Pastors' Conference 2014
– May 6, 2014 - May 9, 2014 at All Day
Vancouver Pastors Prayer Fellowship
– May 7, 2014 at 10:30 am - 12:30 pm
Barret Kropf: Business By the Book
– May 7, 2014 at 12:00 pm - 1:00 pm
Church Leaders Forum 2014: Shifting Stats - Shaking the Church
– May 7, 2014 at 1:30 pm - 4:30 pm
Focus on the Family presents: Irreplaceable
– May 7, 2014 at 7:30 pm - 9:30 pm
ImpactNations Vancouver Weekend
– May 8, 2014 - May 10, 2014 at All Day
March for Life BC
– May 8, 2014 at 2:00 pm - 3:30 pm
Mother's Day Art Show and Sale
– May 9, 2014 - May 11, 2014 at All Day
The Recycled Orchestra Tour
– May 9, 2014 at 7:00 pm - 9:00 pm
Vinesong Tour
– May 9, 2014 at 7:00 pm - 9:00 pm
Candlelight Vigil for Abducted Girls in Nigeria
– May 9, 2014 at 7:30 pm - 8:30 pm
Springboard: Vocational Discernment
– May 10, 2014 at 9:00 am - 5:00 pm
Walk Through the Old Testament
– May 10, 2014 at 9:30 am - 5:00 pm
Sto:lo History and Culture Learning Day
– May 10, 2014 at 1:00 pm - 4:30 pm
The Recycled Orchestra Tour
– May 10, 2014 at 7:00 pm - 9:00 pm
Vinesong Tour
– May 10, 2014 at 7:00 pm - 9:00 pm
Sweet Soul Gospel with Checo Tohomaso: Motown Mother's Day
– May 10, 2014 at 7:30 pm - 9:30 pm
Vinesong Tour
– May 11, 2014 at 10:00 am - 12:00 pm
The Recycled Orchestra Tour
– May 11, 2014 at 3:00 pm - 5:00 pm
Nurturing Healthy Communities
– May 11, 2014 at 7:00 pm - 9:30 pm