Many of the Mennonites who fled southern Ukraine in the early decades of the 20th century ended up in the Fraser Valley.
Some of the areas where their ancestors lived – northeast of Crimea, west of Mariupol – have already been taken over by the Russians, while cities such as Zaporizhzhia are under immediate threat.
It is not surprising, then, that some of the strongest support for Ukraine is coming from Mennonite communities, both here and abroad.
Mennonite Centre
Canadians have been supporting the Mennonite Centre in Molochansk since they purchased a former Mennonite school building in the summer of 2000, with the encouragement of the mayor.
Projects fall into five major categories: seniors; education; medical; community; and internally displaced persons. The significance of their work has expanded dramatically since the Russian invasion of Ukraine.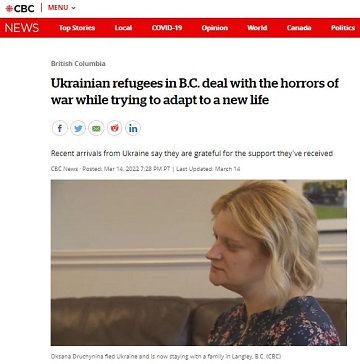 And the local connection has grown even stronger.
As CBC News reported last month, the director of the Mennonite Centre was forced to flee Ukraine and has settled in the Fraser Valley:
Oksana Druchynina and her three children were travelling from the city of Molochansk to Kyiv when the invasion began. She spent the night in Kyiv and decided to leave the country with nothing more than a change of clothes.
Her husband was not allowed to leave – most men of fighting age are barred from leaving the country – and is still in Ukraine.
"It was hard because I have my parents and I knew that my husband wasn't able to come with us because no men are allowed out of the country right now," she said. "But the fact that you have to save your kids, you have to save your family was stronger than that. You basically have to leave everything behind."
Alvin Suderman, chairperson of Friends of the Mennonite Centre (FOMCU) in Ukraine, reported in the Spring 2022 newsletter:
On Sunday morning February 27, at 9:34 am I received a text from Oksana that she and her children had safely crossed into Poland. . . .
On Feb 26 at 4:16 am I received texts. "The Prischib dormitory has been hit". Prischib is the former Lutheran German village across the river from Molochansk (former Halbstadt). The next text said, "Mennonite Centre basement is used for shelter of our staff". Finally, the last text said, "Russian tanks are all over Molochansk."
At 6:38 am the text said, "Tokmak under attack." The good news is that all staff in Molochansk are safe and carrying on with the work of the Mennonite Centre.
Druchynina said in the same newsletter:
Being in Canada I stay in daily contact with the staff at the Centre, and they continue to do the work at the Centre, even though that is different now than it used to be.
A month before the invasion I was ordered by the Canadian board of directors to buy an extra food supply in case of the war. I say ordered, because I really did think it was a silly thing to do. No one believed, neither me nor the staff, that there would be a war.
Only later we realized what a great idea that was and that we should have bought more. You have no idea how grateful the MC workers are for having the supply right now because being under occupation there is not much food available. The stores are empty.
It is amazing to see how the whole community united and is working together to serve the needs. Some local farmers provided wheat grain and corn they had stored for themselves; it was milled at the former Psych hospital grinder, then was packed and given out to people.
Some of our suppliers continue working with us knowing what kind of work we are doing, sometimes risking their lives in attempting to find food and deliver it to us, so we can continue the good work. We get requests from the local doctors and hospitals. They are still able to function but unfortunately there is a shortage of medications. We have used all our pharmaceutical connections and managed to provide some medical supplies for the city.
Since the war started the number of people who come for hot meals to the MC has tripled; we serve around 300 meals a day. We used to only feed the seniors but now everyone is in need, so we offer food to whoever comes. . . . .
We are so thankful we are able to help the community in these uneasy times. We are thankful for the compassion and generosity of our donors. Each donated penny makes a huge difference in the lives of Ukrainians. God bless us all!
As the war in Ukraine continues, the effects on the local people are horrific. It is easy for us to feel helpless and overwhelmed. Many of the regular projects of FOMCU have been curtailed as Russian troops and military equipment rumble down Molochansk streets.
Three board members of Friends of the Mennonite Centre in Ukraine live in British Columbia, including Ruth Derksen, a retired UBC professor who wrote Mennonite Maids: Daughters in the City, the story of the young women who worked in Vancouver from the early 1930s to the early 1960s. (Go here and here for stories about that.)
Derksen said April 26 that "Oksana is able to continue processing requests and sending funds through a bank in Lviv and on to eastern Ukraine." She added that Olga Rubel, program coordinator for the Mennonite Centre in Zaporizhzhia, has also not been able to return home:
The risks are too great. She has moved to Latvia with her husband and some of her children. However, like Oksana she is able to process requests and direct funds to help the people of Ukraine.
So Canadian donors can be assured that funds are being sent very quickly to purchase food and medical supplies (often within just a few days of receiving a donation)
Derksen added that if anyone would like to invite Oksana to speak they can contact her (Ruth Derksen) at this email address: 
[email protected]
. Go
here
to donate to the work of the Mennonite Centre.
Surrey writer Irene Plett has posted a
'War Relief Diary' poem
(with almost-daily entries, to be continued) about the Mennonite Centre and its work.
Mennonite Central Committee
Mennonite Central Committee BC (MCC/BC) will hold a Relief for Ukraine fundraiser May 7 at Peace Mennonite Church in Richmond.
They say:
Ukraine holds a special place in our hearts. MCC was founded to respond to the crisis in Ukraine in the 1920s, opening soup kitchens to provide relief to thousands. Many MCC supporters trace their roots to Ukraine.
Since that founding, MCC's work has expanded. Compassionate Canadians like you have been responding to crises and disasters, helping people in nearly 50 countries around the world. But we remember where our work began.
Go here to see MCC's 'Crisis in Ukraine' page and to donate.
Historic connections
Mennonites have played quite a significant role in the life of the broader church in British Columbia.
Not only have they planted many churches through the Mennonite Brethren and Mennonite Church Canada denominations, but many have gone on to actively participate in other churches (as detailed in Bob Burkinshaw's Pilgrim's in Lotus Land: Conservative Protestantism in British Columbia, 1917 – 1981).
Menno Place has posted a good overview of who Mennonites are, how they came to BC and what they have created. After describing the movement's roots in the Protestant Reformation and the key role of Menno Simons, it continues:
Persecuted pacifists
Further persecution and hardship continued to spread the Mennonites throughout Europe. In 1789, they began to move into Ukraine upon the invitation of Catherine the Great. There, they lived in colonies and farmed the fertile lands becoming experts in agriculture and business.
They were valued members of the society, although they retained their German language and did not serve in the Russian military. This lasted until the Russian Revolution in 1917.
Immigrants
There were several migrations of Mennonites to North America. The Mennonites who settled in the Fraser Valley are primarily from the migration from Russia that took place during the Russian Revolution. They migrated from 1923 – 1929.
This group was terrorized during the Russian Revolution when the Tzar could no longer protect them. There was a period of lawlessness during which bandits pillaged the Mennonite villages – stealing, raping and killing the people. Many Mennonites could not leave Russia, were sent to Siberia and died there of starvation.
During this time, Canada was seeking to settle the western part of the country. Mennonites took the opportunity to immigrate and settled in Ontario (around Kitchener), southern Manitoba (around Steinbach), southern Saskatchewan (around Herbert), southern Alberta (around Coaldale) and the Fraser Valley in British Columbia (around Yarrow).
Another migration of Mennonites came after World War Two. When their lands in the Ukraine came under German control, they were placed back into German citizenship. Many immediately sought refuge in Canada through their relatives who had immigrated 20 years prior.
Go here for more on what Mennonites believe and the many key institutions they have developed.
Mennonite heritage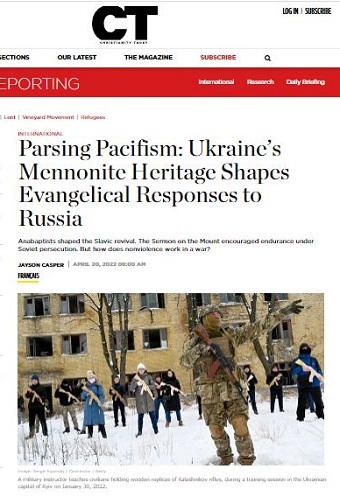 Christianity Today
posted
a very interesting article looking at the ongoing influence of the Mennonite community among evangelicals in Ukraine.
Here is the beginning of 'Parsing Pacifism: Ukraine's Mennonite Heritage Shapes Evangelical Responses to Russia':
Ukrainian Baptists were once practical pacifists. Now locked in a vicious war of survival with invading Russian forces, many are on the front lines of battle. Leading voices call for NATO to enforce a no-fly zone. Pastors pray for soldiers; churches offer bread.
What happened?
It is not as straightforward as simple self-defense. But neither was their nonviolence, practiced by most Slavic evangelicals, a clear convictional principle.
Forged in the fires of the Soviet Union, the then-second-largest Baptist community in the world developed along a very different path from their denominational brethren in the United States.
Just ask Roman Rakhuba, who was raised Baptist.
"I never would have called myself a Mennonite," said the head of the Association of Mennonite Brethren Churches of Ukraine (AMBCU). "Later I discovered I was following their principles all along."
Known as the 'Bible Belt' of Eastern Europe, Ukraine's evangelical faith was greatly influenced by the Anabaptist tradition. Rakhuba grew up in Zaporizhzhia, 350 miles southeast of Kyiv, near the old oak tree associated with the Chortitza colony of Mennonites, founded in 1789.
His grandfather was saved through one of their preachers.
But as a Baptist child, Rakhuba was raised without toy guns, instructed to never return evil with evil. Forbidden from playing war, his relatives refused to fight in the Soviet army. He remembers Mennonites hosted at his grandfather's home, learning of the 1763 decree by Catherine the Great to invite German settlers to develop the Russian hinterland.
Go here for the full article.