Union Gospel Mission (UGM) has announced it plans to distribute $100,000 to 22 communities which are supporting their neighbours. Eligible applicants are encouraged to apply for a UGM Transforming Communities Grant.
Here is how UGM describes the grant program:
We see the role of the church as paramount in the health of every community – which is why we want to support stabilizing, growing and creating new programs that support neighbours in need.
We are so grateful for the work that you do in attending to the spiritual, physical, social and emotional needs of those facing poverty, homelessness and addiction in your community. As we emerge out of the pandemic, a collaborative effort as the Church is required to reach our most vulnerable neighbours, whose challenges have only intensified. A question . . . how is God leading you to respond?
We have an incredible opportunity to partner in helping to meet these needs through UGM's Transforming Communities Grant! 
What is the Transforming Communities Grant?
The TCG is a granting program in partnership with UGM, that provides financial and technical support to existing and new congregational Communities of Care programs, so they can stabilize, grow and replicate. Our desire is to walk alongside you, as you walk alongside your community – advocating for those facing the challenges of poverty, homelessness and addiction.
This year, we are offering 22 grants in varying amounts. Eligible applicants are encouraged to apply for a grant between $500 and $20,000.
Follow this link (https://ugm.ca/transforming-communities-grant) for more information on grant details and the application and budget forms needed to apply for this grant. Additional information is also provided for the scope of the funding and criteria for selection.
Deadline: All application materials must be received by 5 pm, May 13.
Contact UGM's Church Relations team ([email protected]) with any questions or for assistance in preparing your proposal.
Care+Share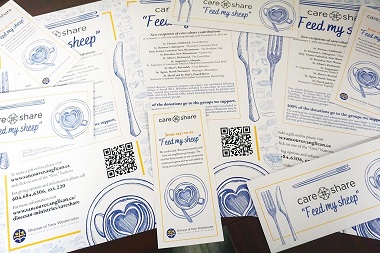 The Anglican Diocese of New Westminster is also supporting good works – not by handing out money, but by receiving financial contributions made by parishes and individuals and then forwarding funds several times a year to the current recipients (who are selected every two years at Diocesan Synod meetings).
The announcement of the 'Feed My Sheep' Care+Share projects stated:
Food insecurity has risen in most of the regions that make up the Diocese of New Westminster. There is a deep desire to help alleviate this problem and now thanks to Care+Share, people from our diocese can make a significant coordinated impact.
Here are the recipient ministries for 2022 – 2023:
St. Thomas, Chilliwack: Food Ministry
St. Dunstan's, Aldergrove: Thursday Community Meal
Holy Trinity Cathedral, New Westminster: The Breakfast Club
St. Barnabas, New Westminster: Grab and Go
St. Alban's, Richmond: The Lunch Box
St. Augustine, Marpole – St. Augustine's Community Meals & Marpole Food Hub
St. Mary's, Kerrisdale: Food Ministry
St. Agnes, North Vancouver: Sharing Abundance
St. David and St. Paul, Powell River: Sycamore Commons Vegetable Garden Community Partnership
St. Augustine's
One of the Care+Share churches is also getting some help upgrading its building. Stephen Quinn, host of CBC Radio's The Early Edition, introduced an April 25 segment:
The St. Augustine's Anglican Church in the Marpole area has been a pillar of the community for over 100 years.
With a congregation of less than 50, it's a small church, with a big impact on the community – they call themselves 'the little church that could.'
But there are particular challenges to maintaining heritage buildings as old as this one, and members of the community have stepped up in a big way to help the Church.
Meredith Sargent, St. Augustine's treasurer, described some of the support the church is receiving and the church's ongoing work in food security:
For a long time now the church has provided meals. There's two things about food. Everybody needs food and good nutrition and needs to have some relief from that stress of not knowing where their food is going to come from. But the other thing about food is that it's a great way to develop community. . . .
Up until the pandemic we were running a sit-down Thursday evening meal. People would come and gather and eat together – an extension really of the congregations that are there on Sunday mornings. . . . The pandemic put an end to the sit-down part, but we were determined to continue providing that support within the Marpole community.
I'm not sure how much you know about Marpole, but it's a little bit of an anomaly on the west side of Vancouver. It's a quite low income area and a very genuine community. We've continued providing meals that you could come and collect and take home, but the Food Bank changed its outreach model because of the pandemic as well.
So instead of the Food Bank coming with a big truck of food three Thursdays in the month and distributing that from the church, the Food Bank sought partners in the community to create food hubs. So we put our hand up with a couple of other groups within the community and became a food hub. . . .  Every Thursday we have about 108 families come and get groceries.
Go here for the full interview and here for an article about how the food hub was established.
Apr 2022
Faith & the Environment
– April 28, 2022 at 7:00 pm - 8:30 pm
Flourishing Conference: Overseas and Over Your Fence (online, two mornings)
– April 29, 2022 - April 30, 2022 at 8:30 am - 12:30 pm
2022 CLF National Law Student Conference
– April 29, 2022 - May 2, 2022 at 6:00 pm - 12:00 pm
God & Government British Columbia Conference
– April 29, 2022 at 7:00 pm - 9:00 pm
The Rogue Folk Club presents Martyn Joseph
– April 29, 2022 at 8:00 pm - 9:30 pm
Free Income Tax Service
– April 30, 2022 at 9:30 am - 2:00 pm
SIM 2022 Virtual Banquet
– April 30, 2022 at 4:00 pm - 5:00 pm
May 2022
Vigil for Ukraine
– May 1, 2022 at 1:00 pm - 2:00 pm
Ending Poverty Together Business Workshop
– May 2, 2022 at 12:00 pm - 2:00 pm
CLF Annual Symposium on Religion, Law & Human Rights: Reimagining Section 1 of the Charter
– May 3, 2022 at 8:45 am - 5:30 pm
Refugee Crisis Webinar: Why, Where & What You Can Do
– May 4, 2022 at 10:00 am - 1:00 pm
Concerned Persons (Wednesday evenings)
– May 4, 2022 at 6:30 pm - 8:00 pm
Lost and Found
– May 5, 2022 - May 15, 2022 at All Day
Book Launch: Religion at the Edge: Nature, Spirituality, and Secularity in the Pacific Northwest
– May 5, 2022 at 12:00 pm - 1:30 pm
Parenting Conference (two evenings)
– May 6, 2022 - May 12, 2022 at 7:00 pm - 9:00 pm
Becoming Neighbours: Trust
– May 7, 2022 at 10:00 am - 12:00 pm
Relief for Ukraine: MCC Fundraising Event
– May 7, 2022 at 6:00 pm - 8:30 pm
Share Jesus & In the Harvest Training
– May 9, 2022 - May 12, 2022 at 9:00 am - 8:00 pm
Caring for Missionaries from the Local Church
– May 11, 2022 at 10:00 am - 11:15 am
Indigenizing Canada: Truth and Reconciliation and Next Steps in Canada with Prof. Ray Aldred (four discussions)
– May 11, 2022 at 4:30 pm - 6:00 pm
MCC Spring Banquet
– May 12, 2022 at 6:00 pm - 8:30 pm
May Art and Prayer Retreat
– May 13, 2022 at 10:00 am - 5:00 pm
Navigate Bible Conference: The King is Coming – Hearing the Message of the Book of Ruth with Dr. Daniel Block
– May 13, 2022 - May 14, 2022 at 4:30 pm
March for Life
– May 14, 2022 at 1:30 pm - 4:00 pm
Congregational Singing Today
– May 14, 2022 at 4:00 pm - 5:30 pm
Sentences & Sentience: C.S. Lewis & the Word, with Dr. Andrew Kaethler
– May 14, 2022 at 5:00 pm - 8:00 pm
SOZO 2022: This is the Kingdom
– May 14, 2022 at 7:00 pm - 9:30 pm
Delta Ukrainian Refugee Support
– May 14, 2022 at 7:30 pm - 8:45 pm
United Voices "Arise!" Spring Concert
– May 15, 2022 at 2:00 pm - 4:00 pm
New Roots Fest: Five Works in Process
– May 16, 2022 - May 19, 2022 at All Day
Lissa Wray Beal: Villains, Heroes & Those in Between – God's Ways & a Broken World
– May 16, 2022 at 7:30 pm - 9:00 pm
Why the Faith? Canada Wide Tour
– May 17, 2022 at 7:00 pm - 9:00 pm
Mission Pastor Roundtable
– May 18, 2022 at 10:00 am - 11:30 am
Faculty Roundtable: Old Testament Difficulties – Violence & Trauma
– May 18, 2022 at 12:00 pm - 12:45 pm
Why the Faith? Canada Wide Tour
– May 18, 2022 at 12:00 pm - 2:00 pm
Kaleidoscope: Opening Reception
– May 18, 2022 at 4:00 pm - 7:00 pm
Transform Gala for the Salvation Army's 'Nine Stories of Hope' Campaign
– May 18, 2022 at 6:00 pm - 9:00 pm
Gordon T. Smith: Generation to Generation – the Inter-Generational Dynamic of Vital Christian Communities
– May 18, 2022 at 7:30 pm - 9:00 pm
A Creature Chronicle: Exhibition & Symposium
– May 19, 2022 - May 21, 2022 at All Day
Launch Day: The Sanctuary Course, Revised & Improved
– May 19, 2022 at 7:00 pm - 8:30 pm
Singing Justice
– May 21, 2022 at 4:00 pm - 5:30 pm
Mark Noll: What I Have Learned from Studying the History of the Bible
– May 23, 2022 at 7:30 pm - 9:00 pm
Religious Responses to Climate Change: An Inter-Religious Conference
– May 24, 2022 at All Day
A Message for Canada National Tour
– May 24, 2022 at 7:00 pm - 9:00 pm
Rev. Dr. Randy Woodley: Religious Responses to Climate Change (Opening Keynote)
– May 24, 2022 at 7:00 pm - 8:30 pm
Faculty Roundtable: Applying Scripture to Life
– May 25, 2022 at 12:00 pm - 12:45 pm
Adrienne Dengerink Chaplin: Art, Conflict & Healing: Case Studies from Northern Ireland, China & Ukraine
– May 25, 2022 at 7:30 pm - 9:00 pm
Digital Evangelism 101
– May 26, 2022 at 9:00 am - 10:00 am
Harnessing Conflict for Change (two-day workshop)
– May 26, 2022 at 9:00 am - 12:00 pm
Raymond Tallis: The Houston Centre Presents – 'Why We're Not (Just) Beasts'
– May 26, 2022 at 7:30 pm - 9:00 pm
'Everything But the Closet' Sale
– May 27, 2022 - May 28, 2022 at 12:00 am
Walk in the Spirit of Reconciliation 2022
– May 27, 2022 - May 29, 2022 at All Day
Prayer Gathering, by 24-7 Prayer Canada
– May 27, 2022 at 6:00 pm - 10:00 pm
Impact Conference
– May 27, 2022 - May 28, 2022 at 7:00 pm - 2:00 pm
musica intima: NAGAMO (sings)
– May 27, 2022 at 7:30 pm - 9:30 pm
Spring Fair at St. David's, Delta
– May 28, 2022 at 10:00 am - 2:00 pm
Lion's Gate Brass Quintet Ukraine Fundraiser
– May 28, 2022 at 3:00 pm - 4:30 pm
Behold Israel
– May 28, 2022 at 5:00 pm - 9:00 pm
Rise Above, with the Amabilis Singers
– May 28, 2022 at 7:30 pm - 9:00 pm
The Prayer Walk: Burnaby / Ridge Meadows / Abbotsford
– May 29, 2022 - June 4, 2022 at All Day
Vancouver Orpheus Male Choir Concert
– May 29, 2022 at 2:30 pm - 4:30 pm
Rejoice! A Performance with The Gallery Singers
– May 29, 2022 at 3:00 pm - 6:00 pm
Royal Jubilee Proms Concert
– May 29, 2022 at 4:00 pm - 6:00 pm
Malcolm Guite: A New Orientation – Insights from the Poets on What it Means to Turn to Christ
– May 30, 2022 at 7:30 pm - 9:00 pm
The Lion, the Witch and the Wardrobe
– May 31, 2022 - June 1, 2022 at All Day