Richard (Rick) Goossen guarantees that "You can be better than 90 percent of all public speakers by following the laws of success" in his new book, Public Speaking Laws of Success.
ELO National Forum 2021
Before moving on to the book, though, I will point to an event coming up November 30. The ELO National Forum 2021 is the latest in a series offered by the Entrepreneurial Leaders Organization, which Goossen founded in 2005 and still leads.
This year's online event will stand in for the traditional ELO Forums: Winnipeg, Vancouver and Toronto. Speakers include leadership expert Sam Chand as keynote speaker; Paul Fast (founder of Fast + Epp); Dr. Katy Granville-Chapman / Emmie Bidston (Oxford Character Project); and more.
(I wrote about a local Entrepreneurial Leaders Conference here several years ago.)
Richard Goossen
Though Goossen is based locally – he got his BA from Simon Fraser was called to the bar as a lawyer in BC before voluntarily withdrawing his membership to focus entirely on business pursuits – he has considerable international experience.

He earned his law degree at McGill University, a Masters of Law degree at Columbia University in New York and a PhD from Middlesex University in London. He worked in Hong Kong for five years and has conducted a considerable amount of business in Asia over many years.
The ELO work began here, but now has programs worldwide. Goossen chairs ELO Group, which includes:
* ELO Counsel, which provides strategic and succession/transition advisory services for high net worth entrepreneurs and family business owners.
* ELO Network which has hosted over 60 ELO Forums around the world since 2005.
* Rick is the Founder and Director of the Entrepreneurial Leaders Institute, which in collaboration with Wycliffe Hall, University of Oxford offers the highly-acclaimed Entrepreneurial Leaders Programme each August, and attracts business leaders from around the globe.
He also works at Nicola Wealth, based in Vancouver, where he focuses on business development.
Sharing his experience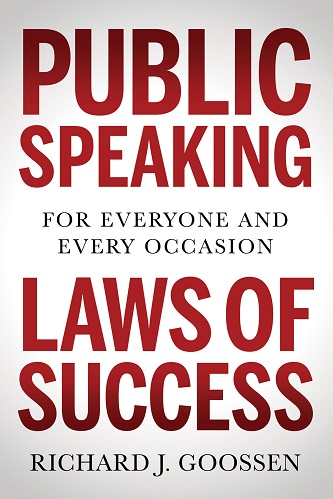 Public Speaking Laws of Success enumerates the many pitfalls that might waylay a would-be public speaker. Surely one of the most insidious – because it is so hard to remedy – would be the lack of an ability to laugh at oneself. Goossen, fortunately, does not seem to suffer from that weakness.
In his acknowledgements, he explains just how close to home the whole enterprise began. He thanks his "longsuffering spouse . . . who has endured 34 years, thus far, of my public speaking to an audience of one,"  and added:
My kids have experienced my joy of speaking, whether to an audience of one or many. For example, at the age of around seven or eight, one of my sons did something he shouldn't have.
As I was explaining, apparently at some length, the inadvisability of that particular course of action, he shouted to my wife upstairs, "Dad won't stop talking to me!" Truly a fate worse than capital punishment.
Further on, Goossen writes:
Years ago, my good friend Malcolm Gladwell and I spoke together at a conference for the combined fee of $100,000. We both performed admirably well and collectively spoke before over 1,000 attendees!
This introduction to the chapter title 'Embellishment' was misleading, in order to make a point. Goossen continued:
I hope you are impressed. Well, actually, there are a few more details. Malcolm did the keynote for $100,000. I was way down on the undercard, and was paid what I was worth at the time – zero. . . . We both spoke well, Malcolm to over 1,000 people and me to under 1,000 people.
I give this example to show how easily speakers, and people generally, distort reality. The best approach: simply tell the truth.
Public Speaking Laws of Success is full of anecdotes, but it is primarily a 'how to' book which Goossen offers 'For Everyone and Every Occasion,' He makes a bold claim:
Have you ever spoken in public? If so, do you want to improve? In just two hours, this book will teach you the 50 public speaking laws of success so that you can be better than 90 percent of all the public speakers you'll ever hear.
He almost makes me want to take another shot at the whole thing. But as an introverted (half-hearted, former) Toastmaster, (lacklustre) participant in a preaching course and (almost) criminal lawyer, I will take comfort from the book's assurance that 'I coulda been a contender.'
Fortunately, this book will find much more fertile ground with most readers. Goossen's 50 laws/chapters are entertaining because he is drawing on a wealth of experience gained through dealing with the many top flight, and some not so top flight, speakers from business conferences and other settings. But above all the 50 laws are practical.
(In retrospect, I am sure I did fulfill at least one of his 50 laws – 'Be Present'.)
A random sampling of chapter names, from 'What, Me Worry?' to 'Less is More,' 'Play to Your Strengths,' 'The Open Mic' and 'Chairing a Board Meeting' give a sense of what Goossen covers.
John Pearson, president of a board governance and management consulting firm in California, reviewed Public Speaking Laws of Success. He included brief comments on 20 of the chapters. For example, he included these five:
• The One-Minute Test (One minute after you speak, can people summarize your speech?)
• The Hook (Brilliant ways to 'hook' your listeners at the beginning of a talk.)
• Story Time (Goossen's story of arriving in hot and humid Hong Kong at age 25 – sweating and interviewing at leading law firms. The big idea: how to tell your story in a compelling way.)
• Know Your Audience (A stunning example from Pat Williams, the co-founder of the NBA Orlando Magic basketball team – when he had to brush up on hockey to relate to his Canadian audience.)
• Be Present (Read how Mark Barnett, the producer of Survivor, Shark Tank, The Apprentice and The Voice, allocates his time after he speaks. A superb example.)
Go here for Pearson's detailed review; he even created a video with his five grandchildren to engage with the book.
The chapters are divided into four sections:
The Mechanics: "the most basic skills of public speaking"
Key Principles: "more advanced principles . . . so you can avoid common pitfalls"
Digital Environment: "there are several unique aspects to bear in mind"
Applications: "specific pointers . . . if you are about to emcee a wedding or speak at a funeral"
The book has attracted many positive comments, including from:
Peter Legge, a highly regarded entrepreneur, public speaker and author, also based in Vancouver: "I wish Public Speaking Laws of Success was published years ago – it would have improved my public speaking abilities a lot faster because it is packed with stories and advice."
John C. Lennox, Professor Emeritus of Mathematics at Oxford University, speaker and author: "Its practical wisdom rings true to experience to such an extent that if I had read it 50 years ago it would have saved me from learning many things the hard way."
Pat Williams, NBA Hall of Famer and author: "The risk of not reading this book and still speaking in public will be costly – don't be collateral damage on the road to your dreams."
Baptist leader/author Richard Blackaby states, "Rick Goossen is an expert at obtaining maximum impact. Both the ELO National Forum and Public Speaking Laws of Success will prove that point.