By all accounts, the COP26 UN Climate Change Conference is a massive and overwhelming welter of events.
Tens of thousands of people from all corners of the world are gathered (October 31 – November 12) at the massive Scottish Event Campus in Glasgow, discussing climate change, debating the efficacy of various responses and, at times, wondering how useful the whole process is.
A couple of weeks ago I posted an article about several local delegates who are now in the midst of the maelstrom.
No doubt they were pleased to see British Columbia's program to reduce greenhouse gas emissions receive a major award at COP26 November 8.
But they may also have heard about this report from back home:
A new study from the non-profit Angus Reid Institute finds Canadians voicing overwhelming climate pessimism, both for current COP26 efforts and for the future of the planet. More than four-in-five (84%) say that they have little confidence that meaningful progress against climate change will emerge from the two-week summit.
Elements of that view – but also perseverance, hope and a strong focus on justice – can be heard in this November 8 report from three CCOP (Christian Climate Observers' Program) delegates: Samuel Chiu (who lives in Metro Vancouver and is Multicultural Program Director with A Rocha Canada), Chasity Martinez and Nate Rauh-Bieri:
CCOP's Second Week Begins with Lack of Action, Growing Frustration
Today begins the second week of negotiations at COP26. Our Week Two Team began their access to the 'Blue Zone' where official proceedings take place.
Today's theme according to the COP president's program is: Adaptation, Loss and Damage. Adaptation means how communities will adapt to the changing climate and shore up resilience. Loss and Damage refers broadly to what we do (and more pointedly, who owes what to whom) given that climate change is affecting communities now, and more severe climate impacts are coming.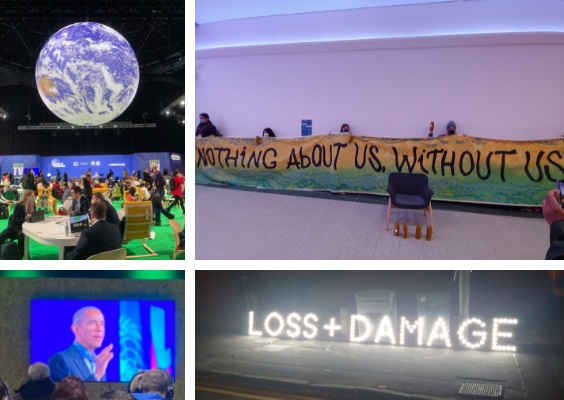 Loss and Damage is to address the suffering that is already happening to our global neighbours in the communities most impacted by the climate crisis. More wealthy nations who are responsible for more emissions ought to help provide resources and reparations to the nations that have both suffered the most from the climate crisis and contributed the least to the problem.
Loss and Damage is an important area of climate justice, and an area of particular interest for a lot of our CCOP cohort members. As Christians, Loss and Damage is especially important to us because it provides an element of justice to climate action. Because we know that our God is a God of justice and healing, Loss and Damages correlates to God's character.
Being in the Blue Zone is a bit of an overwhelming maze, and we have not been able to see or hear much about Loss and Damage today. However, one of our leaders attended a panel discussion to address the intersectionality of climate change regarding Loss & Damage.
One speaker on the panel, a man who holds a position in the Pakistan government, talked about the reality of many people in Pakistan and abroad forced to leave their home lands due to the effects of climate change and lack of resources. In Pakistan, the sea is literally sweeping away one particular community and displacing families.
This shows why it is important that Loss & Damage extends past just the physical loss of life and shelter but also the loss of identity and sense of home. Individuals are being forced to migrate to new, unfamiliar areas – losing a sense of cultural identity and even native language for some.
The sentiment of this particular panel on Loss and Damage is similar to what our week 1 CCOP colleagues and activists on the streets have said about COP26 being the "most exclusive COP" ever: there may be an acknowledgement that topics like inclusivity and Loss & Damage are important, but there has been little action to actually address those issues.
We see this source of frustration continuing into week two and intensifying. For many commentators, observers and activists, apathy about the COP process is growing.
Even so, it's Monday, and we and our CCOP colleagues have a lot to bear witness to in the rest of the week ahead.
Prayer Requests

Pray that the second week can make a turn; there are breakthroughs that come with the new week and final week of COP26.
Pray that God may turn the heart of those in power to not only hear those who are affected but also act on that hearing.
Pray against cynicism but for righteous anger to remain lit.
Pray that people can find a sense of hope from faith communities that are doing the work in their local communities.
The November 4 CCOP update focused particularly on hope:
What makes the Christian Climate Observers' Program (CCOP) distinctive?
Over the two weeks of COP26, 40 people aged between 19 and 79 (median age around 25) from USA, Canada, UK, France, India, Macedonia, New Zealand, Australia, Philippines, Zimbabwe, Burundi and Hong Kong will spend a week at 'Base Camp,' a Christian conference centre on the outskirts of Glasgow.
We are here with the specific intention of bearing witness to the COP process and communicating that back to our networks. . . .
Yesterday veteran climate campaigner Bill McKibben gave a talk and reminded us of the hope of the cross. It is a symbol over every church in the world and speaks of the power of non-violence and self-sacrifice, embodied in Jesus.
We don't know what the outcome of COP26 will be, but we know that God holds the future. Our role as Christians is to exercise robust hope, like Jonathan – or Noah – who obeyed God's calling despite not knowing the outcome.
The sponsoring members of CCOP are:
I hope to post something from one or more of the local delegates next week, following the conclusion of COP26 this Friday.