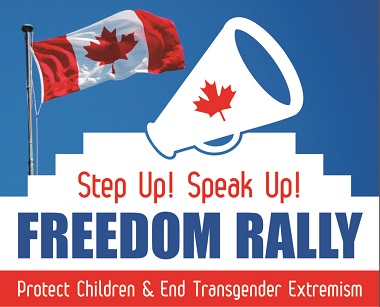 Vancouver might not be the most receptive city for messages which question current transgender theories. But over the next week or so two gatherings – at the Art Gallery and at UBC – will present their view that our culture has veered off track in its assessment of sexuality.
Organizers have received considerable negative attention over the past couple of years, and the latter event was dropped by a couple of venues before securing a spot at UBC.
However, both have received a shot in the arm from on high – from the Vatican, that is, which released a document titled 'Male and Female He Created Them' June 10.
Vatican statement
A June 11 Washington Post article posted on The Province site began:
Warning of a society "without sexual differences," the Vatican on Monday dismissed the idea that a person's gender can differ from the assigned sex at birth and said a fluid idea of identity was not "based on the truths of existence."
The right to "choose one's gender," the Vatican said in an official document, is in "direct contradiction of the model of marriage as being between one man and one woman."
The document, released as a guide for Catholic educators, held firm to the religion's traditional teaching on gender and sexuality and will be spread throughout Catholic schools. LGBT members of the faith said it put an official and updated stamp on viewpoints they had hoped were changing.
Go here for the full article.
(In July, 2014, the local Catholic school board developed a policy recognizing the need to accommodate students with the psychological medical condition of gender dysphoria. The B.C. Catholic also wrote about it.)
Step Up! Speak Up!
A public gathering in support of "parental rights and free speech" will take place this Saturday (June 15) at the Art Gallery facing Robson Street. Organizers of the Step Up! Speak Up! Freedom Rally say:
For the better or worse, the only messages that seem to change society these days are rallies, protests and public statements. Most of our elected officials, even conservative ones, are silent on even the most basic issues of Charter rights. We need to, as the rally is called, Step Up and Speak Up.
Paul Dirks, lead pastor of New West Community Church and an expert on issues related to sex and gender, will be one of several speakers at the event. He says:
We are living in perilous times. It is perilous to have the wrong opinion or perhaps even to have an opinion at all. It is perilous to believe in women's sex-based rights or perhaps even to believe in sex at all. And it is perilous to stand up and protect children, or perhaps to believe children deserve to be protected and defended at all.
One of the reasons I . . . continue to speak out on the effects of transgender ideology is because I believe it is my duty to my children and my grand-children, and that in 20 or 30 years, when multi-million dollar lawsuits are being settled, and the next generations ask what I did to prevent the sterilization, medicalization and mutilation of children who have not even progressed through puberty, that I will be able to say that I have done everything I could.
The rally will run from 10:30 am – 12:30 pm.
The Erosion of Freedom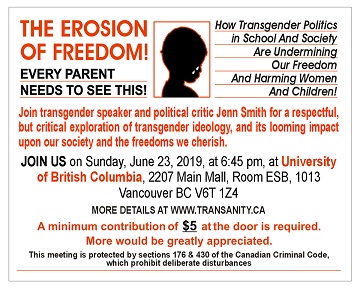 Jenn Smith will speak on The Erosion of Freedom June 23 on the UBC campus. A writer and public speaker, he is a transgender identified male.
"While raised in Christian homes," his site says, he "is not religious but has enormous respect for religion because he does believe in God."
Smith has a summary of his talk on his website; here is a portion:
Transgender people are human beings deserving dignity and respect; Jenn's lived experience as a transgender person in brief.
The use of propaganda and information strategies by the media and government to manipulate public opinion.
An analysis of mental health studies related to the trans community and how it is our most vulnerable youths that are falling for transgender ideology.
Brainwashing in schools via SOGI 123 and other resources, the destruction of parental rights, and an exploration of related totalitarian laws that are being used by the state to enable children to transition against their parents' wishes and criminalize any parents that fail to comply.
Go here for more information about the content of the talk.
TWU cancelled
Smith has had a good reception at a number of churches during his Erosion of Freedom tour around the province, according to Christian McCay of Canadian Christian Lobby, who works closely with him.
Locally, Smith has spoken at Surrey Pentecostal Assembly, Pentecostal Tabernacle of BC (also in Surrey) and Richmond Faith Fellowship Church.
He has had some difficulty booking other spots, according to McCay. One location in Victoria and three in the Metro Vancouver – Douglas College, Hellenic Community Centre and Trinity Western University – have turned him down.
Smith was to have spoken at Trinity Western June 15, but they cancelled the booking June 7. An article in The Georgia Straight quoted Trinity Western's reason for cancelling and Smith's response:
TWU issued a statement about the cancellation:
"Trinity Western University became aware yesterday that an event was advertised to take place on campus on June 15th featuring Jenn Smith. This was not an official TWU sponsored event but was booked as a facility rental through our conferences service provider. The description of the event was not made clear through the booking process. Once we became aware of the nature of the booking, we canceled the booking."
Smith posted his response to the cancellation on his website.
"I am aghast at the spineless nature of the academic community today, but I was thinking TWU would be different since this is a topic that concerns many Christians," Smith stated. "Instead of standing strong, TWU has chosen to prostrate itself to activists who would just as soon destroy or completely co-opt their entire institution. If TWU represents the vanguard of the Christian community, then the Christian community is in a lot of trouble."
Go here for the full story.
I spoke to one woman who has been a long-time booster of Trinity Western and is also supportive of what Smith is doing. She was not happy with the cancellation.
James Tweedy, executive director, marketing and communications / external relations at TWU, responded to a June 11 email from me with these comments:
We became aware on Friday, June 7 that an event was advertised to take place on campus on June 15th featuring Jenn Smith. This was not an official TWU sponsored event but was booked by the Canadian Christian Lobby as a facility rental through our conferences service provider. Unfortunately, the description of the event was not made clear through the booking process. Once we became aware of the nature of the booking, we canceled the booking.
As a University, we value engaging in respectful debate on topics that can sometimes be contentious.  However, in light of the disruptions that have taken place at similar events that have taken place recently, our primary concern is for the safety and well-being of our students, campus and community – all of whom trust TWU to provide a safe environment to pursue their work and education.
I want to assure you that Trinity Western University holds firmly to traditional values that are rooted in Scripture, including matters relating to human sexuality and marriage. We have recently developed a core value statement on Practicing Christian Hospitality to articulate how we strive to hold strongly to our beliefs while being respective of those who hold different views.
In regards to your inquiry regarding our decision to cancel this event contrasted with UBC's decision to proceed, it is fair to say that with a dedicated RCMP detachment exclusively serving UBC and the University Endowment Lands, they are likely more ready to respond to an event of this nature.
Smith says he was blocked from speaking at TWU last fall as well.
UBC won't cancel
A spokesman at UBC says the university won't cancel Smith's talk. Here is part of a June 10 report by Lauren Boothby and Simon Druker on the News 1130 site:
UBC is going ahead with an event by a controversial anti-SOGI speaker, despite anger from students who are calling for it to be cancelled.
Jenn Smith, who identifies as transgender but says he is not a woman, is critical of B.C.'s LGBTQ-inclusive education resource SOGI 123 and what he calls "transgender ideology" and "transgender politics."
Despite both Trinity Western University and Douglas College cancelling Smith's talk titled "The Erosion of Freedom," UBC Provost Andrew Szeri says that's not going to happen.
"The university is committed to upholding free speech on campus and will allow this event to proceed," he says in a statement. "The university is equally committed to ensuring the safety and security of our campus community."
The article pointed out that the refusal to cancel "doesn't sit well with student Jonathan Turcotte-Summers from the UBC Students Against Bigotry club, who said, "(anti-SOGI views) are a major threat to people who are already fairly vulnerable who are facing a lot of challenges." Go here for the full article.
Related articles
I have posted several related articles over the past couple of years, which point out, among other things, that there is a wide range of viewpoints in the Christian community about transgender identity, SOGI and related issues. For example:
* Responding to SOGI: should we fight, embrace or engage?
* West Coast Christian Accord focuses on SOGI 123 and religious freedom