Bear Grylls
is helping out with the
Global Alpha Campaign
which is gearing up this fall – which is why you will see him on billboards all over the city. Grylls is world renowned as an adventurer and media figure.
Stephen Mulder
, director of ministry development and BC regional director for
Alpha Canada
, says he is excited to see the way the campaign is taking off. Signs of Alpha are not just on billboards, he says, but also on church websites and bulletins.
Mulder says that currently 110 churches in the Lower Mainland are running more than 200 courses; some churches are hoping to run as many as 50 separate Alpha groups.
He stresses that Alpha will make a difference only if there is participation in local churches:
At the heart of the campaign are local churches and leaders who have actually been responsible for raising all the funds needed for the campaign and working together across denominations to see evangelism efforts multiplied together – better together in essence.
All we did was really provide the vision and media assets for the campaign – Bear Grylls has offered us his brand for free for a one year period – but it was down to the local church to decide whether they wanted to do it or not as we firmly believe that evangelism happens through the local church, so they ultimately had to want to do it.
Chapel UBC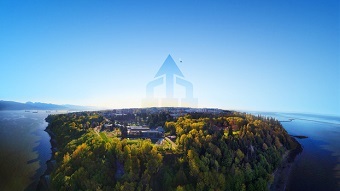 For the past couple of years, the
Chapel Movement
has brought high school age students together, first in Vancouver and now in five other 'hubs' – Tri-Cities, Richmond-Delta, Langley, North Shore and Surrey. Leader Jonathan Mitchell says Chapel will be entering a new phase this fall, and the first sign of that is
Chapel UBC
, in cooperation with the Association of Christian Clubs (UBC), at the Chan Centre this Friday:
On September 9th, campus clubs and the church are uniting to bring young adults from across the Lower Mainland together to make some noise for Jesus at UBC. As with all Chapels, the purpose it to ignite relationships between leaders, build the faith of the local student body and create a common kingdom-mission for young people. Imagine a generation of young adults sold out for a unified mission of seeing the gospel change the campuses [around] the Lower Mainland through passionate worship and corporate prayer.
I wonder if UBC's new president, Santa Ono will turn up. Though he just began this summer, he has already become well known around campus, especially through his use of social media.
Ono is a Christian
, and
tweeted
September 5 that he had enjoyed attending
Origin Church's
service (on campus) the day before and thanked them for praying for him.
Seriously Dangerous Religion

Religion dangerous? Seriously? Yes, according to Regent College professor Iain Provan – and he will explain why in three lectures at New Life Community Church in Burnaby September 16 – 17.
The
Seriously Dangerous Religion
(What the Old Testament Really Says and Why it Matters) series is based on his critically acclaimed book of the same name.
William Ross of the University of Cambridge Faculty of Divinity said of the book, "At its heart Provan's volume is a book about worldview."
Our way of looking at life will likely be threatened as we better understand the Old Testament, Provan argues. In the words of his publisher, "the Old Testament is far more dangerous than modern critics even suppose. Its dangers are the bold claims it makes upon its readers."
Provan will look at 'Who is God?' on Friday evening, then 'Who are We?' and 'How Should We Live?' on Saturday morning. Should be well worth attending.
Suki Dicker: Pray it forward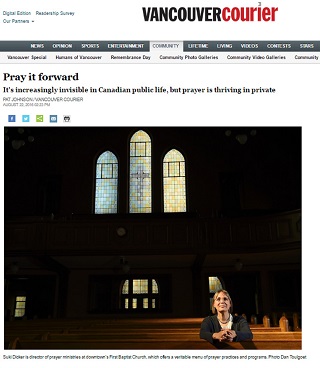 Suki Dicker, director of prayer ministries at First Baptist Church, was featured in
Pray it forward
by Pat Johnson in the
Vancouver Courier
August 22.
Pointing out that "Prayer is increasingly invisible in Canadian public life, but it's thriving in private," Johnson described something of Dicker's experience:
While this [a church having a director of prayer ministries] is unusual among many Christians, it would have seemed unusual to Dicker herself just a few years ago.
"I am a relatively new Christian," she says. "I only came to know the Lord in 2002, in my late 30s."
Originally from the United Kingdom, Dicker was working as a corporate lawyer for a large aerospace and defence company that was expanding to the United States. They sent Dicker to Washington, D.C., where her interest in Christianity was first piqued. She took a sabbatical and came to Vancouver's Regent College, intending to return to her job after a year.
"The one-year sabbatical turned into four years," she says. She received her Master's and was "pulled into a life of ministry rather than going back into the corporate world and going back to Washington, D.C."
"It is quite a change," she says laughing. Her former colleagues were not as surprised as one might expect.
"I think people were delighted and thought that I was actually doing something that involved following a passion and a lot of people wanted also to get off the conveyor belt and do what I've been doing," she says.
September 9, 2016
Freedom Session Leadership Training
– September 9, 2016 - September 10, 2016 at 7:00 pm - 4:00 pm
Chapel UBC
– September 9, 2016 at 7:30 pm - 9:30 pm
September 10, 2016
Greg Drummond Band
– September 10, 2016 at 7:00 am - 9:00 am
The Church and Same-Sex Attraction
– September 10, 2016 at 9:00 am - 12:00 pm
Fit Faith Challenge
– September 10, 2016 at 10:00 am - 3:00 pm
Michael Goheen: The Story of the Bible
– September 10, 2016 at 7:30 pm - 9:30 pm
September 11, 2016
Alpha Team Training (three Sunday evenings)
– September 11, 2016 at 12:00 pm - 2:00 pm
Praise in the Park
– September 11, 2016 at 1:00 pm - 5:00 pm
September 14, 2016
Book Launch: Ashley Moyse, Jason Byassee, Ray Aldred, Ross Lockhart
– September 14, 2016 at 3:00 pm - 5:00 pm
Sarah Jane: Visible Light
– September 14, 2016 at 4:30 pm - 7:30 pm
September 15, 2016
Plumbline Conference
– September 15, 2016 - September 18, 2016 at All Day
Bishop Remi De Roo: Reflections from a Second Vatican Council Father
– September 15, 2016 at 7:00 pm - 8:30 pm
Heavenly Melody Concert
– September 15, 2016 at 7:30 pm - 9:30 pm
September 16, 2016
MCC Festival for World Relief
– September 16, 2016 - September 17, 2016 at All Day
Talks with Tom: Faith and Politics
– September 16, 2016 at 7:00 am - 8:30 am
A Day with Forge Canada: Faithful Presence - Discipleship at the Margins (Alan Hirsch, Deb Hirsch, Kim Hammond, Cam Roxburgh)
– September 16, 2016 at 9:00 am - 3:00 pm
Leadership Conference with Peter Irvine
– September 16, 2016 - September 17, 2016 at 7:00 pm - 12:30 pm
Heavenly Melody Concert
– September 16, 2016 at 7:30 pm - 9:30 pm
Iain Provan: Seriously Dangerous Religion
– September 16, 2016 - September 17, 2016 at 7:30 pm - 12:30 pm
September 17, 2016
Alpha Team Training
– September 17, 2016 at 9:00 am - 11:00 am
Festival of Hope: Pastors Breakfast
– September 17, 2016 at 10:00 am - 12:00 pm
GN2016: Help Evangelize Japanese Youth
– September 17, 2016 at 7:00 pm - 9:00 pm
Soul Dance – with Souled Out
– September 17, 2016 at 7:00 pm - 11:00 pm
September 22, 2016
Christian Legal Fellowship National Conference
– September 22, 2016 - September 25, 2016 at All Day
City in Focus 2016 Annual Awards
– September 22, 2016 at 5:00 pm - 7:00 pm
Lauren Mann in Concert
– September 22, 2016 at 8:00 pm - 10:00 pm
September 23, 2016
Lauren Mann in Concert
– September 23, 2016 at 7:00 pm - 9:00 pm
September 24, 2016
Walk the Wall
– September 24, 2016 at 9:00 am - 1:00 pm
WorldServe Thrift Store Grand Re-opening
– September 24, 2016 at 9:00 am - 5:00 pm
Spiritually Rooted Direct Access Training
– September 24, 2016 at 2:00 pm - 5:00 pm
A Rocha: Brooksdale Volunteer Appreciation Shindig
– September 24, 2016 at 3:00 pm - 5:00 pm
King Road MB Church 50th Anniversary
– September 24, 2016 at 5:00 pm - 8:00 pm
REST International: A Night for Nigeria
– September 24, 2016 at 5:30 pm - 8:00 pm
Life Explored Vancouver Launch
– September 24, 2016 at 7:00 pm - 9:00 pm
September 25, 2016
Dedication of St. Alban's Mural
– September 25, 2016 at 11:15 am - 11:45 am
Choral Evensong to Celebrate Rupert Lang's 30th Anniversary at Christ Church Cathedral
– September 25, 2016 at 3:00 pm - 4:00 pm
Babar the Elephant by Francis Poulenc (for narrator and piano), followed by The ​Josquin Singers ​Renaissance repertoire
– September 25, 2016 at 4:00 pm - 6:00 pm
Jazz Vespers: Flock & Hopson Quartet
– September 25, 2016 at 4:00 pm - 5:00 pm
Coffeehouse Concert Series: Steve Delamar and Nightlight
– September 25, 2016 at 7:00 pm - 9:00 pm
Engaging the Muslim Scriptures
– September 25, 2016 at 7:00 pm - 9:00 pm
September 26, 2016
Open Bethlehem: Director Leila Sansour in attendance
– September 26, 2016 at 5:30 pm - 8:30 pm
An Evening with John Bell & Blackthorn
– September 26, 2016 at 6:00 pm - 8:45 pm
Hillsong Young & Free Canadian Tour
– September 26, 2016 at 7:00 pm - 9:00 pm
September 27, 2016
Book Signing: The Face of the Deep with Paul J. Pastor
– September 27, 2016 at 12:00 pm - 1:00 pm
September 28, 2016
Verge Conference 2016: Arts & the Inklings
– September 28, 2016 - September 30, 2016 at All Day
Dr. Michael Ward: Planet Narnia – The Seven Heavens in the Imagination of C.S. Lewis
– September 28, 2016 at 7:30 pm - 9:30 pm
Jazz Evensong: Holly Burke & the Naturals
– September 28, 2016 at 8:00 pm - 9:30 pm
September 29, 2016
Call for Artists: 'Living on Shared Territory' Art Show
– September 29, 2016 - October 2, 2016 at All Day
Bishop Melissa Skelton: The Spirituality of Benedict of Nursia
– September 29, 2016 at 7:00 pm - 8:30 pm
Enoch Daniel: Personal Knowledge, Music & Truth
– September 29, 2016 at 7:00 pm - 8:30 pm
Journeying Towards Climate Justice: An Evening of Prayer
– September 29, 2016 at 7:00 pm - 8:30 pm
September 30, 2016
Moriel Ministries Canada: Prophecy Conference 2016
– September 30, 2016 - October 1, 2016 at 6:00 pm - 1:00 pm
Discovery Bible Study Training
– September 30, 2016 - October 1, 2016 at 6:30 pm - 5:00 pm
Life in the Margins Workshop
– September 30, 2016 - October 1, 2016 at 6:30 pm - 4:00 pm
Andrew Smith & Neil Fraser
– September 30, 2016 at 7:00 pm - 9:00 pm
Chapel North Shore
– September 30, 2016 at 7:00 pm - 9:00 pm
Chapel Richmond-Delta
– September 30, 2016 at 7:00 pm - 9:00 pm
Chapel Surrey
– September 30, 2016 at 7:00 pm - 9:00 pm
Chapel Tri-Cities
– September 30, 2016 at 7:00 pm - 9:00 pm
Chapel Vancouver
– September 30, 2016 at 7:00 pm - 9:00 pm
Lydia Collins: Seasons of Renewal
– September 30, 2016 at 7:00 pm - 9:30 pm
Two Generations Leadership Conference: Honouring Your Parents - God's Word, Cultural Heritage and Christian Community
– September 30, 2016 - October 1, 2016 at 7:00 pm - 4:00 pm
Chapel Langley
– September 30, 2016 at 7:30 pm - 9:00 pm
October 1, 2016
Ride for Refuge Vancouver
– October 1, 2016 at 7:00 am - 12:00 pm
SoulStream Presents: A Day with Esther Hizsa
– October 1, 2016 at 9:15 am - 3:00 pm
A Rocha: Harvest Celebration
– October 1, 2016 at 1:00 pm - 4:00 pm
ICR Middle East Update / Praise & Worship Service
– October 1, 2016 at 7:00 pm - 9:00 pm
October 2, 2016
Life Chain: Burnaby
– October 2, 2016 at 1:00 pm - 3:00 pm
Life Chain: Surrey/Delta
– October 2, 2016 at 2:00 pm - 3:00 pm
Life Chain: Vancouver
– October 2, 2016 at 2:00 pm - 3:00 pm
Saint of Calcutta: Mother Teresa
– October 2, 2016 at 2:30 pm - 4:00 pm
Blessing of the Animals
– October 2, 2016 at 4:00 pm - 5:00 pm
Jazz Vespers: Christie Grace
– October 2, 2016 at 4:00 pm - 5:00 pm
ICR Update on Muslim Conversions in the Middle East
– October 2, 2016 at 6:30 pm - 8:30 pm
Prayer for the Festival of Hope
– October 2, 2016 at 6:30 pm - 8:00 pm
October 3, 2016
2016 Mahatma Gandhi Commemorative Lecture: Judy Graves - We Change the World Together
– October 3, 2016 at 7:00 pm - 9:00 pm
October 4, 2016
Christian Life & Witness Course (Tuesday evenings)
– October 4, 2016 at 7:00 pm - 9:00 pm
Christian Life & Witness Course (Tuesday evenings)
– October 4, 2016 at 7:00 pm - 9:00 pm
Christian Life & Witness Course (Tuesday evenings)
– October 4, 2016 at 7:00 pm - 9:00 pm
Christian Life & Witness Course (Tuesday evenings)
– October 4, 2016 at 7:00 pm - 9:00 pm
October 5, 2016
Vancouver Pastors Prayer Fellowship
– October 5, 2016 at 10:30 am - 12:30 pm
Business By the Book: Jonathan Friesen
– October 5, 2016 at 12:00 pm - 1:00 pm
Andy Crouch: Culture Making
– October 5, 2016 at 6:30 pm - 8:30 pm
Christian Life & Witness Course (Wednesday evenings)
– October 5, 2016 at 7:00 pm - 9:00 pm
Christian Life & Witness Course (Wednesday evenings)
– October 5, 2016 at 7:00 pm - 9:00 pm
Christian Life & Witness Course (Wednesday evenings)
– October 5, 2016 at 7:00 pm - 9:00 pm
Christian Life & Witness Course (Wednesday evenings)
– October 5, 2016 at 7:00 pm - 9:00 pm
Christian Life & Witness Course (Wednesday evenings)
– October 5, 2016 at 7:00 pm - 9:00 pm
Christian Life & Witness Course (Wednesday evenings)
– October 5, 2016 at 7:00 pm - 9:00 pm
Earth & Spirit Speaker Series: Carmen Lansdowne
– October 5, 2016 at 7:30 pm - 9:30 pm
Jazz Evensong: Laura Crema
– October 5, 2016 at 8:00 pm - 9:30 pm
October 6, 2016
Christian Life & Witness Courses
– October 6, 2016 at All Day
Sarah Jane: Visible Light
– October 6, 2016 - October 13, 2016 at All Day
The Firs Adult Retreat
– October 6, 2016 - October 11, 2016 at All Day
Ben Heppner speaks at VST's 2016 Chancellor's Dinner
– October 6, 2016 at 5:30 pm - 9:00 pm
Christian Life & Witness Course (Thursday evenings)
– October 6, 2016 at 7:00 pm - 9:00 pm
Christian Life & Witness Course (Thursday evenings)
– October 6, 2016 at 7:00 pm - 9:00 pm
Christian Life & Witness Course (Thursday evenings)
– October 6, 2016 at 7:00 pm - 9:00 pm
Christian Life & Witness Course (Thursday evenings)
– October 6, 2016 at 7:00 pm - 9:00 pm
Christian Life & Witness Course (Thursday evenings)
– October 6, 2016 at 7:00 pm - 9:00 pm