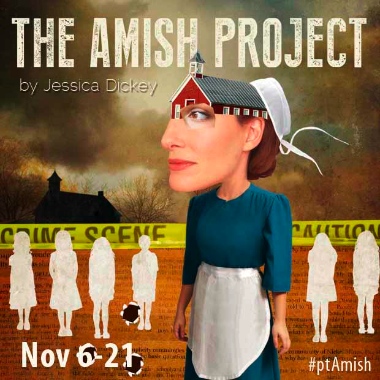 This must be one of the busiest seasons of the year, with a cornucopia of concerts, plays, conferences and other gatherings. I'll run through a few highlights before looking back at a couple of significant events from the last week or so.
The Amish Project
Starting November 6, Bleeding Heart Theatre, in association with Pacific Theatre, explores what it means to forgive in the aftermath of terrible wrongdoing in Jessica Dickey's The Amish Project.
Here's PT's description of the play:
In 2006, the Amish of Nickel Mines, Pennsylvania forgave the man who walked into their schoolhouse and shot 10 girls. A brilliant meditation on radical kindness, The Amish Project is a stunning exploration of the strength of community and the power of forgiveness in the face of tragedy.
The New York Times described The Amish Project as "a remarkable piece of writing."
A couple of interesting notes related to Pacific Theatre:
* Jason Byassee, the newly appointed Butler Chair in Homiletics and Biblical Hermeneutics at Vancouver School of Theology, interviewed PT founding artistic director Ron Reed for Faith & Leadership at Duke University. 'I'm a Christian, but I don't do Christian theatre' is posted on the Regent College site.
* When Christ & Cascadia wrote up 'Twelve Cascadian Arts and Faith Organizations to Know About,' 10 were from Seattle and Portland. The two from Vancouver were Pacific Theatre and We Make Stuff.
Concerts
There are too many to go into detail, but here are some that look promising:
* Nov 6, Regent College: Audible: An Evening with Regent's Artists: Come on out for a memorable evening of stories, songs and poems by some of Regent's amazing artists!
* Nov 6, Kitsilano Christian Community: Songs of Hope: Fundraiser to Sponsor a Refugee Family: Featuring Tom Arntzen & the Gospel Giants, Asher Graig-Morrison and The Kwerks.
* Nov 7, Gilmore Park United: Hummingbird Ministries: Peace Through the Arts / Dance Festival: Not a concert exactly, but there will be music: Hummingbird Wings & Friends, Solidarity Notes Labour Choir with Earle Peach.
* Nov 7, Evangelical Chinese Bible Church: Hymn Festival: This is My Father's World: A hymn-singing festival with the purpose of reviving congregational singing in the Christian community.
* Nov 12, 13, 15, Good Shepherd, Surrey; New Westminster CRC; Legacy: African Children's Choir. The choir has had a worldwide influence for 30 years, but founder Ray Barnett lives in White Rock.
* Nov 14, Trinity Western University: 'War and Peace and the Struggle for Shalom' Symposium and Brian Doerksen Concert
IDOP Sunday

This Sunday (November 8), many local churches – and thousands around the world – will join in the International Day of Prayer for the Persecuted Church.
Pastor James Bonney of Westside Church North Shore wrote a blog post on Persecution October 27. Here is a portion:
This November Westside will join hundreds and thousands of believers for the International Day of Prayer (IDOP). To paraphrase IDOP's explanation of this call, they write "Can we today pause our busy lives and think of those who are enduring persecution for the sake of the Gospel? Let us remember those who have not eaten for days because they are given nothing to eat . . . those languishing in prison . . . Christian families who have watched their homes burn to the ground . . . pastors who are beaten and tortured for their faith and enduring physical pain . . . Christian families and children living in constant fear of violence . . . those who have lost their loved ones . . . those who are facing death, even right at this moment, for refusing to denounce Christ. . . .
Pray also for those who inflict persecution, that they may hear the Gospel of Jesus Christ.
It's a seller's market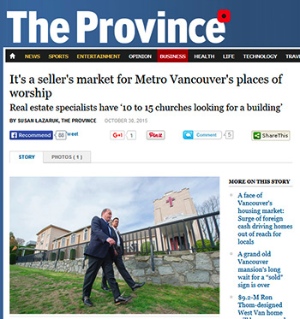 It was good to see the media pick up on how difficult it is to find affordable church properties to buy. Susan Lazaruk wrote a very
useful article
in
The Province
October 30; 'It's a seller's market for Metro Vancouver's places of worship' made this point:
Despite the decades-long decline in the number of British Columbians who identify with organized religion or attend places of worship, it's getting almost impossible for fledgling churches to plant themselves in the soil of Vancouver or even farther east.
Lazaruk quoted several sources who are affected in different ways: Leonardo di Francesco sells church properties; Nelson Boschman pastors one of two Artisan churches which rent space; Joel Thiessen, a sociology professor at Ambrose University in Calgary specializes in religion trends; Doug Goodwin is executive secretary of the BC Conference of the United Church of Canada and has been involved with selling off several properties; and Paul Schratz, spokesperson for the Catholic Archdiocese of Vancouver.
She describes explains why more churches are needed, but puts it in context as well:
The need for more church buildings in urban centres is usually fuelled by immigrants and those in the growing conservative evangelical movement who don't match the profile of declining mainline and liberal Protestant churches, which are losing followers at the fastest rate.
Joel Thiessen . . . said the need for church buildings in Vancouver "doesn't buck the larger (secularization) trend, but there are these pockets of life in the broader narrative."
Lazaruk also quoted from an article on this site called
Vancouver's lost churches
. A quote from Goodwin illustrates the main point of my article:
Goodwin notes that when a Vancouver church is closed and torn down, it's likely gone for good because the city doesn't zone for churches any more, as it did in the 1950s "when everybody went to church" and there were blocks set aside for them.
Go here for the article. And here for Rick Cluff's interview with di Francesco on CBC's Early Edition.
Jeff Greenman installed
Jeff Greenman was installed as Regent College's fifth president October 24 at Frederick Wood Theatre on the UBC campus. More than 300 people attended, including three of the four previous presidents – James Houston, Carl Armerding and Rod Wilson, who stepped down earlier this year. 
The charge to the president was delivered by Carl Armerding, who was the second principal of Regent, from 1978 to 1988. His message to Greenman was to take courage and to be an encourager – of Regent's faculty, staff, board, alumni and students – in the years ahead.
Armerding said, in part:
We expect advance with a new president, but yet these are days of retreat in theological education." We need to change retreat into advance . . . we need courage. . . .
What's the most important job you have? Encouragement.  . . . Jeff, you're the chief encourager and we're here to encourage you, with the Chief Encourager, who is Christ.
Greenman, in his address, paid tribute to three of Regent College's "founding fathers": Jim Houston (who "helped me see what Regent was about, and then opened to me his vision of Christian personhood, of maturity in Christ . . ."); Carl Armerding ("While I was Carl's TA . . . he modeled for me a prayerful, humble and gracious leadership style."); and Ward Gasque ("Ward . . . opened a door for me . . . I was privileged to become his successor as dean at Tyndale.") 
Reflecting on the evolution of the school, he said, in part:
I'm often asked how Regent is different now from when I was a student in the 1980s. The answer is that far, far more is the same than is different. There is powerful institutional DNA that has been passed along from generation to generation. Most of the cast of characters is different from my student days. But the vision, values, ethos and focus remained remarkably the same over the 25 years I was away. . . .
Regent's hallmark conviction has been that such a faith is intended for all Christians. In our shorthand phrase, "the whole people of God." In other words, for laity as well as clergy. Not just for an elite, but for everyone.
For Greenman's full address go
here
.
Several leaders from institutions around North America – including Wheaton College, Tyndale University, Ambrose University, Denver Seminary – came to support Greenman during the installation.
September 28, 2015
Speaking My Mind Toastmasters Club
– September 28, 2015 - December 14, 2015 at 7:30 pm - 9:00 pm
November 5, 2015
Iranian Ministry Conference
– November 5, 2015 - November 7, 2015 at All Day
The Diary of Anne Frank
– November 5, 2015 - November 7, 2015 at All Day
REconneXion
– November 5, 2015 at 9:00 am - 1:00 pm
Fireside Apologetics: Do All Religions Lead to God?
– November 5, 2015 at 7:00 pm - 8:30 pm
Pius XII and the Jews: Problems of Memory and Moral Judgment in History
– November 5, 2015 at 7:00 pm - 9:00 pm
November 6, 2015
REconneXion
– November 6, 2015 at 9:00 am - 1:00 pm
Rob Des Cotes: An Introduction to the Theology and Practice of Contemplative Prayer
– November 6, 2015 at 9:15 am - 3:30 pm
Perogy Night in Vancouver
– November 6, 2015 at 5:00 pm - 8:00 pm
Audible: An Evening with Regent's Artists
– November 6, 2015 at 7:00 pm - 9:00 pm
Greg Drummond
– November 6, 2015 at 7:00 pm - 9:00 pm
Songs of Hope: Fundraiser to Sponsor a Refugee Family
– November 6, 2015 at 7:30 pm - 10:00 pm
The Canadian MK Network presents: Stories Redeemed Conference
– November 6, 2015 at 7:30 pm - 9:30 pm
November 7, 2015
Leadership Breakfast with Rev. Darrell Johnson: The Heart of Leadership
– November 7, 2015 at 7:30 am - 9:30 am
Educator's Conference: Up, Up & Away
– November 7, 2015 at 8:00 am - 4:15 pm
SCSBC Leadership Conference: Christianity in the Crosshairs
– November 7, 2015 at 8:30 am - 3:00 pm
Darrell Johnson: Making 'Some' Sense of Suffering
– November 7, 2015 at 9:30 am - 2:30 pm
Hummingbird Ministries: Peace Through the Arts / Dance Festival
– November 7, 2015 at 11:30 am - 8:00 pm
Delight: A weekend of concerts by the SAMC Chamber Singers
– November 7, 2015 at 7:30 pm - 9:30 pm
Hymn Festival: This is My Father's World
– November 7, 2015 at 7:30 pm - 9:30 pm
Music at Queen's: Bridge Musicians International
– November 7, 2015 at 7:30 pm - 9:30 pm
True North Troubadours
– November 7, 2015 at 7:30 pm - 9:30 pm
November 8, 2015
IDOP Sunday: International Day of Prayer for the Persecuted Church
– November 8, 2015 at All Day
Mozart Requiem
– November 8, 2015 at 4:00 pm - 5:00 pm
Apostolic Weekend: Special Guest John Alley
– November 8, 2015 at 7:00 pm - 9:00 pm
November 10, 2015
Public Lecture Series: Competing Paradigms: Christianity and Naturalism – Evidence for a Resurrection
– November 10, 2015 at 7:00 pm - 8:30 pm
Hans Boersma: Harmonious Reading: Early Christian Interpretation of the Psalms
– November 10, 2015 at 7:30 pm - 9:00 pm
November 11, 2015
Jazz Evensong: Andrea Menard
– November 11, 2015 at 8:00 pm - 10:00 pm
November 12, 2015
Dan Law: Visions from the Slash - Sculptural Meditations on Heaven & Hell
– November 12, 2015 - November 19, 2015 at All Day
Eyes & Wings Prophetic Conference 2015
– November 12, 2015 - November 15, 2015 at All Day
African Children's Choir
– November 12, 2015 at 7:00 pm - 9:00 pm
JustWork: A Taste of Dignity
– November 12, 2015 at 7:30 pm - 9:30 pm
November 13, 2015
SPARK Pre-Teen Conference
– November 13, 2015 - November 14, 2015 at All Day
City in Focus: Women Lead
– November 13, 2015 at 7:00 am - 8:30 am
African Children's Choir
– November 13, 2015 at 7:00 pm - 9:00 pm
Chelsea Amber
– November 13, 2015 at 7:30 pm - 9:30 pm
Dialogos Ensemble: Swithun - A Medieval Miracle Play
– November 13, 2015 at 7:30 pm - 9:30 pm
Youth Unlimited Presents: This is My Story
– November 13, 2015 at 7:30 pm - 11:30 pm
Vancouver Chamber Choir: New Wave - The Latest in Choral Music
– November 13, 2015 at 8:00 pm - 10:00 pm
November 14, 2015
'War and Peace and the Struggle for Shalom' Symposium and Brian Doerksen Concert
– November 14, 2015 at 9:00 am - 9:30 pm
Come Away & Rest Awhile: Sabbath-Keeping & Self-Care Retreat
– November 14, 2015 at 9:00 am - 4:00 pm
Keystone with Preston Pouteaux
– November 14, 2015 at 9:00 am - 3:00 pm
Pre-Law Student Conference Sponsored by CLF and TWU
– November 14, 2015 at 9:00 am - 4:00 pm
Ten Thousand Villages Fair Trade Christmas Market
– November 14, 2015 at 10:00 am - 4:00 pm
VST's Official Grand Opening Ceremony
– November 14, 2015 at 10:00 am - 12:00 pm
Spotlight on Taiwan
– November 14, 2015 at 10:30 am - 1:00 pm
Wills & Estate Workshop (FREE!)
– November 14, 2015 at 10:30 am - 3:00 pm
The Stork and the Sparrow Book Launch
– November 14, 2015 at 1:00 pm - 3:00 pm
Journey Canada Annual Fundraiser
– November 14, 2015 at 6:45 pm - 9:30 pm
Chantele Delaine: 5 & 2 Benefit Concert
– November 14, 2015 at 7:00 pm - 9:00 pm
November 15, 2015
Book Launch for 'Thomas Merton and the Noonday Demon'
– November 15, 2015 at 12:00 am
Restorative Justice Week 2015
– November 15, 2015 - November 22, 2015 at All Day
Songs for Syria Benefit Concert
– November 15, 2015 at 4:00 pm - 6:00 pm
Stile Moderno Baroque Camber Ensemble Extravaganza
– November 15, 2015 at 4:00 pm - 5:00 pm
African Children's Choir
– November 15, 2015 at 7:00 pm - 9:00 pm
Speaker from Jerusalem: Christian Friends of Yad Vashem
– November 15, 2015 at 7:00 pm - 9:00 pm
November 16, 2015
Samaritan's Purse National Collection Week
– November 16, 2015 - November 22, 2015 at All Day
Forum on Climate Change: Causes, Impacts & Prospects
– November 16, 2015 at 7:00 pm - 9:00 pm
November 17, 2015
Future Prospects for Higher Education: Key Drivers of Sustainability
– November 17, 2015 at 4:00 pm - 5:30 pm
Family Sing-along Concert
– November 17, 2015 at 7:00 pm - 9:00 pm
Public Lecture Series: Competing Paradigms: Christianity and Naturalism – Persons: Identify & Re-identify
– November 17, 2015 at 7:00 pm - 8:30 pm
Archie Spencer Book Launch: The Analogy of Faith
– November 17, 2015 at 7:30 pm - 9:00 pm
November 18, 2015
Preaching Workshop with Darrell Johnson
– November 18, 2015 at 9:00 am - 3:00 pm
REconneXion
– November 18, 2015 at 9:00 am - 1:00 pm
Christmas Shopping and Fireside Chats
– November 18, 2015 - November 20, 2015 at 4:00 pm - 9:00 pm
November 19, 2015
REconneXion
– November 19, 2015 at 9:00 am - 1:00 pm
Climate Conversations
– November 19, 2015 at 7:00 pm - 9:00 pm
The Amish Project by Jessica Dickey
– November 19, 2015 - November 21, 2015 at 8:00 pm - 10:00 pm
November 20, 2015
Al Massira Training Event
– November 20, 2015 - November 21, 2015 at All Day
Worship Central Conference: Tim Hughes, Christy Nockels and more
– November 20, 2015 - November 21, 2015 at All Day
REconneXion
– November 20, 2015 at 9:00 am - 1:00 pm
Alexandra Maillor / Luca Fogale
– November 20, 2015 at 7:00 pm - 9:00 pm
Vicki Thorn: What Makes Them Click - The Science of Human Attraction
– November 20, 2015 at 7:00 pm - 9:00 pm
White Rock Full Gospel Business Men's Fellowship: Mike Zachman
– November 20, 2015 - November 21, 2015 at 7:00 pm - 4:00 pm
Stories of an Everyday Pilgrim: Book Launch
– November 20, 2015 at 7:30 pm - 9:00 pm
November 21, 2015
M2/W2 Volunteer Training
– November 21, 2015 at 9:00 am - 12:00 pm
Restoration Saturday
– November 21, 2015 at 9:15 am - 12:30 pm
Rev Dr Richard Topping: What's God Got to Do With It? - Theology for Non-theologians
– November 21, 2015 at 9:30 am - 12:30 pm
Christmas Shopping and Fireside Chats
– November 21, 2015 at 10:00 am - 4:00 pm
Prayer Canada: Official Retirement of Arne Bryan & Recognition of Kelvin Beckstead as New President
– November 21, 2015 at 6:00 pm - 8:30 pm
Gloria Dei Chorale: Of Light and Love
– November 21, 2015 at 7:30 pm - 9:30 pm
Hudson Taylor Legacy Series: Reaching the Hard Places
– November 21, 2015 at 7:30 pm - 9:00 pm
Fauré Requiem: A Choral Masterpiece
– November 21, 2015 at 8:00 pm - 10:00 pm
Christian Advocacy Society Celebration Dinner Banquet, with Dr. Margaret Somerville
– November 21, 2015 at 8:30 pm - 9:30 pm
November 22, 2015
Vancouver Oratorio Society: Gloria & Sacred Choral Selections
– November 22, 2015 at 7:30 pm - 9:30 pm
November 23, 2015
Contemporary and Pentecostal Approaches to Biblical Texts
– November 23, 2015 at All Day
Fauré Requiem: A Choral Masterpiece
– November 23, 2015 at 8:00 pm - 10:00 pm
November 24, 2015
Public Lecture Series: Competing Paradigms: Christianity and Naturalism – The Shroud of Turin (illustrated talk)
– November 24, 2015 at 7:00 pm - 8:30 pm
Vancouver Water Bash
– November 24, 2015 at 7:00 pm - 9:00 pm
November 25, 2015
C2C Network Fall Celebration Banquet
– November 25, 2015 at 6:00 pm - 9:00 pm
Climate Convergence
– November 25, 2015 at 7:00 pm - 9:00 pm
Thomas Merton on Art as Truth
– November 25, 2015 at 7:00 pm - 8:30 pm
Jazz Evensong: Lorraine Foster
– November 25, 2015 at 8:00 pm - 10:00 pm
November 27, 2015
Chapel North Shore
– November 27, 2015 at 7:00 pm - 9:00 pm
Chapel Vancouver
– November 27, 2015 at 7:00 pm - 9:00 pm
Puttin' on the Ritz
– November 27, 2015 - November 28, 2015 at 7:00 pm - 11:30 pm
Chapel Tri-Cities
– November 27, 2015 at 7:15 pm - 9:00 pm
November 28, 2015
Biblical Interpretation Course
– November 28, 2015 at 8:00 am - 1:30 pm
Christmas Bazaar at St. Thomas
– November 28, 2015 at 10:00 am - 2:00 pm
Annual Christmas Bazaar
– November 28, 2015 at 11:00 am - 4:00 pm