Anglicans are often uncomfortable with the word 'mission.' That reality was confronted head-on May 26 at Inside Out Church, a mission conference offered by the Diocese of New Westminster, which includes the Metro Vancouver / Fraser Valley area.
Keynote speaker Rev. Dr. Lillian Daniel led the way with humorous insights into mainline reticence about sharing the gospel, from her own experience. She is a Congregational Church minister in Dubuque, Iowa, but she spends much of her time writing and speaking.
The titles of her two most recent books give a good sense of where she is coming from: When 'Spiritual But Not Religious' is Not Enough and Tired of Apologizing for a Church I Don't Belong To.
Daniel spoke of the challenges she faced as a young pastor in New England when she decided to bring back the early Congregational practice of testimony. She found that her parishioners had a tough time telling their own faith stories.
They were good at speaking about social justice issues, but the closest they could come to speaking about their own faith was to say what they weren't like (megachurches, for example). Pressed further, they would point to their outstanding choir ("so does the college"), great speakers ("so is Garrison Keillor"), our people are so nice ("not like those axe murderers in yoga classes").
She particularly hates the last reason, "mainly because it's not true!" People are people wherever they are, she said. What she tries to do is to urge her fellow mainline Christians (and others; we can all benefit from her insights) that "this weird thing we do" is about worshiping God, and "prepares us to notice the holy and the transcendent in our world."
She is not hesitant to challenge the widely held view that "if we're very quiet and very nice, they will come." Her most recent book looks particularly at the 'nones,' those who are not connected to religious groups. She suggested there are four types of nones, each with its own characteristics:
no ways have made a conscious decision not to be in the church; they may be hostile to it;
no longers have some Christian formation, but a life event or circumstances have moved them out of the church; they may return;
never haves grew up in homes without any connection to the church (Daniel: "They are not yet angry with the church – give us time, we'll get to you.");
not yets know nothing about the church, but are often curious about it.
Daniel said the last two groups are often made up of younger people who are the children of those in the first two groups. She said they are often willing to learn more, "which takes me back to testimony."
Patrick Blaney, parish priest at St. John the Evangelist Anglican Church in North Vancouver, said that under the leadership of Melissa Skelton (bishop of the diocese and recently named Archbishop of the Ecclesiastical Province of BC and Yukon), the Anglican church in this area has been thinking outside the box in terms of mission. Now is the time, he said, "to learn from each other, that is, from inside the church." Hence the conference name.
There was a wide range of workshops to choose from, including:
Mission to Seafarers
Reframing Youth Ministry
Strategic Planning for Mission
Sharing Faith with Confidence and Joy
Messy Church
Faith in the Marketplace
Bishop Skelton led one seminar which focused on what generates mission in the parishes and how smaller parishes which are short on funds and energy can reshape themselves for mission. Rev. Tellison Glover, who moved to Vancouver from the Bahamas recently to take on the role of director for mission and ministry development, also led a workshop.
The day was wide-ranging and encouraging. Clearly there is a strong desire to undertake mission and engage with the community. One priest noted the broad participation, which included evangelical and high church parishes along with more mainstream liberal Anglicans.
The one expression of mission I was surprised not to see represented was Alpha, given its Anglican roots and strong presence in Metro Vancouver (Alpha Canada's office is in New Westminster).
Go here for a more complete write-up on the Diocesan Mission Conference by Caitlin Reilly Beck on the diocesan website.
Strange bedfellows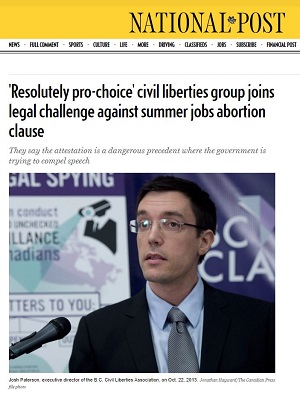 A May 17 article in the National Post took note of an unusual partnership. Here is part of "'Resolutely pro-choice' civil liberties group joins legal challenge against summer jobs abortion clause":
The B.C. Civil Liberties Association considers itself fully on the side of reproductive rights, but it's now entering the legal fight against a Canada Summer Jobs clause that requires all applicants to attest to respect for those rights.
Executive Director Josh Paterson sees the attestation as a dangerous precedent where the government is trying to compel speech.
"To say, look, we're just not going to fund any anti-choice activities, I don't think that would contravene the constitution," he said. "To say we're going to force you to mouth these words, or to sign this attestation, whether or not you believe in the words written: that is what is problematic."
This week, the civil liberties group was granted intervener status in the Federal Court case started by a Toronto pro-life organization in January. The case seeks judicial review of the government's decision to implement the attestation, arguing it violates freedom of religion and conscience, among other grounds.
Go here for the full article, and here for links to several earlier articles I have posted on the Canada Summer Jobs situation.
First Reformed at Fifth Avenue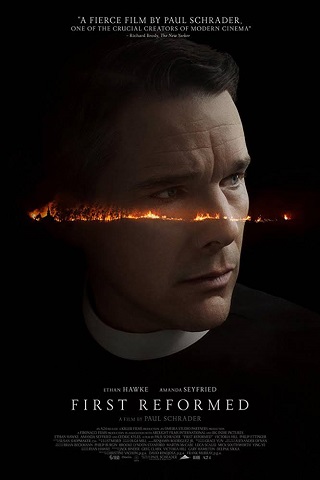 When writers in the Georgia Straight and Christianity Today agree about the significance of a movie, then it must be worth watching. First Reformed will open at Fifth Avenue Cinemas June 1 and will run for at least the next week.
Josh Cabrita wrote about TIFF 2017 last fall in the Georgia Straight. He began:
At screenings, parties, and in line, there's one common ice breaker: "What's the best thing you've seen?" . . .
I've already made a few friends whose (objectively correct) response is Paul Schrader's masterful First Reformed, elegant, profound and readymade for an unfair return-to-form narrative.
Still best known for writing screenplays for Martin Scorsese films like Taxi Driver, Raging Bull and the often overlooked Bringing Out the Dead, Schrader's exuberant punishment of his characters is replaced here with a quieter, more solemn tone.
Here is the synopsis of First Reformed on the Cineplex site:
Reverend Ernst Toller (Ethan Hawke) is a solitary, middle-aged parish pastor at a small Dutch Reform church in upstate New York on the cusp of celebrating its 250th anniversary. Once a stop on the Underground Railroad, the church is now a tourist attraction catering to a dwindling congregation, eclipsed by its nearby parent church, Abundant Life, with its state-of-the-art facilities and 5,000-strong flock.
When a pregnant parishioner (Amanda Seyfried) asks Reverend Toller to counsel her husband, a radical environmentalist, the clergyman finds himself plunged into his own tormented past, and equally despairing future, until he finds redemption in an act of grandiose violence. . . .
Kenneth Morefield began his review in Christianity Today with this line:
I have been waiting most of my adult life for Paul Schrader to direct a great film.
Then he provided some interesting background ("Part of Schrader's legend was his strict Calvinist upbringing . . .") and a catalogue of films which did not measure up to expectations:
After that, I pretty much gave up on Schrader.
So when I say First Reformed is the Schrader film I had stopped waiting for, stopped even hoping for, it's not just pull-quote baiting. For anyone who longs for stylistically informed, spiritually serious films for and about religious people, First Reformed is a forgotten wish finally come true.
Morefield refers to Schrader's debt to a film based on a classic French novel by Catholic writer Georges Bernanos:
The line between skillful homage and hackish knock-off is an admittedly fuzzy one, but Schrader's film is on the right side of it. First Reformed is not a remake of Diary of a Country Priest, even if it shares with Bresson's film the central conceit of a physically sick and spiritually tormented minister of the gospel wrestling with his own conscience.
For the full review go here.
Tolkien: see it while you can
Tolkien by Ron Reed runs just until June 9. A couple of nights are sold out, so don't delay in buying your tickets. Christopher Morrissey wrote a particularly helpful review/backgrounder for the play in The B.C. Catholic. Here is a portion:
The appeal of Tolkien and Lewis derives, I think, from their imaginative critique of the modern world's domination by machine technology. In effect, the two re-humanize and re-enchant the world with their sanctifying fictions.
For Tolkien in particular, the possession of magic best symbolizes the abilities of technology in the modern age, which is intoxicated by the magic of "the machine." Tolkien's intricate tales capture the deep truth of our destructive fascination with this power.
But he also shows how we might overcome "the machine," through the formation of real friendships. Think of Frodo Baggins and Samwise Gamgee.
Lewis' imaginative worlds may be more accessible for the very reason Tolkien criticized them: they are more didactic, as they provide vividly imaginative justifications for the truth of Christianity.
Perhaps because Lewis felt he had wasted too much of his life on atheism and materialism, he saw the need to debunk such poppycock in the most directly effective ways possible.
Lewis was a convincing apologist, but his theology is arguably best articulated in his stories, especially in his science-fiction trilogy and The Narnia Chronicles.
His strongest philosophical argument against the Age of the Machine, against which both he and Tolkien were compelled to write great literature, is found in The Abolition of Man. Still relevant today, that book is my recommended starting point for anyone seeking to understand the noble purpose animating both Lewis and Tolkien.
Go here for the full article.
Pacific Theatre has received 10 Jessie Award nominations in the Large Theatre category. Here is part of the May 27 press release:
Pacific Theatre received a total of 10 nominations with Outside Mullingar scoring six for this captivating production that included a nod for Outstanding Production along with Angela Konrad for Outstanding Direction. Writer Mark Leiren-Young was acknowledged for his script for Pacific Theatre's Bar Mitzvah Boy.
Go to the Soul Food Vancouver blog for more details and pictures. The Jessie Awards will held July 16 at Bard on the Beach.
Jun 2018
Christian Faith and Popular Culture Conference
– June 1, 2018 at 8:30 am - 4:00 pm
Carnival: Richmond Christian School's 60th Anniversary
– June 1, 2018 at 2:30 pm - 8:30 pm
Business As Mission Social Impact Investment Conference
– June 1, 2018 - June 2, 2018 at 6:00 pm - 4:00 pm
What is the 'Best' Evidence God Created? with Carl Kerby
– June 1, 2018 at 7:30 pm - 9:30 pm
Jazz Meets Gospel
– June 2, 2018 at All Day
Book Signing: For Better, For Worse
– June 2, 2018 at 11:00 am - 2:00 pm
Genesis and Jesus with Carl Kerby
– June 2, 2018 at 2:00 pm - 4:00 pm
REST Fest 2018
– June 2, 2018 at 6:00 pm - 9:00 pm
Creation Science AGM Dinner Meeting & Finding God in Ancient China with Carl Kerby
– June 2, 2018 at 6:30 pm - 9:00 pm
North American Coalition for Christian Admissions Professions (NACCAP) Annual Conference
– June 5, 2018 at All Day
A Community Aware: Resisting the Pipeline
– June 5, 2018 at 7:00 pm - 9:00 pm
Celia Deane-Drummond: The Lost Soul of Homo – Humility, Wisdom & Technology in Deep Evolutionary Time
– June 5, 2018 at 7:30 pm - 9:00 pm
Paul Stevens & Alvin Ung: Spiritual Friendship & Mentoring Today
– June 6, 2018 at 12:00 pm - 12:45 pm
Minho Song: Unchanging Mission Principles in an Age of Rapid Change – Lessons from the Past
– June 6, 2018 at 7:30 pm - 9:00 pm
Jazz Evensong: Bryn Kinders & Friends
– June 6, 2018 at 8:00 pm - 9:30 pm
First Reformed
– June 7, 2018 at All Day
Tolkien by Ron Reed
– June 7, 2018 - June 9, 2018 at All Day
Watoto: Signs & Wonders
– June 7, 2018 at 12:00 am
Everyday Abbey Webinar: There Aren't Enough Hours in the Day
– June 7, 2018 at 10:00 am - 11:00 am
David Lewin: Thinking About Tomorrow – Where Theology, Technology and Education Meet
– June 7, 2018 at 7:30 pm - 9:00 pm
Watoto: Signs & Wonders
– June 8, 2018 at 7:00 pm - 9:00 pm
Duelling with Cause
– June 8, 2018 at 8:00 pm - 11:30 pm
The Story of Anglicanism
– June 9, 2018 at 10:00 am - 12:00 pm
Watoto: Signs & Wonders
– June 9, 2018 at 6:00 pm - 8:00 pm
Night of Power prayer meeting
– June 9, 2018 at 7:00 pm - 9:00 pm
Hymn Festival: Blessed Assurance
– June 9, 2018 at 7:30 pm - 9:30 pm
Jazz Vespers: Angela Verbrugge
– June 10, 2018 at 4:00 pm - 5:00 pm
Jazz Vespers: Doc Fingers Quartet
– June 10, 2018 at 4:00 pm - 5:00 pm
Watoto: Signs & Wonders
– June 10, 2018 at 6:00 pm - 8:00 pm
Night of Power prayer meeting
– June 10, 2018 at 7:00 pm - 9:00 pm
Watoto: Signs & Wonders
– June 12, 2018 at 7:00 pm - 9:00 pm
BC Christian Ashram
– June 13, 2018 at All Day
Summer Connect
– June 13, 2018 at 11:00 am - 3:00 pm
Jazz Evensong: Nancy Newman & Friends
– June 13, 2018 at 8:00 pm - 9:30 pm
Tigers Be Still by Kim Rosenstock
– June 13, 2018 - June 16, 2018 at 8:00 pm - 10:00 pm
Fr. David Bauer Memorial Golf Classic
– June 14, 2018 at All Day
Laila Biali
– June 15, 2018 at 7:00 pm - 10:00 pm
Run for H2O
– June 16, 2018 at 8:00 am - 12:00 pm
Restoration Day at A Rocha
– June 16, 2018 at 9:00 am - 12:30 pm
Amazing Grace: A Day Conference with Terry Virgo
– June 16, 2018 at 9:30 am - 4:00 pm
Book Launch: Church in Surrey & White Rock – The Untold Story
– June 16, 2018 at 1:00 pm - 5:00 pm
Stars & Dark Matter, Quilts by Lois A. Klassen: Gallery Exhibit Opening Reception
– June 16, 2018 at 2:00 pm - 4:00 pm
Ember Vancouver
– June 16, 2018 at 7:00 pm - 9:00 pm
All My Relations: Indigenous People's Day Celebration
– June 17, 2018 at 1:00 pm - 5:00 pm
Jazz Vespers: Ingrid Stitt
– June 17, 2018 at 4:00 pm - 5:00 pm
VOS Choir: Father's Day Appreciation Concert
– June 17, 2018 at 5:00 pm - 6:30 pm
Sarah Williams: The Spirituality of Time
– June 18, 2018 at 7:30 pm - 9:00 pm
Celebrate World Refugee Day
– June 19, 2018 at 7:00 pm - 8:30 pm
Reina Del Cid
– June 19, 2018 at 7:00 pm - 10:00 pm
World Refugee Day: Information Fair
– June 20, 2018 at 10:00 am - 4:00 pm
The Invisible City [Kakuma] Documentary Film Screening
– June 20, 2018 at 6:00 pm - 9:00 pm
Jazz Evensong: Laura Crema & Friends
– June 20, 2018 at 8:00 pm - 9:30 pm
Lines of Thought: Drawing Explorations & Painting Studies
– June 21, 2018 at 12:00 am
Won't You Be My Neighbor?
– June 21, 2018 at All Day
VOC Sweet Soul Gospel Choir (TD Vancouver International Jazz Festival)
– June 22, 2018 at 12:00 pm - 1:00 pm
Community Movie Night: Paddington 2
– June 22, 2018 at 6:00 pm - 8:00 pm
Spiritual Trauma Seminar
– June 22, 2018 at 7:00 pm - 9:00 pm
We are Neighbours Celebration
– June 23, 2018 at 1:00 pm - 4:00 pm
A Comedy & Dessert Night with Phil Callaway
– June 23, 2018 at 6:30 pm - 9:30 pm
World Refugee Sunday
– June 24, 2018 at All Day
Point Grey Fiesta: Ecumenical Church Service
– June 24, 2018 at 10:00 am - 11:00 am
Jazz Vespers with Tom Arntzen & Friends
– June 24, 2018 at 4:00 pm - 5:00 pm
Jazz Vespers: Gabriel Hasselback
– June 24, 2018 at 4:00 pm - 5:00 pm
Jazz Vespers: Heather Soles & West Coast Charisma
– June 24, 2018 at 4:00 pm - 5:00 pm
Jazz Vespers: Universal Gospel Choir
– June 24, 2018 at 4:00 pm - 5:00 pm
Then Sings My Soul: An Evening of Music with Calvin Dyck
– June 24, 2018 at 6:00 pm - 7:30 pm
Andy Rowell: How to Think About Church Leadership
– June 25, 2018 at 12:00 pm - 1:00 pm
Leora Cashe (TD Vancouver International Jazz Festival)
– June 25, 2018 at 12:00 pm - 1:00 pm
Wafik Wahba: Understanding Current Dynamics in Christian-Muslim Relationships
– June 25, 2018 at 7:30 pm - 9:00 pm
Good Noise Gospel Band (TD Vancouver International Jazz Festival)
– June 26, 2018 at 12:00 pm - 1:00 pm
Alzheimer Café Vancouver
– June 26, 2018 at 4:00 pm - 6:00 pm
EFC Webinar on the TWU Decision
– June 27, 2018 at 9:00 am - 10:00 am
City Soul Gospel Choir (TD Vancouver International Jazz Festival)
– June 27, 2018 at 12:00 pm - 1:00 pm
Jeff Greenman Interviews Jim Houston
– June 27, 2018 at 12:00 pm - 12:45 pm
International Choral Kathaumiwx Concert
– June 27, 2018 at 7:00 pm - 9:00 pm
Amanda Russell-Jones: The After-life of Hagar – Egyptian Slave, Wife of Abraham, Cast Out in the Wilderness with Her Son
– June 27, 2018 at 7:30 pm - 9:00 pm
Mary McCampbell: Imagining Our Neighbours as Ourselves – the Arts, Empathy & the Christian Imagination
– June 27, 2018 at 7:30 pm - 9:00 pm
Acceleration by Caroline Sniatynski
– June 27, 2018 - June 30, 2018 at 8:00 pm - 10:00 pm
Jazz Evensong: Ron Small & Friends
– June 27, 2018 at 8:00 pm - 9:30 pm
Ellul and the Bible: 2018 IJES Conference
– June 28, 2018 - June 30, 2018 at All Day
Marcus Mosely Chorale (TD Vancouver International Jazz Festival)
– June 29, 2018 at 12:00 pm - 1:00 pm
pecial Outdoor Italian Concert: Canzoni della Nostra Gioventù
– June 29, 2018 at 6:30 pm - 8:00 pm
Watoto: Signs & Wonders
– June 29, 2018 at 7:00 pm - 9:00 pm
World Cup Brunch
– June 30, 2018 at 10:30 am - 1:00 pm
Summer in the Forest (L'Arche)
– June 30, 2018 at 4:00 pm - 5:30 pm
Summertime Worship 2018
– June 30, 2018 at 7:30 pm - 10:30 pm