Last Sunday (September 20) was a momentous day for three Vancouver churches. All closed their doors, but each will retain a presence, though in quite distinct ways.
Bethlehem Lutheran
Pastor Fred Rink led a decommissioning service for Bethlehem Lutheran Church, which is situated in the centre of Vancouver, just east of Main Street.
The property has been sold and will be used for housing. Kenneth Chan wrote about the development for DailyHive May 29; here is a portion:
The Bethlehem Lutheran Church building at the southeast corner of the intersection of East 15th Avenue and Sophia Street in Vancouver's Mount Pleasant neighbourhood could be redeveloped into 51 stacked townhouses.
According to the development application submitted by Marianne Amodio + Harley Grusko Architects, the proposal for 322 East 15th Avenue calls for three-storey buildings, with 41 percent of the units to be sized for families (two bedrooms or larger). As well, 25 percent of the "garden studios" will be dedicated to first-time buyers.
The angled structures are conceived as a "series of smaller blocks" and configured to create a u-shape around a central courtyard amenity space, which acts as an extension of Tea Swamp Park. The property is located just west of Mount St. Joseph Hospital. . . .
The 1964-built church changed hands in December 2018 in a deal worth $14.5 million.
Go here for the full article.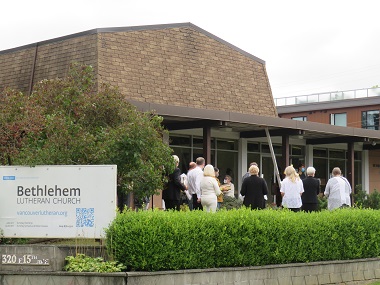 The final service at Bethlehem Lutheran is on YouTube. Pastor Rink wrote this comment to accompany the video:
Our last service in the address 15th and Sophia Street. There are so many memories attached to this building and it is with sadness that we leave.
We leave, however, as we came which is with Christ. We remain the church, His called and gathered people. Jesus' gifts remain the same, His steadfast love never changes, and His Word and Sacraments have great power.
These gifts, this reality, we will still have as individuals and as the Bethlehem Family as we worship with Killarney starting next week, Sunday, September 27th. We leave and begin anew in this confidence.
Members of Bethlehem Lutheran will, for the time being, join the congregation of Killarney Community Lutheran Church at 49th and Kerr. Both churches are members of the Lutheran Church-Canada. Pastor Rink said they will consider purchasing another property in time.
Culloden / Midtown
Culloden Church held its final service on Sunday, following half a century of ministry in east Vancouver, on Culloden Street at 45th Avenue, just west of Knight Street.
However, the building will soon host another group – Midtown Church.
Here is Culloden's announcement:
Important update: At our church meeting on July 20, 2020, Culloden affirmed the proposal to close the church, and then replant under new leadership, a new lead pastor, Norm Funk, & as a new church, called Midtown Church.
WHAT?! Yes, this was a very emotional & difficult decision by the church after 52 years of God changing lives; however, the church affirmed this enormous decision to trust God for a new thing in this same location.
What does this mean moving forward? Regular Sunday services will continue for Culloden with the current staff (via in person & livestream) until September 20, 2020. After September 20, the Culloden Church will shut down, all staff will be laid off, and for a season of closure (possibly until January 2021) there will be the launching of the new church.
Yes, they're talking about that Norm Funk, former senior pastor of Westside Church. Here is the announcement on the Midtown Church website:
We Exist to Make Jesus Known.
We are excited to announce the upcoming launch of Midtown Church in January, 2021. Midtown is a replant work that will build upon the 52 years of faithful ministry of Culloden Church as it seeks to make Jesus known in Vancouver.
It appears there is considerable interest in plans for Midtown Church. Two September 27 in-person 'info gathering' meetings at the church are full, with two more planned for October 4.
Culloden Church seems to have taken a page from Christ City Church, which is also part of the Mennonite Brethren denomination. As Frank Stirk wrote in an article I posted in 2013:
While preparing to launch Christ City Church, a Mennonite Brethren church plant in south Vancouver, pastor Brett Landry received an offer he believes could only have come from the mind of God. He was told South Hill Church, a long-established MB church in the area, had voted to disband and give them their building.
"That building used to be Vancouver MB, the first Mennonite Brethren church in the city," says Landry, . . . "It's got a church planting history. They were not a dead church. They just felt like this is what God wanted them to do."
Writing for the denominational site, Barrie McMaster said of the Christ City plant:
One part of Vancouver MB's story has a particular sweetness for many members. In 1961, VMB planted Burnaby's Willingdon Church . . . Several leaders from Vancouver's Westside Church came out of Willingdon. And Westside is birthing Christ City. Meanwhile, Willingdon has since adopted Landry as church planter, completing the circle of blessing.
Funk is very much part of that story; he has gone from Willingdon to Westside, and now, to Midtown, enlarging the 'circle of blessing' still further.
Lord's Peace Chapel
Lord's Peace Chapel also closed its doors. Pastor Chris Kibble said:
On Sunday 20th September, the members of Lord's Peace Chapel in Marpole voted to formally dissolve the church, and later the same morning, most of the former members were taken into membership at West Point Grey Baptist Church.
This followed nine months of prayer, planning and discussion between the two churches.
Lord's Peace Chapel was founded in 1998 as a church plant out of the Chinese Christian Church, now Lord's Grace Church [in Kitsilano]. It met initially at Marineview Chapel, but since 2003, it had met at the Scottish Cultural Centre.
Here is a bit more detail from the church's history page:
In 1998, the Chinese Christian Chapel (CCC) in Vancouver, was bursting in size. For the previous two years, a committee within CCC had been discussing the possibility of church-planting, and the church's growth increased that sense of urgency in their hearts.
Several families felt led to participate in a new church-planting venture, one that simply used English as the common language of worship, and on April 1st, 1998, the Lord's Peace Chapel began her ministry with the support of CCC.
Shortly after this move, CCC became known as Lord's Grace Church. LPC continues to share a 'sister' relationship with this church, as well as with an earlier church plant, Lord's Love Church [just west of Fraser on 47th]. . . .
Kibble will "return to retirement" and the other Lord's Peace staff will work and volunteer at two Baptist churches.
Ride for Refuge
Journey Home Community hopes to raise $130,000 through Ride for Refuge. The annual event is an important one for the refugee ministry, but the pandemic means that things will have to operate differently this year.
The Ride 4 Refuge Freestyle Edition will go ahead October 3, but this year riders are urged to "gather virtually, self-organizing in smaller, covid-friendly teams or groups as permitted."
Here is how the money will be used:
Journey Home Community exists to welcome newly arriving refugee claimant families in the Metro Vancouver area. Money raised from the RIDE will be allocated to providing housing, holistic settlement support and relational care and connections to community for refugee families seeking protection. They have fled persecution and are intent on making a new home in a safe place, utilizing their multiple skills and abilities to make Canada an even better place!
Join us in making the difference for these courageous families. RIDE or WALK or "FREESTYLE" with us on October 3rd.
For more information contact Laura Brook at 604.612.6930 or email [email protected]
Sep 2020
Season of Creation
– September 1, 2020 - October 4, 2020 at All Day
8th Annual Hope Run for H2O
– September 19, 2020 - September 26, 2020 at All Day
First United Housing Fall Cleanup
– September 24, 2020 - September 25, 2020 at 10:00 am - 4:00 pm
UBC Chapel: Online
– September 25, 2020 at 7:00 pm - 8:30 pm
Altitude: The Ride for Himalayan Life
– September 26, 2020 - September 27, 2020 at All Day
Walk the Wall
– September 26, 2020 at 12:00 am
Ending Poverty Together Workshop
– September 26, 2020 at 10:00 am - 1:30 pm
Great Commission 2020 Golf Tournament
– September 26, 2020 at 10:00 am - 6:00 pm
Abbotsford Neighbourhood Prayer Walk
– September 27, 2020 - October 3, 2020 at All Day
The Gathering: A Virtual Event
– September 27, 2020 at 5:00 pm - 6:00 pm
Awaken BC: Arise and Seek the Lord
– September 27, 2020 at 6:00 pm - 8:30 pm
Cross the Line: Extending Christ's Welcome in a Divided World
– September 28, 2020 - October 2, 2020 at All Day
Ideas that Matter: The Black Experience in Biblical Interpretation
– September 28, 2020 at 12:00 pm - 1:30 pm
Interface: A Scientist's Journey from Atheism to Faith
– September 28, 2020 at 7:30 pm - 9:00 pm
Journey Canada Webinar: Relationships, Sexuality & Identity
– September 29, 2020 at 10:00 am - 11:00 am
A Shared Table: Food, Culture & Identity, by Flavours of Hope
– September 29, 2020 at 4:00 pm - 5:30 pm
Together at Midday: Maxine Hancock
– September 30, 2020 at 12:00 pm - 12:45 pm
Canadian Society of Church History Book Launch: After the Revival
– September 30, 2020 at 4:00 pm - 6:00 pm
The State of the System: A Reality Check on Canada's Schools in Light of COVID
– September 30, 2020 at 4:00 pm - 5:30 pm
Oct 2020
A Rocha Talks: Alone in a World of Wounds – Living with Ecological Grief
– October 1, 2020 at 4:00 pm - 5:00 pm
Dr. Sy Garte: A Sense of Wonder – the Long Journey of a Scientist to Faith
– October 1, 2020 at 4:00 pm - 5:00 pm
Elevate Conference
– October 2, 2020 - October 3, 2020 at 6:15 pm - 4:00 pm
Ride for Refuge: Journey Home
– October 3, 2020 at All Day
Ride for Refuge: Kinbrace
– October 3, 2020 at All Day
Vancouver Life Chain
– October 4, 2020 at 2:00 pm - 3:00 pm
Mental Health Awareness Panel
– October 4, 2020 at 4:00 pm - 5:30 pm
Rhythms for Life: Book Launch and Roundtable
– October 5, 2020 at 12:00 pm - 1:00 pm
Postponed: The Gospel & Our Cities Conference, with Tim Keller
– October 6, 2020 - October 7, 2020 at 9:00 am - 12:00 pm
Together at Midday: Mark Glanville
– October 7, 2020 at 12:00 pm - 12:45 pm
Christian Schools Canada Virtual Conference 2020
– October 8, 2020 at 8:00 am - 2:30 pm
Webinar: An Update on Euthanasia Legislation in Canada
– October 8, 2020 at 4:00 pm - 5:00 pm
Church Mental Health Summit
– October 10, 2020 at All Day
Thanksgiving Drive-Through Food Drive
– October 10, 2020 at 11:00 am - 2:00 pm
Freedom Forum Panel: The Grimkés Speak Out on Faith, Race, and Civil Rights
– October 11, 2020 at 12:00 pm - 1:30 pm
Alpha Webinar: Ministry, Mission and the Future Church
– October 13, 2020 at 10:00 am - 10:45 am
FaithTech Vancouver Fall Kick-off: Bridging the Gap Between Faith & Technology
– October 13, 2020 at 7:00 pm - 8:30 pm
Faster, Higher, More Moral? Human Enhancement and Christianity
– October 14, 2020 at 1:00 pm - 2:30 pm
The Global Leadership Summit
– October 15, 2020 - October 16, 2020 at 8:30 am - 3:30 pm
The Church, the State & the Pandemic
– October 15, 2020 at 2:30 pm - 3:30 pm
Somerville Lecture: Artist James He Qi
– October 15, 2020 at 7:00 pm - 8:00 pm
Canadian Foodgrains Bank Virtual Concert: Quonset Brothers | Kristel Peters & Korey Peters | Steve Bell
– October 16, 2020 at 6:00 pm - 7:30 pm
Change Conference 2020: Free Online Canadian Youth Conference
– October 16, 2020 at 6:30 pm - 8:00 pm
The Unchained Gospel Heart for Asia Youth Celebration
– October 16, 2020 at 7:00 pm - 9:00 pm
The Unchained Gospel: Heart for Asia Conference
– October 17, 2020 at 9:00 am - 12:00 pm
Chew on This! e-rally
– October 17, 2020 at 10:00 am - 11:30 am
Progressive Book Launch – Aaron White: Recovering
– October 17, 2020 at 10:00 am - 1:00 pm
Dr. Christopher Wright: The Great Story and the Great Commission
– October 19, 2020 - October 21, 2020 at 3:00 pm - 4:30 pm
Salvation Army Webinar: Join the Conversation
– October 20, 2020 at 11:00 am - 12:00 pm
Together at Midday: Toni Kim
– October 21, 2020 at 12:00 pm - 12:45 pm
Chaplains Connect
– October 21, 2020 at 4:00 pm - 6:00 pm
Book Launch with Dr. Matthew J. Thomas
– October 22, 2020 at 12:00 pm - 1:00 pm
Dialogue on Aging: The Fountain of Health – Practical Tools for Positive Mental Health
– October 22, 2020 at 1:00 pm - 3:00 pm
Suitcase Stories
– October 22, 2020 - October 25, 2020 at 8:00 pm - 10:00 pm
Operation World Online Family Conference 2020
– October 23, 2020 - October 25, 2020 at All Day
TWU Spartans Sports Leadership Superconference
– October 23, 2020 at 8:45 am - 4:00 pm
ARPA Canada Fall Tour 2020: Defending Our Christian Legacy of Liberty
– October 23, 2020 at 7:30 pm - 9:00 pm
National Walk and Talk to End Social Isolation
– October 24, 2020 at All Day
ARPA Canada Fall Tour 2020: Defending Our Christian Legacy of Liberty
– October 24, 2020 at 9:30 am - 11:00 am
M2/W2 Association: Portraits of Change Online Fundraiser
– October 24, 2020 at 7:00 pm - 8:30 pm
Violence in the Bible: A Conversation with Dr. Matthew Lynch
– October 26, 2020 at 12:00 pm - 1:00 pm
Mao vs. God: State Control of Churches in China under Xi
– October 26, 2020 at 2:00 pm - 3:00 pm
InterSession 2020: Finding the Future of Church Planting in Canada
– October 27, 2020 - October 28, 2020 at 10:00 am - 1:00 pm
Icons: Praying with Our Eyes
– October 27, 2020 at 7:00 pm - 8:00 pm
Community Cafe: How to Have Good Conversations in Community
– October 27, 2020 at 7:30 pm - 8:30 pm
Explore Alpha, with Jason Ballard
– October 28, 2020 at 10:00 am - 11:00 am
Earthkeepers: Prayer Night for Bold Climate Action
– October 29, 2020 at 5:00 pm - 6:00 pm
musica intima: the spirit's dwelling
– October 30, 2020 at All Day