Darrell Johnson will deliver a 'Bible Saturday' public lecture from John 14 – 16 on 'Jesus and the Spirit, May 27.
Bible Saturday is a new initiative of Regent Bookstore that seeks to study a passage or theme from God's Word with intention, purpose and context.
In the spirit of Regent College's emphasis on "Theology for all of life, and for all people," and featuring the quality scholarship of Regent's faculty and friends, these teaching events invite every student of scripture into the life-giving depths of the biblical story.
The first three Bible Saturday talks have been given by Regent college professors Paul Spilsbury, George Guthrie and Iain Provan (who retired late last year).
Darrell Johnson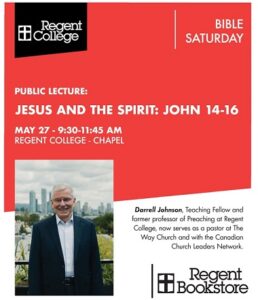 , Teaching Fellow and former Professor of Preaching at Regent College, now serves as a pastor at The Way Church and with the Canadian Church Leaders Network.
Here is a synopsis of Johnson's upcoming lecture:
On the night before giving His life for the life of the world on the cross, Jesus gathered the first disciples around a large table for a meal. In that tender, intimate context, He told them He was now going away, going back to the Father from Whom He had come.
And He shocked them by telling them it was to their advantage that He go! Mercy, how can that be? Because when He goes He will send the Paraclete, the Spirit. And how is that to our advantage?
Bible Saturday free lectures are held in Regent College's Chapel, from 9:30 – 11:45 and are open to all.
Harbour Light Project
VanMar Constructors Inc. tweeted May 9 that "Excavation and Shorcrete installation are underway at our Salvation Army Harbour Light Project in Vancouver."
Here are some of the specifics from their site:
Location:

130 East Cordova Street, Vancouver

Start: February 1, 2023

Completion:

August 29, 2025

Budget:

$102,000,000

Principles involved:

Owner: 

The Salvation Army

General Contractor:

VanMar Constructors 1083 Inc.

Architect: 

NSDA Architects

Description of project:

Housing for 300 residents year round and an additional 50 seasonal

Commercial kitchen that will provide 150,000 yearly meals to the area

Centre courtyard area at level 3

1 level Parkade with Car Lift system

9 stories above grade
Vancouver Harbour Light has been at this location for more than 65 years. Programs in the mixed-used building will include emergency shelters, addiction treatment, Corrections Canada community residential facility, low-income housing, support services, community meal programs and food procurement and distribution. 
BC Christian Academy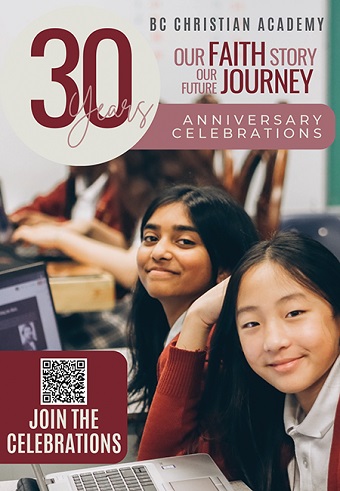 A recent article in The Light Magazine reminded me of the many encouraging stories that slip by, even though I try to keep my eyes open.
Beth Peters, Elementary Principal at BC Christian Academy, wrote about the trials and triumphs – both ongoing – their school has faced during its first 30 years.
Here are some excerpts:
The founders of BC Christian Academy never imagined at its opening in 1992 that the school would operate without a place to call home for 28 years, 'packing up the tents' and moving every few years when the lease could not be renewed or when growth demanded extra space be found.
This 28-year 'wandering' through Burnaby, Coquitlam and Port Coquitlam seemed like a detour but it has built a healthy spirit of dependence on God and of flexibility among the BCCA staff, students and families. . . .
One of these necessary moves involved a lengthy delay in securing the next new home for the school. Negotiations with the School District for permission to take up residence in one of their mothballed schools stretched long into the year, three months past re-registration date, causing many families to peel off to different schools in search of a guaranteed continuous program for their children.
Finally securing the old Lincoln Elementary School for BCCA's next home, mere weeks before the end of the school year, enrollment had plummeted by 18%, budgets were slashed and salaries reduced – these being some of the drastic but necessary measures taken by the board as it steered the school ahead to become an established and trusted, Christ-honouring educational institution in the Tri-Cities.
Within three years enrolment had further dropped to 186 students. Rebuilding the student body from this new low would take many years of prayer and hard work and feel like a significant U-turn in the journey. . . .
While kneeling in prayer before the Lord, the impossible happened. BCCA's third attempt to purchase the Fernwood property garnered the approval of the School District Trustees.
In June 2020, the beautiful nine acre property and 50 year old building they had leased for 12 years became the permanent home of BC Christian Academy.
Immediately plans were drawn up for a new facility that would be able to house the nearly 600 students who are currently spread across three campuses. This spring as the school celebrates 30 years, obstacles and set-backs continue to slow down development plans.
However, rather than clamouring for the trip to be over, BCCA is learning that continual prayer has become a powerful force and a necessary posture along the way, with every answered prayer building the school's community in endurance, in character and in hope (Romans 5:3).
Go here for the full story. BCCA will be holding its 30th Anniversary Festival June 10.
Jobs & Events
Go here for more than 200 job listings in the Metro Vancouver / Fraser Valley area and here to find several pages of local events.
May 2023
Week of Prayer for Africa – May 7, 2023 - May 14, 2023 at All Day
March for Life Victoria – May 11, 2023 at 9:15 am - 3:15 pm
SIMinar: Faith in Action: Dorcas Widows – May 11, 2023 at 5:00 pm - 6:00 pm
The Welcome Table: Annual Spring Gala – a Fundraiser for Journey Home Community – May 11, 2023 at 6:30 pm - 9:00 pm
Icons Workshop: Praying with Our Eyes (Thursday evenings) – May 11, 2023 at 7:00 pm - 8:30 pm
West Coast Renew & Flourish Women's Conference – May 12, 2023 - May 13, 2023 at 6:45 pm - 5:00 pm
Will There Be Faith? Following Christ in a Secular Age – May 12, 2023 - May 14, 2023 at 7:00 pm - 12:00 pm
A Rocha Volunteer Day – May 13, 2023 at 9:30 am - 2:00 pm
Jazz Vespers in the Valley with Shruti Ramani and friends – May 14, 2023 at 3:30 pm - 4:30 pm
Kentro Forum 2023: Connect – May 15, 2023 - May 17, 2023 at 7:30 pm - 4:00 pm
Marion Taylor: Did Paul Really Intend to Silence Women Everywhere & Always?: Five 16th Century Women Said "No" – May 15, 2023 at 7:30 pm - 9:00 pm
Faith in the new Plastics Treaty? A WEA Sustainability Center Webinar – May 16, 2023 at 9:00 am - 10:30 am
Creative Responses to Conflict – May 16, 2023 at 5:00 pm - 6:30 pm
Cindy Aalders: "Heavenly Pity Sees My Tears": Weeping in Anne Steele's Hymns – May 17, 2023 at 12:00 am
Marion Taylor: Women Interpreters of the Bible – May 17, 2023 at 12:00 pm - 12:45 pm
Jazz Evensong @ Brentwood: The Meridian Jazz Orchestra – May 17, 2023 at 8:00 pm - 9:00 pm
Life-Light by Thomas Brasch: Reception – May 18, 2023 at 4:00 pm - 7:00 pm
The Matinee – May 19, 2023 at 8:00 pm - 9:00 pm
Worship & Prayer @ Devonian Harbour Park – May 20, 2023 at 2:00 pm - 4:00 pm
Katharine Hayhoe: Empowering Climate Action Conversations – from Anxiety & Misinformation to Inspired Action – May 20, 2023 at 7:30 pm - 9:00 pm
Art Sale: Indigenous Relations Fundraiser MCBC – May 21, 2023 at 1:00 pm - 5:00 pm
Ed Ng: The Cultured Self: A Conditioned Approach to Mental Health – May 22, 2023 at 7:30 pm - 9:00 pm
Jazz Evensong @ Brentwood: The Sister Jazz Quintet – May 24, 2023 at 12:00 am
Cindy Aalders & David Robinson: Spiritual Friendship Today – May 24, 2023 at 12:00 pm - 12:45 pm
Faith, Mental Health & The Church – May 25, 2023 at 7:00 pm - 8:30 pm
Walk in the Spirit of Reconciliation – May 26, 2023 - May 28, 2023 at All Day
A public talk and one-day retreat with Thomas Merton scholar Douglas Christie – May 26, 2023 - May 27, 2023 at 7:00 pm - 3:00 pm
Hugh Ross: Science & the Bible – May 26, 2023 - May 27, 2023 at 7:00 pm - 3:00 pm
Times of Refreshing Conference with Bob Ekblad – May 26, 2023 - May 27, 2023 at 7:00 pm - 10:00 pm
A Taste of the Heart – May 27, 2023 at 8:30 am - 12:00 pm
Bible Saturday: Darrell Johnson – Jesus and the Spirit: John 14 - 16 – May 27, 2023 at 9:30 am - 11:45 am
The Return of Soul Gospel – May 27, 2023 at 3:00 pm - 5:00 pm
The Return of Soul Gospel – May 27, 2023 at 8:00 pm - 10:00 pm
Jazz Vespers in the Valley with Sharon Minemoto – May 28, 2023 at 3:30 pm - 4:30 pm
Jazz Vespers with Nancy Newman Quartet – May 28, 2023 at 4:00 pm - 5:00 pm
16th Annual First United Golf Tournament – May 29, 2023 at 12:00 pm - 9:00 pm
Adrea Johnson: Sanctified Affliction – the Encouragement of Puritan Devotional Literature – May 29, 2023 at 7:30 pm - 9:00 pm
Webinar: A Taste of Alpha – May 30, 2023 at 9:00 am - 10:00 am
33rd Annual Youth Unlimited Gold Tournament – May 30, 2023 at 10:00 am - 7:00 pm
Making Meaning in a Time of Media Polarization – May 30, 2023 - May 31, 2023 at 5:00 pm - 5:30 pm
Petro Kovaliv: The War in Ukraine – May 31, 2023 at 12:00 pm - 12:45 pm
Is Intelligence Enough? Exploring Human and Artificial Intelligence – May 31, 2023 at 1:00 pm - 2:30 pm
For King & Country – May 31, 2023 at 7:00 pm - 10:00 pm
Jazz Evensong @ Brentwood: Sophia Avelino & Friends – May 31, 2023 at 8:00 pm - 9:00 pm

Jun 2023
Life-Light by Thomas Brasch – June 1, 2023 - June 14, 2023 at All Day
The Gathering: Journeying Towards Pastoral Health – June 2, 2023 - June 3, 2023 at 12:00 pm - 6:00 pm
God Said This by Leah Nanako Winkler – June 2, 2023 - June 24, 2023 at 8:00 pm - 10:00 pm
The Extra Mile 2023: A Himalayan Life Fundraising Event – June 3, 2023 at 9:15 am - 2:00 pm
VOS presents 2023 Spring Concert 'Gardens: from Creation to Eternity' – June 4, 2023 at 7:30 pm - 9:30 pm
Carmen Joy Imes: 'Who Do You Say That I Am?' Being God's Image in an Age of Expressive Individualism – June 5, 2023 at 7:30 pm - 9:00 pm
Gregory K. Hillis: Letters to a Black Catholic – June 6, 2023 at 6:00 pm - 8:30 pm
Ed Ng: Mental Health & Community – Caring for Family & Friends – June 7, 2023 at 12:00 pm - 12:45 pm
God in Ancient China | 中国古代人的神: How the ancient Chinese worshipped the God of the Bible – June 7, 2023 at 6:30 pm - 8:30 pm
Michael Card: Listening to the Life of Jesus – June 7, 2023 at 7:30 pm - 9:00 pm
Jazz Evensong @ Brentwood: Dean Thiessen & Friends – June 7, 2023 at 8:00 pm - 9:00 pm
Provincial Leaders Dinner 2023 – June 8, 2023 at 5:00 pm - 8:00 pm
Wild Light – June 8, 2023 - June 17, 2023 at 7:30 pm - 9:30 pm
56th Annual British Columbia Leadership Prayer Breakfast – June 9, 2023 at 7:30 am - 9:00 am
Night With the Persecuted Church – June 9, 2023 at 7:00 pm - 8:15 pm
Church is Essential 2023 – June 10, 2023 at 8:30 am - 4:30 pm
Refugee Support and Volunteer Training – June 10, 2023 at 8:45 am - 3:00 pm
Servant Partners: Community Transformation Certificate (two days) – June 10, 2023 - June 17, 2023 at 9:00 am - 3:00 pm
A Rocha Volunteer Day – June 10, 2023 at 9:30 am - 2:00 pm
Bible Saturday: Matthew Lynch – The World of Leviticus – June 10, 2023 at 9:30 am - 11:45 am
BC Christian Academy's 30th Anniversary Festival – June 10, 2023 at 10:00 am - 4:00 pm
Night With the Persecuted Church – June 10, 2023 at 7:00 pm - 8:15 pm
Saving our Planet: Faith in Action II – June 11, 2023 at 1:00 pm - 6:00 pm
Jazz Vespers in the Valley with Bryn Kinders – June 11, 2023 at 3:30 pm - 4:30 pm
The Color: No Greater Love Tour – June 11, 2023 at 7:00 pm - 9:00 pm
Jazz Evensong @ Brentwood: Gabriel Hasselbach & Friends – June 14, 2023 at 8:00 pm - 9:00 pm
Marketplace Mornings: Q2 2023 – June 15, 2023 at 7:00 am - 8:30 am
Foundations of Community Organizing Training – June 16, 2023 - June 17, 2023 at 5:30 pm - 5:00 pm
Becoming Neighbours Workshops (3 of 5 events left) – June 17, 2023 - December 2, 2023 at 12:00 am
Celebrate Juneteenth / Father's Day with Marcus Mosely – June 18, 2023 at 1:30 pm - 5:30 pm
2023 Vancouver Gospel Festival – June 18, 2023 at 6:00 pm - 9:00 pm
Danny Michel – June 18, 2023 at 8:00 pm - 10:00 pm
Worship for Justice Tour presents Don Moen & Paul Baloche, with Brooke Nichols – June 19, 2023 at 7:00 pm - 9:30 pm
Second Annual Skidmore Foundation Golf Tournament – June 21, 2023 at All Day
Jazz Evensong @ Brentwood: Nelson Boschman & Friends – June 21, 2023 at 8:00 pm - 9:00 pm
City-wide Worship Night: Worship in the City – June 22, 2023 at 7:00 pm - 9:00 pm
Worship Invades Pitt Meadows – June 24, 2023 at 7:30 pm - 10:30 pm
Mark D. Roberts: Faith-Work Integration – New Learning for a New Day – June 26, 2023 at 7:30 pm - 9:00 pm
Church Earthkeepers Meet-Up – June 27, 2023 at 5:00 pm - 6:00 pm
Strategic Leadership for Christian Higher Education Administrators: (1) Having Difficult Conversations, and (2) Onboarding New Faculty – June 28, 2023 at 8:30 am - 12:00 pm
Mabiala Kenzo: Developments in Postcolonial Theology – June 28, 2023 at 12:00 pm - 12:45 pm
Jazz Evensong @ Brentwood: Karen Graves & Miles Black – June 28, 2023 at 8:00 pm - 9:00 pm
Surroundings by Cara Bain – June 29, 2023 - August 16, 2023 at All Day
Surroundings by Cara Bain: Opening Reception – June 29, 2023 at 4:30 pm - 6:30 pm