Café Logos is the welcoming face of the Canadian Bible Society's newly imagined Vancouver presence. And the Grand Opening this Saturday (March 30, 9 am – 6 pm) will have the centrally located site (1207 Kingsway, between Fraser and Knight) buzzing with life.
Lots of activities are promised:
For kids
Face painting with The Doodle Girls
Games
Meet Chase from Paw Patrol
All ages
Pastry tasting with our Christian Pastry partner, Bakery Sate
Free coffee tasting with award-winning roaster, Oughtred Coffee & Tea

Cheese tasting with Eat Good, Drink Good
Free specialty drinks (for everyone who liked Café Logos on social media)
Live music with Covenant Award Winner Andrew Marcus and JUNO Award Nominee Ginalina, and other guest musicians.
Great deals: 50% off on new comic book series, "Fear Not" and "Action Bible"; 75% off on Bibles, inspirational books, gifts and more!
Cool raffle prizes: $150 gift certificate from Sense Luxury Spa, $100 gift certificate from Gotham Steakhouse and Bar, and $50 gift certificate from Café Logos.
Also join us for the special opening ceremony at 4 pm. Go here for the full schedule.
The Bible Society has a long history in BC; they sent scriptures in several languages to miners during the Gold Rush of 1858 – 1861. But the closure and sale of its high profile headquarters at Fraser and Kingsway in 2016 has reduced the Bible Society's visibility in BC.
The new location has fewer books and Bibles. If you drop by, you will see Bibles, certainly, but what you will experience first is the inviting smell of coffee in Café Logos.
Kurt Thiele is supervisor of the new Bible Centre / Café, which has been open in a quiet way since last fall.
He is pleased that Café Logos has already been noticed by Vancouver's top coffee blogger. The Vancouver Coffee Snob post The Rest of the 2018 Snobby Awards December 25, gave the 'Coffee Shop I Bet You've Not Heard of Yet' award to Café Logos:
It's only been open a few weeks, but I predict we'll be hearing a lot more from this place over 2019. I was particularly fond of their Burundi pour over. It's in the Canadian Bible Society, so if you're a heathen like me, wear sunscreen!
Thiele, who describes himself as "a bit of a coffee nerd," points out with some enthusiasm that their supplier, Oughtred Coffee & Tea, based in Delta, won Roaster Magazine's 2018 Roaster of the Year Award.
While rebranding and quality coffee may be important to Thiele, he is very much committed to the historic work of the Bible Society.
Time to worship
Worship Central is just one of several worship-oriented events coming up over the next couple of weeks. While thousands will attend, many of the rest of us may be more affected than we realize.
A recent interview with Baylor University ethnomusicologist Monique Ingalls in Christianity Today made the point that contemporary worship music "permeates nearly every sphere of evangelical life."
Ingalls, who wrote Singing the Congregation: How Contemporary Worship Music Forms Evangelical Community (Oxford University Press, 2018) said:
Of course, there have been other moments when congregational singing has connected people across geographical and cultural boundaries. . . .
What's unique about this particular moment, I think, is the sheer scale of the phenomenon and the speed with which new songs make it to worshipers. Most contemporary worship music is produced in Anglophone centers – America, the UK, and Australia. But it has a truly global audience.
If there are somewhere between 500 and 700 million evangelicals and Pentecostals in the world – and if even half of them are singing contemporary worship music, although I would guess the number is much higher – then you're looking at nearly a third of a billion people for whom this music is the language of prayer and worship. And because of the social media and communications technologies we enjoy today, most of them gain access to it as soon as it's produced.
These are the upcoming events: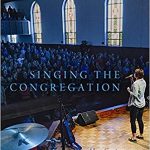 Ingalls concluded her interview with an acknowledgement that not everyone is enthusiastic with the new trend in worship music, but pointed out that the direction of influence may be beginning to shift:
I've been encouraged by organizations like the Hymn Society that have done admirable work supporting women and people of color in worship leadership and expanding the repertoire of songs available to the church. My hope lies in a kind of new eclecticism that results from deep engagement between different communities and cultures.
Go here for the full interview.
Tax clinics at church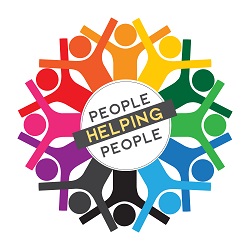 Three local churches (at least) are providing free tax clinics as part of the Canadian government's Community Volunteer Income Tax Program:
The service is available to people of modest means. The Tenth Church service, for example, "is open for tax help service for individuals and families with simple tax situations (T5007, seniors, students, new Canadian residents, disability credits, T4–employment, etc.)."
Prodigal Son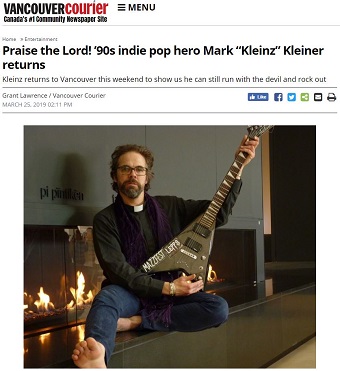 Spirit of Life Lutheran Church, just down the street from City Hall, is holding a Welcome Back Kleiner concert this Saturday (March 30), as part of his Prodigal Son Tour. The event really will feature the return of a prodigal son, as a recent Vancouver Courier article made clear:
You could always hear the party raging from about two blocks away.
1634 E. Georgia was a run-down dump of a flophouse, a classic 1990s East Van rental that served as the resident band dwelling for Sister Lovers, a coulda-woulda-shoulda-been-huge indie pop group that channelled Big Star, Cheap Trick and the Raspberries rolled into one whacked out, dysfunctional, brilliantly drunken train wreck.
The lead singer of Sister Lovers was Mark "Kleinz" Kleiner, one of the all time great characters from the 1990s Vancouver music scene, who often served as the hilarious and wasted ringmaster of the house parties. . . .
In the late '90s, Kleinz looked poised to break out, this time with his glam-rock quartet Jungle. And yet, on the eve of their much-anticipated sophomore album, Kleinz infamously fled town. Fans and friends were stunned to find out that it was to study theology, which to many seemed like an extreme about face. But band members and close friends knew that Kleiner had been drifting towards the church for a few years. Both of Kleiner's parents were ministers. . . .
Go here for the full article.
So Kleiner is now an ordained Lutheran minister himself, serving at an Anglican church in Saskatoon. He will preach at Spirit of Life Church on Sunday morning and then give a children's concert in the early afternoon. Money raised from the concerts will be split between refugee ministries.
Mar 2019
Photo Exhibition: Mennonite Churches in the Fraser Valley – Early Decades
– March 28, 2019 - March 31, 2019 at All Day
School of the Supernatural: Translation by Faith
– March 28, 2019 - March 29, 2019 at 9:00 am - 5:00 pm
Public Talk: Merton and the Post-Secular Search for a Good Country
– March 28, 2019 at 6:00 pm - 8:00 pm
John Crist: The Human Being Tour
– March 28, 2019 at 6:30 pm - 9:30 pm
Fireside Apologetics: Paul Chamberlain – Why Do People Stop Believing and What Can We Do About It?
– March 28, 2019 at 7:00 pm - 8:30 pm
Anne of Green Gables: The Musical
– March 28, 2019 - March 30, 2019 at 7:30 pm - 9:30 pm
Al Massira Training
– March 29, 2019 - March 30, 2019 at 4:00 pm - 5:00 pm
Worship Central Conference 2019: Heaven & Earth
– March 29, 2019 - March 30, 2019 at 7:00 pm - 9:00 pm
Concert with Organist Edward Norman & Oboist Roger Cole
– March 29, 2019 at 8:00 pm - 10:00 pm
Café Logos Grand Opening
– March 30, 2019 at 9:00 am - 6:00 pm
Thomas Merton: Alaska and His Final Conferences
– March 30, 2019 at 9:30 am - 12:30 pm
"How Will We Go Unless We Are Sent?" A Paradigm Shift in Missions Sending
– March 30, 2019 at 12:00 pm - 3:00 pm
Free Movie: Support World Vision's Work in Cambodia
– March 30, 2019 at 1:00 pm - 4:00 pm
Chelsea Amber in Concert
– March 30, 2019 at 7:00 pm - 9:30 pm
Worship Invasion Hits the West Side
– March 30, 2019 at 7:30 pm - 10:00 pm
Welcome Back, Kleiner
– March 30, 2019 at 8:00 pm - 10:00 pm
Apr 2019
Conway Holy Land Presentation: Bryana Russell
– April 1, 2019 at 12:00 pm - 1:00 pm
(Re)Development 101 for Churches: Housing Civic Academy (part 1)
– April 2, 2019 at 7:00 pm - 9:00 pm
Insights to Impact Tour: Vancouver, Richmond, Burnaby . . .
– April 3, 2019 at 9:30 am - 11:30 am
Whispering Grass by Haitao Yin: Opening Reception
– April 3, 2019 at 4:30 pm - 7:30 pm
John Bonnett: Thinking About History and Beauty in a Post-Secular World – Some Potential Intersections Between the Digital Humanities and Theology
– April 4, 2019 at 12:00 pm - 1:00 pm
Insights to Impact Tour: Langley, Surrey, Abbotsford . . .
– April 4, 2019 at 1:30 pm - 3:30 pm
Intelligent Love (Thursday evenings)
– April 4, 2019 at 6:30 pm - 9:00 pm
Elevation Worship: Hallelujah Here Below Tour, with Cody Carnes
– April 4, 2019 at 7:00 pm - 10:00 pm
Joy in the Journey Tour with Wendy Farha
– April 5, 2019 at 7:00 pm - 9:00 pm
Iron Sharpens Iron Men's Conference
– April 6, 2019 at 8:30 am - 3:30 pm
Walk the Talk: Vancouver for Bill C-262
– April 6, 2019 at 1:00 pm - 2:30 pm
Big Little Lions
– April 7, 2019 at 7:00 pm - 10:00 pm
Laing Lectures 2019: Malcolm Guite – Imagining the Kingdom: Parable, Poetry & Gospel
– April 9, 2019 - April 11, 2019 at 7:30 pm - 9:00 pm
Abbotsford's 30th Annual City Prayer Breakfast
– April 10, 2019 at 7:00 am - 9:30 am
The Lay Awakes
– April 10, 2019 at 8:00 pm - 10:00 pm
40 Days for Life
– April 11, 2019 - April 14, 2019 at 12:00 am
Faith CARE: Learning How to Grow Restorative Churches
– April 11, 2019 - April 13, 2019 at All Day
Man of the Shroud Exhibition
– April 11, 2019 - April 15, 2019 at All Day
ACMV / Hope Vancouver Pastors & Leaders Gathering: Albert Lo
– April 11, 2019 at 9:30 am - 12:00 pm
Cadre: Terry Virgo – Building Spirit-Filled Churches
– April 11, 2019 at 1:00 pm - 3:00 pm
Bethel Music Victory Tour
– April 12, 2019 at 6:00 pm - 10:00 pm
Parenting Workshop
– April 12, 2019 at 6:30 pm - 8:30 pm
Sweet Sounds: MORE Network Annual Benefit
– April 12, 2019 at 6:30 pm - 9:00 pm
Diversity and Constructed Identities (part 2): Peter Ash
– April 12, 2019 at 7:00 pm - 8:30 pm
The Easter Story
– April 12, 2019 at 7:00 pm - 9:00 pm
Viper Central
– April 12, 2019 at 7:00 pm - 11:00 pm
Tax Clinic (Saturday afternoons)
– April 13, 2019 at All Day
Business as Mission Social Impact Conference
– April 13, 2019 at 8:00 am - 4:00 pm
Terry Virgo: Amazing Grace Conference
– April 13, 2019 at 8:30 am - 4:00 pm
Journey Home Refugee Support: Basic Training
– April 13, 2019 at 8:45 am - 3:00 pm
40 Days for Life Closing Rally Vigil
– April 13, 2019 at 2:00 pm - 3:30 pm
Alzheimer Café
– April 13, 2019 at 2:00 pm - 4:00 pm
EMI Gala Fundraiser
– April 13, 2019 at 6:00 pm - 10:00 pm
Global Disciples Celebration of Ethiopia
– April 13, 2019 at 6:00 pm - 9:15 pm
Gloria Dei Chorale: Easter Concert
– April 13, 2019 at 7:00 pm - 9:00 pm
Hillsong Y & F
– April 13, 2019 at 7:00 pm - 10:00 pm
Switchfoot: The Native Tongue Tour
– April 13, 2019 at 8:00 pm - 11:00 pm
Holy Week 24/7 Prayer
– April 14, 2019 - April 20, 2019 at All Day
Sawuti Choir
– April 14, 2019 at 11:00 am - 1:00 pm
Searching for Identity: Mennonites in Revolutionary Russia
– April 14, 2019 at 2:30 pm - 3:30 pm
What Love is This: A Choral Presentation Reflecting on the Passion of Jesus
– April 14, 2019 at 3:00 pm - 4:00 pm
Jazz Vespers in the Valley: Greta Matassa
– April 14, 2019 at 4:00 pm - 5:00 pm
Gloria Dei Chorale: A Closer Walk With Thee
– April 14, 2019 at 7:00 pm - 9:00 pm
Sawuti Choir
– April 14, 2019 at 7:00 pm - 9:00 pm
Darrell Johnson: The Tale of Two Trees – at the heart of the story that makes sense of our stories
– April 17, 2019 at 7:00 pm - 8:45 pm
KAIROS Blanket Exercise
– April 17, 2019 at 7:00 pm - 9:00 pm
Act of Faith
– April 18, 2019 - April 20, 2019 at All Day
Breakthrough
– April 18, 2019 at All Day
Good Friday Service
– April 19, 2019 at 10:00 am - 11:00 am
Stations of the Cross: Good Friday Walk
– April 19, 2019 at 10:00 am - 12:30 pm
Way of the Cross at Queen Elizabeth Park
– April 19, 2019 at 10:00 am - 11:30 am
Way of the Cross East Vancouver
– April 19, 2019 at 10:00 am - 12:00 pm
Good Friday DTES Combined Gathering
– April 19, 2019 at 10:30 am - 1:30 pm
Easter Neighbourhood Block Party
– April 19, 2019 at 11:00 am - 1:00 pm
The 33rd Way of the Cross Walk
– April 19, 2019 at 12:00 pm - 2:00 pm
Taizé-style Contemplative Service
– April 19, 2019 at 4:00 pm - 5:00 pm
The Crucifixion by John Stainer
– April 19, 2019 at 4:00 pm - 5:00 pm
Good Friday Community Dinner
– April 19, 2019 at 5:00 pm - 8:00 pm
Haydn: Seven Last Words of Christ on the Cross
– April 19, 2019 at 7:00 pm - 9:00 pm
Mozart's Requiem & Choral Works by Felix Mendelssohn
– April 19, 2019 at 7:00 pm - 9:00 pm
Dee Daniels
– April 19, 2019 at 7:30 pm - 10:00 pm
Music for a Very Good Friday: Bach / O'Regan / Vaughan Williams
– April 19, 2019 at 8:00 pm - 10:00 pm
Ecological Stations of the Cross
– April 20, 2019 at 12:00 am
Noah (three dates)
– April 20, 2019 - April 22, 2019 at All Day
Easter Bash
– April 20, 2019 at 11:00 am - 2:00 pm
Easter Blast
– April 20, 2019 at 11:00 am - 1:00 pm
Easter Sing-Along Messiah
– April 20, 2019 at 2:00 pm - 3:30 pm
Mozart's Requiem & Choral Works by Felix Mendelssohn
– April 20, 2019 at 2:00 pm - 4:00 pm
East Van Sunrise Service
– April 21, 2019 at 7:30 am - 8:30 am
Sing-Along Messiah
– April 21, 2019 at 9:15 am - 11:15 am
Easter Sunday Service
– April 21, 2019 at 10:00 am - 11:00 am
Prayer Vigil for Sri Lanka
– April 22, 2019 at 6:30 pm
Prayer Vigil for Sri Lankan Christians
– April 23, 2019 at 6:00 pm - 7:30 pm
Church Leaders Forum: Ken Shigematsu – From Surviving to Thriving
– April 25, 2019 at 9:30 am - 12:30 pm
Cherry Docs
– April 25, 2019 - April 28, 2019 at 8:00 pm - 10:00 pm
Windows into Heaven: an Introductory Guide to Icons
– April 26, 2019 at 7:00 pm - 8:30 pm
Income Tax Ministry (Tuesdays & Saturdays)
– April 27, 2019 - April 30, 2019 at 9:30 am - 2:00 pm
Community Land Trusts: Housing Civic Academy (part 2)
– April 27, 2019 at 10:00 am - 3:00 pm
The Lived Experience of People with Dementia
– April 27, 2019 at 6:00 pm - 7:30 pm
Gospel Music Festival
– April 27, 2019 at 6:30 pm - 9:30 pm
Good Seed Sunday
– April 28, 2019 at All Day
Jazz Vespers @ St. Andrew's United Church on the North Shore
– April 28, 2019 at 4:00 pm - 5:00 pm
Jazz Vespers in the Valley: Cory Weeds
– April 28, 2019 at 4:00 pm - 5:00 pm
Young Life North Shore Annual Fundraiser with the Panic Squad
– April 30, 2019 at 7:00 pm - 9:30 pm