Just over three years ago I posted an article about a Chapel Movement gathering at John Oliver Secondary School. What had begun as a small worship gathering at a South Vancouver church a couple of years before was now drawing hundreds of youth from around Metro Vancouver to monthly events.
Last Friday (January 13) I sat in on Chapel UBC and discovered that the movement is not only alive and well, but thriving.
Hundreds of UBC students from several Christian clubs – and others – nearly filled the Chan Centre, taking part in worship, listening to testimonies by fellow students and hearing an exhortation to live according to the truth, and not feelings.
Jonathan Mitchell, the young man who has guided Chapel since its inception, is clearly not satisfied with numbers. Though he enjoyed the surroundings and the good turnout, his message was at least as challenging as it was encouraging.
He began by noting that Oxford Dictionaries' 'word of the year' for 2016 was
post-truth
, and declared that "the new truth has become the way you feel."
As he neared the end of his talk, he said:
God came to bring us full security, full love and the best purpose of all time. . . . Here's the problem. You know that plan that is so important – sometimes it sucks, and it's really hard, and I don't feel like doing the plan. . . .
This is where lordship comes in. Is he your Lord, or is he just your Saviour? . . . And this is where the feelings thing, where the rubber meets the road. . . .
As a leader in the church I fall into this so much, where I go, "Tell you what, we're going to make sure you feel fantastic and we're going to serve you and we're going to have the best programs ever and it's going to just be the most fun of all time. And then, when you really feel in and when you really feel super-duper loved by God, then you're going to want to do this stuff." . . .
Is it going to motivate you to do this stuff? I don't know, I don't think it's promised. I have not seen, in our culture, that better and better experiences, that better and better feelings, lead towards obedience. . . .
If we look at the state we're in as a church, dire straits. Here's some truth; we're losing, we're losing – we're losing this generation. And I don't know how to explain to them any more that I didn't feel like telling them.
I rationalized it in my head throughout all high school, throughout all university, through all the Christian stuff, and I'm done. I'm done with that being my excuse. Because Jesus is my Lord, and I trust that his plan is best – and I might never feel like it.
So we've got to tell these youth, doing all these Alphas, youth group is busted, it's not working. I run one. And there's 70 percent of kids that went to youth group don't follow Jesus a year later. . . .
So, what am I going to say to all these teenagers? "Feel it more. Hey, tell you what, we're going to do more Chapel nights, we're going to get Mark to come bring even more lights, frickin' lasers next time!" So then I can help you feel it, so then maybe one day you'll be obedient. That gap isn't happening.
So, instead what we're going to do is go, "Alright guys, we're going to push you out of your comfort zone, to do things you don't want to do, because God is with you there, and you'll need him, and he'll get to be not just your Saviour but your Lord, and you'll get to conquer the lie that's in your head since the beginning of time that says you can be a better god than God is." That's what's killing us. . . .
Go
here
for Mitchell's full message.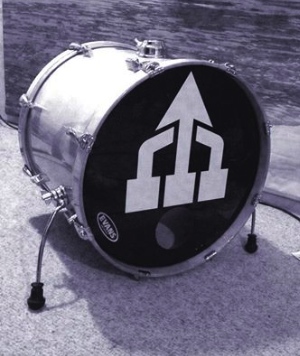 Apart from what is happening at UBC, Chapel now has six regional gatherings, in
Vancouver
, the
North Shore
,
Surrey
and
Tri-Cities
(all meeting in local high schools January 27), and
Langley
and
Richmond-Delta
(March 31).
Chapel Unified
will bring all the groups together at Westside Church May 26.
Mitchell has always been clear that the purpose of Chapel is not just about getting together or having a great time in worship. He and dozens of youth leaders now participate in eight
HUBS
, which are described in this way:
The vision for HUBS is to facilitate the collaboration of the greater Church through intentional relationship. To make sure that local leaders are being able to foster relationships that have a common heart and mission, there are several local HUBS that contextualize a city-wide vision to meet the needs of their own region. Choose a community and get connected!
These hub leaders are supporting their students, many of whom are planning to initiate Alpha programs in their schools later this month.
Week of Prayer for Christian Unity
Three local churches will host joint services January 25, to cap the
Week of Prayer for Christian Unity
January 18 – 25: St. Mark's Catholic Church on the UBC campus in Vancouver, Our Lady of Good Counsel Catholic Church in Surrey and Good Shepherd Lutheran in Coquitlam. (There are also services in Abbotsford and Mission.)
We are hoping that students, staff and faculty from all Christian communities at UBC will join us for an evening of prayer and fellowship.
Dr. Iain Provan
, from Regent College, will be delivering the sermon for this service.
Marjeta Bobnar, coordinator of ecumenical and interfaith relations for the Roman Catholic Archdiocese of Vancouver, wrote this invitation:
The 2017 Week of Prayer for Christian Unity has the theme "Reconciliation: The Love of Christ Compels Us" (2 Corinthians 5:14) and was prepared by churches and Christian communities in Germany.
[This year] also marks the 500th anniversary of the Reformation. The emphasis of this year's service is on Jesus Christ and his work of reconciliation. The love of Christ compels us to pray, but also to move beyond our prayers for unity among Christians. Join with brothers and sisters of various churches in prayer, song and witness to unity as followers of Christ.
Bobnar also referred to two related initiatives:
* Ecumenical outreach to the homeless
During the Week of Prayer for Christian Unity, on January 21, 1:30 – 6 pm, Catholic Street Missionaries are inviting young adults (ages 19 – 39) to an
ecumenical outreach to homeless people
.
* Lutheran–Catholic study groups
This year marks the 500
th
anniversary of the Reformation. The Roman Catholic Archdiocese of Vancouver and the BC Synod of the Evangelical Lutheran Church will be offering several joint study groups using the
Together in Christ
resource.
Mike and Sally Breen: Family on Mission

Mike Breen is a well established missional leader. He and his wife Sally will host Family on Mission at Tenth Church January 21 to "facilitate a day of equipping sessions on becoming a family [whether your family is a community group of friends or a literal family] on mission with Jesus."
If you're good at making disciples, you'll get more leaders than you know what to do with. If you make disciples in the way Jesus did, you'll see people come to faith who didn't know him. If you disciple people well, you will always get the missional thing as a byproduct. Always.
Breen has written several books, including Building a Discipling Culture, Covenant and Kingdom: the DNA of the Bible and Family on Mission. Though Mike and Sally normally travel as a team, Sally is a speaker and an innovator in her own right, covering topics such as The Integrated life, The Faithfulness of God and Healthy Life Patterns.
Jan 2017
Week of Prayer for Christian Unity 2017
– January 18, 2017 - January 25, 2017 at All Day
Calvin College January Series (Webcast / 15 Talks)
– January 19, 2017 - January 24, 2017 at 9:30 am - 11:30 am
Kingdom Pearls: Pre-conference Workshop
– January 19, 2017 at 7:00 pm - 9:00 pm
CYWC Vancouver
– January 20, 2017 - January 21, 2017 at All Day
Justice, Advocacy and Spiritual Practice with Judy Graves
– January 20, 2017 at 9:00 am - 3:00 pm
Vision to Reality
– January 20, 2017 at 9:00 am - 4:00 pm
Doing Kingdom Work in the Secular Workplace
– January 20, 2017 - January 21, 2017 at 7:00 pm - 4:30 pm
Kingdom Pearls: CWC Women's Conference
– January 20, 2017 - January 21, 2017 at 7:00 pm
Praying the Psalms
– January 20, 2017 - January 21, 2017 at 7:00 pm - 3:30 pm
BC Christian Academy's Annual Pancake Open House
– January 21, 2017 at 9:00 am - 12:00 pm
Family on Mission with Mike & Sally Breen
– January 21, 2017 at 9:00 am - 4:00 pm
Ecumenical Outreach to the Homeless
– January 21, 2017 at 1:30 pm - 6:00 pm
Testament of a Naked Man: A Contemporary Dramatization of the Gospel of Mark
– January 21, 2017 at 6:00 pm - 9:00 pm
Ember
– January 21, 2017 at 7:00 pm - 9:00 pm
Laughter and Life in Poetry and Music
– January 21, 2017 at 7:00 pm - 9:00 pm
Jazz Vespers: Norm Quinn's Q5
– January 22, 2017 at 4:00 pm - 5:00 pm
Taizé Contemplative Service
– January 22, 2017 at 4:00 pm - 5:00 pm
Gracia Burnham
– January 22, 2017 at 6:30 pm - 8:30 pm
The Leaders' Series: Dr Ronnie (Chuang Rang) Gao - The Advanced Art of Market Segmentation: Do you really know your audience?
– January 24, 2017 at 7:00 pm - 9:00 pm
Week of Prayer for Christian Unity Service
– January 25, 2017 at 11:00 am - 12:30 pm
Allyson Jule: Classroom Silences – Why Saying Nothing at All Can Ruin a Perfectly Good Education
– January 25, 2017 at 4:00 pm - 5:30 pm
A Reconciling Hope: The Regent Community Exhibit - Opening Reception
– January 25, 2017 at 4:30 pm - 7:15 pm
Jay Bartlett: Supernatural Jesus Seminar - Removing Demons & Healing Hearts
– January 25, 2017 at 7:00 pm - 9:00 pm
Week of Prayer for Christian Unity Service
– January 25, 2017 at 7:00 pm - 9:00 pm
Week of Prayer for Christian Unity Service
– January 25, 2017 at 7:00 pm - 9:00 pm
Jazz Evensong: Marcos Flo Quartet
– January 25, 2017 at 8:00 pm - 9:30 pm
Unity of Spirits
– January 26, 2017 - January 27, 2017 at All Day
Cambodia Night with the Knights
– January 26, 2017 at 7:00 pm - 8:45 pm
Jay Bartlett: Supernatural Jesus Seminar - Removing Demons & Healing Hearts
– January 26, 2017 - January 27, 2017 at 7:00 pm - 9:00 pm
Noah Derksen 'In Search of the Way' Album Release Concert
– January 26, 2017 at 7:00 pm - 9:00 pm
Cliff Prang: The Power of Looking Stupid
– January 26, 2017 at 7:30 pm - 9:30 pm
Missions Fest 2017
– January 27, 2017 - January 29, 2017 at All Day
Missions Fest Film Festival
– January 27, 2017 - January 29, 2017 at All Day
Living Proof Live with Beth Moore, Worship by Travis Cottrell
– January 27, 2017 - January 28, 2017 at 5:30 pm - 12:30 am
Rev Conference 2017: Without Warning
– January 27, 2017 - January 28, 2017 at 6:30 pm - 11:00 pm
Chapel North Shore
– January 27, 2017 at 7:00 pm - 9:00 pm
Chapel Surrey
– January 27, 2017 at 7:00 pm - 9:00 pm
Chapel Tri-Cities
– January 27, 2017 at 7:00 pm - 9:00 pm
Chapel Vancouver
– January 27, 2017 at 7:00 pm - 9:00 pm
Menno Simons Role in the Reformation
– January 27, 2017 at 7:00 pm - 9:00 pm
Citizen Jane
– January 27, 2017 at 7:30 pm - 9:30 pm
Noah Derksen / Jared Cropley
– January 27, 2017 at 7:30 pm - 9:30 pm
Reconciling the Principled with the Practical: Ethics in Modern Medicine
– January 27, 2017 at 7:30 pm - 8:30 pm
The Brentwood Concert Series: The Canadian Guitar Quartet
– January 27, 2017 at 7:30 pm - 9:30 pm
Vancouver Chamber Choir: Brahms Requiem
– January 27, 2017 at 8:00 pm - 10:00 pm
UBC Alzheimer Update 2017
– January 28, 2017 at 8:45 am - 12:30 pm
Jay Bartlett: Supernatural Jesus Seminar - Removing Demons & Healing Hearts
– January 28, 2017 at 6:00 pm - 8:00 pm
Film Screening: She Has a Name
– January 28, 2017 at 7:00 pm - 9:00 pm
Jazz Vespers: Andrea Menard
– January 29, 2017 at 4:00 pm - 5:00 pm
Jazz Vespers: Hot Mammas
– January 29, 2017 at 4:00 pm - 5:00 pm
Jazz Vespers: Quintessential
– January 29, 2017 at 4:00 pm - 5:00 pm
Kairos Course: Cantonese (7 sessions)
– January 31, 2017 at All Day
Hope for the Sold: Over 18 - A Documentary About Pornography
– January 31, 2017 at 7:15 pm - 9:30 pm
Feb 2017
Business By the Book: Shannon MacDonald
– February 1, 2017 at 12:00 pm - 1:00 pm
Jazz Evensong: Linda Szentes and Jazzlinks
– February 1, 2017 at 8:00 pm - 9:30 pm
Go Conference: The X Factor
– February 2, 2017 - February 5, 2017 at All Day
A Kind of Alaska by Harold Pinter
– February 2, 2017 - February 4, 2017 at 7:30 pm - 9:30 pm
Interfaith Service of Prayer
– February 3, 2017 at 3:00 pm - 4:00 pm
Switchfoot / Relient K Concert
– February 3, 2017 at 7:00 pm - 10:00 pm
Hope for the Sold: Over 18 - A Documentary About Pornography
– February 3, 2017 at 8:00 pm - 10:00 pm
No Regrets Conference
– February 4, 2017 at All Day
BC Christian Academy's Annual Pancake Open House
– February 4, 2017 at 9:00 am - 12:00 pm
Dr. Paul Pearce: Making a Difference! Tapping the Ministry Potential of Maturing Adults
– February 4, 2017 at 9:00 am - 3:00 pm
The Bible, Sex and a Changing World
– February 4, 2017 at 9:00 am - 1:00 pm
Understanding and Caring for Our Mental Health
– February 4, 2017 at 9:30 am - 11:30 am
Cloverdale Catholic School Open House
– February 5, 2017 at 12:00 pm - 2:30 pm
Jazz Vespers: Andrea Superstein
– February 5, 2017 at 4:00 pm - 5:00 pm
Perspectives Course (Sunday evenings)
– February 5, 2017 at 6:15 pm - 9:15 pm
Festival of Hope: Momentum Prayer & Worship Event
– February 5, 2017 at 6:30 pm - 8:30 pm
People Over Pixels with Andy Steiger
– February 5, 2017 at 7:00 pm - 9:00 pm
Perspectives Course (Monday evenings)
– February 6, 2017 at 7:00 pm - 10:00 pm
Kairos Course (Tuesday evenings, Saturdays)
– February 7, 2017 at All Day
Perspectives Course (Tuesday evenings)
– February 7, 2017 at 7:00 pm - 10:00 pm
Multiply Conference 2017
– February 8, 2017 - February 9, 2017 at All Day
Luis Palau: Doing the Work of an Evangelist (part of Multiply Conference)
– February 8, 2017 at 7:00 pm - 9:00 pm
The Laing Lectures: Marilynne Robinson - Considering the Theological Virtues
– February 8, 2017 - February 10, 2017 at 7:30 pm - 9:30 pm
Jazz Evensong: Deanna Knight & Friends
– February 8, 2017 at 8:00 pm - 9:30 pm
Vancouver LeaderImpact Forum with Jonathan Friesen
– February 9, 2017 at 6:30 pm - 8:30 pm
New Westminster LeaderImpact Forum with Jonathan Friesen
– February 10, 2017 at 12:00 pm - 1:30 pm
HI5 Valentine's Mixer with Dr. Timothy Sexton
– February 10, 2017 at 7:00 pm - 10:00 pm
How Great Thou Art: The Sacred and Inspirational Songs of Elvis Presley
– February 10, 2017 at 7:30 pm - 9:30 pm
History of Colonization in Canada
– February 11, 2017 at 9:00 am - 4:00 pm
Mental Health Recovery in Relationship
– February 11, 2017 at 9:30 am - 12:30 pm
Christian Life & Witness Course
– February 11, 2017 at 10:00 am - 12:00 pm
Quintessential Jazz Band
– February 11, 2017 at 7:00 pm - 9:00 pm
Kairos Course: Cantonese (9 sessions)
– February 12, 2017 at All Day
Kairos Course: Cantonese Facilitator Training
– February 12, 2017 at 2:30 pm - 9:30 pm
Fight Night! with Drs. Les & Leslie Parrott: Live Simulcast
– February 12, 2017 at 4:00 pm - 6:30 pm
Jazz Vespers: Candus Churchill
– February 12, 2017 at 4:00 pm - 5:00 pm
Jazz Vespers: Karin Plato
– February 12, 2017 at 4:00 pm - 5:00 pm
The Grenz Lectures 2017: The Crisis of Meaning in Canadian Culture – The Myths of Private Faith
– February 12, 2017 at 7:00 pm - 9:00 pm
27th Annual Women's Memorial March
– February 14, 2017 at 12:00 pm - 3:00 pm
Valentines Night with Steve Palmer
– February 14, 2017 at 7:00 pm - 9:00 pm
Christian Life & Witness Course
– February 15, 2017 at 7:00 pm - 9:00 pm
Jazz Evensong: Sarah Kennedy & Friends
– February 15, 2017 at 8:00 pm - 9:30 pm
A Reconciling Hope: The Regent Community Exhibit
– February 16, 2017 at All Day
Dr. Abby Day: Reader in Race, Faith and Culture
– February 16, 2017 at 7:00 pm - 8:30 pm
Couples & Family Life Weekend Seminars
– February 17, 2017 - February 19, 2017 at All Day
Discerning the Voice of God in Prayer: An Introduction
– February 17, 2017 - February 19, 2017 at All Day
Hope for the Sold: Over 18 - A Documentary About Pornography
– February 17, 2017 at 7:00 pm - 9:00 pm