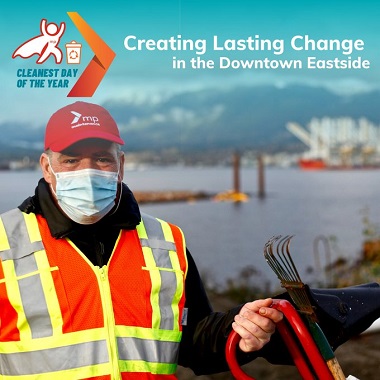 Mission Possible is aiming to raise $150,000 through a fundraiser which kicks off June 11 with the Cleanest Day of the Year.
The goal is to support 30 people in their Employment Readiness Program in the Downtown Eastside.
Participant Jacqueline Brooks told Gurpreet Kambo on CBC Radio's The Early Edition June 6 what a life-changing experience the program has been for her:
I feel like a human being now, some meaning in my life. . . . I wasn't really doing anything. I've got a bum leg and I was diagnosed with bi-polar, so I didn't think I had much choice over employment
So I was kind of just hanging around during Covid . . . Instead of looking for work or going to work I used. That was my job, was finding my next fix. . . .
I figured, well I might as well start somewhere, so I started on cleaning streets, cause they need help cleaning the streets, and make the city look pretty.
They [Mission Possible] don't judge me. That I like for sure, and they give me chances. If I mess up, they're not just going to fire me. They actually coach you. If you need help in any aspect of your life, they have resources that they can send you to. They help you out with everything – clothes, food, housing. . . .
I got my basic security training to be a security guard now. That shocks me. I didn't know I could be a security guard; I didn't know I had the skills to do something like that. . . .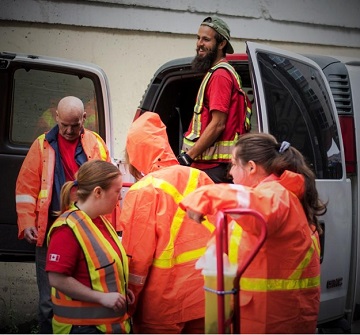 Mission Possible Chief Empowerment Officer Matt Smedley spoke with Stephen Quinn, also on The Early Edition June 6.
He said they might have expected fewer people to be interested in their program because employment rates are improving, but instead they're seeing twice as many people as last year:
It points to the fact that there's lots of people looking for work, interested in working and are really having trouble connecting with those jobs that are available. . . .
[The program] consists of workshops helping people get back into the mindset of what employers are expecting, and how to rebuild their professional habits. We also have a team of coaches that work with individuals. We do wrap-around support – things like food and housing and those kinds of things as well.
But the key piece of what we do is really work experience. We run two social enterprises; we give people job opportunities, so they gain recent experience and build confidence that really sets them up to move into work outside of  Mission Possible.
:The social enterprises are:
MP Maintenance: exterior property cleaning all around the Lower Mainland, everything from landscaping to graffiti removal and pressure washing
Community Watch Service: individuals go through the provincial licensing program to become security personnel
Go here for the full interview with Jacqueline Brooks and here for Matt Smedley. Go here for more information on the Cleanest Day of the year fundraiser.
(I posted an article based on a 60-page report released in 2017: 'Case study follows Mission Possible from street ministry to social enterprise.'}
UGM Summer Connect
Union Gospel Mission (UGM) was thrilled to be able to welcome back its Downtown Eastside neighbours and fellow workers June 8.
They tweeted: "What a day!  We couldn't have been happier to have our annual Summer Connect back again yesterday, after a two-year break due to the pandemic. What a joy it was getting to see our community connect with transformative service providers."
Here is their description of what was on offer:
With the current affordable housing crisis, many low income people struggle to find a place to stay. However, the barriers go beyond housing – people in the Downtown Eastside are often also facing issues such as lack of proper ID, needing eyewear, dental issues and a myriad of other problems.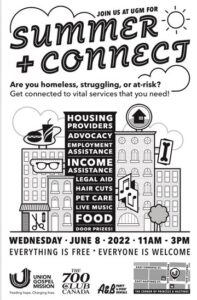 When combined with finding a place to sleep every night, it's almost impossible for a person to move forward.
UGM wanted to find a way to support the community, which developed into a 'one stop shop' of services concept – UGM's annual Summer Connect event.
We invite service providers and provide them with booths, and create a temporary, accessible space for the community. Guests who drop by are able to either receive the services they need immediately or be referred to the relevant organizations.
Barbers on site provide free haircuts, live musicians play throughout the event and a hot meal is served to all who come.
UGM offers a number of types of community engagement and is sponsoring many local kids so they can attend summer camps.
Camp for refugees
Many young people are excited to be heading off to Christian camps this summer, camps which have been closed for the past couple of years.
But Tenth Church is helping young people who arrived as refugees and asylum seekers – and may have spent time in entirely less salubrious kinds of camps – to share in the experience.
Tenth says it is able to walk alongside some 200 asylum seekers. Go here to read about how they do that and their partnership with Journey Home Canada and Killarney Park MB Church.
They hope to raise enough money to send about 50 refugees to camp this summer. Mim Wickett, Tenth's refugee coordinator, tells a touching story of the effect of the camp experience on 35 people, mostly Afghans, last summer – shortly before the Taliban took over their nation.
I am sure that other churches are offering newcomers similar experiences. What a blessing!
Sisters of Saint Ann archives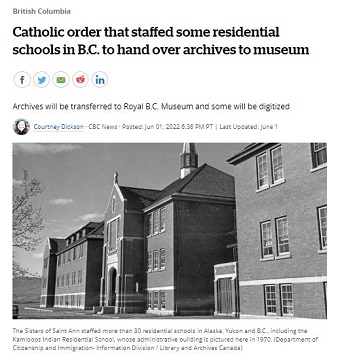 CBC News reported June 1 that the Sisters of Saint Ann will transfer its archives to the BC Museum:
Records that could offer insight into some residential schools in British Columbia are being handed over to the Royal BC Museum.
Archives from the Sisters of Saint Ann, which include information about day schools, residential schools, hospitals and more, will be transferred to the museum. The religious group will also fully fund an archivist at the museum to manage those archives. . . .
The Sisters of Saint Ann was founded in Quebec in 1850, and moved to the west eight years later. Members of the order staffed four residential schools in BC, including the former Kamloops Indian Residential School, where more than 200 potential unmarked graves have been detected using ground-penetrating radar.
Survivors from the school have shared stories of physical and sexual abuse.
"All of us carry just enormous regret and sorrow for the suffering that children who were in our care suffered," Sister Marie Zarowny, president and board chair of the Sisters of Saint Ann, told CBC.
"It's terrible to think that that happened when we were there and we didn't know about it."
Last year Zarowny told CBC that they had provided documents about the residential school system to the Truth and Reconciliation Commission, but were unwilling to share some records outlining internal workings of the congregation.
The Sisters of Saint Ann had already announced January 11 that they would work with the National Centre for Truth and Reconciliation (NCTR) "to access the SSA's records concerning their teaching and support roles in residential schools," concluding its statement with these words:
"We are grateful to the NCTR for their guidance and support in this process of improving the quality and accessibility of the records we have shared," says Sister Marie Zarowny of the Sisters of Saint Ann.
"One's need for information, to uncover truths and to understand the past, doesn't dissipate over time. If we can help even one person to learn more about their history, to be able to take one step further forward towards healing, then we must do all we can to ensure the records related to our activities are available and easy to access."
The site of Little Flower Academy, Vancouver's Catholic high school for girls – which was founded by the Sisters of Saint Ann – offers this brief history of the order:
The Sisters of St. Ann are the pioneer congregation of Catholic educators and health care providers in British Columbia. The community, founded in 1850 by Blessed Marie Anne Blondin in Vaudreuil, Quebec, sent Sisters as missionaries to British Columbia in 1858.
Over the next 160 years the Sisters of St. Ann opened and operated schools, hospitals and care facilities throughout British Columbia and the Pacific Northwest.
Go here for more detail.
Jun 2022
SIMinar: ECWA Hospital Egbe, Rural Medicine Revitalization Project
– June 9, 2022 at 5:00 pm - 6:00 pm
The Mountaintop
– June 9, 2022 - June 11, 2022 at 8:00 pm - 9:30 pm
The 55th Annual British Columbia Leadership Prayer Breakfast
– June 10, 2022 at 7:30 am - 9:00 am
WestCoast Miracle Healing Conference
– June 10, 2022 - June 12, 2022 at 7:00 pm - 8:00 pm
The Cleanest Day of the Year
– June 11, 2022 at 9:00 am - 1:00 pm
Artist Talk: Kate Miller at the Dal Schindell Gallery
– June 13, 2022 at 6:00 pm - 7:30 pm
Kate Miller: Kaleidoscope
– June 16, 2022 at All Day
New Roots Festival: Works in Process
– June 16, 2022 - June 19, 2022 at All Day
City Impact Tour: Vancouver
– June 16, 2022 at 9:30 am - 12:00 pm
Where Are the Churches in China? And Why?
– June 16, 2022 at 5:00 pm - 6:30 pm
A Slain Lamb Standing: Remembering The Future of Religion
– June 16, 2022 at 7:00 pm - 8:30 pm
The Implications of Bill C-4 on Families and the Church
– June 16, 2022 at 7:00 pm - 8:30 pm
Welcome Home: Dessert Night for Neighbours of New Hope
– June 16, 2022 at 7:00 pm - 8:30 pm
Nowheresville, BC by Chantal Gallant
– June 16, 2022 - June 18, 2022 at 7:30 pm - 9:30 pm
Anton Dolfo-Smith: The Long Goodbye – Opening Reception
– June 17, 2022 at 6:00 pm - 8:00 pm
Pathways to Reconciliation
– June 18, 2022 at 1:30 pm - 4:30 pm
A Concert for Peace: Fundraiser for Ukrainian Refugees
– June 18, 2022 at 7:30 pm - 9:30 pm
VOS 2022 Summer Concert: Our Heavenly Father《天父我神》
– June 18, 2022 at 7:30 pm - 9:00 pm
World Refugee Sunday 2022
– June 19, 2022 at All Day
Juneteenth with Marcus Mosely Ensemble
– June 19, 2022 at 7:00 pm - 9:15 pm
SIMinar: Explore Cote d'Ivoire
– June 23, 2022 at 5:00 pm - 6:00 pm
The Wolves are Coming for You
– June 23, 2022 - June 26, 2022 at 7:30 pm - 9:00 pm
Worship Central Conference 2022
– June 24, 2022 - June 25, 2022 at 7:30 pm - 9:30 pm
Brandon Isaak & the Saints of Swing
– June 24, 2022 at 8:00 pm - 9:00 pm
Tax Clinic
– June 25, 2022 at All Day
One With Them: A Day for Christian Captives
– June 26, 2022 at All Day
KAIROS Blanket Exercise
– June 26, 2022 at 2:00 pm - 4:30 pm
AC Literary Expedition: Revelation – The End of the World as We Know it?
– June 26, 2022 at 4:00 pm - 6:00 pm
Ron Rittgers: 'You Have Torn Away a Piece of My Heart': A Widower's Lament from the Christian Past
– June 27, 2022 at 7:30 pm - 9:00 pm
Faculty Roundtable: Leading in Difficult Times
– June 29, 2022 at 12:00 pm - 12:45 pm
Jeffrey Greenman: The Perverse Logic of Evil – Putin's War on Ukraine in Theological-Ethical Perspective
– June 29, 2022 at 7:30 pm - 9:00 pm
A Rocha Talks: Responding to the Groaning of Creation in a Changing Climate
– June 30, 2022 at 5:00 pm - 6:15 pm
Jul 2022
Revival Langley Conference
– July 1, 2022 - July 3, 2022 at All Day
Voices Together from Sea to Sea
– July 1, 2022 at 10:00 am - 12:00 pm
Anton Dolfo-Smith: The Long Goodbye
– July 4, 2022 - July 9, 2022 at 12:00 am
Christian Climate Observers Program 2022: Application
– July 4, 2022 - July 25, 2022 at All Day
Kickers Soccer Camp
– July 4, 2022 - July 8, 2022 at 9:00 am - 3:00 pm
FLO Summer Soccer Camp 2022 (two camps)
– July 4, 2022 - July 8, 2022 at 1:00 pm - 4:30 pm
Janet Soskice: 'Who am I?' Self-love in the Days of Self-obsession
– July 4, 2022 at 7:00 pm - 8:30 pm
Wesley Hill: Reading Romans in a Time of Upheaval
– July 4, 2022 at 7:30 pm - 9:00 pm
The Growing Season: Book Launch Party
– July 5, 2022 at 7:00 pm - 9:00 pm
Faculty Roundtable: Gender Dynamics in the New Testament
– July 6, 2022 at 12:00 pm - 12:45 pm
Jules Martinez-Olivieri: Reconciled to Reconcile – a Visible Witness in a Divided World
– July 6, 2022 at 7:30 pm - 9:00 pm
Gary Hall: Tensions, Disruptions and Incompleteness: Thomas Merton on Sustaining Hope in the Face of Social Crisis
– July 7, 2022 at 7:00 pm - 8:30 pm
Bez Open Mike, with Russ Rosen (Thursday evenings)
– July 7, 2022 - July 14, 2022 at 7:30 pm - 9:00 pm
BC Christian Ashram: Thy Will Be Done
– July 8, 2022 - July 10, 2022 at All Day
Lance Odegard
– July 8, 2022 at 8:15 am - 10:15 am
July Contemplative Prayer Retreat
– July 8, 2022 at 10:00 am - 5:00 pm
Perspectives on Truth, Reconciliation and the Catholic Church, with Deacon Rennie Nahanee
– July 8, 2022 at 6:30 pm - 8:00 pm
Adult & Teen Challenge BC Open House
– July 9, 2022 at 11:00 am - 2:00 pm
A Rocha's Market Summer Celebration
– July 9, 2022 at 12:00 pm - 4:00 pm
C. Stephen Evans: The Fear of the Lord & the Virtue of Accountability
– July 11, 2022 at 7:30 pm - 9:00 pm
Faculty Roundtable: Q & A – The Enduring Relevance of Kierkegaard
– July 13, 2022 at 12:00 pm - 12:45 pm
Lynn H. Cohick: God Shows No Favouritism – the Body of Christ & the Household Codes in Ephesians
– July 13, 2022 at 7:30 pm - 9:00 pm
Thomas Oord: Overcoming Obstacles to Love
– July 14, 2022 at 7:00 pm - 8:15 pm
Peter Cheng on Laozi's Dao De Jing
– July 18, 2022 at 12:00 pm - 1:15 pm
Yohanna Katanacho: Theology of the Land from a Palestinian Perspective
– July 18, 2022 at 7:30 pm - 9:00 pm
Faculty Roundtable: Q & A – Palestinian Christianity
– July 20, 2022 at 12:00 pm - 12:45 pm
Susan Phillips: To Make an End is to Make a Beginning – Marking Completion in Perilous Times
– July 20, 2022 at 7:30 pm - 9:00 pm
Chelle Stearns: 'With Sighs Too Deep for Words': Silence, the Holy Spirit & Music in the Processing of Traumatic Experience
– July 25, 2022 at 7:30 pm - 9:00 pm
Bach Festival 2022
– July 26, 2022 - August 6, 2022 at All Day
Dennis R. Edwards: Reimagining Humility
– July 27, 2022 at 7:30 pm - 9:00 pm
Lunchtime Concert: Rebecca Collett
– July 28, 2022 at 12:30 am - 1:15 am
GCN Partner Dinner
– July 29, 2022 at 5:45 pm - 9:00 pm