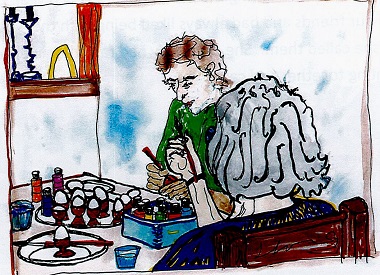 Dr. Gemma Jones, a pioneer in dementia care, will be in Vancouver April 3 – 17 for a
series of workshops, seminars and information sessions
 on Alzheimer's disease and dementia care, with the goal of establishing Alzheimer Cafés in Metro Vancouver and beyond.
Dr. Robert G. Patterson, vice president of Carey Theological College wrote this about Jones and her work (Carey is sponsoring her visit):
When someone you care for is diagnosed with Alzheimer's disease, many questions come to mind. The first is usually "Is there a cure?" The second: "What can I do to help?" These two questions and many more have been the focus of Dr. Gemma Jones' career. Gemma has a passion for educating people in effective and comprehensive dementia care. She has spent over 30 years developing and identifying the knowledge base to help professionalize the field of dementia care internationally.
Her research and practical care for those with dementia led her to develop the Alzheimer Café. Dr. Jones was the founder of the first Alzheimer Café in the UK, in Farnbrough, borrowing from the example of Dr. Bere Miesen, who founded the first Alzheimer Café in the Netherlands in 1997.
An Alzheimer Café is a post-diagnostic, group support and dementia education intervention, for people with dementia and their family carers. They are held monthly by a steering group of professionals and volunteers. It is held in a safe, café-like environment, intended to be safe to enter and attend.

The cafés are a powerful tool to break through social isolation and lack of knowledge. This results in more effective care for those with dementia and a safe and supportive environment for caregivers.
Dr. Jones is coming to Vancouver to teach and to establish Vancouver-based Alzheimer Cafés. People interested in dementia care are welcome to learn from Gemma and be on the ground floor of the Alzheimer Café movement in Canada.
The events are:
Minoru Chapel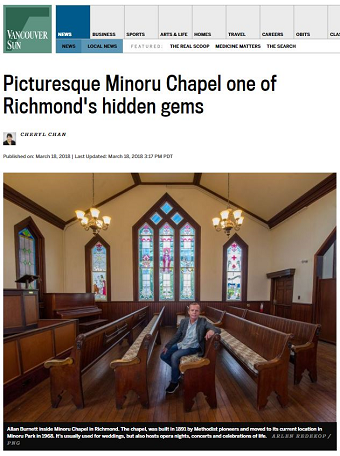 Cheryl Chan wrote an 
article
about the historic
Minoru Chapel
in
The Vancouver Sun
March 18. Here is a portion:
Richmond is known for its 
Highway to Heaven
, a stretch of No. 5 Road dotted with temples, churches and mosques that draw modern-day worshippers.
But travel back in time to 1891, just over a decade after Richmond was incorporated as a municipality, and a handful of pioneer families helped build the Richmond Methodist Church on what is now River and Cambie roads – part of a complex that included stables, a manse and a church hall (which still stands in its original location, and is home to the Richmond Rod and Gun Club).
The site was likely chosen for its easy access to the Fraser River at a time when getting around in the low-lying, sometimes boggy land was a challenge. . . .
In 1925, the church became the United Church, serving a predominantly Methodist and Presbyterian congregation.
As the area became more industrial and commercial, the church gradually emptied out. It stood vacant for a period of time, falling into disrepair until 1967, when the city, which purchased the property, relocated it to its present-day location in the park where it was consecrated as an inter-denominational chapel in 1968.
Over the years, the city undertook extensive and careful restoration to restore the chapel to its former glory. . . .
Go
here
for the full story, which includes some lovely archival pictures .
Bar Mitzvah Boy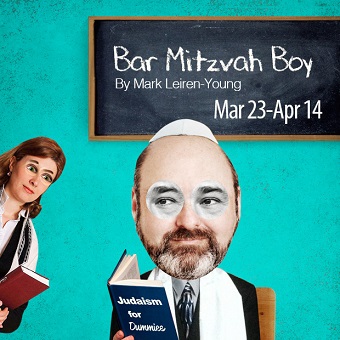 Bar Mitzvah Boy
opens at Pacific Theatre Friday night (March 23). This is how PT describes the play:
Rabbi Michael arrives in her office to find Joey, a successful lawyer with a sudden and desperate need to get bar mitzvahed. He needs to do it right away (next week would be good), and he doesn't want to tell anyone. A brand-new comedy about faith, tragedy, and the meaning behind the ritual.
Broadway World Vancouver wrote about the play; here is a portion:
The play is the latest from award-winning Vancouverite Mark Leiren-Young, whose Shakespeare riff Shylock had a successful run at Bard on the Beach last fall. Leiren-Young won the 2017 Jewish Playwriting Prize for Bar Mitzvah Boy's script, and reached out to artistic director Ron Reed about debuting the play at Pacific Theatre.
"I'm always impressed by the productions at Pacific Theatre, and so I asked Ron if he'd be open to a play from a Jewish perspective," said Leiren-Young. "He was the first AD I sent it to, and I'm so thrilled he's mounting the premiere!"
For the run of the play, set designer Carolyn Rapanos will transform the alley stage into a space familiar to former B'nei Mitzvot and Sunday school attendees – the utilitarian classrooms, dim synagogue and cramped offices of an active house of worship.
"Mark came to me with the perfect script – entertaining, funny and smart, while digging right into the struggles of faith and loss," says Reed. "Bar Mitzvah Boy is about a lot of things, but perhaps most of all about how we imbue these mundane spaces with community. And the surprising ways that community opens up to welcome you home."
Go here for the full article.
Biz Books also interviewed Leieren-Young (March 21) about his many artistic endeavours over the years.
Art! Vancouver's charity: Youth Unlimited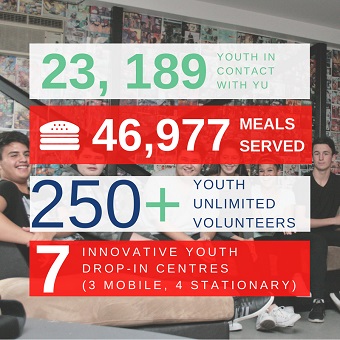 Every year Art! Vancouver selects a 'charity of choice'; for 2018, Youth Unlimited is it. Here is what
Art! Vancouver
posted on its site, from
Youth Unlimited
:
The challenges for at-risk and vulnerable youth in BC are high. Child poverty, mental health issues and childhood trauma are strong risk factors that create vulnerability.
Twenty percent of children in BC live below the poverty line. Suicide is the leading cause of death in 15 to 24 year olds in Canada and stats show that only one in five children who need mental health services receives them. Childhood trauma puts kids at a significantly increased risk of addiction, gang recruitment, sex trafficking and homelessness.
But there is hope: So. Much. Hope.
Youth worker mentorship
After 18 months of committed, relational support from a healthy adult, vulnerable youth are statistically proven to have a 70 percent chance of decreasing dangerous behaviour and becoming less at risk. Youth Unlimited has been providing this support and mentorship at a grassroots level for decades.
How we do it
A place of connection and transformation, Youth Unlimited helps young people discover their potential. If they feel alone, marginalized, vulnerable or just need somewhere fun but safe to connect to, we are here to walk with them, help them learn life skills, support their growth as a person, and discover their potential. We do this through activities, arts, sports, camps, drop-in centres and a myriad of other programs accessible throughout Greater Vancouver. Our aim is to foster mental, physical, social, spiritual and emotional well-being among young people in our community.
How to help
To partner with us to provide support for our amazing youth visit: www.youthunlimited.com/donate
What is Art! Vancouver?: "For four days, April 19 – 22, 2018, Art! Vancouver connects the international arts community under one roof [with its Contemporary Art Fair at the Vancouver Convention Centre]. Here exhibitors can showcase their artworks on a prestigious platform, while exposing attendees to a diverse collection of original art."
Go here for more information about Art! Vancouver and here for more about Greater Vancouver Youth Unlimited.
February 27, 2018
Income Tax Ministry (Tuesdays & Saturdays)
– February 27, 2018 - April 24, 2018 at 9:30 am - 2:00 pm
March 22, 2018
40 Days for Life
– March 22, 2018 - March 25, 2018 at All Day
The Comedy of Errors
– March 22, 2018 - March 24, 2018 at All Day
Water from Stone
– March 22, 2018 at All Day
Provincial Leaders Dinner
– March 22, 2018 at 5:00 pm - 8:00 pm
The Art of Creative Apologetics: Building Connections Through Imagination
– March 22, 2018 at 6:30 pm - 8:30 pm
Tom Swanky, J.D.: Usqalits' – Canada's Pacific Genocide
– March 22, 2018 at 7:00 pm - 9:00 pm
The Laing Lectures: Stanley Hauerwas – The Church and Civil Society
– March 22, 2018 at 7:30 pm - 9:30 pm
March 23, 2018
52nd Annual British Columbia Leadership Prayer Breakfast
– March 23, 2018 at 7:30 am - 9:00 am
JUNOfest Christian Showcase
– March 23, 2018 at 6:30 pm - 9:30 pm
Thomas Merton and Celtic Spirituality: A Public Talk & a Retreat with Dr. Monica Weis SJJ
– March 23, 2018 - March 24, 2018 at 7:00 pm - 3:30 pm
March 24, 2018
Church Architecture: Inside and Out
– March 24, 2018 at 9:30 am - 12:30 pm
Ukrainian Catholic Easter Bake Sale
– March 24, 2018 at 11:00 am - 3:00 pm
March 25, 2018
One Hour: See the Cross Lenten Concert
– March 25, 2018 at 3:00 pm - 4:00 pm
Jazz Vespers
– March 25, 2018 at 4:00 pm - 5:00 pm
Jazz Vespers: Miles Black & Friends
– March 25, 2018 at 4:00 pm - 5:00 pm
March 30, 2018
Hastings Sunrise Good Friday Interchurch Service and Walk
– March 30, 2018 at 10:00 am - 11:30 am
Joint Downtown Eastside Churches Service
– March 30, 2018 at 10:30 am - 12:00 pm
Stainer's Crucifixion: A Good Friday Oratorio
– March 30, 2018 at 10:30 am - 11:30 am
Gospel Good Friday with Dawn Pemberton
– March 30, 2018 at 12:00 pm - 1:30 pm
Way of the Cross Walk 2018
– March 30, 2018 at 12:00 pm - 1:30 pm
Good Friday Community Dinner
– March 30, 2018 at 5:30 pm - 7:30 pm
Vancouver Chamber Choir / Chamber Cantata Singers: Rachmaninov Vespers and Laurisden Lux Aeterna
– March 30, 2018 at 8:00 pm - 10:00 pm
March 31, 2018
Ecological Stations of the Cross
– March 31, 2018 at 1:00 pm - 3:00 pm
Messiah Sing-Along
– March 31, 2018 at 2:00 pm - 5:00 pm
Easter Weekend Worship Invasion. Because He Lives.
– March 31, 2018 at 7:30 pm - 10:30 pm
April 1, 2018
Coastal Church Easter Sunday Services (9:30 am & 12:30 pm)
– April 1, 2018 at All Day
Easter Sunrise Service at Trout Lake
– April 1, 2018 at 7:30 am - 8:30 am
The Total Athlete with Jeremy Lin
– April 1, 2018 at 7:00 pm - 9:00 pm
April 4, 2018
Celebrating Spirituality with People Who Have Dementia, with Gemma Jones
– April 4, 2018 - April 5, 2018 at 9:00 am - 4:00 pm
Film Screening: The Crucified King – a Documentary by Iwan Russell-Jones
– April 4, 2018 at 12:00 pm - 1:30 pm
Jazz Evensong: The Hot Mammas
– April 4, 2018 at 8:00 pm - 9:30 pm
April 5, 2018
Dr. Alison Marshall: Bayanihan & Belonging – Filipinos and Religion in Canada
– April 5, 2018 at 6:00 pm - 8:30 pm
April 6, 2018
EMS Canada 2018: Mission and Evangelism in a Secularizing World
– April 6, 2018 at 8:30 am - 4:30 pm
Comedy Night at the Bez
– April 6, 2018 at 7:00 pm - 10:00 pm
Rainer Kunz: Discovering and Developing Your Strengths
– April 6, 2018 - April 7, 2018 at 7:00 pm - 5:00 pm
Take 6 in Concert
– April 6, 2018 at 8:00 pm - 10:30 pm
April 7, 2018
Biblical Worldview Weekend 2018
– April 7, 2018 - April 8, 2018 at All Day
Ratanak International's Emerald Gala
– April 7, 2018 at 6:15 pm - 9:30 pm
April 8, 2018
Jazz Vespers: Cory Weeds
– April 8, 2018 at 4:00 pm - 5:00 pm
April 9, 2018
Essentials for Understanding Dementia & Care, with Gemma Jones
– April 9, 2018 - April 10, 2018 at 9:00 am - 4:30 pm
Official Opening: Indian Residential School History and Dialogue Centre
– April 9, 2018 at 10:00 am - 11:30 am
Dr. Jonathan Sarfati: Biblical Worldview & Creation
– April 9, 2018 at 7:00 pm - 9:00 pm
April 10, 2018
Jewish-Christian Dialogue: Medical Assistance in Dying (MAiD)
– April 10, 2018 at 2:00 pm - 5:00 pm
April 11, 2018
How to Host an Alzheimer Café, with Gemma Jones
– April 11, 2018 at 9:00 am - 4:30 pm
The Choir of Royal Holloway
– April 11, 2018 at 7:30 pm - 9:30 pm
April 12, 2018
Alzheimer Café and Dementia Care, with Gemma Jones
– April 12, 2018 - April 17, 2018 at All Day
Bar Mitzvah Boy by Mark Leiren-Young
– April 12, 2018 - April 14, 2018 at All Day
Rev. Malcolm Hedding - ICEJ Canada
– April 12, 2018 at 10:00 am - 12:00 pm
April 13, 2018
About the Alzheimer Café & How to Help, with Gemma Jones
– April 13, 2018 at 9:00 am - 4:30 pm
Jordan Klassen in Concert
– April 13, 2018 at 7:00 pm - 10:00 pm
Forever & Ever: A Christian Rock Musical
– April 13, 2018 - April 14, 2018 at 8:00 pm - 10:00 pm
April 14, 2018
Iron Sharpens Iron
– April 14, 2018 at All Day
International Student Ministries Breakfast
– April 14, 2018 at 9:00 am - 11:00 am
Come and See What Happens at an Alzheimer Café, with Gemma Jones
– April 14, 2018 at 12:00 pm - 5:00 pm
Rev. Malcolm Hedding - ICEJ Canada
– April 14, 2018 at 2:30 pm - 4:30 pm
Rev. Malcolm Hedding - ICEJ Canada
– April 14, 2018 at 5:00 pm - 7:00 pm
All Above Me
– April 14, 2018 at 7:00 pm - 9:00 pm
Ember
– April 14, 2018 at 7:00 pm - 9:00 pm
Mercy at the Cross: An Easter Concert of Worship
– April 14, 2018 at 7:00 pm - 9:00 pm
April 15, 2018
Rev. Malcolm Hedding - ICEJ Canada
– April 15, 2018 at 10:30 am - 12:30 pm
Rev. Malcolm Hedding - ICEJ Canada
– April 15, 2018 at 2:30 pm - 4:30 pm
Lift Every Voice
– April 15, 2018 at 3:00 pm - 4:30 pm
Organ Concert: Edward Norman & Steve Denroche
– April 15, 2018 at 3:00 pm - 4:30 pm
April 16, 2018
Essential Understanding for Dementia Care, with Gemma Jones
– April 16, 2018 - April 17, 2018 at 9:00 am - 4:30 pm
Defining Housing Justice: A Community Forum
– April 16, 2018 at 7:00 pm - 9:00 pm
April 18, 2018
The Arts, Faith and the Apocalyptic Imagination
– April 18, 2018 at 7:00 pm - 9:00 pm
April 19, 2018
Relationship: Singleness & Marriage – A Conference with Dr. Tim Lane
– April 19, 2018 - April 21, 2018 at All Day
TWU Men's Volleyball Team vs 'The Legends'
– April 19, 2018 at 6:45 pm - 9:00 pm
Dr. Tim Lane: Redeeming All of Your Relationships
– April 19, 2018 at 7:00 pm - 9:00 pm
April 20, 2018
Destiny Awakens Women's Conference
– April 20, 2018 - April 21, 2018 at All Day
Sideshow
– April 20, 2018 - April 21, 2018 at All Day
Church Renewal Round Table
– April 20, 2018 at 10:00 am - 12:00 pm
T4T (Training for Trainers) with Rev. Ying Kai & Grace Kai
– April 20, 2018 - April 21, 2018 at 7:00 pm - 4:30 pm
The Kwerks
– April 20, 2018 at 7:00 pm - 10:00 pm
April 21, 2018
HOPE International Development Agency Dinner & Film Premiere
– April 21, 2018 at 5:30 pm - 8:30 pm
Danny & Debi Brooks
– April 21, 2018 at 7:00 pm - 9:30 pm
Forever and Ever: A Christian Rock Musical
– April 21, 2018 at 7:00 pm - 9:00 pm
April 22, 2018
Jazz Vespers: Kristian Alexandrov & Shannon Gaye
– April 22, 2018 at 4:00 pm - 5:00 pm
Dr. Naim Ateek: Book launch of 'A Palestinian Theology of Liberation'
– April 22, 2018 at 6:30 pm - 8:30 pm
Foster Care Info & Awareness Night
– April 22, 2018 at 7:00 pm - 8:30 pm
April 23, 2018
Stop SOGI 123 Rally
– April 23, 2018 at 11:00 am - 1:00 pm
April 24, 2018
Made in God's Image
– April 24, 2018 at 7:00 pm - 9:30 pm
April 25, 2018
Church Leaders Forum: The 5 Conversions of the Church
– April 25, 2018 at 9:30 am - 12:30 pm
Where Discipleship Meets Mental Health & Social Isolation
– April 25, 2018 at 10:00 am - 12:30 pm
Recipe for Success Gala, with Vikram Vij
– April 25, 2018 at 6:00 pm - 9:00 pm
April 26, 2018
Welcome the Stranger: Refugees Becoming Neighbours
– April 26, 2018 at 7:00 pm - 9:00 pm
Spirit(us): An Evening with Tenor Charles Daniels
– April 26, 2018 at 8:00 pm - 10:00 pm
April 27, 2018
BC Healing Rooms Conference
– April 27, 2018 - April 29, 2018 at All Day
Coalesce: Grad Art Exhibition at TWU
– April 27, 2018 - April 29, 2018 at All Day
Discovered
– April 27, 2018 - April 28, 2018 at 7:00 pm - 10:00 pm
Harvest Glory Night with Che Ahn
– April 27, 2018 at 7:00 pm - 9:30 pm
God's Created Dinosaurs and In Search of Leviathan with JD Mitchell
– April 27, 2018 at 7:30 pm - 9:30 pm
Soprano Sarah McGrath and Organist Denis Bédard
– April 27, 2018 at 8:00 pm - 10:00 pm