An intriguing competition took place at the Sheraton Vancouver Wall Centre last Saturday. Eagles Nest – a Christian version of Shark's Tank or Dragon's Den – pitted three entrepreneurs against each other as they sought to gain a $15,000 prize during the Business as Mission (BAM) Social Impact Conference.
The battle was not fierce, but there was suspense when it came time for the three judges to choose between the contestants, who represented:
* a business created to help women in India escape human trafficking;
* an orphanage which has developed a fish farm and much more in Southeast Asia;
* a co-working office (soon several offices) in North Africa.
The three judges were well qualified: Dev Randawa, president of RD Capital & Ironside Resources, CEO of Fission Uranium; Dr. Sandra Tai, Certified Specialist in Orthodontics, Clinical Assistant Professor in Orthodontics at UBC; and Grayson Bains, founder of JusTea and Grayson Designs Inc. (Go here for their extensive resumes.)
After the three contestants made their pitches, the judges asked them questions, considered their proposals and then assessed them, giving advice and offering support for the future.
The winner was Shannon Keith, founder and CEO of Sudara, a business which offers "great pajamas, robes and lounge pants" and is described in this way:
The Sudara team is comprised of sewing center partners and associates across India and the U.S. We come from a variety of backgrounds and experiences but share a passion for empowering women, ending human trafficking and the power of social enterprise to create deep, sustainable impact.
Keith said she is trying to raise $80,000 CAD for a startup in India. Sudara has been working in India since 2005, but it is based in Bend, Oregon, and the idea is to create a new entity which would be owned more directly by Indians.
Judges – and audience members – did not hesitate to ask some tough questions. For example, why isn't the US-based Sudara just lending the money? Is Sudara aware that there are other groups doing almost exactly the same work in India? (The latter question came from Geoff Tunnicliffe, former head of the World Evangelical Organization, who happens to live in this area.)
While there is not room here to go into the intricacies of the proposal and responses to it, suffice it to say that the process was very interesting, and that Keith's answers satisfied the judges, subject to a couple of conditions.
The judges no doubt responded well to Sudara's bottom line, as stated by Keith:
We're about creating living wage jobs, not about creating seamstresses.
The other proposals were also appealing. Judge Randawa pointed out, just as they were about to announce the winner, that it is very tough to choose between helping orphans in Southeast Asia and helping former sex trade workers in India.
I encourage anyone with an interest in the intersection of business and public good works to save time for next spring's Business as Mission Conference; it lived up to its billing this year:
. . . modelling transformative businesses to create change and impact for communities most in need both locally and globally. This conference will bring together entrepreneurs, business executives, professionals; students and passionate individuals from all over the world, connected by a common cause to create, invest and build businesses for social impact.
Apart from the Eagles Nest, keynote speaker Keith Ippel (CEO and co-founder of Spring), made an impact.
And a panel featuring Dr. James Tansey (Associate Professor at UBC's Sauder School of Business and Executive Director of UBC Sauder Centre for Social Innovation and Impact investing); Peter Quek (Director of Development for LeaderImpact Canada, Power to Change Canada); and Raseel Sehmi (Director of International Partnership and Business Development, ATB Financial, Innovation Lab) was valuable.
Numbers were up from the first year, from about 55 to 75, and one of the organizers – Mike Davies, director of YWAM Vancouver – told me he is confident there will be hundreds in attendance at the Business as Mission Conference within a couple of years. The other organizers are Engineering Ministries International (EMI) Canada and ACE Development Fund.
Notre Dame, from Vancouver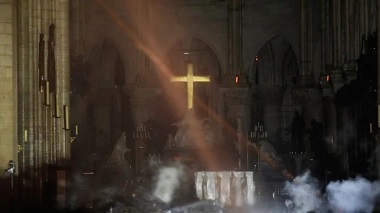 The fire in Notre Dame seemed close to home, though it was a world away. A couple of people from the local Christian community were sought out by the media for their comments:
The Aldergrove Star posted 'Eyewitness account of Notre Dame fire by Langley resident':
As fire raged through historic Notre Dame cathedral in Paris on Monday, Langley resident Dr. Kelsey Haskett was among the horrified witnesses.
"With thousands of Parisians and others I have just seen 800 years of history crumble before my eyes," Haskett said.
Dr. Haskett, chair of the department of world languages and cultures at Trinity Western University, spends every summer teaching in Paris. . . .
Haskett called the sight "one of the saddest things I have seen in my life, and one of the most sobering."
Go here for the full story.
CBC News interviewed John Paul Sonnen:
John Paul Sonnen, from Chilliwack, leads tours to churches and cathedrals around the world and is also a writer with The B.C. Catholic newspaper and other publications.
He said he visits the cathedral every year, along with the millions who take it in annually.
"Notre Dame has stood at the very centre of French – and indeed all European – history for nearly a thousand years," Sonnen said. "The stones tell a history. They speak a language."
Go here for the full story and to listen to a 4:31 minute interview with Sonnen. He also wrote 'Jewel of France will pull French people together again' for The B.C. Catholic.
Dave Treadway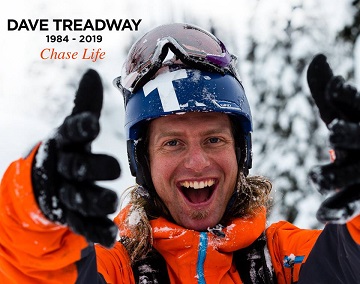 Several media headlines described him as an "'incredible' BC skier" as they assessed his life in the wake of a fatal accident north of Whistler April 15.
The Globe and Mail, for example, said:
Pemberton Search and Rescue confirms its members responded Monday after learning a 34-year-old had fallen 30 metres into a crevasse.
A Canadian skiing magazine, SBC Skier, described Treadway as "one of the most influential skiers of our time," for videos of his breathtaking descents on near vertical mountain faces.
Colorado-based Ski Journal Magazine editor Mike Rogge says Treadway, who was sponsored by companies including Rossignol and GoPro, had the ability to "find air" on the flattest of runs, but was also known for his emphasis on safety, his love of family and his firm belief in God.
Treadway is survived by his two young sons and his wife, Tessa, who is pregnant with the couple's third child.
The extent of his influence is reflected by the fact that a GoFundMe page raised more than $121,000 for Treadway's family within 24 hours.
Though he was no doubt best known for his skiing and adventurous lifestyle, he was also well known in some Christian circles. He organized Young Life in the Pemberton area and, though he and his family travelled a lot, they were closely connected to Pemberton Community Church.
The GoFundMe page said, in part:
Dave was a passionate individual whose achievements in the mountains were only outweighed by his desire to show others the love of God. He did this by serving as a youth leader in his community and by leading as a professional skiing role model.
The Pemberton Community Church Facebook page says there will be a Celebration of Life for Dave Treadway at Pemberton Secondary School on Monday (April 22) at 2 pm.
Church Leaders Forum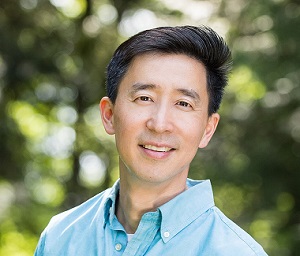 Ken Shigematsu has been chosen as the speaker for World Vision's annual 'Church Leaders Forum,' which will take place in 14 cities across Canada this spring. He will address the topic From Surviving to Thriving next Thursday (April 25) at Cariboo Road Christian Fellowship in Burnaby.
Ken is senior pastor of Tenth Church in Vancouver. He is also author of the award-winning, international bestseller God in My Everything and the recently-released Survival Guide for the Soul.
Apr 2019
Holy Week 24/7 Prayer
– April 14, 2019 - April 20, 2019 at All Day
Act of Faith
– April 18, 2019 - April 20, 2019 at All Day
Breakthrough
– April 18, 2019 at All Day
Good Friday Service
– April 19, 2019 at 10:00 am - 11:00 am
Stations of the Cross: Good Friday Walk
– April 19, 2019 at 10:00 am - 12:30 pm
Way of the Cross at Queen Elizabeth Park
– April 19, 2019 at 10:00 am - 11:30 am
Way of the Cross East Vancouver
– April 19, 2019 at 10:00 am - 12:00 pm
Good Friday DTES Combined Gathering
– April 19, 2019 at 10:30 am - 1:30 pm
Easter Neighbourhood Block Party
– April 19, 2019 at 11:00 am - 1:00 pm
The 33rd Way of the Cross Walk
– April 19, 2019 at 12:00 pm - 2:00 pm
Taizé-style Contemplative Service
– April 19, 2019 at 4:00 pm - 5:00 pm
The Crucifixion by John Stainer
– April 19, 2019 at 4:00 pm - 5:00 pm
Good Friday Community Dinner
– April 19, 2019 at 5:00 pm - 8:00 pm
Haydn: Seven Last Words of Christ on the Cross
– April 19, 2019 at 7:00 pm - 9:00 pm
Mozart's Requiem & Choral Works by Felix Mendelssohn
– April 19, 2019 at 7:00 pm - 9:00 pm
Dee Daniels
– April 19, 2019 at 7:30 pm - 10:00 pm
Music for a Very Good Friday: Bach / O'Regan / Vaughan Williams
– April 19, 2019 at 8:00 pm - 10:00 pm
Ecological Stations of the Cross
– April 20, 2019 at 12:00 am
Noah (three dates)
– April 20, 2019 - April 22, 2019 at All Day
Easter Bash
– April 20, 2019 at 11:00 am - 2:00 pm
Easter Blast
– April 20, 2019 at 11:00 am - 1:00 pm
Easter Sing-Along Messiah
– April 20, 2019 at 2:00 pm - 3:30 pm
Mozart's Requiem & Choral Works by Felix Mendelssohn
– April 20, 2019 at 2:00 pm - 4:00 pm
East Van Sunrise Service
– April 21, 2019 at 7:30 am - 8:30 am
Sing-Along Messiah
– April 21, 2019 at 9:15 am - 11:15 am
Easter Sunday Service
– April 21, 2019 at 10:00 am - 11:00 am
Prayer Vigil for Sri Lanka
– April 22, 2019 at 6:30 pm
Prayer Vigil for Sri Lankan Christians
– April 23, 2019 at 6:00 pm - 7:30 pm
Church Leaders Forum: Ken Shigematsu – From Surviving to Thriving
– April 25, 2019 at 9:30 am - 12:30 pm
Cherry Docs
– April 25, 2019 - April 28, 2019 at 8:00 pm - 10:00 pm
Windows into Heaven: an Introductory Guide to Icons
– April 26, 2019 at 7:00 pm - 8:30 pm
Income Tax Ministry (Tuesdays & Saturdays)
– April 27, 2019 - April 30, 2019 at 9:30 am - 2:00 pm
Community Land Trusts: Housing Civic Academy (part 2)
– April 27, 2019 at 10:00 am - 3:00 pm
The Lived Experience of People with Dementia
– April 27, 2019 at 6:00 pm - 7:30 pm
Gospel Music Festival
– April 27, 2019 at 6:30 pm - 9:30 pm
Good Seed Sunday
– April 28, 2019 at All Day
Jazz Vespers @ St. Andrew's United Church on the North Shore
– April 28, 2019 at 4:00 pm - 5:00 pm
Jazz Vespers in the Valley: Cory Weeds
– April 28, 2019 at 4:00 pm - 5:00 pm
Young Life North Shore Annual Fundraiser with the Panic Squad
– April 30, 2019 at 7:00 pm - 9:30 pm
May 2019
David Lyons: Christians in a Culture of Surveillance
– May 1, 2019 at 7:30 pm - 9:00 pm
Welcome to Worship
– May 2, 2019 at 10:00 am - 12:00 pm
spirit(us): Exploring Pathways to Art, Earth and Us
– May 2, 2019 at 7:00 pm - 9:00 pm
Punjabi Masihi Church 25th Anniversary / Annual Convention
– May 3, 2019 - May 5, 2019 at 7:00 pm - 5:30 pm
Regent College Convocation 2019
– May 3, 2019 at 7:30 pm - 9:00 pm
Diane Lines' Jump
– May 3, 2019 at 8:00 pm - 10:00 pm
BC God and Government Conference
– May 4, 2019 at 8:30 am - 5:30 pm
Faith & Work Conference
– May 4, 2019 at 9:00 am - 4:00 pm
Flourishing Congregations: From Understanding to Practice
– May 4, 2019 at 9:00 am - 4:00 pm
160th Anniversary Celebration of St. John the Divine
– May 4, 2019 at 10:00 am - 2:00 pm
Living Single Again (Saturday mornings)
– May 4, 2019 at 10:00 am - 12:30 pm
Spring Has Sprung Giveaway
– May 4, 2019 at 10:00 am - 12:30 pm
Spring Concert
– May 4, 2019 at 2:00 pm - 3:30 pm
The Wondertale of Naomi and Ruth
– May 4, 2019 at 7:00 pm - 9:00 pm
Yom HaShoah; Honouring Holocaust Remembrance Day
– May 5, 2019 at 2:30 pm - 4:30 pm
Song of Love: A Choral Concert of Worship
– May 5, 2019 at 7:00 pm - 9:00 pm
VOS Youth Singers Spring Concert 2019
– May 5, 2019 at 7:30 pm - 9:30 pm
Unsettling the Word: Stories & Songs for Unis'to'ten
– May 6, 2019 at 7:00 pm - 8:30 pm
The Prophetic Voice: Pastors Conference 2019
– May 7, 2019 - May 9, 2019 at All Day
Spirituality Conference: Inspiring Person Centredness – A Call to Action
– May 8, 2019 - May 10, 2019 at All Day
The Carr Lecture: Santa Ono – Liberal Arts in the 21st Century: More Important Than Ever
– May 8, 2019 at 7:00 pm - 9:00 pm
Book Launch: Dietrich Bonhoeffer's Christian Humanism
– May 8, 2019 at 7:30 pm - 9:00 pm
Courageous Woman Conference
– May 9, 2019 - May 11, 2019 at All Day
Whispering Grass by Haitao Yin
– May 9, 2019 at All Day
March for Life Victoria (including church services and gala dinner)
– May 9, 2019 at 12:00 pm - 8:00 pm
Christian Witness in Cascadian Soil
– May 10, 2019 - May 11, 2019 at 8:30 am - 4:30 pm
Her Story: an Open House Café
– May 10, 2019 at 9:30 am - 11:30 am
High Bar Gang
– May 10, 2019 at 8:00 pm - 10:00 pm
Faith in Action: Practicing Biblical Advocacy
– May 11, 2019 at 9:30 am - 3:30 pm
Renovate Worship: Including Mixed Ages and Abilities
– May 11, 2019 at 9:30 am - 4:30 pm
Lighthouse Harbour Ministries Spring Luncheon
– May 11, 2019 at 12:00 pm - 2:00 pm
SIM Monthly Mission Meeting
– May 11, 2019 at 12:00 pm - 2:00 pm
Alzheimer Café
– May 11, 2019 at 2:00 pm - 4:00 pm
Borders to Beginnings
– May 11, 2019 at 5:30 pm - 8:30 pm
Gloria Dei Chorale: Spring Concert
– May 11, 2019 at 7:30 pm - 9:30 pm
Getting Our Story Straight with Brian Fikkert
– May 12, 2019 at 7:00 am - 8:30 am
Jazz Vespers in the Valley: Glenda Rae Trio
– May 12, 2019 at 4:00 pm - 5:00 pm
The Eisenhauers
– May 12, 2019 at 7:00 pm - 10:00 pm
Tax Preparation (Mondays)
– May 13, 2019 at 10:00 am - 3:15 pm
Persistence of Light: A Reading by John Hoyte
– May 13, 2019 at 12:15 pm - 1:30 pm
VST Convocation 2019
– May 13, 2019 at 7:00 pm - 9:30 pm
John Swinton: Hearing Voices – Human and Divine
– May 13, 2019 at 7:30 pm - 9:00 pm
Dr. Stanley Hauerwas: Revitalizing the Church Workshop
– May 14, 2019 at 9:30 am - 2:00 pm
Canadian Viewpoints: Concealed and Revealed – Opening Reception
– May 15, 2019 at 4:30 pm - 7:30 pm
Provincial Leaders Dinner
– May 15, 2019 at 6:00 pm - 8:00 pm
Peter Harrison: The Shifting Territories of Science & Religion
– May 15, 2019 at 7:30 pm - 9:00 pm
Xtreme Theatre: Les Misérables School Edition
– May 16, 2019 - May 18, 2019 at All Day
BC Leadership Prayer Breakfast
– May 16, 2019 at 7:15 am - 9:00 am
Book Launch: I'm the Bob & Cathy's Kid
– May 16, 2019 at 12:15 pm - 1:30 pm
Journey 101 (Thursday evenings)
– May 16, 2019 at 7:00 pm - 9:00 pm
Brave Love Women's Gathering
– May 17, 2019 - May 18, 2019 at 6:30 pm - 9:00 pm
A Garden Green CD Release Party
– May 17, 2019 at 7:00 pm - 10:00 pm
African Children's Choir: Just as I Am Tour
– May 17, 2019 at 7:00 pm - 9:00 pm
Bruce Hindmarsh & Steve Bell: Praying the Psalms in Spirit and Song
– May 17, 2019 at 7:30 pm - 9:00 pm
spirit(us) - Exploring Pathways to Art, Earth and Us
– May 18, 2019 at 7:00 pm - 9:00 pm
African Children's Choir: Just as I Am Tour
– May 19, 2019 at 6:00 pm - 8:00 pm
African Children's Choir: Just as I Am Tour
– May 20, 2019 at 7:00 pm - 9:00 pm
Jeffrey Greenman & Mark Glanville: Improvisational Leadership – a jazz-talk
– May 20, 2019 at 7:30 pm - 9:00 pm
Miriam Kovalishyn: Thy Kingdom Come – Exploring a Biblical Vision of Justice
– May 22, 2019 at 7:30 pm - 9:00 pm
Long & McQuade Presents Rashid Williams
– May 23, 2019 at 7:00 pm - 9:00 pm
Multiply: Let's Celebrate Together
– May 23, 2019 at 7:00 pm - 9:00 pm