For many years I have admired the way Mennonites champion restorative justice. Whenever you hear about citizens working with prisoners, or ex-prisoners, or Victim-Offender projects, or mediation . . . you'll always find Mennonites in the mix.
The latest manifestation of this concern for peace-making and caring for outsiders comes to town in the form of Forgiven/Forgotten, a play which will be performed at Killarney Park Church this Friday (November 25) and Cedar Park Church (November 26).
The play is performed by Theatre of the Beat, based in Ontario; following is assessment of the play from the Mennonite Central Committee, which is partnering with the travelling theatre troupe.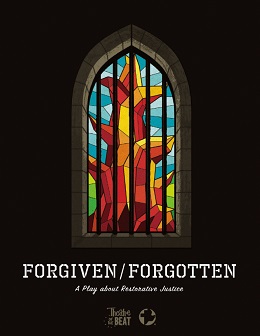 When Phil gets out of prison in Forgiven/Forgotten, people aren't sure how to respond. Is it safe to have him at church? To invite him over for dinner? To have your kids play at his house?
Back in 1994, a Mennonite church was asking these same questions when a released sex offender moved into their neighbourhood. While we're not sure exactly how the action played out, we do know that the pastor recruited members of his church community to form a support group for the man. He met weekly with his group for 14 years before he died.
He never re-offended.
Since that time, thousands of Circles of Support and Accountability (CoSA) have been formed through Mennonite Central Committee (MCC)'s program to assist and support released offenders in their task of re-integrating with the community, and leading responsible, productive and accountable lives. [I posted an article about local CoSA work here.]
These circles have resulted in an 83 percent reduction in recidivism (re-offending) for sexual offences, as well as a 73 percent reduction in recidivism for all types of violent offenses, and a 71 percent overall reduction of in all types of recidivism in comparison to matched groups of offenders who did not have a CoSA.
November 20 – 27 is Restorative Justice Week.
Brenda Pue: But If Not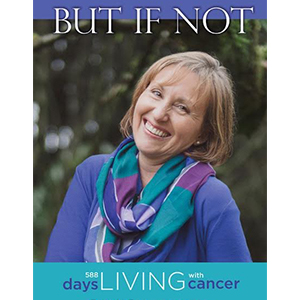 In January of 2014 Brenda Pue received a devastating report that she had cancer in her lung, which had already spread to her brain and lower back. (Her husband Carson Pue wrote about that wrenching realization shortly afterwards, in When life changes in a moment).
Brenda and Carson used her online journal and his blog to share with their many friends. Brenda died last August, but not before she was able to complete But If Not.
The publisher describes the book in this way:
Brenda Pue was a remarkable woman and it is not surprising that this account of her last days is equally remarkable. You often hear it said that someone "lost their battle with cancer." To read this book is not to read of any lost battle. In fact, to read it is to learn of a victory with a splendid and defiant note of triumph. In her life, Brenda was a woman who inspired many. You will find this account of her last days on earth no less inspiring.
This book, at one level, is an account of one woman's battle with cancer. Yet, at a much deeper, truer lever, it is not about death or dying; it is about life and living. Especially helpful for those with a recent cancer diagnosis and their loved ones, But If Not is filled with expectation, longing, desire, confidence, trust and faith.
Although her doctors had given her just a few months to live, Brenda chose to live joyfully and victoriously. As a wife, mother, grandmother, friend, leader and mentor, Brenda shares "life in all its fullness" – the sort that Jesus promises in John 10:10. It leaps and bounds off of every page.
Brenda invites us into her physical, emotional and spiritual journey, showing us what it is like to face a life challenge with courage and grace. Come be inspired by the life of an amazing woman.
But If Not
is
available
at the Arrow Leadership online store.
Teaching spirituality in school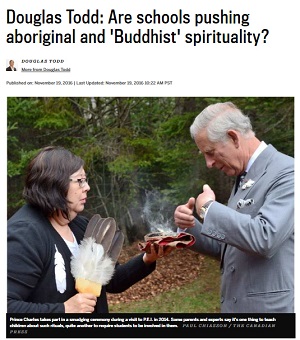 Vancouver Sun columnist Douglas Todd wrote a good piece November 19, asking Are schools pushing aboriginal and 'Buddhist' spirituality? He based the piece on two cases involving parents unhappy with the spiritual instruction their children had received at their schools.:
A Port Alberni mother has gone to BC Supreme Court to stop her children's public school from having students join in aboriginal "smudging" ceremonies.
An East Vancouver father, at the same time, has launched a petition to stop his child's elementary school from having students take part in "mindfulness" meditation, since it's rooted in Buddhism.
The parents argue that aboriginal smudging and mindfulness are essentially religious observances, which have been forbidden in Canadian public schools since Christianity's Lord's Prayer was abolished decades ago.
He noted that:
Secular public school officials are holding their ground. They maintain "smudging" is part of aboriginal culture, not religion, and mindfulness is simply a "secular" breathing exercise.
But he pointed out that "BC parents may have the stronger religious-freedom arguments.":
Even though many view aboriginal spirituality and mindfulness as benign, or even as highly positive, it seems hypocritical for secular officials to impose them on students at the same time they ban the "Christmas" concert because of its Christian overtones.
Double standards don't hold up: State-run education can't justify rejecting aspects of one religion, Christianity, because it's considered dominant, at the same time it promotes other spiritual practices. Multiculturalism shouldn't work that way.
And public schools wonder why parents are choosing independent schools! BC's public schools and teachers do a marvellous job, in general, but as Peter Froese, executive director of the Federation of Independent School Associations (FISA), said in a recent CBC interview:
What we've been told by parents is that one of the main reasons [they choose independent schools] is that it's a choice, and it's a choice because the values of the home are consistent with the values of the school.
(From my September 15 article: Media debate falsely pits public versus private education.)
Todd concluded: "The actual practice of such rituals . . . is probably best reserved to individuals, families and spiritual communities." Along with the BC Humanist Association and former Regent College professor John Stackhouse, he believes:
. . . schools should teach far more world-religion courses, so students can learn, in age-appropriate ways, about a variety of spiritual observances and worldviews, from Catholicism to Sikhism.
Read Todd's full story here.
United in Prayer, United in Mission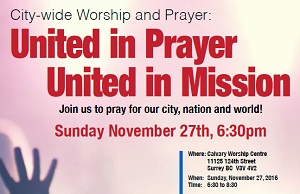 Calvary Worship Centre will host United in Prayer, United in Mission this Sunday evening.:
Missions Fest, Festival of Hope and Hope Vancouver invite you to come together in prayer at Calvary Worship Centre, Surrey, at 6:30 pm on Sunday, Nov 27th.
We will continue to pray in faith for what the Lord is doing in the Lower Mainland through many churches and ministries including Worship Central, Alpha Canada, Chapel and for the thousands that will hear the Gospel and come to Christ in the next six months. The time to seek the Lord is now.
City Summit
The Vancouver Consultation City Summit is taking place right now, November 24 – 25, at Glad Tidings Church. 
Nov 2016
Kairos Blanket Exercise Facilitator Training
– November 23, 2016 - November 24, 2016 at 5:45 pm - 9:00 pm
Christmas Shopping at Brooksdale
– November 24, 2016 - November 25, 2016 at All Day
Vancouver Consultation: City Summit
– November 24, 2016 - November 25, 2016 at All Day
Alex Schadenberg: Bill C-14 Assisted Suicide Bill
– November 24, 2016 at 7:00 pm - 9:00 pm
Ecstasy of the Soul Before the Glory of Christ: Holy Eucharist and Mystical Experience
– November 25, 2016 at 9:00 am - 3:00 pm
Alex Schadenberg: The Euthanasia Deception
– November 25, 2016 at 7:00 pm - 9:00 pm
Chapel North Shore
– November 25, 2016 at 7:00 pm - 9:00 pm
Chapel Richmond-Delta
– November 25, 2016 at 7:00 pm - 9:00 pm
Chapel Surrey
– November 25, 2016 at 7:00 pm - 9:00 pm
Chapel Tri-Cities
– November 25, 2016 at 7:00 pm - 9:00 pm
Chapel Vancouver
– November 25, 2016 at 7:00 pm - 9:00 pm
Christmas Benefit Concert presented by L'Arche Greater Vancouver
– November 25, 2016 at 7:00 pm - 9:00 pm
Joshua Hyslop
– November 25, 2016 at 7:00 pm - 9:00 pm
Luke 15 House Dinner Fundraiser
– November 25, 2016 at 7:00 pm - 9:00 pm
Chapel Langley
– November 25, 2016 at 7:30 pm - 9:00 pm
Awaiting Christmas: Sacred Music for Advent
– November 25, 2016 at 8:00 pm - 10:00 pm
Forgiven / Forgotten
– November 25, 2016 at 8:00 pm - 10:00 pm
JustUs Workshop
– November 26, 2016 at 9:00 am - 4:00 pm
Holy Family's First Annual Christmas Craft Fair
– November 26, 2016 at 10:00 am - 4:00 pm
Living our Faith and being Medicine for the People
– November 26, 2016 at 1:00 pm - 3:00 pm
The Songs of Advent with Sarah Patterson
– November 26, 2016 at 6:30 pm - 8:30 pm
The Sounds of Christmas
– November 26, 2016 at 6:30 pm - 9:00 pm
A Laugh Again Christmas, with Phil Callaway
– November 26, 2016 at 7:00 pm - 9:00 pm
Forgiven / Forgotten
– November 26, 2016 at 7:00 pm - 9:00 pm
A Prairie Christmas
– November 26, 2016 at 7:30 pm - 9:30 pm
Abendmusik: Advent Vespers
– November 26, 2016 at 7:30 pm - 8:30 pm
Advent Lessons & Carols
– November 27, 2016 at 3:00 pm - 4:00 pm
Jazz Vespers: Jennifer Hayes
– November 27, 2016 at 4:00 pm - 5:00 pm
Lessons and Carols for Advent
– November 27, 2016 at 4:00 pm - 5:30 pm
Advent Carol Service
– November 27, 2016 at 4:30 pm - 6:00 pm
Voices Together: United in Prayer, United in Mission
– November 27, 2016 at 6:30 pm - 8:00 pm
Abendmusik: Advent Vespers
– November 27, 2016 at 7:30 pm - 8:30 pm
Vancouver Oratorio Society: Silver Jubilee Christmas Concert - Invitation to a Miracle
– November 27, 2016 at 7:30 pm - 9:30 pm
Lighthouse Harbour Ministries Advent Breakfast
– November 28, 2016 at 8:30 am - 10:00 am
Paused & Present: Christmas, Curry and Capacity
– November 28, 2016 at 6:30 pm - 10:00 pm
Lecture and Book Launch with Bill Reimer
– November 28, 2016 at 7:30 pm - 9:30 pm
Entrepreneurial Leaders Conference
– November 30, 2016 at All Day
Trinity Western University's Chamber Music Night
– November 30, 2016 at 12:00 am
Christmas Artisan Fair
– November 30, 2016 at 9:00 am - 4:00 pm
Christmas Tales with Justyn Rees & Russ Rosen
– November 30, 2016 at 12:00 pm - 2:00 pm
Friedrich Peter: A Saviour Has Been Born to You - Opening Reception
– November 30, 2016 at 4:30 pm - 7:30 pm
Christmas Tales with Justyn Rees & Russ Rosen
– November 30, 2016 at 6:00 pm - 8:00 pm
Dr. Jonathan Wilson: The World According to the Gospel - Mid-week Class
– November 30, 2016 at 8:00 pm - 9:30 pm
Jazz Evensong: Sandra-Mae
– November 30, 2016 at 8:00 pm - 9:30 pm
Dec 2016
disPlace: Refugee Stories in Their Own Words
– December 1, 2016 - December 3, 2016 at All Day
The Salvation Army's 15th Annual Hope in the City Breakfast
– December 1, 2016 at 7:30 am - 9:00 am
Christmas Shopping at Brooksdale
– December 1, 2016 - December 2, 2016 at 5:00 pm - 9:00 pm
Coptic Jesus: Book Release + Art Show
– December 1, 2016 at 6:00 pm - 9:00 pm
Vancouver Welsh Men's Choir Christmas Concert
– December 1, 2016 at 7:30 pm - 9:30 pm
Both Sides of Christmas: Youth at Risk in Our City
– December 2, 2016 at 7:30 am - 8:30 am
ReImagine Vancouver
– December 2, 2016 - December 3, 2016 at 9:00 am - 3:00 pm
Ty Gibson: Reimagining God
– December 2, 2016 at 6:30 pm - 8:30 pm
Book Launch: Hopeful Realism in Urban Ministry by Barry Morris
– December 2, 2016 at 7:00 pm - 8:30 pm
Christmas Tales
– December 2, 2016 at 7:00 pm - 9:00 pm
Christmas Tales with Justyn Rees & Russ Rosen
– December 2, 2016 at 7:00 pm - 9:00 pm
Home for Christmas
– December 2, 2016 - December 3, 2016 at 7:00 pm - 9:00 pm
Ordinary Time 10th Year Anniversary & Record Release
– December 2, 2016 at 7:00 pm - 10:00 pm
Holy is God's Name Advent Retreat
– December 3, 2016 at 9:15 am - 12:15 pm
Chapel Movement: Alpha Youth Film Series - Synced Spring Launch
– December 3, 2016 at 10:00 am - 3:00 pm
Christmas Fair & Craft Market
– December 3, 2016 at 10:00 am - 2:00 pm
Richmond Kairos Fair Trade Fair
– December 3, 2016 at 10:00 am - 2:00 pm
A Rocha Christmas Open House
– December 3, 2016 at 1:00 pm - 4:00 pm
Evangelistic World Outreach Annual Christmas Banquet
– December 3, 2016 at 5:00 pm - 7:00 pm
Christmas Tales with Justyn Rees & Russ Rosen
– December 3, 2016 at 6:00 pm - 9:00 pm
Jazz Christmas Concert
– December 3, 2016 at 7:00 pm - 9:00 pm
Ordinary Time in Concert: A Fundraiser for Brooksdale
– December 3, 2016 at 7:00 pm - 9:00 pm
Vancouver Children's Choir Presents Harps & Angels
– December 3, 2016 at 7:30 pm - 8:30 pm
Vancouver Welsh Men's Choir Christmas Concert
– December 3, 2016 at 7:30 pm - 9:30 pm
St. Augustine's Christmas Fair
– December 4, 2016 at 10:00 am - 1:00 pm
Christmas at the Chan Centre: Featuring Trinity Western University Choirs
– December 4, 2016 at 2:30 pm - 5:30 pm
Kairos Course: Cantonese Facilitator Training
– December 4, 2016 at 2:30 pm - 9:30 pm
Ordinary Time 10th Year Anniversary & Record Release
– December 4, 2016 at 2:30 pm - 4:30 pm
Vancouver Welsh Men's Choir Christmas Concert, with Winter Harp Ensemble
– December 4, 2016 at 2:30 pm - 4:30 pm
Ecumenical Advent Service
– December 4, 2016 at 3:00 pm - 4:30 pm
Phoenix Chamber Choir: Christmas Joys
– December 4, 2016 at 3:00 pm - 5:00 pm
Advent Carol Service
– December 4, 2016 at 4:00 pm - 5:00 pm
Jazz Vespers
– December 4, 2016 at 4:00 pm - 5:00 pm
Jazz Vespers: Mighty Fraser Big Band, Steve Maddock & Friends
– December 4, 2016 at 4:00 pm - 5:00 pm
Advent Concert with Ordinary Time
– December 4, 2016 at 6:00 pm - 8:00 pm
Solidarity with Standing Rock Vesper for Creation
– December 4, 2016 at 6:00 pm - 7:00 pm
Christmas with Kelita
– December 4, 2016 at 6:30 pm - 9:30 pm
Christmas Tales
– December 4, 2016 at 7:00 pm - 9:00 pm
Christmas Tales with Justyn Rees & Russ Rosen
– December 4, 2016 at 7:00 pm - 9:00 pm
Good News, Great Joy: A Christmas Concert
– December 4, 2016 at 7:00 pm - 9:00 pm
Music@Queens Concert Series: 19th Annual Carols and Bells
– December 4, 2016 at 7:00 pm - 9:00 pm
Phoenix Chamber Choir: Christmas Joys
– December 4, 2016 at 7:30 pm - 9:30 pm
Farewell Chapel in Honour of Rikk Watts
– December 6, 2016 at 11:00 am - 12:00 pm
Celebrating St. Nicholas
– December 6, 2016 at 7:00 pm - 9:00 pm
Vancouver Pastors Prayer Fellowship Annual Christmas Luncheon
– December 7, 2016 at 10:30 am - 2:30 pm
Kairos Blanket Exercise
– December 7, 2016 at 12:00 pm - 1:00 pm
Mission Possible Gala
– December 7, 2016 at 6:00 pm - 9:30 pm
Film Premiere: Making Peace with Creation
– December 7, 2016 at 7:00 pm - 9:00 pm
Jazz Evensong: Darlene Ketchum & Bill Sample
– December 7, 2016 at 8:00 pm - 9:30 pm
The Journey
– December 8, 2016 - December 11, 2016 at All Day
The Metzger Collection: Maps and the Age of Exploration
– December 8, 2016 - December 9, 2016 at All Day
Come and See: The Journey to the Manger
– December 8, 2016 at 9:30 am - 12:00 pm
Gifts of Light: Songs in the Night 2016
– December 9, 2016 - December 11, 2016 at All Day
Churches Rally Against Racism / Celebration of Unity
– December 9, 2016 at 12:00 pm - 1:00 pm
Gungor Acoustic Christmas Tour
– December 9, 2016 at 7:00 pm - 9:30 pm
Alex Browne Reads 'A Christmas Carol'
– December 9, 2016 at 7:30 pm - 9:30 pm