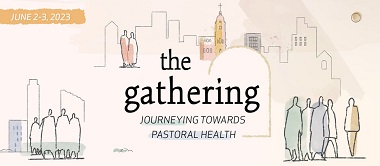 The pandemic and its aftermath – if that's where we are – has been tough on pastors, and lay leaders for that matter.
So it's good to see that Regent College is offering The Gathering: Journeying towards Pastoral Health, June 2 – 3.
Here is what they're offering:
Leading churches in today's shifting context demands a lot from pastors: fresh imagination, sensitivity to the Spirit, and resilience.
The Gathering is an annual event for church leaders seeking to lead and nourish their communities in God's mission. Through worship, prayer, preaching, dialogue, and recreation, we will attend to soul care amidst the beautiful surrounds of Vancouver.
Come refresh and re-vision with us and build the kind of friendships that support resilient and healthy pastoral ministry. Registration is now open!
What to expect
Over the course of two days, you will join with other church leaders (both pastors and laity) from a variety of denominational traditions to:
Hear from author and theologian Dr. Tremper Longman III on God's call to a wise and healthy life from the wisdom literature of the Old Testament.

Learn from psychologist Dr. Danielle Vriend Fluit who will explore the inner landscapes of leaders, helping us to reflect on our own emotional health and its interaction with pastoral ministry.

Choose from a variety of roundtable workshops in which we will dialogue on themes such as holistic health, prayer, physical health, sexual health, and healthy systems for church governance.

Fellowship and build lasting connections with peers.

Engage in fun beach activities!
Gather with us for friendship, for worship, for learning together, and to discern new invitations from the Spirit. Join us this year and into the years to come!
Go here for a look at the speakers and schedule. And this would be a good time to register, as early bird prices end Friday (April 15).
Mary Fontaine, Moderator
Mary Fontaine has been nominated for Moderator of the 2023 General Assembly of the Presbyterian Church in Canada. An announcement on the PCC site stated:
Mary Fontaine is Nehiyaw (Cree) from Mistawasis Nehiywak, Saskatchewan, where she grew up attending the Mistawasis Memorial Presbyterian Church with her family. Mary has a B.A. in Native Studies from the University of Alberta (1995) and an M.Div. from the Vancouver School of Theology (2003). . . .
Mary's mother trusted in Jesus Christ and was grateful for the culture and language he gave to her people. Her father made her aware of the suffering of Indigenous people and urged her to get an education to seek healing for them. The revelation of Indigenous history in Canada through her Native Studies degree was heartbreaking but the truth brought understanding and healing.
Mary's grandfather (a pipe carrier) modelled what it meant to be a humble follower of the Circle. He taught that the main purpose of life was to learn how to love. Her spiritual parents taught Mary spiritual discernment, and spiritual and emotional healing through prayer and the Word of God. She learned to facilitate healing circles through an integrated program developed by a team of Cree elders and psychologists.
Mary is the founding director of Hummingbird Ministries [based in Metro Vancouver], an Indigenous-led healing and reconciliation ministry. Through healing circles and the performing arts, Hummingbird Ministries educates the public and raises the profile of Indigenous people, especially Indigenous children. Mary writes plays and narrated stories which are expressed through dance performances by the children.
In spite of legislation which tried to extinguish Indigenous ways, Mary was given an honour song and her Indigenous name, Hummingbird. The Holy Spirit found a way to give her a drum song of thanksgiving, for the gifts of prayer, song and dance and the gifts of the hummingbird. The song and the name changed Mary's life, leading her to the Vancouver School of Theology's Native Ministries program, and eventually to founding Hummingbird Ministries. . . .
The 2023 General Assembly of The Presbyterian Church in Canada will be held in Halifax, June 4 – 7.
Gardens: A Sacred Oratorio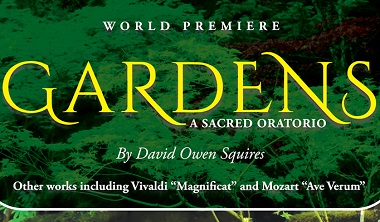 David Squires has been active as a composer during his career as Professor of Music at Trinity Western University, but the upcoming world premier of Gardens: A Sacred Oratorio must surely be a particular highlight in his career.
The nine-movement work for soprano, choir and chamber orchestra premieres this spring, with two
performances at Fleetwood Christian Reformed Church in Surrey (April 15) and Central Heights Church in Abbotsford (April 16).
A recent TWU release introduces the work:
As composer and TWU music professor Dr. David Squires describes, his latest work, Gardens: A Sacred Oratorio "follows the biblical arc from that first garden in the opening of the book of Genesis to the ultimate and longed for garden described at the end of the Revelation to St. John."
Commissioned in 2019 by TWU Director of Choral Activities, Dr. Joel Tranquilla and the Trinity Western University Choirs, the planned spring 2020 debut for Gardens was delayed due to the pandemic. Now in 2023, Gardens is ready for its long-anticipated premiere.
Gardens features soprano soloist Alison Nystrom and the TWU Choirs under the direction of Joel Tranquilla, Gloria Dei Chorale under the direction of TWU alumnus Rob Workman, Vancouver Oratorio Society under the direction of Kemuel Wong, and an orchestra led by concertmaster Calvin Dyck.
Beautifully woven together, the lyrics of Gardens draws from a variety of biblical passages, including selections from the Psalms and the Gospels, as well as ancient sacred hymns. David Squires, who collaborated with his wife Colette on the texts and overall vision for the piece, believes that Gardens will be a gift to many. "Writing this work was a profound spiritual journey for me," he expressed, "and this is also my hope for both performer and listener."
For Dr. Tranquilla, the upcoming premiere of Gardens is particularly meaningful in that it will be his final concerts with TWU before he takes on a new role in Nova Scotia as Artistic Director of Halifax Camerata Singers.
"It's my great privilege to finish my time at Trinity with a performance of music that means so much to me," Dr. Tranquilla expresses. "Dave's compositions have been an important part of the TWU choirs' repertoire, and Gardens is an extraordinarily moving work.
The concerts will feature other works along with Gardens, including Vivaldi's Magnificat, Mozart's Ave verum corpus and pieces by Canadian women composers, Ruth Watson Henderson, Violet Archer and Tawnie Olson. The Fleetwood performance will feature a pre-concert talk with Squires and Tranquilla at 6:45 pm.
Jobs & Events
Go here for more than 200 job listings in the Metro Vancouver / Fraser Valley area and here to find several pages of local events.
Apr 2023
Black and Rural – April 6, 2023 - April 15, 2023 at 8:00 pm - 10:00 pm
SIMinar: Explore South Asia – April 13, 2023 at 5:00 pm - 6:00 pm
Book Launch: Amazing Grace – the Life of John Newton & the Surprising Story Behind His Song – April 13, 2023 at 7:30 pm - 9:30 pm
Martyn Joseph – April 13, 2023 at 8:00 pm - 10:00 pm
Five Days of Prayer for Sikhs – April 14, 2023 - April 19, 2023 at All Day
49th Annual Delta Leadership Prayer Breakfast – April 15, 2023 at 8:15 am - 10:00 am
A Rocha Volunteer Day – April 15, 2023 at 9:30 am - 2:00 pm
Bible Saturday: Dr. Iain Provan: All Creatures Great & Small – the Psalms' Global Perspective – April 15, 2023 at 9:30 am - 11:45 am
Easter Pipe Organ Concert with audience singing – April 15, 2023 at 3:00 pm - 4:30 pm
Elvis Easter Extravaganza: Elvis Tribute Artist Ben Klein – April 15, 2023 at 6:00 pm - 9:00 pm
Gardens: A Sacred Oratorio by David Owen Squires – April 15, 2023 at 7:30 pm - 9:00 pm
Barney Bentall – April 15, 2023 at 8:00 pm - 10:00 pm
Jazz Vespers in the Valley with the Bonnie Northgraves Band – April 16, 2023 at 3:30 pm - 4:30 pm
Indigenous Voices of Faith – April 17, 2023 at 3:00 pm - 5:00 pm
Caught in the Current: British and Canadian Evangelicals in an Age of Self-Spirituality – April 18, 2023 at 12:00 pm - 1:00 pm
Let the Healing Begin – April 18, 2023 at 6:30 pm - 10:00 pm
New Survey Results: Young Christians Want Church Engagement on Creation Care – April 19, 2023 at 11:30 am - 2:00 pm
Daniel Du: A Beauty Eclipsed – Opening Reception- – April 19, 2023 at 4:00 pm - 7:00 pm
Jazz Evensong @ Brentwood: Linda Szentes & JazzLinks – April 19, 2023 at 8:00 pm - 9:00 pm
Discipleship in Our Complex Age: A Digital Gathering with Mark Sayers – April 20, 2023 at 3:00 pm - 5:00 pm
Innovating Failure: Ethical Issues on the Path to Health Care Advancement – April 21, 2023 at 8:00 am - 4:00 pm
The Boy Who Preferred to be Angry – April 22, 2023 - April 23, 2023 at All Day
Cuckoos in Our Nest: Truth & Lies About Being Human – Seminar with Iain Provan – April 22, 2023 at 9:30 am - 1:00 pm
Eternity Club presents Jesus Revival & Healing Ministry – April 22, 2023 at 1:00 pm - 3:00 pm
Catholic Social Teaching & Development and Peace – April 22, 2023 at 1:30 pm - 3:00 pm
Community Coffee House – April 22, 2023 at 7:30 pm - 9:00 pm
Good Seed Sunday – April 23, 2023 at All Day
Marcus Mosely: Safe in the Everlasting Arms – April 23, 2023 at 2:30 pm - 4:30 pm
Metro Vancouver Alliance: Solidarity Action Assembly – April 23, 2023 at 3:00 pm - 5:00 pm
[ACLE] Cleaning Up the Mess of the Sexual Revolution – April 23, 2023 at 4:00 pm - 6:00 pm
Canadian Association for Spiritual Care: Reconnect, Renew, Recreate – April 23, 2023 - April 25, 2023 at 6:00 pm - 10:30 pm
Raising Kids in a Hyper-Sexualized Culture – April 23, 2023 at 6:00 pm - 8:30 pm
Conversations on Hopeful Citizenship in a Divided World – April 23, 2023 at 6:30 pm - 8:30 pm
Jazz Evensong @ Brentwood: The Brentwood Katz – April 26, 2023 at 8:00 pm - 9:00 pm
Kinbrace Educational Award – April 27, 2023 - April 30, 2023 at All Day
The 51st Greater Vancouver Bible Study and Recreation Conference – April 27, 2023 - April 30, 2023 at All Day
Jesus Collective Regional Gathering – April 27, 2023 - April 28, 2023 at 6:00 pm - 4:00 pm
Better Workplace: Corporate Chaplains Canada – April 27, 2023 at 7:00 pm - 8:30 pm
Gardens of Gethsemani Open House – April 28, 2023 - April 29, 2023 at 12:00 pm - 4:00 pm
Income Tax Service – April 29, 2023 at 9:30 am - 2:00 pm
Spring Fair – April 29, 2023 at 10:30 am - 4:00 pm
Young Families Spring Gala 2023 – April 29, 2023 at 7:00 pm - 11:00 pm
Evening Peace: a spring concert with the Amabilis Singers – April 29, 2023 at 7:30 pm - 9:00 pm
Jazz Vespers in the Valley with Diane Lines and friends – April 30, 2023 at 3:30 pm - 4:30 pm
Jazz Vespers with Tom Arntzen – April 30, 2023 at 4:00 pm - 5:00 pm

May 2023
Euthanasia in Canada: Progress or Runaway Train?: A Public Q & A Session – May 1, 2023 at 5:30 pm - 7:00 pm
Redeeming Money – May 2, 2023 at 9:00 am - 4:30 pm
2023 Canadian Sexual Exploitation Summit – May 3, 2023 - May 5, 2023 at 12:00 am
Jazz Evensong @ Brentwood: Sharon Minemoto & Friends – May 3, 2023 at 8:00 pm - 9:00 pm
Daniel Du: A Beauty Eclipsed – May 4, 2023 - May 10, 2023 at All Day
Law, Land, Religion and Reconciliation: A Colloquium – May 4, 2023 - May 6, 2023 at 12:00 am
Pope Francis and the Future of the Church: Prospects and Challenges for Renewal – May 4, 2023 - May 6, 2023 at 12:00 pm - 3:00 pm
Surrey Writers Conference: Faith Igniting Creativity – May 5, 2023 at 1:00 pm - 9:00 pm
Gungor – May 5, 2023 at 8:00 pm - 10:00 pm
Impact Conference 2023 – May 6, 2023 at 9:00 am - 4:00 pm
Spring Sale – May 6, 2023 at 10:00 am - 12:00 pm
literASIAN Festival: 'Now Tell Me': On the Crafting of Words and Narratives – May 6, 2023 at 1:00 pm - 2:30 pm
Vancouver Orpheus Male Choir Concert – May 6, 2023 at 7:30 pm - 9:00 pm
Shari Ulrich Trio – May 6, 2023 at 8:00 pm - 10:00 pm
Week of Prayer for Africa – May 7, 2023 - May 14, 2023 at All Day
Flourishing Congregations Institute: The Stories We Tell – May 9, 2023 at 7:00 pm - 9:00 pm
Flourishing: Global Foods & Flavours – May 10, 2023 at 6:00 pm - 9:00 pm
Live Virtual Trip to the Philippines – May 10, 2023 at 6:00 pm - 7:00 pm
Jazz Evensong @ Brentwood: Bryn Kinders & Footnotes – May 10, 2023 at 8:00 pm - 9:00 pm
March for Life Victoria – May 11, 2023 at 9:15 am - 3:15 pm
SIMinar: Faith in Action: Dorcas Widows – May 11, 2023 at 5:00 pm - 6:00 pm
The Welcome Table: Annual Spring Gala – a Fundraiser for Journey Home Community – May 11, 2023 at 6:30 pm - 9:00 pm
Icons Workshop: Praying with Our Eyes (Thursday evenings) – May 11, 2023 at 7:00 pm - 8:30 pm
West Coast Renew & Flourish Women's Conference – May 12, 2023 - May 13, 2023 at 6:45 pm - 5:00 pm
Will There Be Faith? Following Christ in a Secular Age – May 12, 2023 - May 14, 2023 at 7:00 pm - 12:00 pm
A Rocha Volunteer Day – May 13, 2023 at 9:30 am - 2:00 pm
Jazz Vespers in the Valley with Shruti Ramani and friends – May 14, 2023 at 3:30 pm - 4:30 pm
Kentro Forum 2023: Connect – May 15, 2023 - May 17, 2023 at 7:30 pm - 4:00 pm
Marion Taylor: Did Paul Really Intend to Silence Women Everywhere & Always?: Five 16th Century Women Said "No" – May 15, 2023 at 7:30 pm - 9:00 pm
Faith in the new Plastics Treaty? A WEA Sustainability Center Webinar – May 16, 2023 at 9:00 am - 10:30 am
Creative Responses to Conflict – May 16, 2023 at 5:00 pm - 6:30 pm
Cindy Aalders: "Heavenly Pity Sees My Tears": Weeping in Anne Steele's Hymns – May 17, 2023 at 12:00 am
Marion Taylor: Women Interpreters of the Bible – May 17, 2023 at 12:00 pm - 12:45 pm
Jazz Evensong @ Brentwood: The Meridian Jazz Orchestra – May 17, 2023 at 8:00 pm - 9:00 pm
Life-Light by Thomas Brasch: Reception – May 18, 2023 at 4:00 pm - 7:00 pm
The Matinee – May 19, 2023 at 8:00 pm - 9:00 pm
Worship & Prayer @ Devonian Harbour Park – May 20, 2023 at 2:00 pm - 4:00 pm
Katharine Hayhoe: Empowering Climate Action Conversations – from Anxiety & Misinformation to Inspired Action – May 20, 2023 at 7:30 pm - 9:00 pm
Art Sale: Indigenous Relations Fundraiser MCBC – May 21, 2023 at 1:00 pm - 5:00 pm
Ed Ng: The Cultured Self: A Conditioned Approach to Mental Health – May 22, 2023 at 7:30 pm - 9:00 pm
Jazz Evensong @ Brentwood: The Sister Jazz Quintet – May 24, 2023 at 12:00 am
Cindy Aalders & David Robinson: Spiritual Friendship Today – May 24, 2023 at 12:00 pm - 12:45 pm
Faith, Mental Health & The Church – May 25, 2023 at 7:00 pm - 8:30 pm
Walk in the Spirit of Reconciliation – May 26, 2023 - May 28, 2023 at All Day
A public talk and one-day retreat with Thomas Merton scholar Douglas Christie – May 26, 2023 - May 27, 2023 at 7:00 pm - 3:00 pm
Hugh Ross: Science & the Bible – May 26, 2023 - May 27, 2023 at 7:00 pm - 3:00 pm
Times of Refreshing Conference with Bob Ekblad – May 26, 2023 - May 27, 2023 at 7:00 pm - 10:00 pm
A Taste of the Heart – May 27, 2023 at 8:30 am - 12:00 pm
Bible Saturday: Darrell Johnson – Jesus and the Spirit: John 14 - 16 – May 27, 2023 at 9:30 am - 11:45 am
The Return of Soul Gospel – May 27, 2023 at 3:00 pm - 5:00 pm
The Return of Soul Gospel – May 27, 2023 at 8:00 pm - 10:00 pm
Jazz Vespers in the Valley with Sharon Minemoto – May 28, 2023 at 3:30 pm - 4:30 pm
Jazz Vespers with Nancy Newman Quartet – May 28, 2023 at 4:00 pm - 5:00 pm
16th Annual First United Golf Tournament – May 29, 2023 at 12:00 pm - 9:00 pm
Adrea Johnson: Sanctified Affliction – the Encouragement of Puritan Devotional Literature – May 29, 2023 at 7:30 pm - 9:00 pm